Ready to find your ideal master's program?
www.mastersprogramsguide.com is an advertising-supported site. Featured or trusted partner programs and all school search, finder, or match results are for schools that compensate us. This compensation does not influence our school rankings, resource guides, or other editorially-independent information published on this site.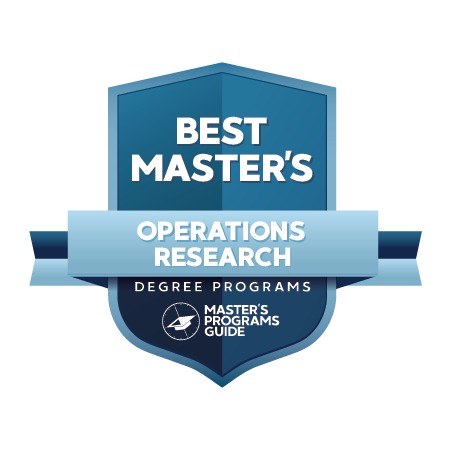 Like a lot of areas of study, "operations research" is a term that's a bit confusing to decode. Despite sounding vague, operational research is hugely important for modern-day life.
So what is operations research? It uses advanced analytical methods to help businesses make smarter decisions. Getting a Master of Science in Operations Research is a smart choice. Both for you and for your career, according to the Bureau of Labor Statistics. This is a major with a high salary and excellent job growth.
Just about every industry and every sector relies on operations research. That's one reason why earning an operations research masters is a great choice. An operations research master's degree will provide you with the skills you need to work in a variety of industries. From air travel to telecommunications. Banking to manufacturing. Government agencies. Consulting. Whatever it is, you'll have the skills you need. The list goes on and on! Businesses need skilled people like you to crunch data and make smart decisions.
Are you looking for a Master of Science in a growing career field?
Operations research is just about everywhere, and its reach will only expand. According to the Bureau of Labor Statistics, there were 109,700 operations research analyst jobs in the U.S. in 2018. There will likely be about 28,100 more by 2028. That's a job growth rate of 26%! This is more than five times the national average for all occupations.
The bulk of these jobs are in California, Texas, and Virginia. Virginia has the most operations research analysts. This is not surprising, considering its proximity to Washington, DC).
What will you learn in an operations research graduate program? The curriculum of the many operation research programs in the United States varies by school. There is a strong tradition of success. MIT's operations research masters degree goes back 60 years, as does Carnegie Mellon's.
Operations research masters programs today take advantage of new technology. This is technology that's essential for solving complex problems. Coursework builds upon highly technical fields like:
mathematics
statistics
probability
Often, you'll take courses with long, intimidating names, such as:
Discrete Probability and Stochastic Processes (MIT)
Integer Programming and Combinatorial Optimization (Kansas State)
Algorithmic Methods in Nonlinear Programming (North Carolina State)
Optimization Theory and Algorithms: Numerical Optimization (USC)
See Also: 10 Best Master's in Industrial Engineering
OUR RANKING CRITERIA
What Are the Best Master's Degrees in Operations Research ?
We know that you have educational goals that you're itching to pursue, but you may not know where to start. The editors of Master's Programs Guide utilize a unique ranking methodology based on the following five aspects:
25% Overall Degree Affordability: Average cost of undergraduate and graduate tuition per school
25% Graduation Rate: Number of students who start at the university and actually finish there
20% Earnings Potential: Average mid-career salary of school alumni
20% Selectivity: The number of students who apply versus the number who actually get accepted
10% Online Graduate Offerings: The number of programs offered online in each department
At Master's Programs Guide, we strive to do our best to guide you and your family toward a fruitful academic career. The pursuit of knowledge is a noble one, and we want to help you reach your goals.
Check out our operations research graduate programs rankings to get started!
See Also: 50 Best Online Masters of Engineering Management
MASTER OF ENGINEERING WITH A SPECIALIZATION IN OPERATIONS RESEARCH
West Lafayette, IN is about 70 miles northwest of Indianapolis. It is here that you will find Purdue University. This school is one of the Midwest's most esteemed universities. U.S. News & World Report ranks it at No. 57 among National Universities. More specific to its operations research program, it is also ranked No. 8 in Best Engineering Schools for graduate studies. You'll also find one of the best master's degrees in operations research here.
Purdue's College of Engineering has 14 individual departments. These range from Aeronautics and Astronautics to Nuclear Engineering. The masters degree operations research is found in the School of Industrial Engineering. Operations research is one of the four specializations offered in the school. You can choose from a long list of graduate courses. Classes include:
Stochastic Models in Operations Research I
Nonlinear Optimization Algorithms and Models
Almost as long is a list of Purdue's research in operations research with 16 research faculty. This research underscores the rigor of Purdue's program.
Students are encouraged to apply with backgrounds in:
engineering
mathematics
science
There's no set GPA or specific undergraduate major listed on the program website. A GPA of 3.2 on a 4.0 scale is recommended. Some "recommended" prerequisites include mathematics through:
Multivariate calculus
Differential equations
Linear algebra
Applicants with skills in computer programming are also preferred.
Don't have those courses on your transcript? That's okay. You can take most of them at Purdue as part of the masters degree operations research curriculum. Only some graduate-level courses can be taken at the same time as the prerequisites. They also won't count toward the master's degree. The graduate-level classes aren't offered every year, either. You will need to plan accordingly.
Prospective students need to submit GRE scores, a statement of purpose, and recommendation letters. You'll also need a résumé, an optional "diversity essay," and transcripts. The operations research program offers both thesis and non-thesis options. Each of these requires 30 graduate credit hours with21 credit hours of coursework. You will be able to customize your plan of study. You must maintain a 3.0 to earn a degree.
At $11,693, Purdue's program is the least expensive of the schools on this list, making it extra attractive for that No. 1 spot.
See Also: Best Online Cybersecurity Master's Degree
MASTER OF SCIENCE IN OPERATIONS RESEARCH
The Master of Science in Operations Research is available online. It is one of the best master's degrees in operations research. It's offered by the Kansas State Global Campus. This is an interdisciplinary program at heart. It focuses on applied mathematics and business decision-making.
In this program, you will develop a mathematical model of a real-world problem. Over the course of your studies, you'll work to solve that problem.
You must have a bachelor's with a 3.0 GPA for this graduate degree. Bachelor's degrees must be in majors like:
Industrial Engineering
Engineering
Mathematics
Statistics
Business
You must also have an advanced mathematical background. You may also need to have some experience in computer programming.
You will need at least a 159 on the GRE, a statement of objectives, three professional/academic references. Of course, you'll also need unofficial transcripts from each college attended. You will need 30 credit hours to complete the graduate degree.
This is a coursework program, so there's no thesis. Timing is everything. That's because the eight-core courses are offered once every two years. Master's students only need to take three of them to earn their nine hours of core credits. The school encourages prospective students to take all six core classes. The core courses are divided into three sections:
continuous optimization
discrete optimization
stochastic processes
Sounds easy enough! You will work with a team of advisors to plan out your courses. You'll culminate your experience with a master's presentation to test how well you grasped the information you learned in your courses. This presentation will also help you to get a jump start on your career!
The program is entirely online. Prospective students who live within 250 miles of Manhattan, KS will need to travel to the campus for the final experience. Everyone else can request a conference call. Online class formats vary. They generally include:
Lectures
Readings
Videos
Chat discussions
You will need to find a proctor via a local library or university for your exams.
At $18,002, Kansas State offers one of the least expensive programs. It also offers scholarships just for distance learners. All of that makes K State tough to beat.
See Also: Top 50 Best Masters Degree Programs
MASTER OF SCIENCE IN OPERATIONS RESEARCH
Operations research goes back more than 60 years at NC State. This is when it began as an introductory course. After that, it became a minor for statistics and electrical engineering majors. By 1970, it was an independent major. Today, operations research remains an interdisciplinary major. NC State's College of Engineering and College of Sciences share it.
That makes sense. The program's website notes that operations research is, by its nature, interdisciplinary. The Master of Science pulls from:
Mathematics
Mathematical Sciences
Engineering
Economics
The Physical Sciences
Because it draws from those worlds, operations research is also quite versatile. NC State aims to make its graduates just as versatile as their field of study.
Don't come to Raleigh – home to the university – without some serious math in your background, though. To get into NC State's MS in operations research program, prospective students need an undergraduate degree in a related field. The school doesn't specify a base GPA or GRE score for admission to the graduate degree. Applicants also need an official transcript from all colleges they have attended.
The school is one of the cheapest on this list, coming in at $14,771 per year. Students must complete 31 credit hours. 15 should be in core courses, three to six from a master's research thesis, and a one-credit seminar. You can earn another nine credits by choosing three courses in a "minor field of study." Need more to reach the 31-credit threshold? You can draw from a long list of OR coursework.
NC State's demanding program produces strong results. The site lists 39 publications from its students and faculty in 2016. These are centered around hot-button topics. These include Augmented Immersed Finite Element Methods for Some Elliptic Partial Differential Equations.
NC State also has a dedicated Military operations research group. This helps prospective students prepare for a career in the military. They do this by studying real-world issues. Examples of issues include veterans' health care and expeditionary military logistics and risk analysis. People interested in military OR won't have to go far to practice it, either. Seventy miles south of Raleigh is Fort Bragg. This is the largest military base in the world.
MASTER OF SCIENCE IN OPERATIONS RESEARCH
Operations research is an interdisciplinary field with a wide variety of applications. No two students will have the same career goals. Georgia Tech makes it easy by designing its curriculum around one common goal. This goal is to help students use their advanced skills to make an immediate impact in industry and government. Headquartered in Atlanta, the school dates to 1885. This is when it opened to help industrialize and modernize the post-Civil War South.
Thinking ahead has long been part of Georgia Tech's mission. The Master of Science in Operations Research program follows suit. This is one reason why it's one of the best master's degrees around. The curriculum focuses on deterministic and stochastic operations research. The goal of the program is to provide a training in the basics and technical applications of operational research. They can go out and make an immediate impact. It may be surprising that Georgia Tech isn't especially rigorous with its admissions prerequisites. A background in operations research is not required. Applicants should have a bachelor's in either:
engineering
mathematics
science
computing
Applicants need to take the GRE, but the specifics end there – no degree rules, no set scores. You will need a personal statement and some letters of reference. At $16,950 per academic year, Georgia Tech falls below the average costs of other programs on this list. The program lasts around 12-15 months. Low-key requirements + cheapish tuition = yes. Also yes: not having to write a thesis or complete a final project.
Georgia Tech describes its coursework as "rigorous," so it won't be a cakewalk. The school generally limits the program to 20 students, so admission is competitive. Thirty credit hours are required for a master's. Students can focus on specific applications. These include:
Optimization
Stochastics
Computational Science
Other Electives
If this all sounds great except for the "living in Atlanta" part, don't fret. Georgia Tech's MS in operations research program can be taken online.
MASTER OF ENGINEERING IN OPERATIONS RESEARCH AND INFORMATION ENGINEERING
Cornell University is an Ivy League school in Ithaca, NY. Its Cornell Tech campus lies on Roosevelt Island, near Manhattan. (It's the place with the cool tram.) The difference between the locales speaks to their differing missions. Cornell's campus in Ithaca is home to a storied university full of tradition that dates back to 1865.
Cornell Tech's sleek and energy-efficient campus is part of NYC's tech hub. The school has a year-long ME ORIE program. The Master of Science provides students with skills in data analytics and mathematical modeling. Their skills help them to turn data into effective business decisions. It's ideal for students who want to work at major tech companies or startup ventures.
To be eligible for admission, you must have a passion for data, business, and analytics. You'll also need courses in:
Linear algebra
Probability and statistics
Programming
You may have to complete a test to gauge your skills in programming and advanced mathematics. Otherwise, no specific academic background is needed. You will also need to provide a resume and GRE scores. You may have to record an interview, too.
This program has a number of merit-based scholarships for the top students. An example is the WiTNY fellowship for women.
The most interesting part of Cornell's operations research program? The Studio courses. Students take these each semester. These courses allow you to take real-world classes in other departments. In the Product Studio, students develop a new tech product or service based on a challenge. These are organized with tech companies like Uber or Robin Hood. You will graduate with real, marketable experience. You will also have a portfolio of completed projects that will help you land jobs.
You will take courses over a period of two semesters. You will be able to choose from two concentrations. These include operations analytics or data science. You can use those choices to guide your course selections. After the two semesters, you can travel to the main campus in Ithaca if you'd like to take more classes. Here, you can continue to build skills in engineering and operations research math.
The entire program costs around $28,890. This is expensive, but not the most expensive on this list. This is surprising, especially given that Cornell is an Ivy League Institution. It's one of the best master's degrees you'll find.
See Also: 10 Online Master's in Computer Engineering
MASTER OF BUSINESS ADMINISTRATION WITH OPERATIONS RESEARCH CONCENTRATION
You'll find another top operations research graduate program at Carnegie Mellon. The Tepper School of Business plays host to the operations research Master of Science. It's one of the best master's degrees around. Carnegie Mellon's business school debuted in Pittsburgh. The Tepper School of Business does not play by the rules. It offers a revolutionary, one-of-a-kind curriculum.
Tepper's OR program draws from that history. You'll tackle complex business problems and develop unique solutions for them. The operations research program is an area of concentration within the MBA program. Carnegie Mellon offers four operations research-specific courses. These include Applications of Operations Research and The Art and Science of Predictions. It also has a project credit in business analytics.
Though you will take fewer courses in mathematics in this Master of Science, it's still quite rigorous. Analytics plays a big part in Carnegie Mellon's curriculum. The school's devotion to analytics and leadership sets its MBA program apart from all others. You'll graduate with an understanding of analytics that goes beyond mathematical modeling. You'll also receive a well-rounded business education here.
The school operates on what it calls a "mini-semester" system or the quarter system. The academic year includes four quarters that last 6.5 weeks each. This doubles the number of courses in a semester so you can graduate faster. The program lasts two years for full-time students.
Tepper also offers part-time and hybrid programs. These are half online, half on-campus. They are meant for working professionals. Students need 192 units to graduate. The coursework allows for a lot of electives and immersion workshops. There are also plenty of built-in networking opportunities. These can help fuel your job growth. It finishes up with a capstone project. This comes in three forms. There is a Study Abroad option. This is a four-week trip to Germany, Hong Kong, or Mainland China. It concludes with a summary presentation. You can also do a Management Game. This is a computer simulation of a multinational company. There is also Strategic Management of the Enterprise. This consists of consulting for real companies.
The program costs $14,760 per academic year. Carnegie Mellon has flexible admissions prerequisites that make it easy to apply. No piece of the application is more important than others. You'll need to submit a resume and GMAT or GRE scores. You'll also need an essay and a professional letter of recommendation. Unofficial transcripts and an on-campus interview are also required. Carnegie Mellon accepts students from any educational background.
MASTER OF SCIENCE IN OPERATIONS RESEARCH ENGINEERING
The University of Southern California has racked up plenty of awards. U.S. News & World Report ranks it No. 22 among National Universities and No. 9 in Best Engineering Schools (where its operations research program lives). It takes first place for Best Online Graduate Computer Information Technology Programs. It's located near downtown Los Angeles in beautiful Southern California. You will be able to enjoy beautiful weather year-round. There are also plenty of local recreational activities. USC's campus is close to LA's large Exposition Park. This is home to many attractions. These include the city's natural history museum and the LA Memorial Coliseum. You can even visit the brand new Banc of California Stadium. None of that will help you in your studies, but they're things to consider nonetheless!
The Operations Research Engineering Master of Science at USC is one of the best. It trains students to solve key business problems with mathematics and computers.You will need to complete 21 credits in those required courses. You'll also take six credit hours of electives. You'll also take three computer science electives. This will help you earn the 30 credits needed for a master's. There's no thesis or capstone project. You'll move toward job growth in other ways, like networking.
To apply, you will need an undergraduate degree in engineering, mathematics, or science. You should also submit GRE scores and a resume. Submit a personal statement and three letters of recommendation, too.
This program is one of the most expensive on this list. That said, private universities aren't known for their low prices. You don't have to battle Los Angeles traffic. You can still benefit from this top-notch (albeit expensive) program. There's an online version of the program via DEN@Viterbi, the online learning portal. You can also choose a hybrid online/on-campus degree if you can't decide which fits you best.
See Also: 10 Affordable Online Master's in Material Science & Engineering
MASTER OF SCIENCE WITH A MAJOR IN OPERATIONS RESEARCH
Located in Dallas, TX, SMU offers a master of science in operations research. This program has plenty of opportunities for individualization. You can pursue pathways in areas like:
management consulting
telecommunications
aerospace
defense
If price connotes quality, then SMU is the best. At $38,562, it is the most expensive program on our list. It's well above the average cost of the other schools. Fortunately, there are plenty of financial aid opportunities available. Students should have bachelor's degrees in:
Engineering
Computer science
Economics
A similar technical field
You also need to take six credit hours of calculus and three of linear algebra. You will also need three credits of computer programming e.
The Lyle School of Engineering is home to the operations research program. This degree requires 30 credit hours of study. These credits include core courses like Analytics for Decision Support and Optimization Models for Decision Support. You'll also be able to take nine hours of a concentration. As mentioned earlier, SMU offers countless options for concentrations. You'll need advisor approval before studies begin. Options include:
Engineering management
Statistics
Telecommunications
Another engineering discipline
Not sure what that would entail? The operations research page has sample course schedules for these disciplines. Each of them includes five courses. Expect a fairly small class size. The Lyle School of Engineering's website notes that it has an 11:1 student to faculty ratio.
Faculty here stay busy outside of the classroom, too. The school receives some of the largest research awards in the nation on a "per faculty basis." You could study areas like network design or network management. These are two areas that directly impact day-to-day life. Life on campus at SMU is also pretty nice. The campus spreads across a couple of hundred acres in north-central Dallas. This offers a good mix of urban space with greenery. One word of caution. The summers are hot! You can beat the heat by checking out the famous George W. Bush Presidential Library. This is located on SMU's campus.
MASTER OF SCIENCE IN ENGINEERING MANAGEMENT
Founded in 1876, Johns Hopkins University was the nation's first research university. It is in Baltimore, MD. At first, it only offered graduate programs. Undergraduate degrees didn't arrive until later. The school has been prestigious since its very beginning. In U.S. News & World Report's 2020 rankings, Johns Hopkins placed No. 10 for National Universities and No. 23 for Most Innovative Schools. It's ranked No. 19 for Best Value Schools. It has a cost of $27,868 per academic year for its OR program. It costs more than the average for this list. It still is affordable for a private school. The graduate program in engineering took No. 17 for Best Engineering Schools. As you can see, Johns Hopkins has always offered quality programs – and that probably won't change any time soon.
The Master of Science in Engineering Management is offered by the Whiting School of Engineering. You'll take five advanced courses along with a suite of management classes that you'll take with a cohort. The cohort model is a major feature of Whiting's approach. You'll start building a professional network rights away in this graduate degree. You'll also take many courses in entrepreneurship.
This is a flexible program. It allows for lots of electives and course substitutions. You can even join the Home2Homewood program. This allows you to take several online courses before you have to head to Baltimore to complete the rest of your classes.
This program even includes an Immersion Experience. Also known as the Practice of Consulting, this project will allow you to head abroad. You may visit sites like Israel, Honduras, Panama, and New Zealand. You'll work with a team to solve a client problem. This experience occurs during the fall and spring semesters. It provides students with an excellent real-world look at the work they've tackled in class.
To apply, students should have bachelor's degrees in science or engineering. Plan on submitting the GRE. You will also need:
Letters of recommendation
A statement of purpose
Unofficial transcripts
MASTER OF OPERATIONS RESEARCH
Some schools offer operations research as a specialization of a larger degree. Others bump it up to degree status, usually as part of the engineering department. MIT took things one step further. It constructed a massive building just for that purpose. It's fittingly called the Operations Research Center. The Operations Research Center started in 1953 and developed the first-of-its-kind OR curriculum. This was back when applying scientific methods to decision-making and business problems was a revolutionary idea. The primary goal of this program is collaborative investigation.
Students don't have to have bachelor's degrees in specific fields to apply. That said, MIT is known for having a competitive admissions process. You will need to submit the GRE a statement of objectives and three letters of recommendation. Transcripts are required. The operations research program only accepts around 40 students each year. This is from a large pool of hundreds of applicants.
The silver lining is that the school only costs $18,971 per academic year. This is a bargain when compared to other prestigious schools of this caliber. U.S. News & World Report ranks it No. 4 in Best Value Schools. That's low for MIT. It ranks No. 3 in national universities, and No. 1 for Best Engineering Schools for graduate degrees.
MIT's vaunted graduate degree emphasizes practical applications of operations research. This is done through coursework and research. The two-year program requires 66 credit units for completion. 42 of these must come from advanced subjects. You'll take classes in topics such as optimization techniques and probabilistic modeling. You will also take classes that relate to your individual interests.
The coursework is separated into eight groups. These groups include:
Analytics
Statistics
Machine Learning
Operations Management
You'll complete a final thesis based on independent research before you graduate.
See Also: 10 Affordable Online Master's in Mechanical Engineering
Frequently Asked Questions
What is a master's in operations research?
An operations research masters degree is a program that will teach you how to use mathematical and analytical methods. These methods can help businesses develop better management techniques. You'll be able to help organizations improve their efficiency and make more money.
This program usually comes with optional concentrations. These might include fields like:
supply chain management
stochastic models
What can you do with a masters operations research degree?
Businesses have more data than ever before at their fingertips. Knowing how to use it is where the operation research analyst comes in. This is the most common job enjoyed by a person with a Master of Science in operations research. This is a growing field. It is ranked by U.S. News & World Report as the fourth Best Business Job in the country.
Operations research emerged as a major discipline during World War II. There was a need for analysts who could plan efficient supply routes and processes. The military continues to use the work of operations research analysts to this day. People with degrees in operations research now work in a variety of diverse fields. You could find work in logistics, manufacturing, and more.
No matter where you find work, you will likely be a high-level decision maker. Getting a master's degree will only make this process easier. You'll know how to use statistics and data tools. Your skills can help businesses draw conclusions from available information. You'll also have the leadership skills necessary to manage a team.
Are operations research masters programs worth it?
Bachelor's degree is the typical education needed to get an entry-level job in this field. Many employers prefer to hire applicants with master's degrees. This is especially true now, in our increasingly competitive work environment.
A Master of Science in Operations Research will provide you with the necessary prerequisite training. You'll also gain access to industry certifications and on-the-job experience. These can help you move in a more specialized or leadership-focused direction.
How can I get financial aid and scholarships for a master's in operations research?
Earning a master's degree is expensive. There's no question about it! The good news is that there are ways you can make your degree more affordable. You don't have to be an analyst to figure them out! One of the best ways to find an affordable program is to take a look at these operations research masters programs rankings next. Consider which is the most affordable for you and go from there.
Look to government scholarships and grants first. Although many of these awards tend to be reserved for undergraduate students there is a select amount of aid set aside for graduate students.
Check with your university. Your department may have funds set aside for top students. You can also check with private organizations and institutes. from the Department of Defense are all excellent places to look. Excellent places to look are:
The Information Assurance Scholarship Program from the Department of Defense
As a very last resort, you can always lean on student loans to help pay for the difference. Keep in mind that you will have to pay these back – plus interest.
How much can I make with a master's in operations research?
You'll earn a respectable salary with a master's in operations research. The average salary is around $86,200 per year. Workers in the federal government earn the highest wages overall. A master's degree will qualify you for the top wages.
The future looks bright for individuals with master's in operations research. These fields are expected to grow by about 25% through the next decade. That's according to the Bureau of Labor Statistics. This is due in part to the fact that jobs for operations research analysts are available in countless industries. You could work in:
finance and insurance
manufacturing
professional services
federal government
IF YOU ENJOYED THAT THEN CHECK OUT OUR ARTICLES ON THE BEST ONLINE MASTER'S PROGRAMS IN ECONOMICS & 35 BEST ONLINE MASTER OF MATHEMATICS DEGREE PROGRAMS!