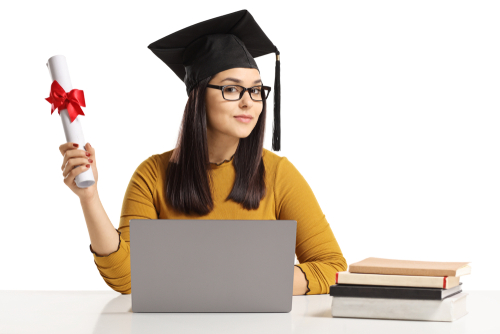 Being an online student requires self-motivation and organizational skills, but the tools provided by colleges and universities are also key to student success. Because technology is the main format for accessing online classes, it is essential that universities offer students access to a wide range of technological tools and resources during their degree program. Further, online students need student support services created specifically with them in mind because they face unique concerns compared with on-campus students. Additionally, affordability is a large factor for students wanting to end graduate programs prepared to advance in a career without large amounts of debt.
Quick Links to Our Top 10
With a focus on these needs, this ranking was created using information from the U.S. Department of Education, U.S. News & World Report, and school websites based on the following criteria:
Regionally accredited in the United States
Offer more than ten online graduate degrees
Programs are 100% online
Average level of student debt at graduation
Student support services available remotely
Student access to technology
50. University of Cincinnati
University of Cincinnati offers many master's programs online that are largely asynchronous, with some requiring live chat sessions and discussion boards. Students can access coursework 24 hours per day, 7 days per week. Programs offered include taxation, business administration, and cosmetic science.
49. Ohio University
Ohio University has six different schools that offer many online master's programs in arts & sciences, business, communication, education, engineering & technology, and health sciences & professions. There is also an eCampus Success Center that offers a plethora of resources for online students.
48. Kansas State University
Kansas State University's global campus has international connections and partnerships with twenty countries around the world, with an emphasis on promoting cultural understanding and academic exchange. Online Master's degree programs offered include academic advising, youth development, and nuclear engineering.
47. University of Massachusetts – Lowell
University of Massachusetts – Lowell offers one of the largest selections of online credit courses in New England. The Master's degree online programs span a wide range of topics, and some of the newest additions include programs in health informatics, network security, and victim studies.
46. The George Washington University
The George Washington University offers more than thirty online Master's degree programs, plus a wide range of certificates and doctoral online degrees that span the full range of disciplines. Courses use specialized technologies that include Blackboard, GW Lecture Capture, and classroom technology support.
45. University of the Cumberlands
University of the Cumberlands has a goal of providing "first-class education at affordable rates." With a variety of graduate degrees that include such topic areas as ministry, counseling, and information technology, there is a lot to choose from.
44. Regis University
Regis University's world campus offers a variety of graduate degree courses that are flexible for students around the globe. As a Jesuit University, there is a focus on empowering students of all faiths to make a positive impact in changing society. Course tuition is conveniently listed with the degree program for all online courses.
43. Old Dominion University
Old Dominion University is a public doctoral research institution that has been offering distance learning programs for over thirty years. The well-designed website makes resources and supports for distance learners readily available, and courses are offered in either live or asynchronous formats.
42. University of North Carolina – Greensboro
University of North Carolina – Greensboro offers asynchronous classes, meaning students are able to log in and complete coursework at anytime. Classes are taught by the same professors who lead on-campus courses, and Master's degree online programs include kinesiology, dance education, and global apparel management.
41. University of Missouri
University of Missouri offers over 90 degree and certificate programs and more than 900 courses, which are designed to have the same quality as on-campus programs. The website includes tips and resources for online students to find success.
40. Tiffin University
Tiffin University puts an emphasis on small class sizes and personal attention that seems to stem into online coursework. Online graduate degree options include art & visual media, finance, and criminal justice. There is also an option for individualized studies within the humanities department.
39. Texas Tech University
Texas Tech University offers more than fifty degree and certificate programs fully online, and there are also six regional teaching sites across Texas. Online courses use Blackboard support, including access to online classes through the Blackboard mobile app.
38. Kennesaw State University
Kennesaw State University offers a variety of options in fully online programs, as well as hybrid online programs and mixed-model version of courses. The variety of online student resources found on the easily-to- navigate website include a virtual library, tutoring, advising, and tech support.
37. Florida International University
Florida International University has a well-designed website with the option for live chat always available on the page. Options include a wide range of graduate degrees, continuing & professional education class, and MOOCs.
36. Clarion University of Pennsylvania
Clarion University has compiled a video and resources on the website to provide online students with tips and advice from faculty about successfully taking online classes. The degree programs available include Mass Media Arts & Journalism and Rehabilitative Sciences.
35. Pennsylvania State University – World Campus
Pennsylvania State Univerity – World Campus offers students a degree that is identical to those who attend the campus in-person. Penn State was one of the first universities to provide online programs to adults, and students connect with staff and peers through chat, video conferencing, phone calls, email, social media, bulletin boards, and more.
34. California University of Pennsylvania
California University of Pennsylvania offers online graduate programs that largely fall within the fields of science, education, and business. Theses 100% online courses offer direct contact information on the website for the director of each degree programs, making it easy for students and prospective students to get information they need about each program.
33. Eastern Kentucky

University
Eastern Kentucky University offers six start dates per year for online courses with the same professors who teach on-campus classes. There are many different types of degrees available including Master's online degrees in gifted education, library science, and nursing administration.
32. Ball State University
Ball State University has a wide variety of graduate courses. While most of them are offered 100% online, there are options for some of them to be blended with in-person classes that can either be on the main campus or at additional sites.
31. Fort Hays State University
Fort Hays State University offers eleven Master's degree programs that are entirely online with a few others that are online with the addition of a couple three- or four-day workshops on-campus. The university also offers fourteen online certificate programs. More than 6,000 students in more than 20 countries comprise the virtual student body.
30. University of Arkansas, Fayetteville
University of Arkansas, Fayetteville offers in-state tuition to online students with associated distance learning fees. The university seeks to offer the same quality of services to online students through classes, tutoring, and library support.
29. Sam Houston State University
Sam Houston State University offers full online graduate degree programs, correspondence courses to supplement other coursework, and continuing education credits for professional and career development. Some of the available online graduate degree programs include higher education administration, homeland security studies, and victim services management.
28. Regent University
Regent University offers flexible online classes in eight-week course lengths. Faculty members are the same as teach at the Virginia Beach location, offering a Christian perspective to the course. One unique resource is the Regent C.A.R.E.S., which offers 24/7 technical support, and also emotional and spiritual support.
27. North Carolina State University
North Carolina State University uses Distance Education and Learning Technology (DELTA) applications to provide access to students anywhere. A resource called LearnTech is available to all students as a help desk offering hands-on support for using technology at NC State.
26. Drexel University
As a top-ranked urban research university, Drexel University has grown its online presence with over 130 programs for online degrees and certificates. In addition to having 24/7 online tech support, students have access to online resources through the library, writing center, and career center.
25. Brandman University
Brandman University has a crisp, well-designed website where you can discover more information about the online graduate degrees and certificates available. There are step-by-step videos for students to use and understand Blackboard, the online learning management system that students use in online courses. Faculty and staff are easily accessible with photos and contact information easily accessible on the website.
24. Auburn University
Auburn University has many different types of graduate programs available online, conveniently listing a faculty contact person with each program to allow prospective students direct contacts to get further information about program opportunities and requirements. Graduate online degree options include music education, accountancy, and agriculture.
23. Pittsburg State University
At Pittsburg State University, some online students are eligible to pay the in-state tuition rates. Online graduate courses include engineering technology, history, and special education. Courses are administered through Canvas, the online learning system which offers useful features for communicating with professors and peers.
22. The College of St. Scholastica
The College of St. Scholastica offers a variety of online graduate degrees and certificates largely in healthcare and education with options that include a Master's degree in business administration in rural healthcare and a graduate certificate in culturally responsive pedagogy. They also work to shorten the time it takes to complete a degree by evaluating and validation previous learning credit through a variety of settings such as MOOCS, military service, and transfer credits.
21. Robert Morris University
Robert Morris University offers an expansive site of resources for online graduate students that are easily accessible online. In addition to online advisors available to students six days a week for twelve hours per day, there are both full-time and part-time degree options with classes that begin every eight weeks. RMU also offers a great network of big-city connections to their online students with a location just outside Pittsburgh.
20. University of South Florida
University of South Florida offers a wide variety of options for online Master's degree programs with the majority of the programs offered being in education and public health. One wealth of resources for online students comes through the Electronic Campus, which offers resources for education opportunities and services across the South, and the Florida Virtual Campus, which includes many USF online courses.
19.

Western Kentucky University
Western Kentucky University has twenty-five online Master's degree programs that include degrees in Communication Disorders, Adult Education, and Social Responsibility and Sustainable Communities. WKU also offers more than twenty graduate certificates, and students may have the opportunity to complete a degree and specialized certificate simultaneously. Courses follow a traditional semester-based calendar.
18. Georgia Southern University
Georgie Southern University offers twenty-eight graduate degrees and certificate programs in business, education, and healthcare that are 100% online. Among the many online resources available at the GSU website are an online readiness assessment tool and links to other online support networks.
17. Colorado State University—​Global Campus
Colorado State University—​Global Campus is an online university with regional accreditation. With a nicely stylized and easy to navigate website, CSU–Global Campus allows students to work at their own time and pace while also offering resources and encouragement for collaboration with instructors and other online peers.
16. Arizona State University
Arizona State University has a sleek, easily navigable website where students can find resources for their expansive nearly 60 online graduate degrees and certificates. ASU works with instructional designers to ensure that online courses are unique to the course material. They use Quality Matters, a rubric to ensure quality in online courses, and tools through Zaption and Google apps to provide students with interactive resources.
15.

Concordia University—​St. Paul
Concordia University—​St. Paul offers eighteen different Master's degrees and certificates based in its tradition as a Christian liberal arts school. The school uses a flexible online format that allows students to be in control of their schedules. With competitive tuition rates, the tuition costs are guaranteed to stay the same while students are continually enrolled to help budget program costs.
14.

University of Illinois—​Springfield
At University of Illinois—​Springfield there is a Center for Online Learning, Research and Service that acts as a hub for the study, pedagogy, technology, and best practices for online education. In addition to using online technology, the faculty are involved in scholarship around the use and application of emerging educational technology.
13. Lamar University
Lamar University offers more than twenty graduate degrees and certificates online. Courses include the option of multiple start dates throughout the year to allow for student flexibility, and there is a graduate advisor available for email chat during work hours on weekdays.
12. University of Texas—​Brownsville
University of Texas—​Brownsville uses an online Learning Management System to provide high-tech tools including Tegrity Online Class Video Capture and Blacktop Collaborate Desktop Webconferencing. The university also provides content space for e-portfolios and a Virtual Hard Drive. UT Brownsville offers a variety of online Master's degrees and certificate programs that include Educational Technology and Computer Science.
11. Emporia State University
Emporia State University offers 19 Master's degree programs that can be completed 100% online including Accountancy and Curriculum & Instruction. There is an accessible collection of student resources available on the ESU website that includes links to laboratory and tutoring assistance, GradShare, and disability resources.

10. St. John's University
St. John's University makes online learning available with a wide range of resources such as online advising, registration, financial aid, library resources, and campus ministry. Their website offers a self assessment to consider when deciding if online education is right for you. Online graduate programs include Global Development and Social Justice, and Library and Information Science.

9. University of Nebraska–Lincoln
At University of Nebraska–Lincoln, there are more than forty graduate degrees and certificates available to complete online that include Entomology and German Language Education. Online student services include advisors, technology assistance, library staff, and resources for military and transfer students and for students with disabilities.

8. University at Buffalo, SUNY
University at Buffalo, SUNY online graduate courses offer small class sizes, the same rigorous course work that is offered on-campus, and the opportunity to gain perspectives from classmates around the world. The website offers a Quick Quiz designed to evaluate readiness for online learning and a SmarterMeasure Quiz that can measure the degree to which online learning fits you.

7. Mississippi State University
Mississippi State University assigns each distance learning student with a distance program coordinator and provides a wide variety of online resources that include online tutoring, writing center appointments, and learning center resources. Online graduate programs include Aerospace Engineering and Forestry.

6. California Baptist University
California Baptist University use the latest technologies in distance education including Blackboard 9.1, Telepresence, and Webex to make online classes happen face-to-face in real time. Some CBU online accelerated graduate programs include disabilities studies and organizational leadership.

5. Florida State University
Most online courses at Florida State University are asynchronous, meaning students can complete work within a given week at their own convenience and pace rather than at assigned class times. Students who are seeking an online degree are assigned Academic coordinators who will assist with personalized "degree roadmaps," and some courses include the option of mentors who act as online teacher's assistants.

4. Creighton University
Among other resources, Creighton University offers online students a 24/7 help desk and access to librarians and online resources at three Creighton libraries. Courses often include interactive audio-visual components and e-portfolios. Online degrees include Conflict Resolution and School Counseling & Preventative Mental Health.

3.

Angelo State University
Angelo State University offers online resources for students that include SMART Online, which includes online assistance available from the ASU Tutoring Center and the Writing Center that includes live online chatting with a tutor and other resources. There are also easily accessible online resources for the library and disability services.

2. Central Michigan University
Central Michigan University offers a variety of online graduate degrees and certificates including counseling and educational technology. One notable resource they offer is an Online Learning Resource Center that provides prospective students with assessments and tools to determine if they are prepared for Online Learning.

1. University of Houston
University of Houston has been named a Tier One Research Institution by the Carnegie Foundation, and it is the first university in the United States with a Subsea Engineering graduate program, which can be completed online. UH provides access to Skillport which are free courses to hone in and strengthen skills in particular areas. Course technology is shaped by the professor, with most online courses using Blackboard while some math and history courses use CourseWare, and some professors using their own sites.