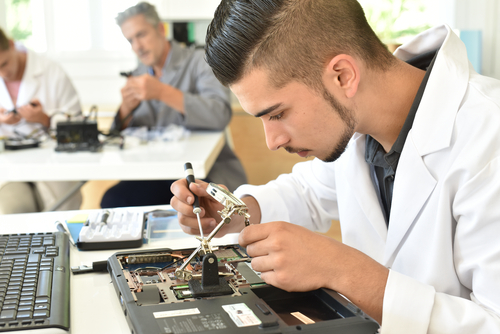 Short answer–no. You can always find a job of some sort with just a bachelor's degree. But if you are particular about what you want to do or if you want to work in more advanced areas, and if you like the idea of being managerial and making a bigger paycheck (and let's face it–who doesn't?), then the answer is probably a more resounding yes. U.S. News and World Report lays it out clearly that a master's degree in Computer Science isn't a requirement to work in the field in general, but that if you desire to serve in a leadership role, a master's degree is the way to go.
A good place to start is looking for a good online program to gain your degree–here's a list of the best online master's in computer science degree programs currently available. Question is, do you want to pursue a Master of Science in Computer Science (MSCS) or a Master of Computer Science (MCS) degree? Does it matter? Both degrees can probably get you where you want to go professionally, but there are a few nuanced differences that may serve to influence your decision.
In general, a Master of Science degree may focus a little more on theory than application, and especially for students who wish to go for a Ph.D, this may serve as a good foundation. Of course this does not mean that individuals who want to go into the job field directly upon graduation as opposed to studying further cannot pursue a MSCS–on the contrary, a solid theoretical understanding can benefit anyone in the field. The Master of Computer Science degree does, in some cases, sometimes offer more concentration options. This can be particularly beneficial for students who want to go into a specialized area of computer science–such as computer networks, artificial intelligence, human-computer interaction, software theory, or robotics and gaming.
As stated, either degree is a good choice. Depending on the way you like to learn and the courses you want to take, a MSCS or a MCS degree can fit your needs academically. And since the job market is so strong for computer science professionals right now–and doesn't seem to be decreasing in strength in the foreseeable future–going after either degree is a smart move. And obviously we advocate for pursuing the degree–whichever one you choose–through an online master's degree program. You really can't go wrong with online learning (sometimes called distance education). Employers are becoming more used to seeing graduates of online programs and more accepting of them, and even if they weren't, a degree gained from an online program of a reputable, brick-and-mortar college or university is not going to indicate that the degree was earned online. So you can pursue, conveniently from your own home, a solid, career-advanced degree. How does that sound? Short answer: win-win!