Ready to find your ideal master's program?
www.mastersprogramsguide.com is an advertising-supported site. Featured or trusted partner programs and all school search, finder, or match results are for schools that compensate us. This compensation does not influence our school rankings, resource guides, or other editorially-independent information published on this site.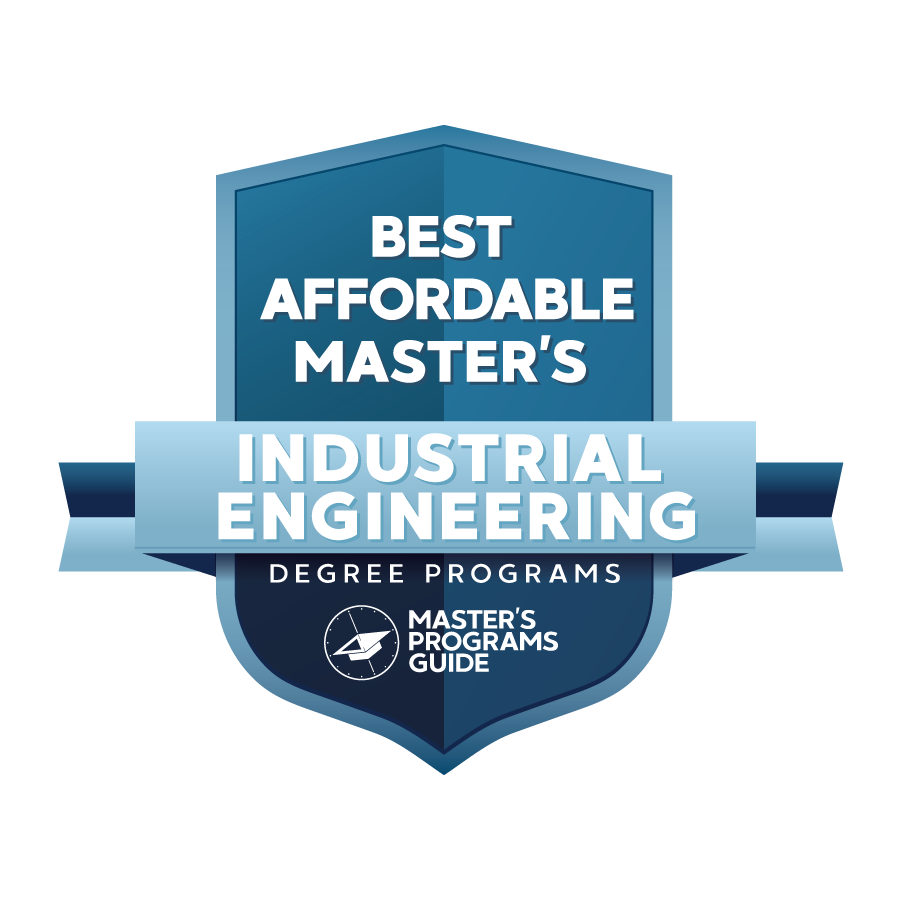 Is a master's in industrial engineering worth it?
Let the figures speak for themselves. 
With an average salary of $88,950 per year for bachelor's degree holders (a figure that increases dramatically upon earning a master's degree), there's an excellent return on investment for this kind of degree. 
Plus, jobs in this industry are expected to grow by about 10% before 2029, a surge that's fueled by its versatility. Industrial engineering is a field that's not quite as specialized as other areas of engineering. 
Industrial engineering is a branch of engineering that deals with the design, construction, and operation of manufacturing systems. Industrial engineers are responsible for designing everything from assembly lines to new products and processes in order to make them more efficient.
Because of this versatility, you'll be able to find work in a wide variety of industries, from major manufacturing, consulting, and research and development. Even healthcare companies employ industrial engineers! As new technologies come onto the market to automate production processes in various industries, those who have an intimate knowledge of industrial and manufacturing engineering will be in high demand for some of the best-paying jobs. 
While any engineering degree is worth the cost of tuition, even with today's high tuition rates, a degree in industrial engineering is the way to go. You'll be able to work outside of traditional manufacturing industries and find employment just about anywhere, including for government agencies.
Like all other kinds of engineers, industrial engineers have low unemployment rates and enjoy some of the highest salaries among other degree holders in the United States. 
When you're looking for a master's in industrial engineering, know that your program will be either a master of science or a master of engineering. When it comes right down to it, there usually isn't' much of a difference in cost or credit hours. 
It's the format of the two programs that differs. A Master of Science tends to be more academic, often requiring research or the completion of a thesis, while a Master of Engineering is perfect for the student who wants to dive right into the workforce after completing more hands-on learning.
Of course, many programs offer both of these experiences to students.
Depending on your needs and where you live, you may be able to choose between taking classes in-person or online. This is a great way to save money, for many students. By its very nature, online learning tends to be more affordable because many of the costs of attending a traditional on-campus program, such as transportation, room and board, and even parking, are eliminated. 
Naturally, an online degree might be the preferred way to study for students who are already working and find it difficult to fit classes into their already jam-packed schedules. When you complete an online degree, you'll be able to complete classes on your own time or even on a part-time basis. 
Earning a degree can be a daunting process due to the sheer complexity and difficulty of your courses alone. Industrial engineering is not known for being one of the easiest subjects to major in, so it's normal to have some anxiety about the coursework you'll encounter. Chances are, though, your undergraduate coursework has already prepared you for the rigors of graduate study. 
One thing you shouldn't have to worry about, though, is how you'll pay for your degree. It's true that earning a master's degree can be expensive, but the good news is that there are more financial aid opportunities than ever before.
What is the best affordable master's in industrial engineering? How do you choose the right school for you when it comes to this degree?
If you're looking for the top universities for masters in industrial engineering, look no further. This guide will tell you everything you need to know. 
See Also: 10 Best Master's in Industrial Engineering
What Are the Best Industrial Engineering Degrees?
We know that you have educational goals that you're itching to pursue, but you may not know where to start. The editors of Master's Programs Guide utilize a unique ranking methodology based on the following five aspects:
25% Overall Degree Affordability: Average cost of undergraduate and graduate tuition per school
25% Graduation Rate: Number of students who start at the university and actually finish there
20% Earnings Potential: Average mid-career salary of school alumni
20% Selectivity: The number of students who apply versus the number who actually get accepted
10% Online Graduate Offerings: The number of programs offered online in each department
At Master's Programs Guide, we strive to do our best to guide you and your family toward a fruitful academic career. The pursuit of knowledge is a noble one, and we want to help you reach your goals.
See Also: 10 Best Computer Engineering Graduate Schools
Master of Science in Industrial Engineering
One of the best master's in industrial engineering and management can be found at Texas A&M University. Located in College Station, TX, this school offers a master's in industrial engineering online that consists of 30 credit hours of study. 
Meant to serve as a terminal degree, this program is practitioner-oriented, helping to provide you with the hands-on skills you need for career success. You'll be able to take courses covering topics like:
simulation models and tools
logistics and inventory control
data analytics models and tools
optimization models and tools 
The degree features specializations in multiple areas, such as data science, operations research, manufacturing, and health and human systems engineering. It includes both a thesis and non-thesis option for maximum flexibility. 
A highly affordable program, it features low tuition rates along with generous financial aid. There are all kinds of scholarships available, including College of Engineering scholarships, the Craig Brown Outstanding Senior Engineer Award, and many more. Plus, you can apply for graduate funding such as fellowships and research assistantships.
Master of Science in Industrial Engineering
You will find one of the best M.Sc. in industrial engineering at Georgia Institute of Technology. Located in Atlanta, GA, this school also features tuition rates that are some of the lowest in the country. You'll pay less than $20,000 in graduate tuition and fees, which is just one reason among many why this school is repeatedly ranked among the best public schools in the country by U.S. News & World Report. 
This affordable master's in engineering includes 30 credits of courses, all of which are offered by the H. Milton Stewart School of Industrial and Systems Engineering. You will take courses that focus on analysis, modeling, and solution of problems that arise in the traditional domains of supply chain systems, warehousing, and manufacturing. 
You will learn from accomplished faculty who are actively engaged in research as you learn about the latest developments in industrial engineering. The program serves as an excellent pathway for doctoral candidates as well as for students who want to dive directly into the workplace. Graduates have gone on to work for companies like Boeing, Apple, Intel, Nike, Google, and more.
Applying for this program is easy. You'll need to have an undergraduate degree in science or engineering but a specific major in industrial engineering is not required. There's also no minimum GPA cut-off or test score requirements. Even work experience isn't required, though it can be an asset to your application. 
Master of Science in Industrial Engineering
Founded in 1887, North Carolina State University is a public land-grant research university that is the largest school in the Carolinas. It has a reputation for academic excellence and its commitment to research. Along with Duke University in Durham, NC, and the University of North Carolina at Chapel Hill, it forms one of the corners of the famed Research Triangle. 
Located in Raleigh, NC, North Carolina State University has one of the most affordable industrial engineering master's program options around. You'll pay less than $12,000 and have access to some of the best hands-on learning opportunities you can imagine, allowing you to gain crucial hands-on experience that will help improve your likelihood of finding a high-paying job.
Ranked as one of the best Top Value schools by U.S. News & World Report, North Carolina State University offers an online degree that will teach you how to improve systems and make them workable for any kind of industry. Designed for the working professional, the degree is practitioner-based and focuses on applications in the workplace rather than on theoretical research. 
Because of this, you won't need to complete a thesis or comprehensive oral examination in order to graduate from this professional degree. Instead, you'll complete 33 credit hours of courses in topics like Bayesian decision analysis for engineers and managers, multi-attribute decision analysis, and human factors in systems design.  You will also be able to participate in project work that you can use as part of your portfolio when you apply for jobs later on. 
Masters in Industrial Engineering
Oregon State also has an affordable master of science in industrial engineering. The degree is available as both a master of engineering as well as a master of science. There's even a minor in this field and a doctoral studies plan, depending on your career goals. 
This public university, located in Corvallis, OR, has tuition rates that are lower than $15,000 for graduate students. There's plenty of financial aid that you can apply for, too. Because of this affordability and the school's superb academic quality, it is ranked as one of U.S. News & World Report's Best Value Schools. 
You don't have to be a graduate of an industrial engineering program in order to apply. As long as you have some sort of background in a STEM (science, technology, engineering, and mathematics) discipline, you'll have all the expertise you need to submit an application. You can choose to complete classes 100% online or on-campus, depending on your lifestyle and preferences. 
Regardless of the options you choose, you'll take classes in subjects like:
Spreadsheet Skills for Industrial and Manufacturing Engineers
Product Planning and Control
Computational Methods for Industrial Engineering
Work Systems Engineering
Upon graduation, you'll be prepared for a vast array of positions in management engineering, particularly those requiring skills in technical leadership. 
Master of Science in Industrial Engineering 
A public land-grant research university, the University of Illinois is the flagship institution of the state university system and was founded in 1867. It's home to 16 separate schools and colleges and offers an impressive 250-plus area of study. These programs are highly research-focused, with the school home to a famous Research Park that includes innovation centers for more than 90 different start-up companies and multinational corporations. 
The University of Illinois has one of top industrial engineering graduate programs. With the main campus in Champaign, IL, the school is ranked as a top public school, a best national university, and a best value school by U.S. News & World Report. You can't beat those accolades!
Here, you'll find graduate tuition rates that are lower than $20,000 per year along with a curriculum in industrial engineering that will stand the test of time. The curriculum is constantly being updated to make sure its students receive an education that holds its value and is relevant in the modern workplace. Plus, you can apply for financial assistance in the form of graduate/teaching/research assistantships, grants, fellowships, and tuition waiver scholarships. 
You'll complete 32 credit hours of study along with four hours of independent study with no thesis required (though there is an optional thesis pathway available). You'll take classes in topics like algorithms for data analytics, big graphs and social networks, apple nonlinear programming, and analysis of network data. 
Masters in Industrial Engineering
The University of Arizona is a public university located in Tucson, AZ. Founded in 1885, this school was the first to be established in the Arizona Territory and remains a groundbreaking institution to this day. It consists of 19 separate colleges and schools and is affiliated with multiple research centers, academic medical centers, and more.
It is at the University of Arizona where you will find a top master's of industrial engineering online. This program, located in Tucson, AZ, is also one of the most affordable. The College of Engineering has received top marks for its academic quality by U.S. News & World Report and with low tuition that comes in at less than $14,000 for graduate students, the university has also been ranked a best value school. 
In the industrial engineering program, you'll gain the skills you need as a working professional to master advanced engineering planning and design skills and theory. That way, you can create and manage systems in just about any kind of industry. This program is unique in that it will also teach you the leadership skills and business fundamentals you need to succeed as an innovator and leader in engineering.
Your courses will cover topics like:
advanced quality engineering
advanced concepts in systems engineering
integer and combinatorial optimization
distributed multi-paradigm simulation systems
You can choose to take courses online or on-campus in Lima or Tucson.
Masters in Industrial Engineering
Located in Vestal, NY, Binghamton University has one of the best master's degrees for industrial engineers. This school is a public research university that is considered one of the four prestigious university centers in the SUNY system, home to more than 18,000 students.
This school is ranked a top public school and a best value school by the U.S. News & World Report and offers a master's in industrial engineering that's tailored toward working professionals. It features courses that are taught both in Vestal as well as in Manhattan, allowing you to fully immerse yourself in courses that are offered at the location that best suits your needs.
You'll be able to take classes primarily online as you study topics like applied probability and statistics, enterprise systems, and modeling. You'll be prepared for a management position upon graduation but if you want to specialize even further, you can tack on a certificate in healthcare systems, too. These courses are taught by internationally recognized instructors who will provide you with the best opportunities for research and transdisciplinary learning.
With bonus specialization areas in health systems executive health systems, you'll be able to pursue research in topics like:
supply chain modeling and management
system optimization
electronics packaging and manufacturing
artificial intelligence and expert systems
Admission to this program occurs on a rolling basis so you can apply whenever it's most convenient for you. 
Master of Science in Industrial Engineering 
Missouri University of Science and Technology, also referred to as simply Missouri S&T, is a public research university located in Rolla, MO. A member of the large University of Missouri System, this school is home to more than 8,000 students studying primarily in:
mathematics
sciences
business
engineering disciplines
This school is classified among R2: Doctoral Universities-High Research Activity, offering an academic quality that cannot be surpassed. Nevertheless, the Master of Science in Industrial Engineering at Missouri University of Science and Technology is also one of the most affordable in the nation. Here, you'll enjoy generous financial aid opportunities along with graduate tuition and fees that come in at less than $12,000. 
The degree has an excellent return on investment because you will be able to fully customize your program to meet your career goals. You can choose from a variety of concentrations including those in risk modeling and assessment, complex adaptive systems, model-based engineering, and more. You'll be able to add both depth and breadth to your degree by choosing a specialty that is related to your personal interests. 
As you work on your degree, you'll work alongside faculty who are conducting innovative research in a variety of areas. You'll learn how to solve complex problems that can improve functions within industries, society, and government organizations in your coursework and research. 
However, you can further improve upon your experience by joining student organizations, including competition teams like the Steel Bridge Team, general interest groups like Engineers Without Borders, or even mechanical and aerospace organizations like the MU Association of Energy Engineers. You can even study abroad!
Masters in Industrial Engineering
The master's in industrial engineering online at Arizona State University isn't just affordable, but it's also ranked among the top ten best online graduate engineering degrees by U.S. News & World Report for 2020. It is also listed as one of the best for veterans, recognized again for its affordability, accessibility, and high academic quality.
After completing this degree, you'll have the skills you need to solve complex systems issues that might arise within an organization. It's a research-heavy program that will provide you with the skills necessary to integrate, analyze, and develop solutions. In this online program, you'll learn from the same world-class faculty who teach on-campus. 
The 350+ faculty members who teach at Arizona State's Ira A. Fulton School of Engineering has been recognized with the highest accolades in the field from organizations like the National Academy of Engineering and the National Academy of Inventors. You'll be able to network heavily with professors, students, and industry partners as you take courses in things like:
web-enabled decision support systems
information systems engineering
applied stochastic operations research models
applied deterministic operations research
The program emphasizes three core areas of study in operations research and production systems, quality and reliability engineering, and information systems engineering and management systems engineering. You can even pursue a specialty program in international logistics if you choose!
Master of Science in Industrial Engineering
Western New England University is a private school located in Springfield, MA. Founded in 1919, its first classes held fewer than 20 students, but the school has grown rapidly and currently is home to more than 7,000 students. 
The university is known for its accomplished doctoral and master's degrees, which are offered by:
the School of Law
the College of Pharmacy and Health Sciences
the College of Business
the College of Arts and Sciences
the College of Engineering
In the College of Engineering, you will find a top M.S. in manufacturing engineering that is available completely online. 
The online industrial engineering master's program can be completed in less than two years, even when you choose to study on a part-time basis. It is meant to provide working professionals with an accelerated program of study that will grant you skills in systems, optimization, cost analysis, and much more. All in all, you will take nine credits of core courses in topics ranging from Advanced Engineering Statistics to Inventory Modeling. You will also complete three credits in a core concentration and up to 15 credits of electives.
For the remainder of your courses, you'll choose between a thesis or non-thesis option. Whichever you choose, you'll be able to study at your own pace and enjoy a curriculum that is designed for the real world. Classes are small, averaging fewer than 20 students, so you can immerse yourself fully in the course content while enjoying individualized support from your instructors. Core concentration areas cover topics like:
Design of Experiments
Advanced Manufacturing Engineering Systems
Discrete Event Simulation
Frequently Asked Questions
What will you learn with an industrial engineering degree?
Each industrial engineering degree is a bit different in terms of which courses are required and how many credit hours you will need to complete. Most of the time, you'll take core engineering classes along with a series of electives. You may be able to use your elective course choices to help you specialize in a certain area. 
Usually, about 30 to 36 credit hours are required, with a thesis or non-thesis track typically available. You may be required to complete a residency, internship, or capstone, generally graduating in about two to three years depending on whether you study on a full- or part-time basis. 
Course requirements vary widely depending on the university and your ultimate career goals. At Columbia University, for example, you will complete 30 credit hours of study with a concentration in systems engineering, regulated industries, or healthcare management. 
You'll take a set of required core courses in things like:
Stochastic Models
Supply Chain Analytics
Optimization Models and Methods
You will then move on to electives in various schools (you can even take courses in the famed Law School or the School of International and Public Affairs for a truly one-of-a-kind degree!).
What are the master's in industrial engineering requirements? 
Typically, you'll need to have a bachelor's degree from an accredited university in order to apply for a master's in industrial engineering. This doesn't always need to be in industrial engineering but usually should be in a related field in engineering, mathematics, or science. You may be asked to have a minimum GPA (3.0 on a 4.0 scale is a common cut-off for applicants). In some cases, scores from the GRE (Graduate Record Examination) might also be required.
It's important to look at the individual admission requirements for the schools to which you are applying, however, as they can vary. Arizona State University's program in industrial engineering consists of just nine classes, each of which lasts just 7.5 to 15 weeks for a total of 30 credit hours. You'll need to submit an application along with a statement of purpose, GRE scores, official transcripts, and three letters of recommendation. 
You can also look at the admissions requirements of the University of Illinois-Urbana-Champaign to give you an idea of what you might need to submit. This school requires you to rank your research preferences when you apply but you don't need to meet GRE score cut-offs. You don't even need to send in official transcripts until you are admitted!
What can I do with a master's in industrial engineering? 
Once you earn a degree in industrial engineering, you'll have a wide variety of career opportunities to choose from. In fact, this is one of the most versatile engineering disciplines you can pursue. 
When you're first getting started, you'll likely work under a senior engineer at a production or manufacturing company, perhaps working to collect and analyze data. After you have a few years of experience, you will be able to get more involved in the problem-solving and decision-making processes of your company and perhaps move into a management position as a senior engineer yourself.
The most successful industrial engineering will become the owners or presidents of consulting firms or perhaps even senior associates. Regardless, you'll find job opportunities in both the public and private sector with titles including:
quality engineering
operations analyst
industrial engineer
management engineer
ergonomist
Is financial aid available for industrial engineering degrees?
If the cost of earning a degree in industrial engineering has you stressing, don't panic. There are plenty of financial aid opportunities available.
Just take a look at Georgia Tech University as an example. This school offers external fellowships for American students from federal agencies like the National Science Foundation, the Department of Energy, and the Department of Defense. As a graduate assistant, you'll receive a stipend and tuition waiver in exchange for 16 hours per week of work. You could also be eligible for Georgia Tech and ISE Fellowships.
Georgia Tech isn't alone in its affordability. Many schools offer these kinds of assistantships and fellowships, along with other kinds of financial aid like scholarships, grants, and student loans. Be sure to complete the FAFSA (Free Application for Federal Student Aid) to find out what kind of assistance you might qualify for!
How much does an industrial engineer with a master's make? 
The potential master's in industrial engineering salary is excellent. 
Graduates of bachelor's degrees in industrial engineering at the University of Miami earn the #1 highest-paid spots on most lists, according to College Factual. Of course, master's candidates earn much more all-around than individuals who have just earned bachelor's degrees, making this degree a worthwhile investment.
The Bureau of Labor Statistics reports that, in 2020, the average annual wage for industrial engineers was $88,950. 
The highest 10% of earners brought in more than $136,930, with the best-paid workers employed in professional, scientific, and technical services as well as in computer and electronic product manufacturing. You might also find high-paying jobs in transportation equipment manufacturing, where workers bring in an average annual salary of $91,790. 
Which master's degree is the cheapest?
When you're looking for the most affordable master's in industrial engineering, it's important to consider all aspects of a schools' total price, including its tuition and fees along with available financial aid.
The cheapest school for you might not be the cheapest school for every other student, as there are lots of factors that go into determining a school's overall affordability. However, some of the best values in your education can be found at the schools we've mentioned above in our rankings along with at universities such as the University of Washington, Purdue University, and the University of Florida.
What is the shortest master's program in industrial engineering?
Most programs in industrial engineering are similar in their time to completion. Graduate degrees tend to be more self-paced than bachelor's degrees, allowing you to complete courses on a full- or part-time basis, studying either online, on-campus, or in a hybrid combination of the two
Typically, you will be expected to complete around 30 credit hours of study. In many cases, you can do this in just a year or two, although if you're studying part-time it might take three or four years for you to complete your studies. Adding on options like an internship, study abroad, or cooperative learning experience can add some time on to your degree, but these are worth it in the long run as they can help you land a job after you graduate. 
Is a master's in industrial engineering worth it? 
The long and short of it? Absolutely. Industrial engineering is a field worth majoring in, particularly if you want to embark on a rewarding, high-paying career and have strong aptitudes in mathematics and science. 
Industrial engineering is a difficult major. There's no doubt about it. However, compared to other engineering degrees, industrial engineering has far fewer mathematics and technical engineering courses that you will need to conquer. It also has a high return on investment.
Just look at Lehigh University as an example! In 2020, 95% of its graduating class found employment within just a few short months of graduation, with more than 96% of all students completing at least one internship or similar experiential learning opportunity. 
Related: