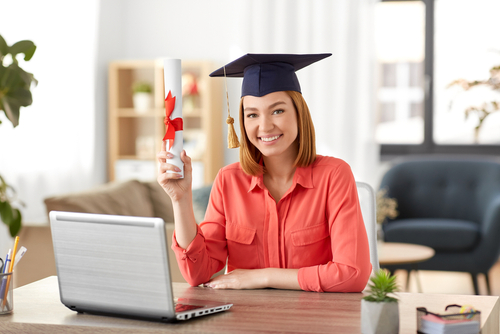 Many students see the appeal of pursuing an online degree program, which are often faster (see our list of the 50 Fastest Online Master's Degree Programs) and more convenient than their traditional, on-campus counterparts. But students worry if their decision will affect how future employers perceive their educational background. Online programs drastically vary in quality and reputation based on the school, and the same can be said for traditional colleges. The key to success in the professional world is choosing a school that will give you the valuable experience you need to do the job you want to do.
The Future is Now
Online learning is nothing new. In 2011, about 6.7 million people, or a third of all college students, took at least one online class. Nearly all traditional residential colleges now have online courses, and about a third of them offer full degree programs via the Internet. As online degrees have become more common, employers have been forced to embrace them, and they are realizing that distance learning can be just as effective as sitting in a classroom (see our list of the Top Paying Master's Degree Programs).
That said, some employers are behind the times and do not understand distance learning, so there is no need to point out that your degree was earned online when applying for jobs. Should the issue come up during an interview, you should be prepared to talk frankly about why an online option was the best decision for you. In the end, the quality and reputation of the school will be more important than whether you attended physical classes or not.
Choosing a Reputable Online Master's Degree Program
By far the most import factor in choosing an online degree program is to make sure it is coming from an accredited college. When looking for schools, research their relationship with the Department of Education and the Council on Higher Education Accreditation. Schools with regional accreditation are usually better respected than those with just national accreditation. Some universities do not recognize degrees and credits from colleges that are only nationally accredited, so consider that fact if you plan to pursue a doctoral degree later on.
What Do Employers Think About Online Degrees?
You likely have nothing to worry about if your degree comes from a respected, long-standing college with a physical campus. However, research shows that some employers view schools that are strictly virtual as "less rigorous." This perception doesn't necessarily reflect reality, so it may quickly change. A meta-analysis of multiple studies comparing learning outcomes from face-to-face classes with those from online classes found that online students had a better understanding of class material at the end of online courses. The report issued by the Department of Education attributed online learners' better performances to a few specific traits: excellent time management, self-motivation and superior online communication skills. Some studies suggest that online classes are more difficult because they require more discipline. Virtually all jobs require the Internet now, so mastering telecommunication is also a valuable skill that can increase your value on the job market.
[Check out our ranking of the best Online Graduate Degree Programs.]
Be weary of "diploma mills" that claim to issue master's degrees based solely on work experience. Some companies will send you a certificate that looks like a real diploma in exchange for your faxed resume and a large sum of money. Some reputable colleges award limited course credit based on professional experience, but a legitimate degree requires classwork. If you choose a program that challenges you and successfully prepares you to thrive in your field, employers will see that and not be so concerned with how you got your degree.
See our list of the 50 Most Popular Master's Degree Programs.