Ready to find your ideal master's program?
www.mastersprogramsguide.com is an advertising-supported site. Featured or trusted partner programs and all school search, finder, or match results are for schools that compensate us. This compensation does not influence our school rankings, resource guides, or other editorially-independent information published on this site.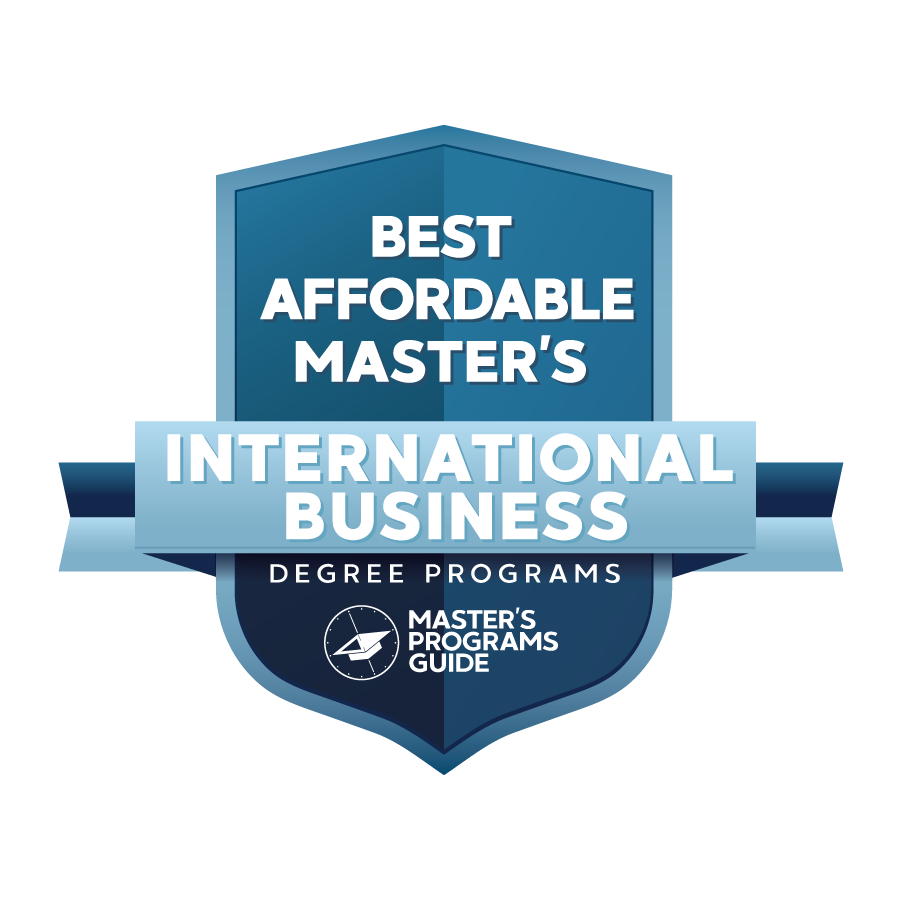 An increasingly globalized economy means that understanding business and global markets is essential. When you earn one of the ten best affordable MBA in international business degrees, you'll be equipped with the skills and professional network you need to do just that—all without spending a fortune.
Chances are, if you are considering earning a business degree, you are already working full-time or have other commitments to attend to. Because of this, affordability is key. While you probably don't want to settle for a cheap, cut-rate degree, the good news is that you don't have to. You don't have to sacrifice quality for affordability!
Look for a program that checks off all the boxes. Not sure what to look for? Here's a quick overview.
First, the best programs will offer the most opportunities for engagement. Even if you decide to study online, it's important that you find a degree that will allow you to interact with your classmates and instructors (who should be as accessible, responsive, and credentialed as possible). When researching the many MBA programs in the United States, you'll find that most of these empty prestigious faculty have decades' worth of experience to share with students.
Because of this, it's important that you find a program that will allow you to work closely with those faculty. Programs that offer hands-on learning opportunities like internships, study abroad, and fellowships are top-notch. 
Finding an MBA that will give you access to these opportunities, along with others such as extracurriculars, on-campus events, and alumni programs, is key. You should also look for a program that will incorporate diverse teaching methodologies and technologies, both of which will help you gain mastery of key business topics. Look for strong support structures like financial aid resources, career guidance, and learning assistance, too. 
What kind of career outcomes does the program boast? How many of its graduates are employed in their chosen field of study within six months of graduation and how much money are they making? These facts, combined with the information above, can tell you so much about the quality of a program.
Of course, the best way to figure out if a program is right for you is to give it a test drive! Contact the faculty and admissions office at any schools in which you might be interested and get some more information. While you might not be able to travel to campus to take a visit, it's a good idea to connect to the greatest extent possible with your chosen school.
Before you do that, though, it's a good idea to narrow down your search. If you're on the hunt for the best affordable MBA in international business, you're in luck. Our ranking has all the information you need to set you off on the right foot—and to help you find the best degree that will enable you to make a global impact. 
See Also: 10 Best Master's in Industrial Engineering
What Are the Best Affordable MBA in International Business Degrees?
We know that you have educational goals that you're itching to pursue, but you may not know where to start. The editors of Master's Programs Guide utilize a unique ranking methodology based on the following five aspects:
25% Overall Degree Affordability: Average cost of undergraduate and graduate tuition per school
25% Graduation Rate: Number of students who start at the university and actually finish there
20% Earnings Potential: Average mid-career salary of school alumni
20% Selectivity: The number of students who apply versus the number who actually get accepted
10% Online Graduate Offerings: The number of programs offered online in each department
At Master's Programs Guide, we strive to do our best to guide you and your family toward a fruitful academic career. The pursuit of knowledge is a noble one, and we want to help you reach your goals.
Related: Best Online MBA in Information Systems
MBA in International Business
As the fourth-largest university in the state of Florida, it's easy to see why the University of South Florida is at the top of our list when it comes to MBA in international business programs. This school has a diverse student body and plenty of programs to choose from, with degrees spread out among 14 different colleges and schools. 
A top research university with campuses in Sarasota, St. Petersburg, and Tampa, this school has a massive global reach with extensive financial assistance for students who wish to study abroad. U.S. News & World Report ranks this school as one of the best for veterans and one of the top public universities as a result. 
This cheapest international business MBA will help you develop an understanding of how to conduct business across cultural and global boundaries. You'll be able to choose from a long list of courses such as:
International Management
Managing International Cultural Differences
International Financial Management
International Marketing Management
Of course, you'll also be able to experience an international business experience abroad!
The program is nationally ranked and features courses taught by world-class faculty, industry leaders, and guest speakers. You can complete your courses on either the Tampa or Sarasota-Manatee campuses. Collaboration is at the heart of this program, enabling you to work with other students as you conduct research, analyze case studies, deliver presentations, and engage in mentorship.
You'll be able to network closely with employers and classmates, along with alumni, as you go through your courses. The college hosts two corporate connections events each year, allowing you to interact with corporate recruiters from major employers such as Bank of America, Tribridge, Coca-Cola, and more. You can even participate in case competitions and career fairs!
This program is remarkably affordable with tuition starting at just $17,000 for the entire program for qualifying in-state students. Many students benefit from corporate tuition assistance policies from their employers along with financial aid such as scholarships and loans. Both teaching and graduate assistantships are available, too. 
MBA with a specialization in International Business 
Situated just outside of the Dallas-Fort Worth Metroplex, Texas A&M University-Commerce has multiple satellite campuses and offers MBA courses in both Commerce and Dallas.
As one of the most affordable schools in the country, Texas A&M-Commerce has a historic commitment to making higher education more accessible to those in need. It has an in-tuition program that allows students to lock in their tuition rates during their freshman year. Plus, the school has one of the lowest tuition rates among comparable research institutions of a similar size and prestige.
Pursue the MBA with a specialization in international business at Texas A&M University-Commerce and you'll be joining one of the largest online MBA programs in the state of Texas. You'll be prepared to meet all the challenges and opportunities associated with advancing your career in a competitive and global environment. You can complete the degree with a minor or secondary area of study, too.
A one to two year program, it requires no thesis and consists of 36-39 credit hours of study. It can be completed 100% online.
Potential minors include:
accounting
cybersecurity
business analytics
economics of U.S. healthcare
financial planning
marketing analytics
corporate management
As an international business student, you will take classes such as International Marketing, Global Competitiveness, International Business Finance, and International Economic Problems.
This affordable program has tuition starting at just $3,670 for every nine credit hours of study. Financial aid and scholarships are available.
MBA in Global Business 
Located in Florence, AL, the University of North Alabama was first founded as LaGrange College in 1830. Originally a teacher's college, the school has rapidly expanded its offerings to include more than 250 different programs of study at the graduate and undergraduate levels. The AACSB-accredited MBA is taught by a team of full-time instructors who all have terminal degrees—with the online version ranked 17th in the world by CEO Magazine. 
According to U.S. News & World Report's Best Colleges publication, the University of North Alabama has the third-highest international student enrollment of any school in its category. When it comes to the quality and reach of the MBA in global business, this ranking speaks volumes!
The global business concentration features courses such as:
Advanced Concepts in Global Business
Global Business Structures
Mergers and Acquisitions
Global Entrepreneurship and Business Expansion
Strategic Management and Competitive Analysis
Of course, you'll also participate in an international experience and internship abroad, too.
The MBA at the University of North Alabama has racked up dozens of accolades. It's recognized as the largest MBA in Alabama by Birmingham Business Journal and as one of the best in the country by publications such as Great Business Schools.  
Whether your interests lie in researching, teaching, or traveling, this program will allow you to engage in rewarding projects both during and after graduate school. It's affordable, too, with low tuition rates and plenty of financial aid opportunities. In fact, many corporations partner with the school to offer reimbursement for tuition and living expenses. 
MBA with a specialization in International Business
Located in Boca Raton, FL, Florida Atlantic University also has campuses in places such as Davie, Jupiter, Fort Lauderdale, Dania Beach, and Fort Pierce. A member of the massive 12-campus State University System of Florida, this school is ranked one of the top research universities in the country. 
With more than 170 different programs for students to choose from, the school's top three graduate majors include educational leadership, accounting, and of course, business. It's ranked as one of the most diverse schools in the country by U.S. News & World Report. There are plenty of enrichment opportunities for students to enjoy like:
internships
study abroad
clubs
campus organizations
hands-on research
Florida Atlantic offers one of the most affordable international business master's. This program is offered by the Department of Management and will prepare you for a multitude of career opportunities. In addition to the international business track, the interdisciplinary MBA also offers a global entrepreneurship specialization. 
You will be able to take 12 credits toward your area of concentration, allowing you to eventually pursue a job with an international dimension. Accredited by the Association to Advance Collegiate Schools of Business, the program is ranked within the top 50 schools for entrepreneurship by the publication Entrepreneur. 
The degree is designed for recent graduates as well as those who are just beginning their careers. It can be completed on a full- or part-time basis and includes 43 credit hours of study. You can take courses online as well as on-campus, making this degree both convenient and affordable. 
MBA International Business Concentration
Founded in 1902, Fort Hays State University is the fourth-largest of all the six state universities within the Kansas state university system. Though originally meant to serve as a school just for aspiring teachers, the university now offers programs in dozens of fields of study. 
The MBA here has a popular international business concentration that you may want to consider. You will take core classes such as:
International Marketing
International Finance
International Economics
And if the international business concentration doesn't meet your needs, then don't worry—the Fort Hays MBA also offers specializations in things like digital marketing, finance, and corporate communication. 
You can complete many of your courses online, allowing you to earn a degree on your own terms. You'll work closely with peers and faculty as you complete group projects, presentations, and internships in a collaborative, interdisciplinary environment.
You'll be paired with a personal advisor who will walk you through the MBA process and provide you with all the information you need. You will also be provided with career placement assistance and counseling, not just while you are enrolled in the program, but for life. 
To apply for this degree, you do not need to have a business degree. You can take all the foundational courses you need to "catch up" while you are enrolled in the MBA. it's an affordable program with low tuition rates and plenty of on-campus graduate teaching assistantships that you can apply for. 
MBA in Global Business 
Troy University is another top college to consider if you're looking for an MBA in global business. This school was founded in 1887 as the Troy State Normal School but is now the flagship university of the Troy University system. With the main campus in Troy, AL, the university also has campuses in Dothan, Phenix City, Montgomery, and more. There are teaching sites in nearly a dozen different countries, too!
With an extensive alumni network of more than 100,000 individuals spread out all over the world, this university is one of the best in its commitment to global education. Here, you will also find one of the world's best MBA in global business programs. 
The MA in global business at Troy University is designed for students seeking broad preparation in business administration along with more advanced study in international management and global business. It is offered by the Sorrell College of Business and includes core classes in things like:
Global Business Strategy
Data Analysis for Global Managers
Global Strategic Marketing
Financial and Managerial Accounting for the Global Manager
You will learn from qualified and experienced faculty in this accredited program with a global perspective. You'll learn how to apply problem-solving skills to real-world issues and learn how to meet the challenges of the modern business world. 
This affordable program has low tuition rates and incredible scholarship opportunities. There are some exclusive to online learners as well as a variety that are intended solely for military members and their families. 
Master of Business Administration in International Business
Clayton State University is located in Morrow, GA, and serves the Atlanta metropolitan area. This school is known for its athletic prestige, with teams in basketball, golf, tennis, soccer, and more participating as leaders within the Division II of the National Collegiate Athletic Association. However, it also received acclaim for its high-quality academics.
Here, you will find dozens of programs spread out among four colleges and one school, including:
College of Arts and Sciences
College of Health
School of Graduate Studies
College of Information and Mathematical Sciences
College of Business
It is within the College of Business that you will find the quality Master of Business Administration in International Business. Here, you'll take 33 credit hours of study or about 12 courses that will provide you with the required classroom experience to work in all functional areas of business, from finance and production to accounting and human resources, that you need to make a global impact. 
You'll also complete a study abroad trip that will take you to one of the world's major business hubs. Some of the courses you may take include Decision Concepts, Marketing Strategy, Innovation and Design Thinking, and Global Strategic Management. An affordable program, it is offered with rock-bottom tuition rates and ample opportunities to apply for financial aid. 
MBA combined with a certificate in Global Business
A public research university located in Seattle, WA, the University of Washington is one of the oldest universities on the West Coast. It was first founded to assist the region's economic development about ten years after the city of Seattle was founded. Without a doubt, it has done just that. 
The school is associated with a number of notable faculty and alumni (including 21 Nobel Prize laureates). As well as partners with numerous technology and business giants, like Boeing, Amazon, Nintendo, and Microsoft. The University of Washington also offers one of the best and cheapest top MBA programs. 
The MBA at the University of Washington isn't a stand-alone international business degree. However, it can be paired with a variety of international opportunities, including the Global Business Certificate. The Foster School of Business at the University of Washington is one of the few schools in the nation that offers a specific Global Business Center that focuses primarily on offering international education opportunities specifically for MBA students.
You can participate in a variety of short-term and faculty-led MBA programs abroad or full exchange programs that will let you complete your entire degree abroad. There are study abroad scholarships for Foster MBA students, too. Of course, if taking classes with a uniquely international focus is what you have in mind, then you'll find this at the University of Washington, too. 
For example, the Global Business certificate will enable you to participate in international activities and opportunities while also taking courses in things like Managing in a Global Environment and Applied Global Consulting Projects. From global competitions to research groups focused on global business issues, you'll find all kinds of opportunities to expand your training (beyond typical borders!) at the Foster School of Business. 
MBA with a Concentration in International Business
A public university located in Dearborn, MI, the University of Michigan-Dearborn is one of the two regional campuses of the University of Michigan. It offers students more than 143 different degrees to choose from and is known for its community engagement both within the Metro Detroit region as well as on the global scale. 
It is at the University of Michigan-Dearborn where you will find what can easily be considered the most affordable online MBA in international business. This program is offered as a concentration within the MBA program, with other options including:
finance
business analytics
accounting
human resource management
information systems management
marketing
supply chain management
Available both on-campus and online, the international business concentration includes nine credit hours of study.
You'll take all the basic, foundational MBA courses in finance, human resources, and economics that you might expect. In addition, you'll take globally-focused courses in topics like The Global Economy: Crisis and Growth, Global Marketing, Supply Chain Management, International Dimensions of Management, and International Financial Management.
Not only is this program one of the best in quality, but it's also one of the most affordable. This school has a long-standing commitment to making higher education more affordable. The College of Business offers a graduate admission scholarship that is offered on a rolling basis along with many other university-wide awards.  
MBA with a Concentration in International Business
The University of Houston-Clear Lake is a public university with campuses in Pasadena, Houston, Pearland, and Texas Medical Center in the state of Texas. It has nearly 100 different degree programs spread out among four academic colleges. First established to meet the demands of the nearby space-related industries, this school offers programs to help students meet just about any career goal.
This school also offers the top most affordable international MBA program. This degree includes 36 credit hours of study with each course lasting 16 weeks in length. You can take classes in a traditional classroom environment or completely online. You can even pursue courses in a hybrid fashion if that's what suits your fancy!
Everything in this program can be customized to meet your goals and lifestyle, including your concentration. The international business concentration includes courses in:
International Finance
International Accounting
Global Sustainability and Strategic Advantage
This program is also extremely affordable. For a single course, you'll pay just $1,691. You'll get a significant tuition and fee reduction if you take more than one course per semester, too. Not only will you be able to graduate more quickly, but you can do so with far less expense and debt, too!
Frequently Asked Questions   
Which country is best for MBA in international business?
If you are interested in earning an MBA in international business, the good news is that you can do so just about anywhere. You can even earn a degree from the comfort of your own home, studying exclusively online right from your couch.
However, there are some countries that serve as the most coveted destinations for prospective business students. Among these are the United Kingdom, Canada, Australia, France, Germany, Singapore, Spain, Switzerland, China, and the Netherlands.
Of course, pursuing an international business MBA in the USA is always an option. This country consistently ranks at the top of the list among students who are interested in earning international business MBAs. The prestige and networking opportunities can't be beat, with the United States hosting some of the world's most highly-ranked business schools.
These schools are home to internationally renowned faculty and alumni, some of whom are as noteworthy as former American presidents! Most American MBAs last two years and include internships during the summer months, as you'll see in the examples of the top schools in this article. An American international business MBA tends to last a bit longer than those offered in other countries, giving you more time to study abroad and build your career. 
What is the difference between an international business masters and an MBA?
You might be wondering – what's the difference between one of the most affordable international business master's programs and an MBA in international business? The two are quite similar, however, there are a few distinctions to be made.
The most significant difference between the two is that the master's degree in international business tends to be highly focused and will let you focus exclusively on issues related to international business. An MBA, on the other hand, will also provide you with a skill set that can be transferred to many other areas of business. 
There are other differences between the two as well, but these tend to be more specific to individual programs and not applicable to the two as a whole. For example, many international business MBAs require that applicants have some prior experience before applying, while this tends not to be the case with master's degrees. 
What will I learn in an international business MBA?
The average international business MBA will consist of around 30 credits and enable you to graduate in just two years. They can be completed on a full- or part-time basis. Your coursework will prepare you to work in fields like international trade and sales along with global marketing. In addition to an internship or study abroad program, you'll also complete courses that will help you navigate the complex world of business.
These courses include things such as Developing Global Markets, Global Supply Chain Logistics, International Financial Policy, and International Economics. The very best international business MBA programs will allow you to customize your degree so that you can take courses that meet your specific needs—and help you meet your career goals.
What are the admissions requirements for an MBA in international business?
Business schools vary in their admissions requirements. However, you will likely be expected to submit a formal application (often online), undergraduate transcripts, letters of recommendation, a resume, and an essay (or multiple essays). In many cases, test scores are also required. These are typically from the GMAT but may be from the GRE instead. 
What kinds of jobs can I get with an international business MBA?
When you earn a degree in international business, you'll find that all kinds of careers are now open for exploration. You might pursue a position for a logistics company, a consulting firm, an international nonprofit, or another global organization.
Some of the titles you might hold include risk management director, financial analyst, analytics manager, supply chain manager or director, or business development manager. This broad-based degree could even allow you to pursue a career in project management or business administration, depending on the specific courses you take and where, exactly, your passions lie. 
Depending on your title, your day-to-day tasks could include anything from coordinating and supervising supply chain activities, developing key strategies businesses need to be profitable, pursuing new business opportunities, or forecasting business trends and risks. It's safe to say that no two days will ever be the same!
Who has the cheapest MBA program?
Affordability is key when it comes to earning an MBA, which is why our ranking of the best affordable MBA in international business degrees includes only the most budget-friendly picks. Other cheap MBA programs to consider include those offered by Eastern New Mexico University, Sam Houston State University, and Fayetteville State University.
MBAs tend to be among the most expensive graduate degrees but there are plenty of ways you can save money (starting, of course, by choosing the programs we've ranked above, which have some of the lowest tuition around). In many cases, choosing an online MBA can also help you save some money. 
In addition to looking for online programs and those with lower tuition rates, choosing a program that can be completed on a part-time basis can also help you save money. That way, you don't have to quit your job so you can keep putting money toward your expenses. 
How much money will I make with an international business MBA?
Because your career opportunities after earning an international business MBA will be vast and varied, so, too, will your income potential. Exactly how much money you make will depend on what kind of career you ultimately select.
For example, as a supply chain manager (or logistician), you'll earn an average salary of around $76,270 per year, a wage that increases even more with experience and education. These jobs are in high demand, too, with new positions expected to increase at a rate of about 4% by 2029. 
You could also pursue a career as a business development manager, working to plan and coordinate programs for staff and to explore new business opportunities. In this line of work, you could earn up to $115,640 per year with an expected growth of about 7%. 
Ultimately, earning a degree in business will expose you to a wide variety of careers in the business niche. Employment in all business and financial occupations, according to the Bureau of Labor Statistics, is expected to grow by 5% before 2029 with an average salary of $72,250. You just can't beat those numbers!
Is an MBA in international business worth it?
Absolutely. Some people might argue that an MBA is no more useful than a bachelor's degree in business but that is simply not the case. Not only will earning an MBA expose you to brand-new ideas and experiences that will help you land a higher-ranking job, but it will also open the door to new careers that would never have been possible before.
Not only that, but graduates of MBA programs tend to earn much higher salaries than those who have just earned bachelor's degrees. The typical graduate of an MBA in international business program makes around $30,000 per year more, on average than the worker who only has a bachelor's degree! Those figures speak for themselves and attest to the true value of earning an MBA in international business.