Ready to find your ideal master's program?
www.mastersprogramsguide.com is an advertising-supported site. Featured or trusted partner programs and all school search, finder, or match results are for schools that compensate us. This compensation does not influence our school rankings, resource guides, or other editorially-independent information published on this site.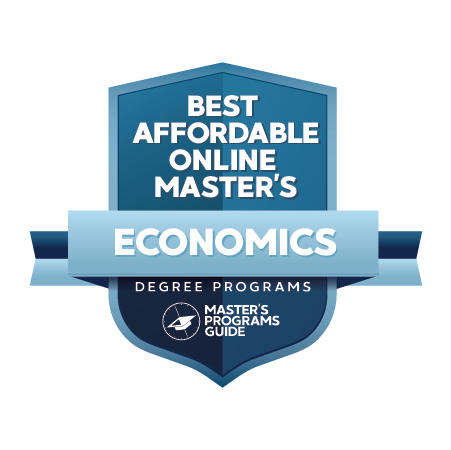 Turn on the news, and it's almost a sure thing—within five minutes, you're guaranteed to hear something about the economy.
Whether it's good news or bad, financial news dominates practically every aspect of our daily lives. From job creation to stocks, cryptocurrency to bonds, the economy is a driving force behind just about every industry on the planet.
If you have a passion for understanding the ins and outs of an economic system, you may want to pursue an affordable online master's in economics. 
Economics sounds complicated, but really, the discipline is all about studying how various resources and goods can be used to produce commodities that can then be traded and distributed across a group of people. 
This major isn't just for number-crunchers and math nerds, either. In fact, to be a successful economist, you also need to have an understanding of the various social sciences that impact our financial decisions, too. This major is the perfect choice for someone who appreciates the nitty-gritty details of hard math but also wants a degree that delves deep into the humanities, too. 
Not only that, but people with financial savvy and a keen understanding of how the global economy works are in consistently high demand across industries. You'll have a wide range of job opportunities, since you can work in banking, government, public policy, nonprofits, consulting, business, financial services, research, and more. 
If it involves money, chances are, an economist is needed. 
Although you can easily get started in this high-demand field with just a bachelor's degree, earning a master's is a wise choice. When you complete the higher-level courses required by a master's, you'll learn how to detect and predict trends that other people just don't see. You may also be able to interpret the impact that various social policy decisions have on economic systems.
You'll be able to see trends, understand trends, and predict trends—and propose solutions that can help various companies and organizations overcome the challenges that economic change brings about. 
If you're already working in economics (or even in another field), you might think that it's impossible to earn a degree without sacrificing your full-time job. Think again. Believe it or not, you can earn a master's degree to advance your career without having to submit your two week's notice. 
You just need to find a master's program that works with your lifestyle, instead of against it. The best option? An online master's in economics.
Not only are online programs more affordable (after all, you won't have to pay for transportation, room, and board) but they are also more convenient for people who live fast-paced lives (and don't we all!). 
In the past, online degrees had a stigma attached to them, with many people and employers viewing them as "lesser-than" their on-campus counterparts. That's no longer the case. Online programs are now just as high-quality (if not more so) than traditional programs. 
They afford students the opportunity to study wherever it's most convenient from them, and to benefit from the same exceptional resources they would access if they were studying on campus.
So what are you waiting for? It's time to learn more about the best affordable online master's in economics. 
Common Application and Admission Questions
Your first step in applying to a program in economics is to first figure out which program is best for you. If you're reading this article, you're probably already sold on an online program—and that's a great decision. 
However, you will still have a lot of narrowing down to do in your search for the perfect program, as there are hundreds of options out there. You'll want to consider the overall affordability, for example, since some schools charge tuition per semester versus per credit. While neither of these systems is necessarily more expensive than the other, it may affect how quickly you decide to complete your courses. 
You will also want to consider the location of this school. While you can easily enroll in an online program anywhere around the country, regardless of where you live, you might want to choose one a bit closer to home. 
Why, you might ask?
Choosing an online program that's closer to your hometown may help you forge additional, valuable connections with employers and faculty members. If you plan on taking any blended courses—those that are offered partially online and partially on-campus—then the location will play a role in your decision, too. 
Otherwise, look at the quality of the faculty, credits required for degree completion, class sizes, and accreditation. The best online programs are those that are regionally accredited. Avoid applying to an unaccredited school, as many employers and other colleges (if you decide to transfer) will not accept these degrees. Plus, you may not be able to get financial aid. 
Once you've chosen your program, it's time to apply! Most online master's in economics have similar admissions requirements. You will need to submit a set of transcripts, an application form, and you may have to complete an interview or meet with an admissions counselor. Luckily, this can typically be done remotely, with interviews or meetings conducted over the phone or video messaging services, like Skype. 
Other admissions requirements vary depending on the university. You may need to have a minimum undergraduate GPA of 3.0, with some schools requiring averages that are slightly higher or lower. You'll have to have a bachelor's degree, too, although not all schools require a baccalaureate major in economics. 
Several letters of recommendation are typically required too. These should be provided by people who know you well, ideally from professors or former employers. Try to give your referees plenty of notice when you ask them to vouch for you! 
You might also need to supply standardized test scores, typically the GRE or the GMAT, along with evidence of work experience in economics. This last requirement can vary widely depending on the university, but most schools require two to three years of experience. 
Give yourself plenty of time to work on and submit your application. Don't wait until the night before it is due! It's a good idea to apply to several different schools, but narrow it down to just a handful. While applying to multiple programs can strengthen your odds of admission, it can get costly, as many schools require application fees. 
What About Financial Aid & Scholarships?
Attending college—even online—is expensive. You can expect to pay anywhere between $15,000 to $60,000 for your online master's in economics. 
There are several factors that can impact the cost of your program, but rest assured that online degrees are almost always less expensive than those that are offered on-campus. This is because on-campus programs come with a whole host of required fees that you will not need to pay when you are studying on campus. 
For example, you will not have to finance things like an on-campus meal plan, housing, or transportation. You might also be able to waive fees for access to things like student activities, libraries, parking, athletic facilities, and other expenses, too. Often, online courses are set up to charge distance learners for tuition only. To sweeten the deal even more, this tuition rate is often billed at the in-state rate, regardless of where you actually live. 
Nevertheless, that tuition—often charged per credit hour at rates of $400 or more—can still be daunting. Luckily, there are ways to finance your education so you don't have to pay full sticker price.
Keep in mind that public schools aren't always cheaper than private universities, although the costs often seem quite different when you first glance at the tuition rates. Although public schools charge lower tuition rates than private schools, private schools often have additional financial aid available to offset the difference. 
Therefore, it's important that you always read the fine print and seek out alternative sources of funding when you are applying for a master's degree. Begin by completing the FAFSA, the Free Application for Federal Student Aid, starting in January of the year in which you plan to attend school. This federal form requires you to provide financial information from the previous year. 
In most cases, that means supplying data from your tax returns, W2s, pay stubs, and other documentation. The FAFSA will use this information to generate your financial aid eligibility.
Although there is typically more financial aid reserved for undergraduate students that graduate students, keep in mind that there are still plenty of options out there. Some of these are based on your financial need—grants and government-subsidized loans are two examples—while some are based on academic or extracurricular merit. 
Even if you aren't awarded much aid according to the results of your FAFSA, it's worth your time to look into alternative funding at your university of choice. Many universities offer special scholarships, grants, and other awards specifically for economics majors. Although these won't always cover the full cost of tuition, every little bit helps!
Many schools offer programs that can offset the total cost of your attendance—but you'll have to put some legwork in. Consider applying for work-study and assistantship programs, both of which can provide you with valuable work experience and help you pay for school, too. If you still have gaps to fill when paying for your degree, know that many employers offer reimbursement plans to help you earn your credentials as well.
How Much Can I Make With an Online Master's in Economics? 
In general, you can expect to complete your degree in about a year or two of full-time study. This can vary depending on how quickly you choose to move through the curriculum. Some programs allow you to work at your own pace so you can take as many classes as you'd like and graduate more quickly. 
Most online master's in economics require 36 credit hours of study, but some may require up to 54. Schools that operate on a quarter system typically require additional credits, too.
Although a master's degree takes significantly less time to complete than a bachelor's degree, you might feel frustrated by the extra time it takes to earn a degree. Try to be patient, even though you're chomping at the bit to get out into the workforce!
We don't blame you. Once you earn your master's degree, there are thousands of job opportunities awaiting you. Many of them pay extremely well, too.
Economics graduates can earn salaries of more than $75,000 per year, with many earning well over $110,000 depending on the specialty and industry. If you specialize in an in-demand field, like actuarial science or financial analysis, your prospects will be even better. You don't have to have decades of experience to earn one of these high starting salaries, either. Many entry-level professionals report earning wages this high (or even higher!)  according to Payscale.
Although salaries are high across the board, the highest earners are those working directly in finance and insurance. However, employees for the federal government as well as those who work in scientific research and development also earn respectable wages. 
Jobs in economics are in high demand, too. The Bureau of Labor Statistics reports that jobs in economics are readily available, with an expected growth of 8% by 2028. This is much faster than the national average, encouraged in part, perhaps, by a growth in the complexity of the global economy and the addition of new financial regulations. 
The best job prospects are found by candidates who have a minimum of a master's degree along with strong analytical skills. You can also earn more by gaining skills in statistical analysis software. 
Beyond earning a master's in economics, there are several other ways you can boost your potential career earnings, too. For example, you may want to choose a program that will allow you to pursue certification in some area of economics. 
You could pursue globally recognized certifications like the certified economic developer certificate, the chartered economist certificate, the chartered financial analyst certificate, or an additional certificate through the Association of Certified Chartered Economists. 
Joining a professional organization in economics, such as the National Association for Business Economics or the National Economic Association, can help you find high-paying job opportunities, too. 
What Are the Best Master's in Economics Degrees?
We know that you have educational goals that you're itching to pursue, but you may not know where to start. The editors of Master's Programs Guide utilize a unique ranking methodology based on the following five aspects:
25% Overall Degree Affordability: Average cost of undergraduate and graduate tuition per school
25% Graduation Rate: Number of students who start at the university and actually finish there
20% Earnings Potential: Average mid-career salary of school alumni
20% Selectivity: The number of students who apply versus the number who actually get accepted
10% Online Graduate Offerings: The number of programs offered online in each department
At Master's Programs Guide, we strive to do our best to guide you and your family toward a fruitful academic career. The pursuit of knowledge is a noble one, and we want to help you reach your goals.
Master of Science in Applied Economics

Southern New Hampshire University is ranked as the most innovative school in the country by the U.S. News & World Report.
How does a school earn such an accolade, you might ask? It's not easy. However, SNHU, as it's affectionately known by its students and faculty, received this distinction by offering some of the most unique improvements in terms of teaching, curriculum, student life, facilities, and technology. 
When you start researching everything that SNHU has to offer, the designation makes a lot of sense. This school, headquartered in Manchester, NH, offers more than 100 undergraduate degrees to choose from along with dozens of graduate offerings. The school is also one of the country's premier distance education providers, too.
As a result, this is where you'll find one of the best affordable online master's in economics. The Master of Science in applied economics is available fully online with 24/7 online accessibility. Not only are you not required to travel to campus, but you can also access your courses whenever and wherever it's most convenient for you. There are no set log-in times.
You can complete this degree at your own pace, graduating in as few as 15 months (or as long as it takes you to complete the requirements). No GRE or GMAT is required for admission, and you'll only pay $627 per credit hour—a total steal. Financial aid is available for those who qualify, and you don't have to worry if you're transferring in credits, either. SNHU will accept up to 12 from your old institution. 
The program is incredibly immersive and hands-on. You'll learn how to communicate complicated economic findings, problems, and principles, as well as how to evaluate the impact of both external and internal factors on organizational decision-making. The program continues to evolve and expand to adapt to the ever-changing challenges of the global economy. In fact, SNHU was recently awarded a $1 million grant from Google to explore soft skills assessments.
SNHU has more than 100,000 graduates across the country, and that network continues to expand. When you enroll here, you'll have access to a complex network of more than 200,000 students, staff, and alumni that can support you long after you graduate. You'll benefit from the real-world, hands-on instruction from instructors along with a nationwide network of career and internship opportunities.
To apply, you don't have to have a background in economics or even in business. You can take three foundational courses to familiarize yourself with the discipline before you begin your graduate work—Economics for Business, Mathematics and Statistics for Business, and Financial Reporting and Analysis. Otherwise, you can round out your economics major with four electives courses or you can combine your passions in other areas (like environmental science) with your economics major.
Master of Science in Finance and Economics ­(M.S.F.E.)

If you want to earn a master's degree in economics but don't have any experience in the field, don't worry. West Texas A&M University has just the program for you.
Located in Canyon, TX, West Texas A&M University is a public institution that was founded in 1910. With a total undergraduate enrollment of just under 8,000 students, it is one of the most popular universities in the state of Texas. It's also highly regarded, ranked as one of the Top Public Schools and top Regional Universities in the west by U.S. News & World Report.
What's truly remarkable about the economics major, the Master of Science in finance and economics, is that it's open to all applicants with a four-year bachelor's degree. You do not have to have a degree in business or economics to qualify. Designed for full-time, fully employed professionals, the degree provides up to six years for completion. That way, you can have the utmost work-life balance.
It is highly customizable, requiring anywhere between 36 and 45 credit hours. It's available via 100% online asynchronous classes. If you live nearby, you can take classes on campus, too—although this is certainly not required. You can concentrate more on economics or more on finance as you choose your courses, allowing you to gain expertise in the discipline of your choosing.
Perhaps even more convenient is the fact that courses are offered during five semesters each year. You can take classes during all 12 months of the year if you so choose, with fall, winter, spring, and two summer sessions available. 
This program will require you to take 21 hours of core courses in key content areas like the theory of households and firms, monetary and fiscal policy, corporate governance, asset valuation, corporate finance, international business, and quantitative analysis. When you enroll, you will receive a personalized plan of study that aligns best with your individual career goals and background.
This degree is not only affordable—offering low tuition and ample financial aid opportunities—but it's also highly ranked. The Paul and Virginia Engler College of Business, the school in which this program is housed, is ranked second in the country by The Financial Engineer in the publication's 2020 Financial Economics Rankings of national finance and economics graduate programs. 
Not sure this major is right for you? West Texas A&M offers related graduate programs including the Master of Public Accounting, the Master of Business Administration, and the Master of Science in computer information systems and business analytics. All are facilitated by talented, experienced faculty members and enjoy the same reputation for high-quality instruction.
Master of Arts in Community and Economic Development

If you're looking for a small, close-knit master's degree, look no further than the Master of Arts in community and economic development at Western Illinois University. This program is home to fewer than 30 students, so you're guaranteed to get the attention from your instructors that you deserve.
Those ratios aren't surprising, though, given that the student-to-faculty ratio at Western Illinois, in general, is just 13:1. In fact, nearly 60% of all classes have fewer than 20 students. You'll get to know your professors and you won't be just another face in the crowd. 
Founded in 1899, Western Illinois University is a public university with a reputation for offering quality degree programs to students all over the country. It's not only ranked as one of the Best Regional Universities in the Midwest, but it's also regarded as a Best College for Veterans and a Best Value School by the U.S. News & World Report, too. 
This degree pulls from the expertise of leading industry professionals and practitioners in the field of economics, who serve as both guest and adjunct faculty. It's a professional degree program offered by the Illinois Institute for Rural Affairs, a department with more than two decades' worth of experience in engaging the local community.
As a result, when you enroll in this program, you'll be able to interact with various community outreach programs such as the Peace Corps Fellows program, MAPPING the Future, and the Midwest Community Development Institute. There's no better way to develop your professional network and build your skills than through these sorts of activities. 
The degree teaches you vital concepts in economics and will also train you in all the latest skills and tools in economic and community development, such as marketing and data analysis, strategic visioning, and business retention. 
You don't have to study full-time to benefit from these features, either. You will be able to take these courses (all of which have an applicable nature and easy-to-follow format) on a full-time or part-time basis. However, if you do choose to study full-time, know that it will likely take you only 17 months to complete your degree.
All courses are taught by faculty and staff with extensive on-the-ground experience. The course content is delivered primarily online, although you will be required to travel to compass occasionally for face-to-face meetings at the Quad Cities campus in Moline. This hybrid model is perfect for students who want the personal attention and interaction of face-to-face meetings sold as the flexibility of online learning.
To apply, you will need to submit your resume, a short essay, and three letters of recommendation. You will also need to supply a transcript evidencing a cumulative GPA of at least 2.75. 
When you apply, you will be automatically considered for an assistantship (as long as you indicate that you are interested). This affordable program has a medley of other financial aid resources available to students, too, including scholarships, loans, work-study, and employer tuition reimbursement programs. 
Master of Arts in Economics

Earning a graduate degree in economics doesn't have to be all about crunching numbers and analyzing trends. You can also become a historian!
The Master of Arts in economics at the University of Detroit Mercy may not make you a full-fledged liberal arts major, but it will provide you with a solid grounding in the liberal arts. This is essential if you want to have a deeper knowledge of the institutions, driving forces, and key historical events that play into the larger world economy. 
Founded in 1877, the University of Detroit Mercy is located in Detroit, MI. It's a Catholic school that emphasizes the role and importance of community outreach for all majors. In fact, many programs—including those offered online—incorporate community service as part of their core coursework. 
The university is divided into several career-focused colleges, including the School of Law, the College of Health Professions, the College of Engineering and Science, and of course, the College of Business Administration. It is in the College of Business Administration that you will find the well-respected Master of Arts in economics. 
A flexible online program, this degree will allow you to pursue an additional concentration or to blend majors to build your own program. You will graduate with a degree that is better suited for your unique career goals—rather than one that goes strictly by the book.
The curriculum of this degree is grounded in the liberal arts and teaches you how to both learn and apply core financial and economic principles, primarily to the U.S. financial system but also on an international level. It is both theoretically and practically based, ranked as one of the best master's of financial economics by TFETimes. 
When you graduate from this award-winning degree, you'll have the skills and aptitudes necessary to pursue work in the private sector, school systems, financial institutions, government, nonprofits, and various industries, too. Online courses are offered at substantial cost savings, so you don't have to pay an arm and a leg for this kind of prestige, either.
15 core credits are required, including major courses in Economic Analysis of Enterprises, Financial Economics, Theory of International Trade, and Quantitative Foundations of Economic Analysis. You can also pursue 15 credits of elective courses, including a thesis option to expand your portfolio before you graduate. You can take courses in other disciplines if you so choose, too. 
To apply, you'll need to submit an online application. You will be expected to have earned a cumulative GPA of 3.0 or better and to have taken certain prerequisite courses. To graduate, you will complete a minimum of 30 credit hours. 
Upon graduation from this program, you will join a well-connected and esteemed body of alumni. Graduates can be found all over the world, with notable alumni including Marlena Peleo-Lazar, the creative director for McDonald's Corporation, and Rick Sylvain, the print and news media publicity director for Walt Disney World. 
MPA in Community & Economic Development

Perhaps you want to become a consultant. Maybe your aptitudes lie in urban planning or in project management. Whatever the case may be, the Master of Public Administration in community and economic development at the University of North Carolina at Chapel Hill likely can provide you with the skills you need to prepare for the future.
What is community economic development, you might ask? This offshoot of the economics field is an extremely in-demand field that focuses on how market incentives can be restructured to best leverage private investment for community development. This kind of development could include affordable housing, financial institutions, or community-based businesses. 
If that doesn't sound pressing, consider this. This field is the driving force for private investment that can result in the creation of wealth, jobs, improved tax revenues, and greater overall success for communities and their residents.
Therefore, if you want to make a difference in your local community, you won't find a better program to help you do it than this online degree at UNC-Chapel Hill.
The University of North Carolina-Chapel Hill (affectionately known as UNC-Chapel Hill) is a public institution that was founded in 1789. It's one of the largest in the state of North Carolina, home to more than 19,000 undergraduates alone. The school is located in Chapel Hill, NC itself, which is regarded as one of the best college towns in the country.
However, the school also offers a vibrant online community that provides learners with all the training and hands-on learning opportunities they would receive if they were studying on-campus. As a result, this school is not only ranked as one of the top National Universities by U.S. News & World Report, but it's also viewed as a Best College for Veterans and a Best Value School. These latter rankings are likely a testament to the school's affordable tuition and flexible course scheduling. 
The MPA in community and economic development focuses on economic development at both a regional and global scale. You'll take classes that cover all the latest trends in things like public administration, sustainable communities, and economic development. Electives include classes such as Community Revitalization Methods and Managing Economic Development. 
But don't stop there. If you're truly passionate about this field, you may want to consider adding an additional concentration or dual degree to your major. Available specialties include international relations, nonprofit management, public health, and local government. 
You'll gain extensive hands-on experience through this program, both via your coursework as well as through the professional work experience practicum requirement. In this practicum, which can only be completed after you have taken six core MPA courses, you will be able to work in a 400-hour professional internship with a public service organization of your choosing. 
Without a doubt, this degree is one of the best for economics majors who want to make a real, lasting difference in their communities. It is offered at an affordable price, with low tuition rates and ample financial aid available for students who qualify. 
M.S. in Applied Economics (MSAE)

Looking for a high-quality online Master of Science in applied economics in the South? If so, you should look no further than Georgia Southern University. This public institution, located just 200 miles from Atlanta and 170 miles from Jacksonville, FL, offers students more than 100 different majors to choose from. 
While many of the programs have a global focus that are facilitated through the university's many study abroad programs and centers for international, Africana, and Irish studies, you don't have to sign up for any foreign travel—or even step foot on campus—to benefit from a dynamic, globally-focused degree. 
The Master of Science in applied economics takes an international, interdisciplinary approach by providing learners with the competencies they need to perform an empirical analysis of global financial markets, government regulation, international trade, economic development, health care, and more. 
As a student in this program, you will learn how to evaluate crucial policy programs and business decisions, as well as how to develop these skills that let you analyze and effect change. 
The degree's curriculum has a solid theoretical emphasis that will help you gain an understanding of how economic decisions are structured. It includes an analytical focus as well as multiple features and benefits that are perfect for online learners. 
Available fully online, this program requires no campus visits. All courses are entirely asynchronous, allowing you to complete your classes on your own schedule. The curriculum takes two years (or five semesters) to complete, with options for either fall or spring starts. You only need to take two classes per semester to graduate on time.
All courses are delivered by qualified and experienced Georgia Southern instructors. Each instructor is fully trained in the best methods for online instruction, so you don't have to worry about being left behind just because you are studying from afar. You'll gain exposure to real applied economic analysis tools by using actual, real-world data. You'll also be able to engage in discussions, simulations, and multimedia presentations.
There are only five required courses: Math for Applied Economics, Macroeconomics, Microeconomics, and Applied Econometrics I and II. However, you will also be able to take a wide array of electives to diversify your degree. 
This program, which is one of the few in the country to be accredited by the American Association to Advance Collegiate Schools of Business, provides plenty of opportunities for you to take things one step further, too. You can transition easily from the university's graduate certificate in applied economics to this program. Alternatively, you can pursue the certificate as an addition to this degree to give you the credentials necessary to teach. 
To apply to this affordable degree and any available financial aid, you will need to submit an online application. Although GRE scores are currently not required, you will have to submit an official transcript from every college that you have attended. You will need to have a minimum undergraduate GPA of 3.00 on a 4.00 scale.
Master of Arts in Economics (MA)

If you're looking for a low-cost online program in economics, you really can't beat the Master of Arts in economics at the University of Missouri-Columbia. This program has rock-bottom tuition rates—in fact, you'll pay just $13,299 for the entire program.
You won't be getting a cut-rate education for that price, either. This master's degree, which is housed in the College of Arts and Science at the University of Missouri, is offered 100% online and accredited by the Higher Learning Commission. It's just one of many high-quality online degree programs at the university.
Founded in 1839, the University of Missouri-Columbia is a public institution that was founded in 1839. This large school has an emphasis on hands-on education. In fact, the school is home to its own 40,000-plant botanical garden, which provides one of the most unique living and learning environments for students living on campus.
Just because you choose to study online doesn't mean you'll sacrifice those kinds of experiences, though. In the online master's in economics, you'll learn how to understand how globalization and big data have impacted the global economy. You'll gain hands-on skills as you work to analyze data sets related to economic development, international trade, international finance, and more.
You can take just one to two classes per semester and still graduate in two years. You'll take classes in things like economic development, econometrics, banking, international trade, and more. 
It doesn't matter what your background might be. You only have to take a few required courses, totaling 15 credit hours, in subjects like macroeconomic and macroeconomic theory. Then, you can take 15 credit hours in unique disciplines. Sample elective courses include Public Budgeting and Taxation, Introduction to Game Theory, and the Banking System and the Money Market. 
Regardless of where you live, you'll pay in-state tuition. These affordable prices—along with the myriad opportunities for financial aid—make this degree one of the best on this list.
Ready to apply? Great choice. You'll just need a minimum GPA of 3.0, but your bachelor's degree can be in any area. You don't have to have prior training or work experience in economics or business. 
You will, however, have to submit transcripts from any previous university or college education. You'll also need to supply names and contact information or two professionals who know you well and can attest to your skills. You should plan on submitting a resume or CV along with a personal statement outlining how an economics degree will help you meet your goals. GRE scores are not required for admission.
The university offers three distinct, convenient start dates per year. You can apply for admission in the summer, fall, or spring semester. You will be able to get started on the path toward a rewarding new career whenever you're ready to submit your application!
#8. University of Houston-Victoria
MS Economic Development and Entrepreneurship

With one of the lowest tuition rates in the state of Texas, the University of Houston-Victoria is a sure bet if you're looking for a high-quality degree in economics. 
It is one of several programs offered fully online by these dynamic public institutions. Founded in 1973, the school has an urban setting in Victoria, TX, and is ranked as one of the top Regional Universities in the West by U.S. News & World Report.
It's no wonder as to why. As part of the University of Houston System, this school has a campus spanning 20 acres and an enrollment of more than 4,300 students. Many of these students also study online. It first opened its doors primarily as a graduate school, and although it has expanded since to offer undergraduate degrees, too, the school still hangs its hat on its high-quality graduate degrees. 
These programs are offered in the School of Arts and Sciences, the School of Education and Human Development, the School of Nursing, and the School of Business Administration, in which the close-knit Master of Science in economic development and entrepreneurship is housed. Most classes here enjoy a student-to-faculty ratio of just 18:1. 
In this program, which is rated as one of the top MBA programs in the state of Texas, students will enjoy an applicable, real-world education. You'll learn how to help communities attract new businesses and help existing ones grow, as the degree focuses on new start-up growth and creation.
The degree is a fully online program that consists of 30 credit hours of study. You'll learn how to both start and launch a business, as well as how to grow your community. It comes with two separate specialties—one in entrepreneurship and one in economic development. However, you can also take classes in both specialties if your interests are varied.
Upon graduating from this degree, you'll have the skills that businesses need as they seek to grow and develop their enterprises. It is a wholly unique program in that it offers a holistic view of economic growth. It's fully accredited by AACSB International, too, so you can rest assured that your credentials will be well-respected by employers when you finish your degree. 
Required courses vary, but you'll take an average of 30 credit hours of study. Core courses include Developing the Business Plan, Growing the Successful Venture, and The Practice of Local Economic Development. Before you finish, you will also need to take a final capstone project.
In the capstone project, you'll gain hands-on experience in economic development. You can select the focus, and since the project takes place within the last nine credit hours of completing the program, you'll be able to apply the skills and knowledge you have acquired to your final project.
Not sure where your capstone project might take you? In the past, students have started their own businesses, initiated entrepreneurship education in local schools and communities, and established angel networks for the community. There are plenty of options you can pursue, but what's great about the final capstone is that it will provide you with a valuable selling point to include on your resume as you search for jobs.
This degree is incredibly affordable, with financial aid available to students who qualify. To apply, you will need to submit the online application and demonstrate that you have earned a bachelor's degree from an accredited university. A minimum GPA of 2.5 on a 4.0 scale is required. You will also need to submit official GMAT scores of 450 or higher, or GRE scores of 282 or higher. 
Master of Science in Economics

Purdue University has campuses all over the state of Indiana, but its online campus is, without a doubt, one of the best for online learners. Here, you'll have access to all of the schools' programs in 13 colleges and schools. 
One of the best? The Master of Science in economics. This affordable online master's ranks among the best in the world when it comes to its versatile and lucrative nature. You'll learn the analytic and quantitative methods necessary to optimize, evaluate, and forecast major business and economic outcomes. 
Whether your interests lie in employment, stock markets, growth, or other aspects of the economy, this program could have the courses you need to be successful. 
You'll learn from dedicated, experienced faculty members who incorporate some of the most cutting-edge instructional methods in their teaching. Some examples? Statistical software applications like Matlab and Stata, econometrics like big data and machine learning, and modern programming and computational tools like python. You'll even learn about things like experimental economics and game theory. 
This degree is both flexible and affordable. It can be completed completely online in as little as 20 months, but you can also feel free to take your time and complete the degree in 36 months.
There are multiple tracks available, too. You can pursue a pathway in applied economics or data analytics, but there are also tracks in management, political science, and economics that are perfect for students who wish to pursue eventual Ph.D. studies. There is even an advanced theory track, although this does require one year of study on campus.
The program has two start dates each year—one in August and one in January. When you enroll, you'll be able to study at one of the top research universities in the world (yet you'll pay incredibly low prices to do so). Although Purdue is ranked as a top five public university in the United States, you'll only pay $967.50 per credit hour for in-state tuition. 
To apply, you will need to submit an online application and provide transcripts for any schools you have attended. You do not have to have a background in economics or business in order to apply, but you should plan to submit a statement of purpose and TOEFL scores, if you are not a native English speaker. 
Another unique admissions requirement of this program is that you must respond to three to five video essay questions. These will evaluate your engagement, communication skills, self-awareness, leadership potential, motivation, and adaptability. Both GRE and GMAT test scores are optional, but can be used to strengthen your application.
Master of Science in Health Economics and Clinical Outcomes Research

Xavier University is a private Jesuit college located in Cincinnati, OH—but you don't have to live anywhere near Cincinnati in order to benefit from its prestigious faculty and innovative degree programs.
Instead, you can enroll in one of the university's many online degrees. Founded in 1831, Xavier is one of the oldest Catholic universities in the nation. There are numerous graduate programs to choose from in the William's College of Business, including the Master of Science in health economics and clinical outcomes research. 
This program consists of 39 credit hours and can be completed in just two years of study. Tuition is incredibly affordable, coming in at just $715 per credit hour. 
Offered entirely online, the program prepares learners with the skills they need to conduct research and utilize real-world evidence in the formation of smarter data-driven decisions.
It's designed specifically for working professionals, as well as for individuals who have a passion for incorporating the latest health data in their decisions. It is a nationally recognized degree that includes a variety of learning opportunities. As a student in this program, you'll benefit from a variety of learning experiences like lectures, group activities, case studies, discussions, applied analysis exercises, and more.
All classes are taught by instructors with plenty of relevant experience, all of whom have worked specifically in the health economics and clinical outcomes field. 
You'll learn the skills you need to conduct research that produces evidence on the benefits, effectiveness, and risks of various treatment options. You could work as a healthcare analyst or administrator upon graduation, but your skills will be so varied that you will qualify for a number of other rewarding careers as well.
An intensive part-time program, it is designed to be completed almost entirely online. You can complete your studies in just two years by taking classes in the fall, spring, and summer terms. You don't have to restrict your studies to just online, either. You can also take classes on-campus if you so choose. 
To apply, you will need to complete a full and detailed online application. You will also be required to participate in an interview. Official transcripts are required from any colleges or universities you have attended. You also need to submit a current resume that details all of your work experience, along with two letters of recommendation.
Ideally, one of these letters should be from a former or current employer who knows you and your work well. You should also plan on submitting a clear, concise, and articulate letter of intent. If you have experience in healthcare or economics, that will improve your application even more (although it is not a requirement for admission).
Choose to enroll at Xavier, and you've made a smart choice. The university is one of the top Regional Universities in the Midwest and is also ranked a Best College for Veterans by U.S. News & World Report. These rankings are likely due to the flexible, high-quality academics offered at this school.
OTHER NOTABLE PROGRAMS
#11. University of North Dakota
Location: Grand Forks, ND
Degree: M.S. in Applied Economics & Predictive Analytics
Net Price: $15,374
#12. University of Wisconsin-Whitewater
Location: Whitewater, WI
Degree: Master's in Economics
Net Price: $12,094
#13. Youngstown State University
Location: Youngstown, OH
Degree: Master of Arts in Financial Economics
Net Price: $11,033
#14. University of Southern Mississippi
Location: Hattiesburg, MS
Degree: Master of Science in Economic Development
Net Price: $13,773
#15. Regent University
Location: Virginia Beach, VA
Degree: Master of Business Administration with a concentration in Economics
Net Price: $16,779
#16. Murray State University
Location: Murray, KY
Degree: Master of Science in Economic Development
Net Price: $12,270
#17. Gardner-Webb University
Location: Boiling Springs, NC
Degree: Master of Business Administration (MBA) with an emphasis in Economics 
Net Price: $19,197
#18. Northeastern University
Location: Boston, MA
Degree: Master of Science in Commerce and Economic Development
Net Price: $34,245
#19. Pennsylvania State University-World Campus
Location: State College, PA
Degree: Master of Professional Studies in Community and Economic Development
Net Price: $21,678
#20. SUNY Empire State College
Location: Saratoga Springs, NY
Degree: Master of Arts in Community and Economic Development
Net Price: $13,415
IF YOU ENJOYED THAT THEN CHECK OUT OUR ARTICLES ON THE  50 HIGHEST-PAYING MASTER'S DEGREES & THE 40 FASTEST ONLINE MASTER'S DEGREE PROGRAMS!