Ready to find your ideal master's program?
www.mastersprogramsguide.com is an advertising-supported site. Featured or trusted partner programs and all school search, finder, or match results are for schools that compensate us. This compensation does not influence our school rankings, resource guides, or other editorially-independent information published on this site.
Pursuing one of our top-ranked master's in management information systems (MIS) degrees is your path to success both financially and for job satisfaction.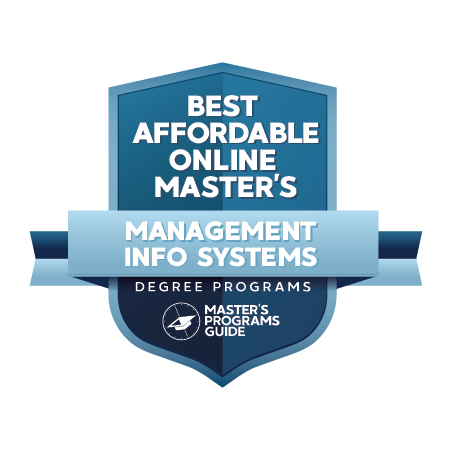 Let's face it—information is everywhere since the explosion of the world wide web and it has become increasingly difficult to store and manage useful data. This difficulty in managing data combined with the challenges encountered in keeping information out of the hands of those it doesn't belong makes clear why companies are willing to pay high salaries to those trained in the management of information systems.
At this point, you may not exactly have a good grasp on what you'll learn in a master's in management information systems program, so let us explain broadly what these programs aim to teach their students. One important aspect of these programs is to teach students to create and manage various forms of information systems, which involves having a solid theoretical foundation of information system structures and capabilities. Another important goal of most of these Master's programs is to develop team players that can also act as managers.
More likely than not you'll be working as part of a team when managing information systems and effectively articulating goals and objectives while motivating team members as necessary to get projects accomplished on time. What we've talked about here is by no means all that you will learn in these kinds of master's programs, but it should give you a good idea of the kind of information you will be exposed to.
The majority (48%) of computer and information system managers (who go by a variety of names including information systems supervisor, information technology director, and others), only have a bachelor's degree. Just over a quarter of computer and information system managers have attended some college, but did not finish a degree, while only 14% of individuals working in these positions have completed a master's degree.
Getting a master's degree in the management of information systems can give you the competitive advantage you need to distinguish yourself from all the rest of the applicants when applying for your first job in this field. For those already working in this field, a master's degree may be the key to progressing into senior management positions and to bumps in salaries.
In 2018, there were projected to be over 400,000 computer and information system managers working in the United States. The field is projected to grow by 11% or higher between 2018 and 2028, which is significantly faster than many other types of professions. Finding a job upon graduating with your degree may not be difficult as there are projected to be just under 40,000 new job openings.
Ok, by now you're probably thinking that pursuing a master's in management information systems is the right step in your professional and financial goals, but what are the schools looking for in applicants? Keep reading and we're going to tell you, breaking down some of the most pressing questions you're likely asking yourself!
Common Application and Admission Questions
Now that you have an idea of what you'll be learning in an online master's in management information systems you may be wondering what kind candidates schools are looking for in applicants to their programs. While we are going to break down some of the common things most schools are going to be looking for in prospective students, keep in mind that every school is different and may have more specific things they are looking for in their candidates. It's best to contact an admissions advisor to get the specific details on what you'll need to do to get accepted to the program at the top of your list.
Almost every school on this list requires that applicants to their online master's program have earned at least a bachelor's degree. The completion of a bachelor's degree may not be required in programs that combine a bachelor's degree with a master's degree sometimes referred to by programs as a 4+1 program. The advantage of these programs is that they allow students to complete both a bachelor's and a master's degree in five years, a full year quicker than it would normally take to pursue these degrees separately.
Those who already have a bachelor's degree will need to make sure that prerequisite classes are taken, which may include statistics and a computer programming language. Additionally, many schools on this list will want students to have maintained at least a 3.0 undergraduate cumulative GPA, as it shows schools that you have a history of successfully taking and passing college classes. In the application packet, you'll be asked to submit your official college transcripts for review from all college coursework you have taken in the past. Those applying for a bachelor's degree directly out of high school will have to submit proof that they have successfully completed high school or its equivalent.
Often schools will ask prospective students to submit three letters of recommendation, which can take the form of professors you have had in the past or work supervisors. Make sure you don't try to use close family members or friends as recommendations as these may not be taken as seriously as other types of references. Schools use professional references to gauge the kind of person you are and the likelihood you'd be successful in their program.
It's common for schools that are interviewing applicants to want to know your motivation as a prospective student in pursuing a particular degree. This question helps the admission committee decide if you're a good candidate for admission and if the decision to pursue a particular degree is a well thought out decision. Master's degree programs require students to dedicate time and effort and make sacrifices in their personal and social lives. Schools want to ensure you know what you're signing up for when you apply to their program.
What About Financial Aid & Scholarships?
No matter what level of schooling you're looking to pursue, education is a serious financial investment in your future. In fact, tuition costs have more than doubled since the 1980s, which means that students are having to take out more loans and look for alternative ways to pay for their education. One advantage of online programs is that often online tuition is cheaper than attending on-ground classes. While this is not a universal fact, you can generally expect to pay at least in-state tuition rates if you're an online student.
So, what is the best way to pay for school? Frankly, the best way to pay for school is to use money you don't have to pay back, such as you would get in a scholarship. Many schools offer scholarships for their online students, but there tends to be fewer available and in smaller amounts than are available to on-ground students. But hey, free money is free money and you should take the time to check out the scholarship and financial aid opportunities available at the school you're wanting to attend. The scholarships for online students can be very competitive as you'll be competing against individuals of all ages and backgrounds.
If you happen to not get a scholarship or they are not available at the school you're wishing to attend, don't worry as there are other ways to pay for your education. Grants are another great way to pay for your education so you end up owing less money after you graduate. Grants are monies offered often by the government for the purpose of promoting academic and research interests in a particular field or area of study. Grants are given to promising academics and don't have to be paid back after graduation. You're more likely to come across grants if you're in graduate school or wanting to perform research. Grants are more commonly available to on-ground students.
Many college students cut down on the money that they end up borrowing to pay for tuition by enrolling in a work-study program. Work-study programs allow students to work in jobs at the school such as in the library or as a teaching assistant. Students are paid for this work, which students can use to minimize the amounts of loans they take out. Work studies are another option more commonly available to on-ground students, but it's worth checking out the possibility of this opportunity with your academic advisor.
One of the most common ways in which students pay for their education is by taking out student loans. These student loans come in many different forms with the general categories being private and federal loans. Federal loans tend to have a lower interest rate than private loans, so you may want to check into these first. Additionally, Federally subsidized loans are often offered in such a way that students do not have to pay the interest of their loans while they are in school. Schools will have a specific page dedicated to info regarding applying for student loans and advisors at the school will often help walk you through the process if you ask.
How Much Can I Make With a Master's in Management Information Systems (MIS)?
By far one of the most important parts of going back to school for more education is the kind of pay you can expect when you graduate and start working in the field. The earning potential of your new career may be the deciding factor of whether or not taking out student loans for this pursuit is the best use of your time and money. The good news is that those with master's in management information systems have excellent earning potential and the salary you'll end up taking home depends largely on the specific job you end up taking. We are going to talk about a few possible career opportunities open for individuals holding MIS degrees, but this is not meant to be a comprehensive list of opportunities.
One of the most intuitive and straightforward careers you may be thinking of pursuing when looking to earn a master's in management and information systems is to become a computer and information systems manager. Computer and information systems managers can expect to take home a robust median salary of over $146,000 per year. Keep in mind that this is the median salary and that the top 10% of individuals in this field will earn over $200,000 annually and the bottom 10% will earn less than $88,000.
For those more interested in the project management aspects of this career, you may want to consider becoming an information technology project manager. This is another high paying job that will make the investment in your education worth the hard work as they earn a median US salary of per year. This turns out to be around $42.57 per hour with the top earners in this career banking just over $70.00 per hour.
Some schools that offer a master's in management information systems offer a track in which students receive a solid business education, which will make them employable in a wide variety of business-related careers. The combined IT and business background makes them an ideal candidate for general and operations manager jobs. General and operations managers in the US make a median wage of $100,780 annually or just under $48.50 per hour. This career is expected to grow faster than average from 2018 to 2028 at a rate of 7 to 10%—there will be jobs available when you graduate.
What Are the Best Affordable Online Master's in Management Information Systems (MIS) Degrees?
We know that you have educational goals that you're itching to pursue, but you may not know where to start. The editors of Master's Programs Guide utilize a unique ranking methodology based on the following five aspects:
25% Overall Degree Affordability: Average cost of undergraduate and graduate tuition per school
25% Graduation Rate: Number of students who start at the university and actually finish there
20% Earnings Potential: Average mid-career salary of school alumni
20% Selectivity: The number of students who apply versus the number who actually get accepted
10% Online Graduate Offerings: The number of programs offered online in each department
At Master's Programs Guide, we strive to do our best to guide you and your family toward a fruitful academic career. The pursuit of knowledge is a noble one, and we want to help you reach your goals.
Master's of Science in Information Systems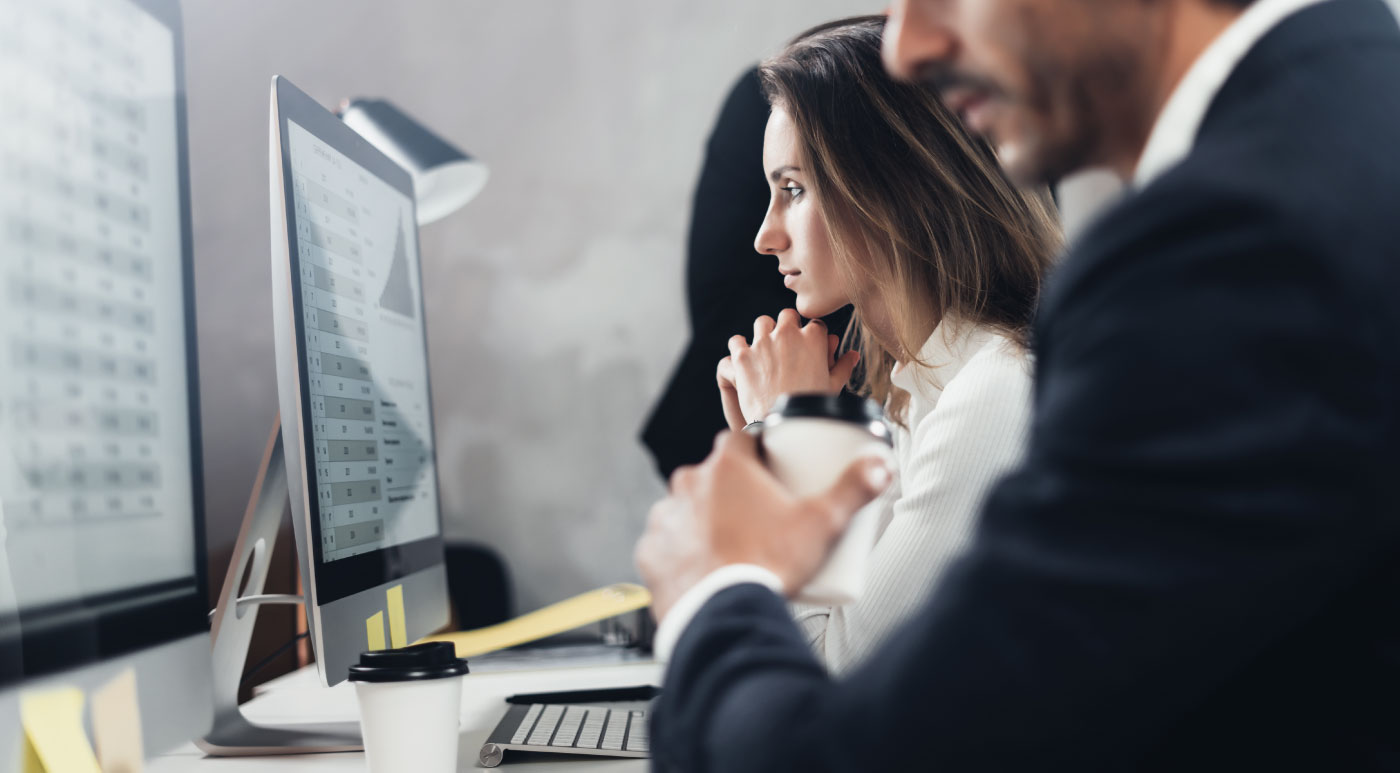 Liberty University is a Christian college and prides itself on incorporating biblical ethics into their educational programs. Bestcolleges.com has ranked Liberty University in the top 1% of colleges for affordability, quality, and accessibility. In addition, Niche.com has awarded Liberty with second place for the best online school in the United States.
The school is known for its very low tuition rates and its high standard of education both online and on campus. Their campus is located in Lynchburg, VA.
The Master of Science in information systems at Liberty University was designed to prepare graduates to understand the inner workings of multiple aspects of business organization. This program teaches the skills necessary to create computer programs that are efficient, safe, and effective, and therefore improve the efficiency and profitability of companies and their organizational networks. As a program, the focus is on enterprise models and IT infrastructure that are often utilized in multiple types of businesses, government, as well as nonprofit organizations.
Courses of this program are focused on practical skills that will prepare you for a successful future in your career. The types of courses in this program include strategy, network security, ethics, legal issues, design and development, and related executive leadership and management. Within the program, students have the option to specialize in information assurance or technology management. The information assurance specialization focuses on enterprise design and network security. The technology management specialization is geared toward executive management in IT companies.
In total, this program is 36 credit hours and for most it takes a year and a half to complete. All of the courses are entirely online and each class is eight weeks in duration. Students are able to learn at their own pace. There are no required login times for tests or courses, which means you can work your learning schedule into your daily schedule as you see fit.
Upon graduation, graduates can pursue a career in consulting, project management, software development, or systems integration. The knowledge gained through this program can be applied to multiple types of businesses, As a graduate of this program, you will be able to create, assess, and improve computer systems for several types of companies, including private, public, and nonprofit organizations. In addition, you will also possess the skills necessary to manage your own data networks.
To apply to the Master of Science in information systems at Liberty University, you must hold a bachelor's degree with an average GPA of 3.0. You will also need to complete an admissions application and provide your official college transcripts. Another requirement for admission is proof of English proficiency. The total cost for this program is $27,432. If you are a veteran, you will be able to take advantage of their military benefits. Liberty College offers tuition discounts for service members, veterans, military spouses, or Department of Defense employees of $275 per credit hour for graduate courses.
Master of Science in Information Systems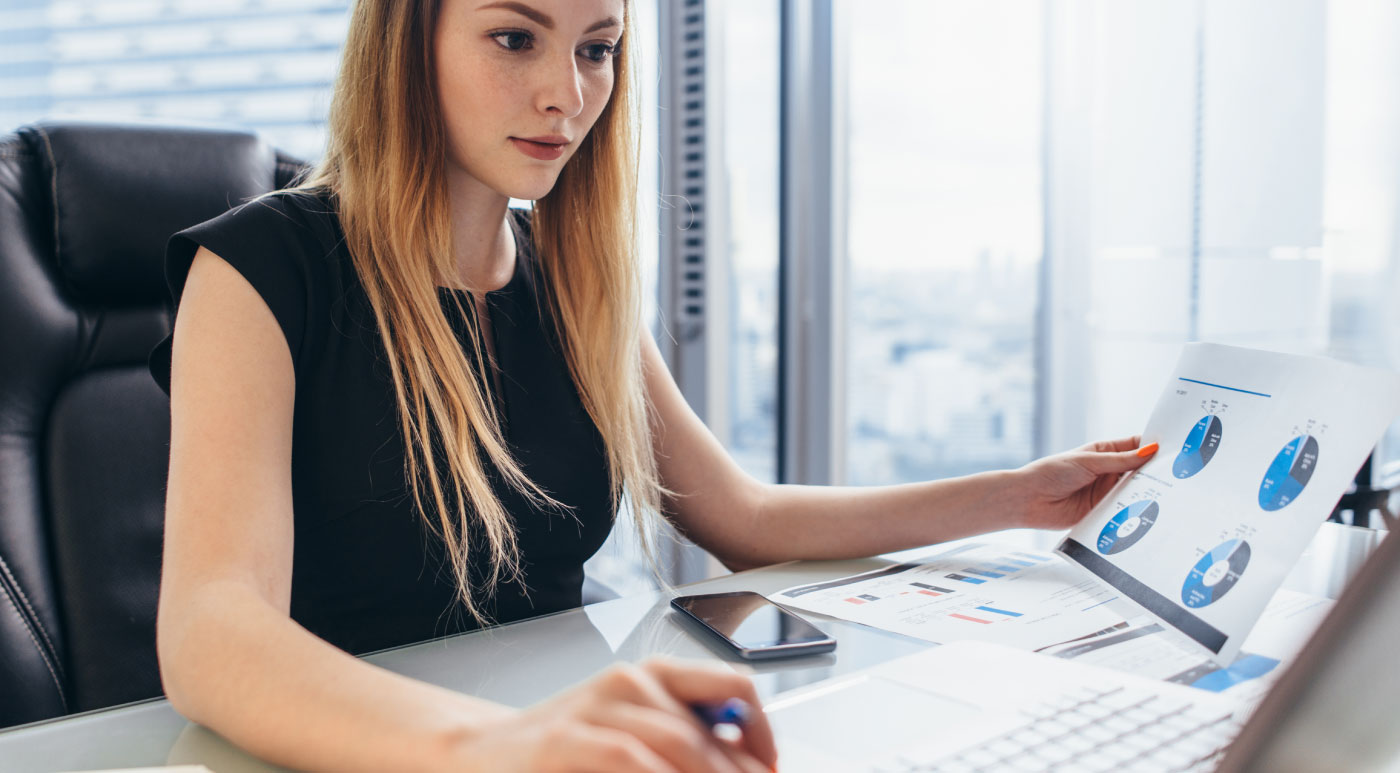 The University of Colorado Denver was founded over 100 years ago. The school has twelve top-ranked programs by the U.S News and World Report. They pride themselves on providing the highest standard of education in their online programs which are at par with the quality they provide in their on-campus courses. You can expect to gain a plethora of knowledge through their online learning programs while taking advantage of the flexibility of online learning.
The Master of Science in information systems at the University of Colorado Denver is ideal for those who wish to further their understanding of both information technology and business management. This program combines these two areas of focus which allows students to become leaders in information systems and hold high-level positions.
This program is well-suited to those who have a background in technology. The majority of applications have previous experience in IT, however this is not a requirement. Through this program, students will learn about networking, database, security, business strategy, project management, and more. The majority of the coursework is hands-on software projects which are completed fully online.
There are two options for specialization: business intelligence or cybersecurity and information assurance. The business intelligence specialization emphasizes communicating complex technological data into easy to understand information that businesses can use to improve their business organization and inform future decision making. The cybersecurity and information assurance specialization teaches its graduates to become experts in the field of cybersecurity to protect businesses from security breaches.
In total, this program is 30 credit hours. There are start times in the fall, summer, and spring. The application process varies depending on whether you are a first-time student, a transfer student, or an international student. To understand the specifics of what your requirements are, each individual would need to contact an enrollment navigator. Each credit hour is $626 for in-state students and $731 for out of state students. There are options for both financial aid and scholarships which can significantly reduce the financial investment of this program.
After graduating, graduates will have access to the University's Business Career Connections Team indefinitely. The purpose of this team is to connect qualified persons with well-suited jobs in their respective fields. Access to this network can be very advantageous in finding a career after graduation. The Business Career Connection Team holds career fairs, career workshops, and offers one-on-one coaching to perfect your skills for landing your ideal job.
Career paths after graduating from this program range from working in cybersecurity to creating and implementing business intelligence systems, to data analytics for large corporations. Each graduate's career path will depend on the specialization they have selected as well as their individual interests and skill sets.
Management Information Systems (MMIS)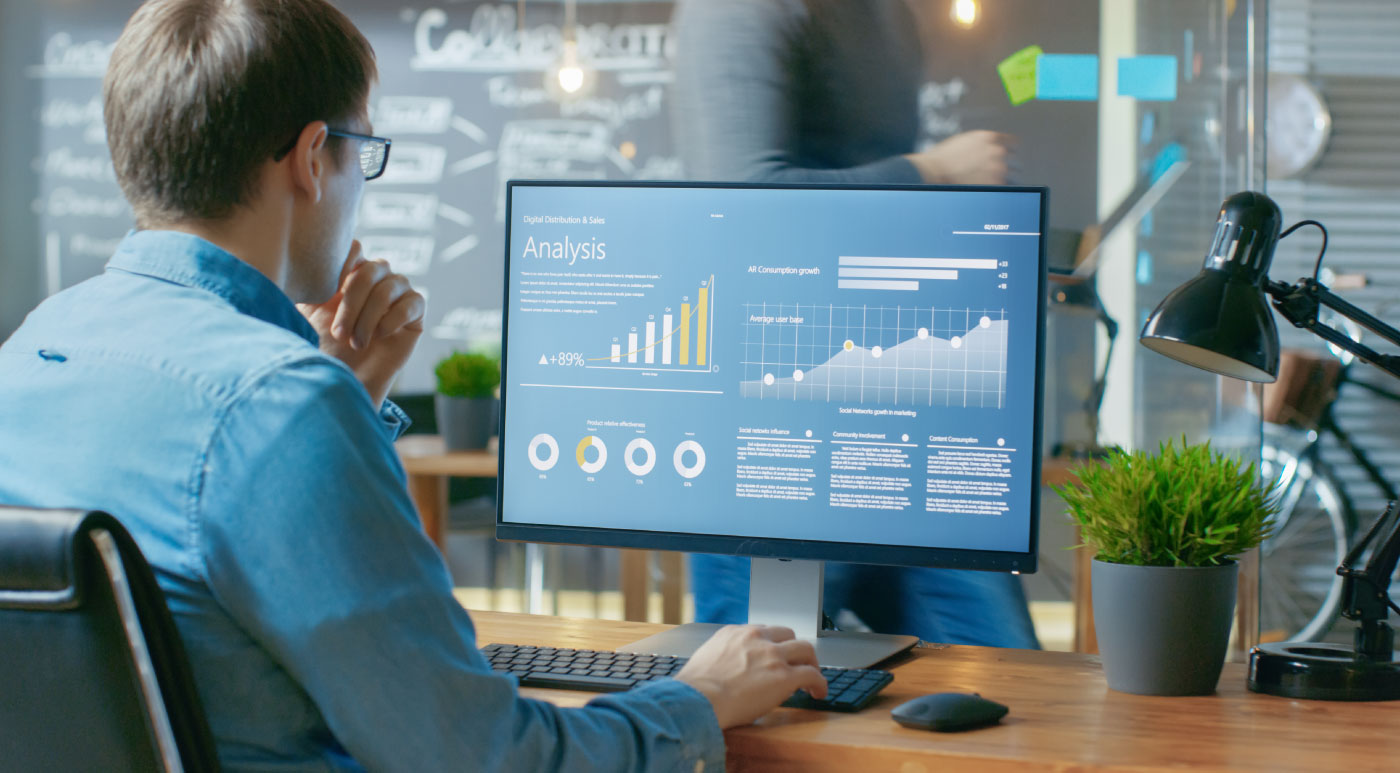 Georgia College and State University has been awarding degrees for over thirty years. They call themselves a liberal arts college, meaning they teach their students to critically think and form opinions for themselves. Their goal is for their students to graduate with a greater understanding of how to effectively communicate, solve problems, and always act with a high level of ethics and morality. In contrast to other programs and colleges, their focus is not on the memorization of facts but on creating innovative thinkers.
The Master in Management Information Systems is a program that is geared toward those with an affinity toward technology system implementation. After graduating, graduates will be equipped with the knowledge and skills necessary to implement, design, and manage information in a corporate setting. Plus, they will be fully able to assist in communication between the central departments of a corporation and individual functional areas within the corporate structure.
The coursework includes classes such as IT Project Management, Research with Business Analytics, Emerging Trends in Management Information Systems, and more. Each class is three credits and in total, the program is 30-credit hours. The total investment for this program is $20,478. There is financial aid available and more information about applying for financial aid can be found through speaking with the financial aid office.
The majority of your learning can be scheduled at your own pace. However, there is some synchronous learning between 5:50 pm and 8:15 pm one weekday every other week per semester. During these time slots, students will be learning through face-to-face time with their instructors over the internet. This means for the most part you can complete your coursework and learning objectives in whatever daily schedules work best for you.
This program has been designed to meet all the requirements for the Certified Information Systems Auditor Exam which is the exam necessary to become an information technology auditor.
After graduating, there are many different areas a person can pursue a career in. Some work in technology managerial positions, others work in technology systems design, while others are employed in IT research. Many will work in corporations and help to create information systems to help the company better implement systems at multiple levels.
Applicants to this program come from a variety of different educational backgrounds. Experience working in the technology industry or a degree in a technology-related field is not required to be admitted to this program. To apply to the program, you must hold a bachelor's degree. For many, the GRE exam is required, however, if you hold a degree from an AACSB or ABET-accredited business school and achieved a GPA of 3.2, the GRE is not required. In addition, the GRE may be waived if an individual has experience in a high-level work environment and holds a master's degree.
Master of Science in Information Technology and Management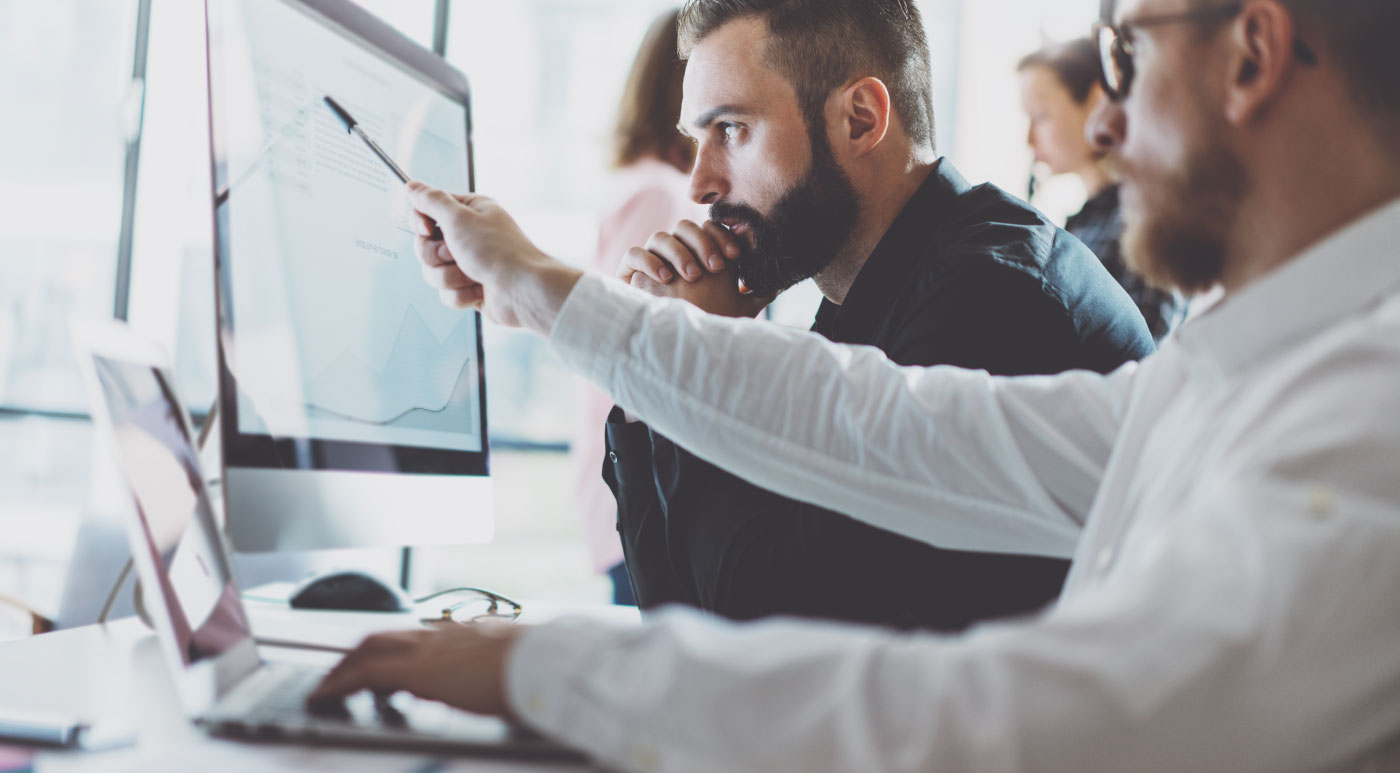 The University of Texas at Dallas is one of the leading schools for value in Texas, according to the Forbes list of America's Best Value Colleges. In addition, they are the second quickest growing public doctoral university in the United States according to The Chronicle of Higher Education. The school was founded in 1961 and continues to grow each year. In the past ten years, they have invested over one billion dollars in advancements. Their mission is to provide the nation with excellent, innovative education and research.
The Master of Science in information technology and management is for individuals who are seeking to take on a leadership role in designing, managing and implementing IT programs in various settings. The program provides ample hands-on experience which allows students to transfer their knowledge into real-world settings. The goal is to enable graduates to evaluate current systems, analyze data, and make updates to improve a company's current working systems.
The program can be completed in full-time or part-time study. If you wish to continue working while earning their master's, you'll be able to manage both with the University of Texas at Dallas' flexible program.
UT – Dallas reports that 88% of graduates find full-time employment within 90 days of graduation. Plus, on the University of Texas at Dallas' website, they report that the average starting salary is $83,000. Some of the most common companies that graduates work for are Amazon Web Services, Capital One, and Walmart. Positions that graduates fill are varied and include Data Analyst, Data Engineer, Data Scientist, and Business Intelligence Analyst.
In total, the program is 36 credit-hours and for most, it takes 18-25 months to complete. There are several different tracks within the program that can accommodate a variety of different interests. The options include enterprise systems, business intelligence and analytics, cyber security management, IT consulting and service management, healthcare systems, and digital product management.
The enterprise systems specialization is geared toward developing and maintaining large-scale IT infrastructure. The business intelligence and analytics specialization is for those who wish to learn to create business strategies using large-scale data. In the cyber security management specialization, students will focus on risk management and overall cybersecurity. The IT consulting and service management is for individuals who would like to become leaders in IT management. The healthcare systems track is specifically for IT in a healthcare setting. Lastly, digital product management is still pending but includes courses focused on user experience design and digital consulting.
There are three start times: spring, fall, and summer. The application process is competitive, and the GPA required at this time is 3.3. In addition to official transcripts, the GRE is required for some. If a person holds a high-level degree, such as a Ph.D. or other doctorate, the GRE is waived. A personal statement, letter of recommendation, and resume are also requirements in the application process.
Online Master's Degree in Information Technology Management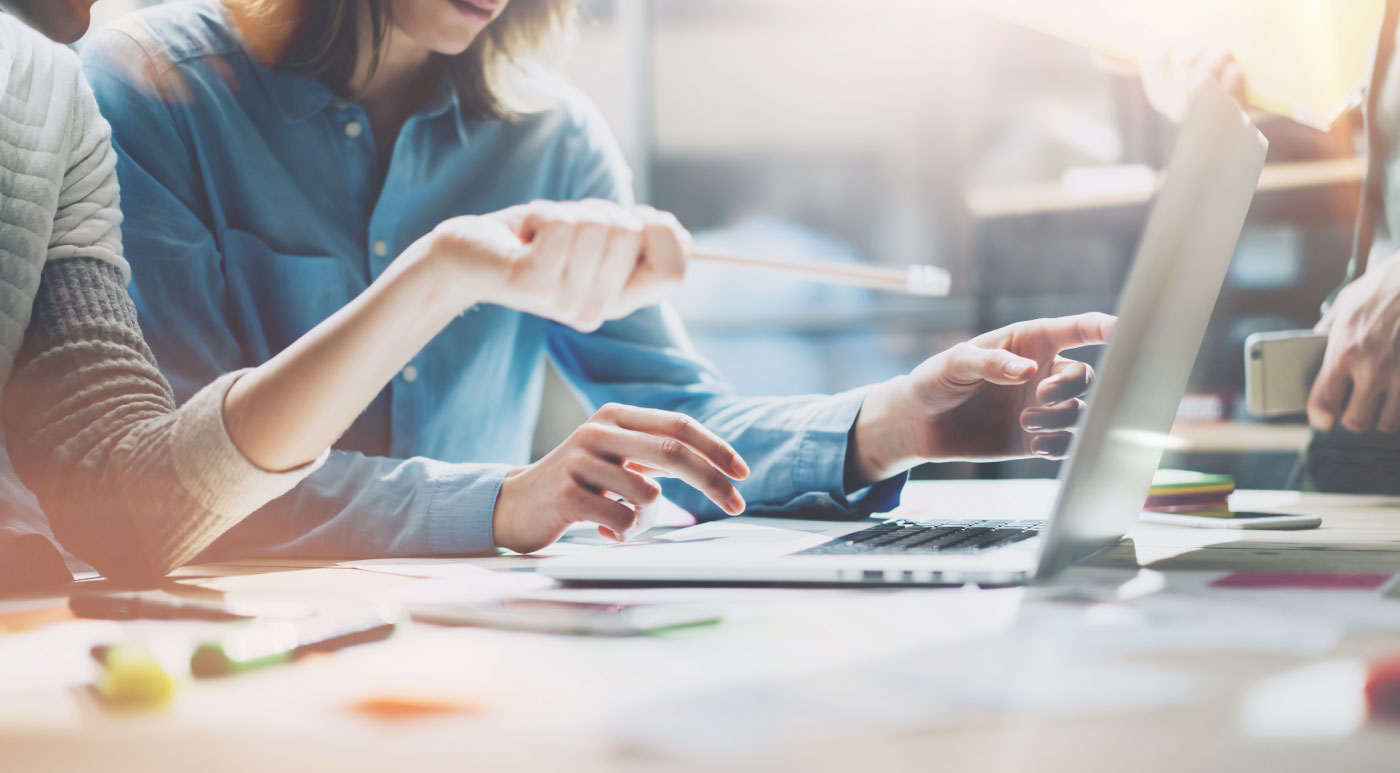 The business school at Colorado State University is a well-respected education institution. They were named the #1 school in Colorado by Schools.com in 2018. They have collected several recognitions including being named Colorado's top university by Washington Monthly's annual assessment. Also, U.S. News & World Report awarded Colorado State with an "A-plus" for students who are looking to be part of a university with a diverse, engaged student population that respects their individuality and seriousness of purpose. The Center for World University Rankings has included Colorado State in the top 1% of schools worldwide.
The online master's degree in information technology management is a program that is well-rounded and well-suited to a variety of students. The program is tailored to give students experience in a broad range of topics in information technology management, as well as keep them up to date on new developments in the field.
Although many students of this program have experience in the technology field already, the program is such that it allows those with entry-level IT knowledge to complete the course as well. On average, 50% of the students enrolled in this program have prior technology education or experience.
This program is AACSB-accredited and is one of the first established in the United States. Only 5% of business schools achieve this accreditation, which is an important aspect to note when considering this program. The U.S. News & World Report ranked this school #14 for best online graduate information tech, public universities. Overall, the U.S. News & World Report ranked the Online Master of Computer Information Systems #24.
Students can enroll in this program either full or part-time, whichever suits their schedule best. It is offered online or on campus. IT can be completed in as little as three terms, or students can take up to five years to finish their coursework. There are two start dates, one in August and one in January. The program consists of 33 credit hours, of which, 12 are core classes, and 18 credits are electives. The course covers topics such as information technology and project management, application software infrastructure and development, cybersecurity, and data analytics, among other topics. All classes are three credits.
Graduates are able to work in a variety of positions which range from cybersecurity to IT development and management, as well as business intelligence analysts. Many of these job positions can be very financially rewarding. In 2017, the average income for a computer information systems manager was $137K.
Colorado State University takes a different approach to their applicant selection process. Unlike other schools that rely solely upon test scores, they take a whole-person approach and look at multiple factors about who you are and what you bring to the table. They select their applications based on a combination of factors including holding a bachelor's degree with a minimum 3.0 GPA, your GRE score (or waiver), your personal statement which outlines your goals, skills, and assets, as well as your written communication skills assessed through your resume.
Online Master's In Information Systems Security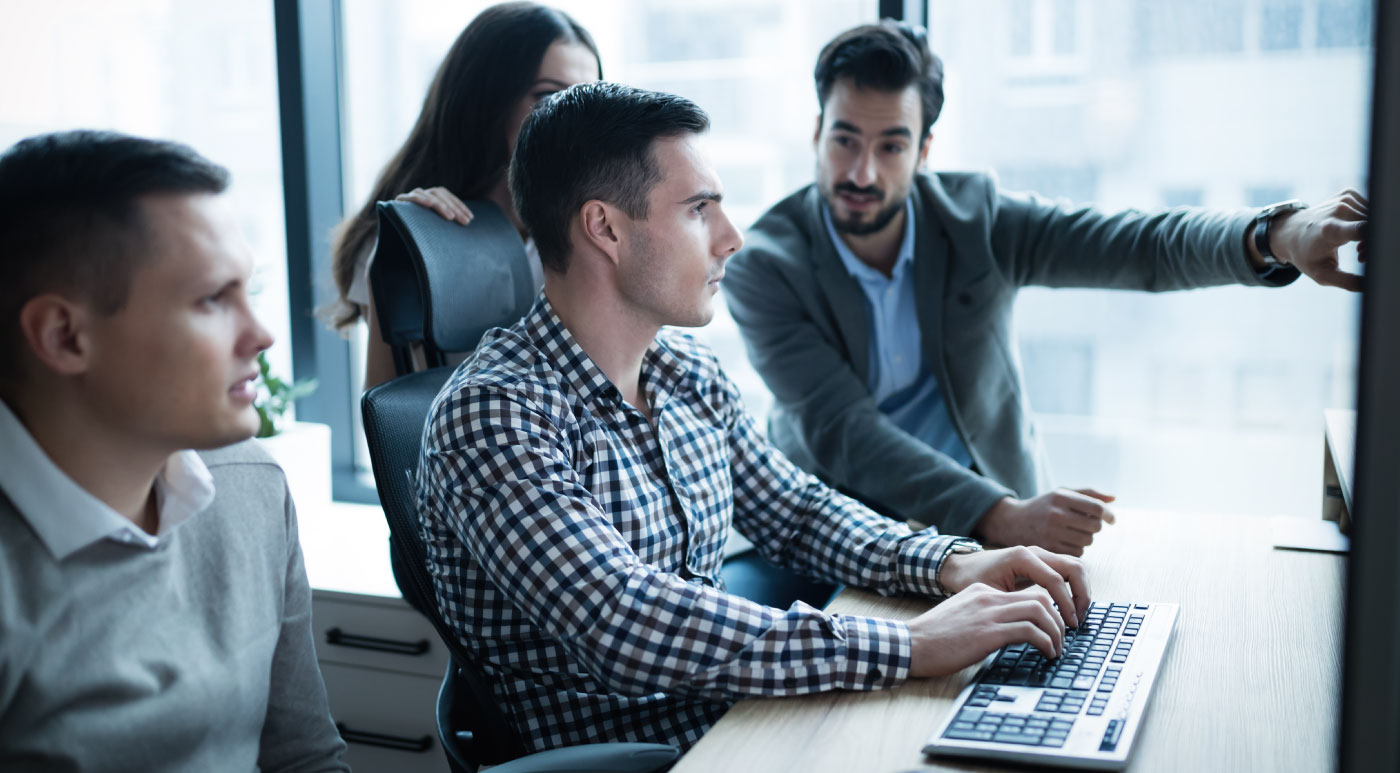 The University of the Cumberlands is a Christian college that upholds Christan values in their approach to education. The school was founded in 1913 by a group of ministers. They are committed to producing critical thinkers who become leaders in their respective fields. They have a 20:1 student to faculty ratio, which means students can expect to receive ample attention during their enrollment. In 2018, the institution decreased tuition rates by 57% to provide their students with an option for affordable education, without sacrificing quality.
The Master of Science in information systems security degree program at the University of Cumberlands is for those who have experience working in the information technology field and are seeking to build up their knowledge and skillset to further their career. This program is not intended for those who are unfamiliar with information technology. The objective of this program is to prepare its graduates to better understand information technology systems in the area of cybersecurity and prevent data loss. Mitigating data loss is needed in various types of companies, therefore, earning a master's degree in information systems security will be applicable to most corporations.
The University of Cumberlands has been named by the National Center of Academic Excellence in Cyber Defense (CAE-CD) by the National Security Agency (NSA) and the Department of Homeland Security (DHS). In total, there are only just over 200 universities in the country that have earned this CAE-CD designation. This designation makes the University of Cumberlands stand out in the arena of information systems security education and training.
The bulk of the program is focused on cybersecurity and mitigating losses in data. Courses cover creating recovery plans, evaluating software and network configurations, and designing and implementing security policies. All courses are implemented online, which allows students to learn from anywhere and also affords them flexibility in their schedule.
The program satisfies the requirements for the (ISC)2 CISSP Common Body of Knowledge, which means graduates will be prepared to write the CISSP exam that is required to pursue a career in the Department of Homeland Security (DHS) and National Security Agency (NSA) cybersecurity.
Graduates have several career paths, such as a computer systems analyst, computer and information systems manager, computer network architect, application development director, computing services director, data processing manager, and more. The salaries for these career paths vary, but range from $88K to $135K, on average.
To apply to the program, the university requires a bachelor's degree with a minimum of 2.5 GPA, application and application fee, and official transcripts. In total, the program is 31 credit hours and the cost of the program is $17,588. The vast majority of students at the University of Cumberlands utilize financial aids to fund their education. In total, the school has awarded $17 million in scholarships.
Master of Science in Management Information Systems (MS-MIS)
Florida State University was founded in the year 1950. It is one of the nation's youngest business schools, however it is being recognized as a leading education institution. It was ranked #26 for Public Schools in the U.S. News & World Report's 2019 Best Colleges. This ranking is based on a sense of community, ample engagement with their students and alumni, and high integrity in teaching, their fiscal obligations, and among their students.
The Master of Science in management information systems was ranked #9 by the U.S. News & World Report's 2020 list of Best Online Graduate Programs. A poll of graduates of the program showed that 100% of those asked would recommend the program to a friend. Also, the business school is accredited by the Association to Advance Collegiate Schools of Business (AACSB International). Only 5% of schools in the world hold this accreditation, which makes Florida State University stand out for their excellence.
The focus of this program is to empower graduates with the skills and knowledge in both technology and management. This combination of skills makes for excellent leaders in IT management at the corporate level, in healthcare settings, or in data analytics.
In total, there are eleven classes in the course and 33 credit hours. When taking two courses per semester, students will complete the program in two years. All of the classes are online, which allows students to learn from any location. The class requirements are Project Management, Management of Technology, Knowledge Management and Business Intelligence, Electronic Business, and Social and Organizational Issues Related to Information Systems. There are four elective courses, which students can select based on their individual preferences. Elective options include Organizational Behavior, Legal and Ethical Environment of Business, Business Conditions Analytics, Business to Business Sales and Marketing, among others.
The program educates students on how technology systems impact business planning, IT system design, as well as business intelligence, which helps companies to understand the implications that their data represent. The skills that graduates develop can be used to develop, grow, or stabilize companies from a data-analytics perspective as well as help them to prevent data loss and create reliable cybersecurity systems.
To be accepted into the program, applicants must hold a bachelor's degree in a technology-related field and have two years of general work experience, or have two years of working experience in an IT-related field. The application process requires an application fee of $30, two letters of recommendation, an up to date resume, and an applicant statement. In addition, official transcripts and GRE results are also required. There are start dates in fall, spring, and summer.
Online Master's in Business and Technology Management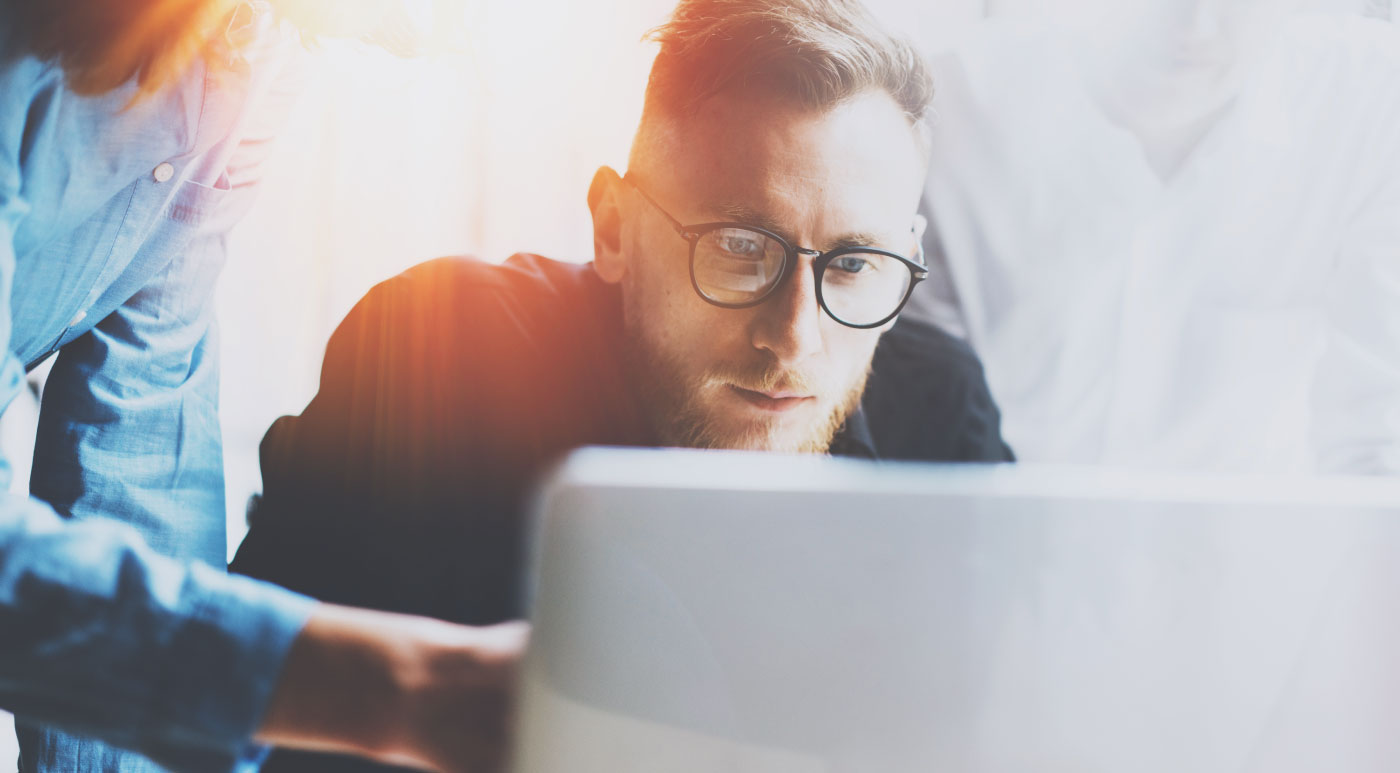 Stevenson University was established in 1947. They select their faculty based on their real-world experience, which allows students to benefit from learning from professors with first-hand experience in their respective fields. They offer individual career coaching throughout student's time of study in order to guide them in a prosperous direction that is well-suited to their career goals and individual skills. Their values include providing students with an excellent education in a supportive environment that is both flexible and supports work-life balance.
The program's courses are career-focused which means they have real-world applications and prepare you to become a competent leader in your field. There are two available tracks in this program. The first is emerging technology. This track is for students who are interested in implementing system design and IT project management. The focus is on technology systems, data recovery, cybersecurity, and the skills necessary to develop and implement all of these programs. Graduates of this track often seek out positions that work in cybersecurity, IT implementation, and system design.
The innovative leadership track was designed to teach students how to motivate employees to work at their optimal levels and increase their productivity and production. The basis of this program track is that employees are the most valuable asset to any company, and effective and motivational communication is invaluable. This track produces graduates who are passionate about being leaders and often take on leadership roles within corporations to encourage productivity, increase profits, and job satisfaction of employees.
Some of the program's courses are Technology Law and Law Enforcement, Customer Relationship Management, Systems Integration, Network Technologies, E-Commerce Technologies, and Disaster Recovery and Business Continuity. There is a blend of course types available, and the exact course schedule each student will have may vary depending on their chosen track and which courses they select. Each course is three credits.
There are various career paths that graduates may pursue, including technology, business systems, and technology management. Some common positions graduates of this program go on to fill are IT project manager, supply chain manager, information systems analyst, help desk administrator, and business continuity specialist.
The university has a program called the Stevenson Career Connections online system, which is available 24/7 and posts various job opportunities. This resource is a great advantage for graduates seeking new employment or alumni seeking a new job opportunity.
The application process at Stevenson University is relatively simple. There is no GRE required and there are no application fees. Applicants must hold a bachelor's degree from an accredited institution. There are GPA requirements for your previous studies, which is a 3.0 GPA. Applications also need to provide a personal statement and their official transcripts. In total, the cost of the program is $26,663.
Master's of Science In Information Systems (MSIS)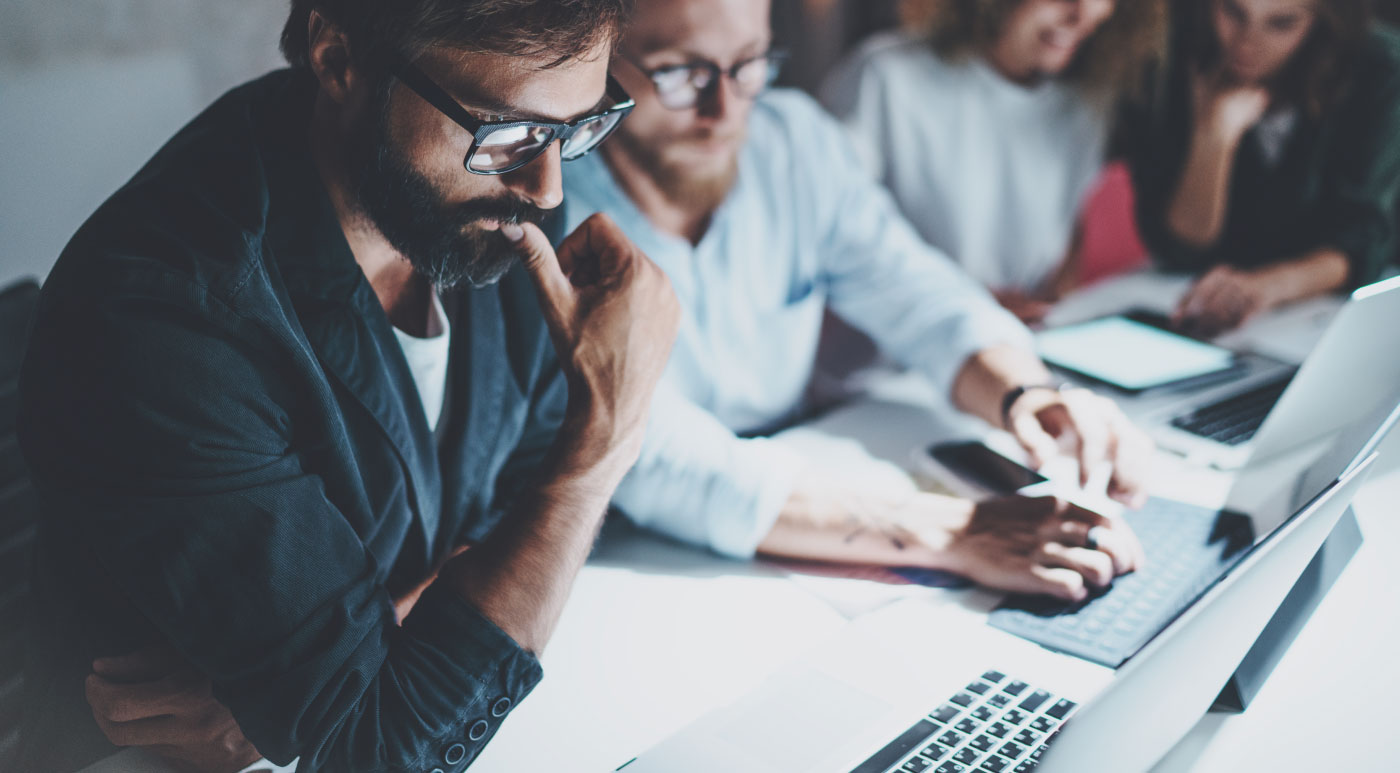 Dakota State University prides itself on being ever-evolving and creating leaders in the field that are forward-thinking. They boast a 99% placement rate for their most recent graduating class. They were founded in 1881 and originally began as an institute for educating teachers. Today their educational focus has shifted to the cyber world. Their primary objective is to train future leaders in technology to excel in any career they choose.
The Master of Science in information systems program at Dakota State University covers a range of topics, however, the focus is to help ensure technology systems are functional, efficient, and operating at an optimal level. Graduates of this program can expect to further their skills in numerous aspects of technology, including managing applications, adapting software, and computer-aided software engineering (CASE) programming. Other skills that will be covered include decision support systems (DSS), database management, internet, and electronic commerce, as well as network operating environments.
The objectives of this program are to train individuals to successfully implement emerging software technologies, adapt to new environments, translate data into user-friendly reports, as well as understand how to effectively manage IT programs. There are several different tracks a student can select from to tailor their program to their preferences, including application development, data management, information assurance, network administration and security, healthcare information systems, or general.
In total, the program has 30 credits and successful completion of all 30 credits with an average GPA of 3.0 is required for graduation. In addition, no more than two 'C' grades are allowed. Plus, there is a capstone course as well as a comprehensive exam that both must be completed in order to earn a master's degree through this program.
It is possible to complete this program in four semesters if enrolled in courses full-time. There is also the option to complete courses through part-time study. How long the program takes to complete varies from student to student as each individual is able to select his or her own course schedule. However, the maximum time to complete the program is five years.
There are two course start dates, one in the fall and one in the spring. To be admitted, an applicant must hold a bachelor's degree from an accredited institution, an average GPA of 2.7, have completed the GRE, and have prior knowledge in business fundamentals and information systems.
The Master of Science in information systems at Dakota State University is not well-suited for individuals who have not worked in the IT industry previously, or who have not earned their bachelor's degree in an information system-related field. There is some entry-level knowledge that is required. Examples include the ability to use spreadsheets for computations and analysis, principles of programming and the ability to program, knowledge of the different types of information systems, as well as an understanding of the behavior of individuals and groups in a business organization.
Master of Science in Information Management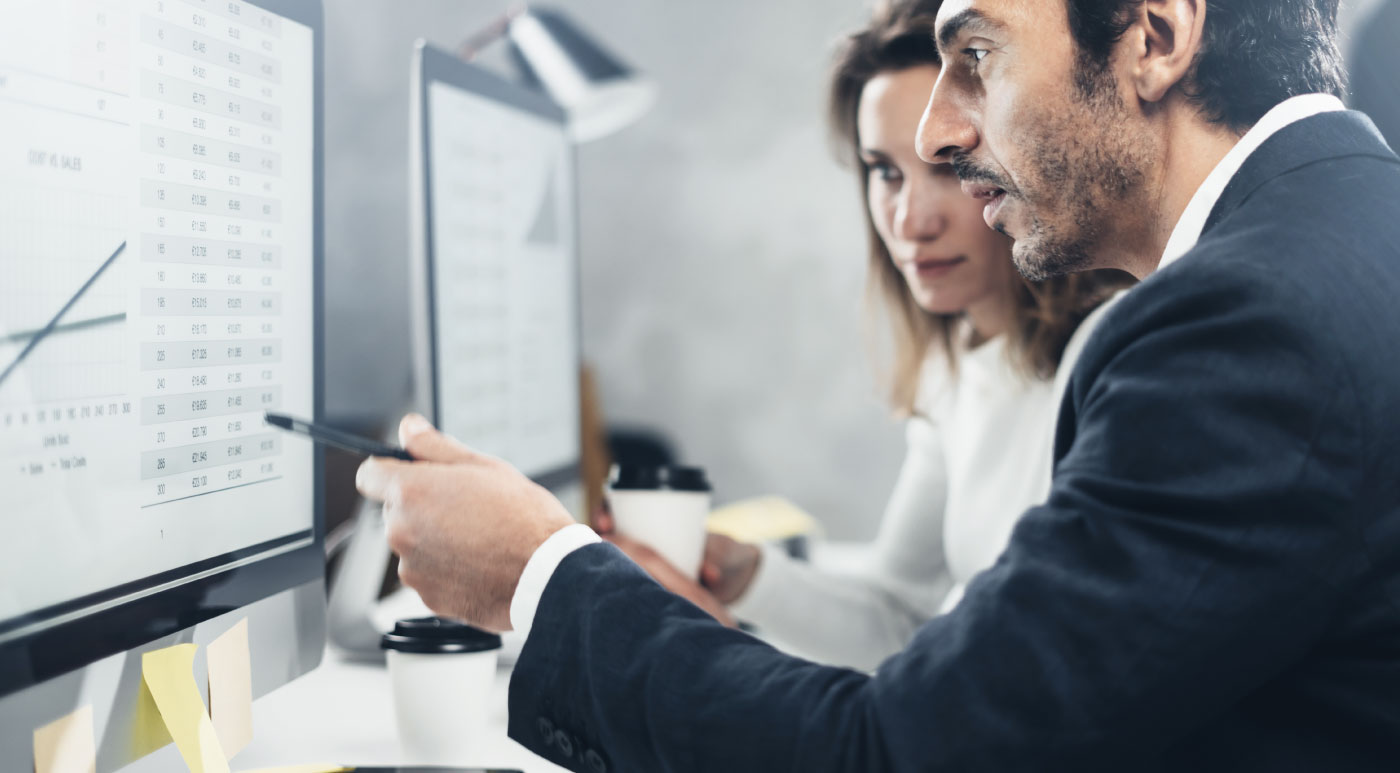 The University of Illinois at Urbana-Champaign is an emerging leader in information technology education. In their 2018-2019 report, the Center for World University Rankings ranked Illinois in the top 20 universities, worldwide. As an institution, they focus on individualization, academic excellence, and research. Their faculty are equipped with real-world experience which is beneficial for students to learn from. They consider themselves an iSchool, which emphasizes relationships between people, information, and technology. Although they have been around for over a century, they continue to innovate and adapt to the changing world and the needs around us.
The Master of Science in information management program prepares graduates to use, manage, analyze, and distribute information within a company. These skills are in high demand and are needed in a wide variety of enterprises. The program is exceptionally flexible, which allows students to tailor their course of study to suit their career goals and personal interests.
Upon graduation, individuals work in a range of job positions. Some examples include data scientist, information consultant, user experience researcher, cybersecurity analyst, digital content manager, and strategic research consultant. All of these career paths require the ability to manage information and analyze data, which is the basis of the Master of Science in information management program.
Within the program, there are two directions to choose from: data science and analytics or knowledge management and information consulting. In the data science and analytics track, students will focus on how to effectively manage, clean, and interpret data to inform optimal decision making in an organization. Students who complete this track often go on to pursue careers in digital technology analytics, data analytics, and technology development.
In the knowledge management and information consulting track, students are trained in data analytics and how to implement systems that efficiently organize information within a corporation. Career options for graduates of this track are a business intelligence analyst, competitive analysis supervisor, and change management coordinator. In total, there are 40 credit-hours to complete with either track.
The student satisfaction rate for the program is exceptionally high. According to a poll, 98% of graduates from the Master of Science in information management were hired by their first job destination.
To apply for this program the requirements include a resume, three letters of recommendation, and a personal statement. Applicants must hold a bachelor's degree with a 3.0 GPA average, however, experience in technology management is not required. Completion of a bachelor's degree in any field of study is acceptable. It is important that applicants take sufficient time to answer the required questions within their personal statement because the University of Illinois at Urbana-Champaign does put weight on a person's creativity, innovation, and motivation when selecting applicants.
OTHER NOTABLE PROGRAMS
#11. Oklahoma State University
Location: Stillwater, OK
Degree: M.S. in Information Systems
Net Price: $15,009
#12. Tarleton State University
Location: Stephenville, TX
Degree: M.S. in Information Systems
Net Price: $12,352
#13. Kennesaw State University
Location: Kennesaw, GA
Degree: Master of Science in Information Systems (MSIS)
Net Price: $17,618
#14. Minot State University
Location: Minot, ND
Degree: Master of Science in Information Systems (MSIS)
Net Price: $10,153
#15. University of Maine
Location: Orono, ME
Degree: M.S. in Information Systems
Net Price: $16,984
#16. Friends University
Location: Wichita, KS
Degree: Master of Management Information Systems
Net Price: $18,780
#17. Florida Atlantic University
Location: Boca Raton, FL
Degree: Flexible MBA – Management Information Systems
Net Price: $9,486
#18. University of North Carolina
Location: Greensboro, NC
Degree: MS in Information Technology and Management
Net Price: $10,396
#19. Auburn University
Location: Auburn, AL
Degree: Master of Science in Information Systems Online
Net Price: $23,205
#20. Metropolitan State University
Location: Saint Paul, MN
Degree: Master of Science in Management Information Systems MS in MIS
Net Price: $14,900
#21. Nova Southeastern University
Location: Fort Lauderdale, FL
Degree: Master of Science in Information Systems
Net Price: $25,867
#22. The University of Alabama at Birmingham
Location: Birmingham, AL
Degree: Management Information Systems M.S
Net Price: $16,636
#23. Lamar University
Location: Beaumont, TX
Degree: Master of Science in Management Information Systems Online
Net Price: $11,510
#24. Fort Hays State University
Location: Fort Hays, KS
Degree: MBA MIS Concentration
Net Price: $12,420
#25. Mississippi State University
Location: Mississippi State, MS
Degree: Master of Science in Information Systems (MSIS)
Net Price: $16,670
#26. University of Arizona
Location: Tucson, AZ
Degree: Graduate Program: Management Information Systems (MS) – Online
Net Price: $15,594
#27. Embry-Riddle Aeronautical University-Worldwide
Location: Daytona Beach, FL
Degree: Master of Science in Management Information Systems
Net Price: $18,922
#28. The University of Alabama in Huntsville
Location: Huntsville, AL
Degree: Master of Science in Information Systems (MS-IS)
Net Price: $15,437
#29. Central Washington University
Location: Ellensburg, WA
Degree: Information Technology and Administrative Management Master of Science degree (MS-ITAM)
Net Price: $14,647
#30. University of Arkansas
Location: Fayetteville, AR
Degree: Online Professional Master of Information Systems
Net Price: $15,781
#31. Wilmington University
Location: New Castle, DE
Degree: Master of Business Administration (MBA) – Management Information Systems Concentration
Net Price: $13,814
#32. The University of Illinois at Springfield
Location: Springfield, IL
Degree: Online Master of Science in Management Information Systems
Net Price: $10,733
#33. Muskingum University
Location: New Concord, OH
Degree: Master of Information Strategy, Systems & Technology
Net Price: $19,050
#34. Western Governors University
Location: Salt Lake City, UT
Degree: Master of Science Information Technology Management
Net Price: n/a
#35. University of Maryland Global Campus
Location: Adelphi, MD
Degree: Management Master's Degree with Information Systems and Services Specialization
Net Price: $13,672
#36. National University
Location: La Jolla, CA
Degree: Master of Science in Management Information Systems
Net Price: n/a
#37. Harvard University
Location: Cambridge, MA
Degree: Information Management Systems Degree Program Master's
Net Price: $17,590
#38. Concordia University-Wisconsin
Location: Mequon, WI
Degree: MBA in Management Information Systems
Net Price: $24,803
#39. Gardner-Webb University
Location: Boiling Springs, NC
Degree: Master of Business Administration (MBA) – Management Information Systems Emphasis
Net Price: $19,197
#40. Florida Institute of Technology
Location: Melbourne, FL
Degree: Management Information Systems M.S
Net Price: $34,139
#41. Park University
Location: Parkville, MO
Degree: Master of Business Administration Concentration Management Information Systems
Net Price: $15,359
#42. Concordia University-Saint Paul
Location: St. Paul, MN
Degree: Master of Science in Information Technology Management
Net Price: $18,591
#43. Harrisburg University of Science and Technology
Location: Harrisburg, PA
Degree: Master of Science in Information Systems Engineering & Management
Net Price: $13,909
#44. Walden University
Location: Columbia, MA
Degree: Master of Information Systems Management (MISM)
Net Price: $21,276
#45. Bellevue University
Location: Bellevue, NE
Degree: Master of Science in Management Information Systems
Net Price: $9,635