Ready to find your ideal master's program?
www.mastersprogramsguide.com is an advertising-supported site. Featured or trusted partner programs and all school search, finder, or match results are for schools that compensate us. This compensation does not influence our school rankings, resource guides, or other editorially-independent information published on this site.

Share this graphic on your site!
An educated population is necessary for a country to remain competitive in the global marketplace, but often personal and societal decision making doesn't align with that goal
Who's Going to Grad School?
In fall 2016, 1.8 million graduate students were enrolled in master's, graduate certificate, or doctoral programs in the U.S.
Over 40% of college freshman intend to pursue a master's degree
Growth rate of graduate applications is flattening:
1.2% growth between Fall 2015 and Fall 2016
5.7% average annual growth between 2006 and 2016
Master's degrees awarded:
2015: 758,708
2014: 754,582
2001: 473,502
Doctoral degrees awarded:
2015: 178,547
2014: 177, 587
2001: 119,585
In 2015-16, schools awarded:
82.5% master's degrees
11.3% doctoral degree
6.2% graduate certificate
Graduate programs with the most applicants, Fall 2016:
Social and behavioral sciences
Engineering
Biological and agricultural sciences
Physical and earth sciences
Arts and humanities
Demographics of graduate students in Fall 2016
Women are leading the way in first-time graduate achievement:
57.4% of master's degrees
52.1% of doctoral degrees
63.1% of graduate certificates
First-time graduate enrollment of U.S. citizens and permanent residents: 81.1%
60.7% White
11.8% Black/African American
10.9% Hispanic/Latino
7.1% Asian
5.9% Unknown
3.0% Two or More Races
0.5% American Indian/Alaska Native
0.2% Native Hawaiian/Other Pacific islander
First-time graduate enrollment of international students: 18.9%
There's no doubt an education is necessary, yet when it comes to grad school, for some the cons outweigh the pros
Who's Fighting the War on Grad School?
Political Reforms
Tax Reform Act of 1986:
Payments for teaching and research assistantships no longer applied to scholarship and fellowships income exclusion
Technical and Miscellaneous Revenue Act of 1988:
Restored previous exclusion but living stipends were still taxable
College Cost Reduction and Access Act of 2007:
Decrease in interest rates on subsidized Federal Stafford Loans for undergrad students
No change in interest rates for grad students
Budget Control Act of 2011:
Grad students no longer eligible for subsidized Federal Stafford Loan
Only eligible for
Unsubsidized Federal Stafford loans
Federal Grad PLUS loans
Bipartisan Student Loan Certainty Act of 2013:
Grade students saw a hike in interest rates
1.55% on Federal Stafford Loans
2.55% on Federal Grad PLUS Loans
2018 Tax Reform:
Originally proposed taxing the income of college endowments
Fierce opposition resulted in legislation that doesn't tax tuition waivers
Are the critics right?
Reasons not to pursue a graduate education:
Looming financial debt
In 2012, master's degree student debt average was:
$42,000 Business
$50,879 Education
$50,400 Science
$58,539 Arts
$140,616 Law
$161,772 Medicine and Health Sciences
$55,489 Other
At graduate level, high competition for fellowships, research/teaching assistantships
Ultimatum: Are grad students willing to live under a cloud of debt for decades?
Wreaking havoc on relationships
Demanding family responsibilities
Strained relationship with significant other
Ultimatum: Which is more important: grad school or love life?
Opportunity cost
Graduate students must give up:
Travel
Work experience
Vacations
Ultimatum: Will students regret time spent on grad school?
Reasons to pursue a graduate education:
1) Higher salary
The wage premium for those with a master's degree over those with a bachelor's degree can be as great as:
Financial services sales agents
89% increase
$80,000 difference
Physician assistants
44% increase
$29,000 difference
Education administrators
44% increase
$23,000 difference
2) Gain access to more job opportunities
Entry-level jobs that require a master's degree
Archivist
Librarian (See 50 Best Online Master's in Library Science.)
Health care social worker (See 50 Best Online MSW Programs.)
Mental health counselor (See 50 Best Online Master's in Counseling Programs.)
Urban and regional planner
Political scientist
3) Make professional connections
Access to school alumni
Develop network of peers
The private business sector has weighed in and offered their two cents with tuition reimbursement and MOOCs
Making Grad School Work
Explore financial options
Employers offer tuition reimbursements:
AT&T
Up to $25,000 for graduate expenses
Bank of America
Up to $5,250 for job-related courses
Best Buy
Up to $5,250 for graduate coursework
Disney
Up to $700 per college credit
100% of cost of textbooks
$100 per course for materials
UPS
Up to $5,250 per year and lifetime maximum of $25,000
Verizon
Up to $8,000 per year for full-time employees, $4,000 for part-time employees
Walmart
Up to $2,000 per Walmart Fiscal Year
Wells Fargo
Up to $5,000 per year
Complete the Free Application for Federal Student Aid (FAFSA) and gain access to:
Federal Perkins Loan Program
Graduate students can borrow up to $8,000 per year
William D. Ford Federal Direct Loan Program includes the following types of loans:
Direct Unsubsidized
Graduate students can borrow up to $20,500 per year
Direct PLUS
Requires a credit check
Direct Consolidation
Explore alternative education options
Massive open online courses (MOOCs)
Offered by 11.3% of higher education institutions in 2015
Benefits include:
Greater specialization
Highly relevant courses
Free or low-cost education
Top MOOCs include:
edX
Coursera
Udacity
Online degree programs
The same program offered on-campus can be thousands less if taken online
Large class size reduces costs to institution—and students
Fewer instructors
Automated grading
Enrolling in an international school abroad
Though living expenses can vary, the actual degree can be cheaper
Inexpensive programs offered abroad:
University of Vienna tuition is 726.72 Euros, or ~$800/semester
University of Oslo tuition is free, semester fee is ~$75
While the jury is still out on grad school, alternative higher education options are taking the spotlight
What's your verdict?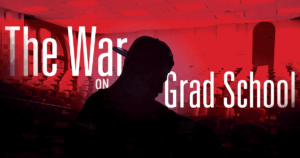 Sources:
http://cgsnet.org/ckfinder/userfiles/files/CGS_GED16_Report_Final.pdf
https://www.heri.ucla.edu/monographs/TheAmericanFreshman2016.pdf
http://cgsnet.org/ckfinder/userfiles/files/CGS_GED16_Report_Final.pdf
https://nces.ed.gov/programs/digest/d16/tables/dt16_323.10.asp
http://cgsnet.org/ckfinder/userfiles/files/CGS_GED16_Report_Final.pdf
https://www.bls.gov/careeroutlook/2015/article/should-i-get-a-masters-degree.htm
https://www.usnews.com/education/best-graduate-schools/articles/2017-04-03/6-occupations-that-typically-require-a-masters-degree
https://static.newamerica.org/attachments/750-the-graduate-student-debt-review/GradStudentDebtReview-Delisle-Final.pdf
http://www.businessinsider.com/14-reasons-not-to-go-to-grad-school-2015-12
http://www.cwa3111.org/prem%20tech%20Legacy_SBC_Non-management_pre-merger_SBC_AT&T_merger.pdf
http://careers.bankofamerica.com/us/working-here/benefits-advantages.aspx#tab-life-management-benefits
https://corporate.bestbuy.com/wp-content/uploads/downloads/Tuition-Assistance-Policy-Final.pdf
https://ditm-twdc-us.storage.googleapis.com/FY10Disney_2010_CC_Report.pdf
https://www.jobs-ups.com/earn-and-learn
https://www.verizonwireless.com/news/2013/04/verizon-tuition-assistance.html
http://walmart.scholarsapply.org/associate/files/assoc_faq.pdf
https://www.wellsfargo.com/about/careers/benefits/
https://studentaid.ed.gov/sa/types/loans
https://www.usnews.com/education/online-education/articles/2016-02-09/study-enrollment-in-online-learning-up-except-at-for-profits
https://www.usnews.com/education/online-education/articles/2014/06/03/why-online-education-may-drive-down-the-cost-of-your-degree
https://www.usnews.com/education/best-global-universities/articles/2015/05/26/4-myths-about-americans-earning-graduate-degrees-abroad
https://www.usnews.com/education/best-global-universities/photos/2016/07/14/tuition-is-low-or-free-at-these-global-universities?slide=11
https://www.cappex.com/hq/articles-and-advice/resources/policy/The-War-on-Graduate-Students
https://www.insidehighered.com/news/2017/11/30/how-senate-and-house-tax-bills-would-hit-higher-education
https://www.npr.org/2017/12/18/570941259/grad-students-tuition-waivers-will-remain-untaxed-after-all