Ready to find your ideal master's program?
www.mastersprogramsguide.com is an advertising-supported site. Featured or trusted partner programs and all school search, finder, or match results are for schools that compensate us. This compensation does not influence our school rankings, resource guides, or other editorially-independent information published on this site.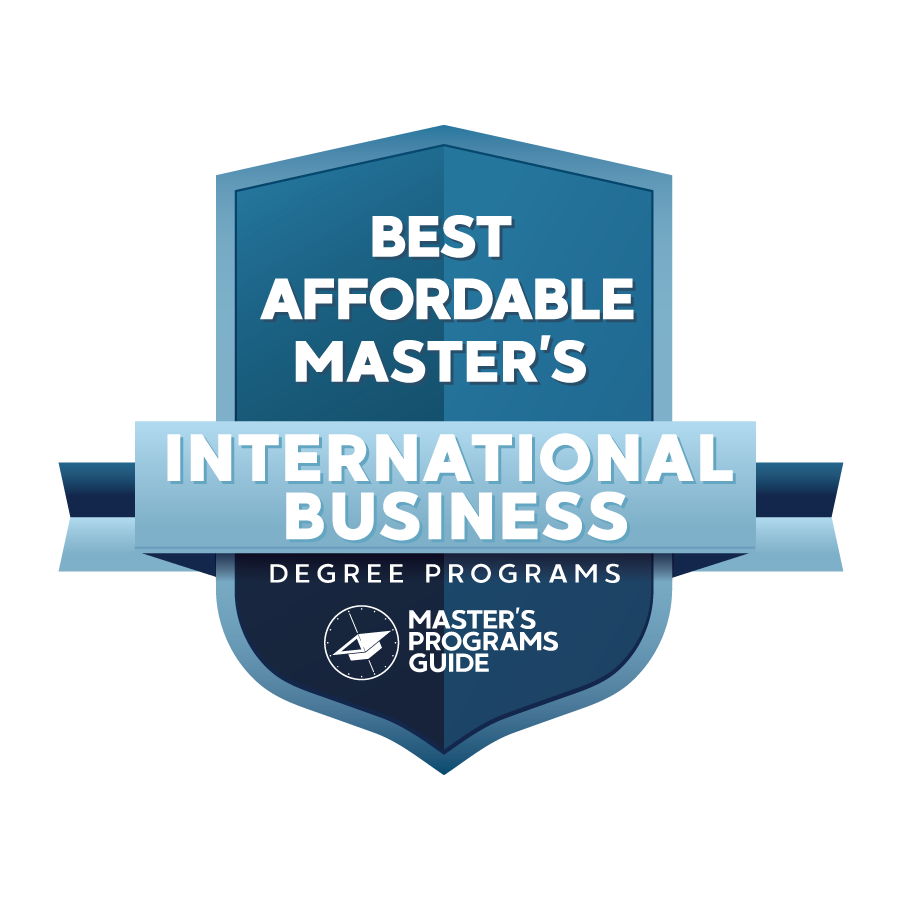 Are you looking for the top masters in international business programs? You're in the right place!
The Master of International Business often referred to as the MIB or M.I.B., is a graduate degree meant to provide learners with the skills, capabilities, and resources they need to become managers in the global economy. 
Whether you're new to the world of business or have been working in this field for a while, it's a smart degree to consider if you want to build your skills in specialized areas like organizational leadership, finance, marketing, and human resource management—all with a global perspective. 
It is similar to an MBA (master of business administration) program in that you'll complete the degree as a two-year course of study when completed on a full-time schedule. You'll take classes that build your competencies in the areas listed above while also participating in hands-on activities like:
internships
cooperative work experiences
group projects
capstone experiences
research
Many master's in international business include innovative and engaging study-abroad experiences, too. These are meant to expose you to new career paths and cultures, with students frequently studying in global business hubs like Boston, Dubai, New York, Shanghai, London, and more.
Of course, the best masters in international business will also provide you with extensive opportunities for networking and professional development. Almost all Fortune 500 companies have operations around the world, but did you know that nearly 60% of all American-based small businesses also have international customers?
Going global is something that's on the mind of just about every single business owner, but language and cultural barriers can pose significant challenges. Earning a graduate degree in international business will introduce you to the right people and provide you with the skills you need to be confident in helping to make companies of all kinds (including your own business, if you choose!) make the leap to a global market.
International business is a booming industry. The world has become an even smaller, more globalized place, so it's no surprise that there are more international work and business opportunities than ever before. But with so many schools to choose from, how do you know which one offers the best international business masters?
There's no question about it—making the decision to pursue a master's degree isn't for the faint of heart. Your courses will likely be challenging, but trust us when we say, it's worth it. It's only through a master's degree that you'll learn the skills you need to succeed and forge the business and industry connections necessary to become a leader in the field.
Because of this, it's important that you consider the many options that are out there for earning an affordable graduate degree. Financial aid is everywhere—you just need to know where to look. 
Looking for an affordable MBA in international business management? Look no further. In this article, we will tell you all about affordable master's in international business management, many of which can be completed online or on a part-time basis for maximum convenience. 
What Are the Best International Business Degrees?
We know that you have educational goals that you're itching to pursue, but you may not know where to start. The editors of Master's Programs Guide utilize a unique ranking methodology based on the following five aspects:
25% Overall Degree Affordability: Average cost of undergraduate and graduate tuition per school
25% Graduation Rate: Number of students who start at the university and actually finish there
20% Earnings Potential: Average mid-career salary of school alumni
20% Selectivity: The number of students who apply versus the number who actually get accepted
10% Online Graduate Offerings: The number of programs offered online in each department
At Master's Programs Guide, we strive to do our best to guide you and your family toward a fruitful academic career. The pursuit of knowledge is a noble one, and we want to help you reach your goals.
Masters in Business Administration with International Business Management 
Lynn University offers one of the best international business programs around. This school, located in scenic Boca Raton, FL, is known for its many study abroad programs, most of which are also offered as part of the MBA here.
The international business concentration is one of nearly a dozen different specializations that will help you develop the skills you need to stand out in an increasingly competitive global marketplace. As a student in this program, you'll be able to travel to major business hubs such as New York City, Washington, D.C., Aspen, CO, and more. 
A defining feature of the MBA is the J-Term, a four-week immersive program in January that will allow you to embark on unique experiences such as interning with the ESPN X Games in Aspen, learning how to start a business on a limited budget, and more. Even better? When taking classes online, you'll still have access to cutting-edge research and top instructors with decades' worth of experience. 
Available fully online, this program will prepare you for a wide variety of career opportunities—without breaking the bank. Tuition starts at just $740 per credit hour with many scholarships, grants, and loan opportunities available. 
You can complete your studies on a full- or part-time basis, with an accelerated curriculum available that will let you finish your degree in less than a year. You don't need to take the GMAT or GRE and can start the program at one of three different start dates. You'll even be provided with an iPad to use after paying just a $100 instructional materials fee. 
MBA in International Business Online
Kettering University offers one of the top master's in international business programs in the world. Although the school's main campus is in Flint, MI, you don't have to live anywhere near the Midwest in order to take classes. This program is available entirely online and features multiple concentrations–so many, in fact, that it is often referred to as the "gold standard in business education."
In this program, you will build the confidence you need to make managerial decisions. You'll acquire an in-depth knowledge of marketing, finance, accounting, and more in this degree, which is ranked third among the best value colleges in Michigan by Niche and the top online MBA program in Michigan by MBA Central. 
The program has a unique STEM focus that makes it perfect for professionals from scientific or engineering backgrounds. In fact, nearly half of all students who ultimately enroll in this program are engineers who work at companies like Ford, General Motors, and Whirlpool. The degree has enough flexibility for you to add a second concentration or even to add a second degree in something like Operations Management if you choose. 
You'll take classes such as:
Marketing Management
Financial management
International Business
There's no GMAT or GRE requirement for this affordable program. You'll save money by taking classes online, plus you can start right away. Most students are able to complete the entire 14-course sequence in as little as two years of study.  
MBA in International Business Master's Degree Program
One of the best master's in international business in the USA can be found at Marist College. The Master of Business Administration is accredited by the Association to Advance Collegiate Schools of Business and is available entirely online. It's ranked as one of the best in the country by U.S. News & World Report and will teach you not only the skills you need but will also acquaint you with the networking opportunities necessary to make a major impact. 
In addition to the concentration in international business, the MBA at Marist also features concentrations in things like:
ethical leadership
financial management
healthcare administration
Because of this, you'll find yourself surrounded by a diverse body of peers and fellow professionals as you work to advance your career. 
A highly convenient program, the degree has five start dates per year. You can combine online studies with those on campus or choose to study fully in a remote setting. Whichever you choose, you'll find success upon graduation. Graduates of this program are employed at some of the world's most prestigious organizations, including Pepsi, Canon, Aetna, Adobe, Cisco, Fidelity, IBM, and more. 
You will learn from faculty who are industry experts, many of whom still continue to operate in today's business world. It's an affordable program that costs just $870 per credit hour with lots of graduate scholarships available. Marist even offers corporate and organizational tuition benefits in many cases. 
Master's in International Business Online
The University of Scranton offers a master's in international business online that is perfect for busy working adults.  It is offered by the Kania School of Management. This school has a unique focus on Triple Bottom Line Theory, in which you'll emphasize sustainable development as related to fiscal, social, and environmental factors. 
A two-year program, it consists of 36 credit hours at a low tuition rate of just $965 each. You'll be able to build the expert skills that you need to navigate global business as well as to understand the intricacies of international politics, supply chain management, global finance, and more.
You'll take classes in things like global marketing, global health management, international accounting, and supply chain management. The program requires no GMAT or GRE for admission, making it a feasible option for just about any student. Accredited by the Association for Accreditation of Collegiate Schools of Business, this degree will help you apply advanced business foundations on the global stage, taking both a macro-and micro-economic perspective. 
Not sure that international business is right for you? Don't worry! The MBA at the University of Scranton has plenty of other specializations you can choose from, including those in:
business analytics
accounting
enterprise resource planning
finance
healthcare management
human resources management
MBA in International Business
Housed in the Nathan M. Bisk College of Business, the MBA in International Business at Florida Tech is accredited by the International Assembly for Collegiate Business Education.  It will allow you to explore a wide array of management topics including:
risk and conflict management
multinational business policy
legal responsibility
e-commerce 
The MBA at Florida Institute of Technology also has an additional specialization in management that is perfect for students interested in pursuing a career in leadership. You'll be able to take classes entirely online, with courses blending real-world applications and academic principles alike.
As a student in the international business program, you'll take courses such as:
Managerial Economics
Financial Management
Organizational Behavior
Marketing Management
There's also room for you to take all the electives you'd like. An affordable program, it features tuition starting at just $896 per credit hour, with a total of 36 credit hours required. Financial assistance is available in the form of loans, scholarships, grants, and employer tuition assistance, too. 
Listed as a top 50 online MBA program by the Princeton Review, this program is also highly ranked as a private university and as a top MBA program for veterans by U.S. News & World Report. This is also one of the best online MBA in industrial business with no GMAT requirement. The accolades should speak for themselves!
#6. Removed by Editor
Masters in Business Administration-International Business
When it comes to online programs, Liberty University is considered a leader among its peers. It is a private evangelical Christian university located in Lynchburg, VA, first founded in 1971. Despite being a young university, it has grown quickly to accommodate the educational needs of more than 79,000 students. Most of these students choose to complete their degrees online.
The master's in business administration will allow you to explore new opportunities abroad with its international business concentration. It has a unique Christian worldview that also emphasizes ethical decision-making, faculty mentorship, and best business practices. Not only that, but it is one of the few degrees that will prepare you to sit for the Certified Global Business Professional certificate, something that can be incredibly valuable if you are looking to get involved in international trade.
You will take core classes in things like:
International Business
Global Economic Environment
Developing Global Markets
Environment of International Business
The school is ranked as one of the best in regard to its affordability, quality, and accessibility. You can complete the degree in as little as two years, and to sweeten the deal even more, you should know that tuition here has not increased in a whopping six years!
You will pay low tuition rates that are often offset by generous financial aid. Veterans, in particular, will benefit from Liberty University's financial aid opportunities. You'll pay just $275 per credit hour as a graduate student! Plus, Liberty offers maximum convenience to all students in that each course lasts only eight weeks with no set log-in times and eight separate start dates per year. 
MBA with an international business concentration
A Christian liberal arts university, Dallas Baptist University is located, as you might expect, in Dallas, Tx. It has additional campuses in Plano and Hurst as well as many programs that are offered fully online. 
The MBA with an international business concentration at Dallas Baptist University recognizes that success in modern business requires an in-depth knowledge of the global business environment, as well as the cultural practices therein. 
You'll acquire the global worldview you need to compete in the modern business world, while also building leadership skills that will help you manage a multinational organization. Offered entirely online, this program consists of 36 credit hours. You can take on a dual concentration, if you choose, for just another 12. 
You'll take core classes such as:
Business Ethics
Corporate Finance
Managerial Accounting
Leadership in Management
Creative Problem Solving Marketing Decisions
Concentration courses include studies in international finance, economics, legal issues, marketing, and global initiatives in management. It's an affordable program with generous financial aid options such as grants, loans, and assistantships.
International Master Business Administration Online
Located in Falls Church, VA, Stratford University is a private school that offers online, in-person, and blended programs to students in Virginia as well as in Maryland and New Delhi, India. Founded with the goal of offering education to nontraditional students, this school is one of the best options for students who are trying to earn their degrees while working full-time.
In the International Master of Business Administration, you'll benefit from a broad-based curriculum that is both technical and practical, founded on a variety of current management theories and practices. You'll engage in in-depth case analyses, industry studies, business games, and other experiential learning methods meant to help you build your skills and practice in a real-world way. 
You will be able to take specialization courses in key areas of focus such as goal-setting, development and implementation strategy, finance, accounts payable, leadership, data analysis, and more. Each course lasts only five to ten weeks and can be completed on your own schedule.
This affordable program includes options for specialization such as:
global leadership
marketing
finance
information technology and e-commerce
entrepreneurship
It will take you just 15 months to earn a degree, helping to save you both time and money. 
MBA with an International Business Concentration
Walden University can be found on just about any top master's in international business rankings! This school, located in Minneapolis, MN, is a private for-profit school that offers programs primarily online. The Master of Business Administration has multiple start dates per year and has a unique competency-based learning model. 
With this program, you can complete your degree in as little as twelve months with the fast-track MBA option. You'll gain the skills you need to succeed in a business environment as you participate in practical, hands-on projects. You can design your own program to tailor it to your professional objectives and you'll learn the new tools and techniques you need to advance your career immediately.
The program is accredited by the Accreditation Council for Business Schools and Programs. In addition to a specialization in international business, it also has options for healthcare management, human resource management, project management, and more. You'll be able to tailor every single course to help you meet your personal and professional objectives. 
As a student at Walden, you'll benefit from all kinds of resources that are put in place to help you succeed. From the Writing Center to the MBA Success Planner, you'll be supported every step of the way. Applying to this program is easy, too, since there's no GMAT or GRE requirement. All you have to do is submit an application—it's as easy as that!
OTHER NOTABLE PROGRAMS 
#11. Tiffin University
Location: Tiffin, OH
Degree: MBA with a concentration in International Business
Net Price: $13,000
#12. The University of Alabama
Location: Tuscaloosa, AL
Degree: MA in Management With a Concentration in Global Business Management
Net Price: $10,780
#13. Indiana Wesleyan University Marion
Location: Marion, IN
Degree: MBA with an International Business
Net Price: $13,104
#14. Oklahoma Baptist University
Location: Shawnee, OK
Degree: MBA with International Business Online
Net Price: $9,900
#15. St. Thomas University
Location: Miami, FL
Degree: Master's of International Business
Net Price: $10,596
#16. Gardner-Webb University
Location: Boiling Springs, NC
Degree: Master of International Business Administration
Net Price: $9,050
#17. University of Maryland University College
Location: Largo, MD
Degree: Master's Degree in International Management Online
Net Price: $16,456
#18. University of North Dakota
Location: Grand Forks, ND
Degree: MBA Concentration in International Business
Net Price: $9,697
#19. University of Phoenix-Arizona
Location: Tempe, AZ
Degree: Master of Business Administration With a Concentration in Global Management
Net Price: $16,752
#20. Central Michigan University
Location: Mt. Pleasant, MI
Degree: MBA in International Business Online
Net Price: $13,804
Frequently Asked Questions
What will you learn with an international business degree?
Each of the many international business graduate degrees has varying course requirements and curriculum options. In most global business master's programs, you'll be required to complete a set of core courses along with electives and a final capstone project.
At Florida International University, a school that is ranked as offering an international business program that is among the best in the nation by the Journal of International Business Studies and U.S. News & World Report, you'll embark on a hands-on curriculum to prepare you for the real world. The Professional MBA has multiple global initiatives that will help you fine-tune your teambuilding skills through study abroad, inbound and outbound programs, and international research opportunities.
Finding a program that offers experiences abroad is crucial when you are considering a career in international business. Other courses you might take include:
global supply chain management and logistics
principles of marketing
information systems for management
international trade policies and practices
These might be classes that you are familiar with at the undergraduate level but don't be fooled—you will go above and beyond in your graduate degree to take your learning to a more advanced state. You'll build skills in cross-cultural communication, collaboration, adaptive thinking, networking, emotional intelligence, and more. 
What requirements do you need to meet in order to apply to an international business degree program?
Also known as an MBA in global business, an international business degree can have some pretty strict admissions requirements. These vary depending on the school to which you are applying.
Let's take a look at the University of Colorado-Denver as an example. In this program, you will need to submit GMAT or GRE scores along with an online application, official transcripts, a resume, and essay responses. You don't have to have work experience to apply, although this is a common requirement of many other students. 
Once you've enrolled, you will need to meet certain requirements in order to earn your degree, too. You may be tasked with completing a set number of credit hours or completing a thesis or capstone project.
Your learning and course requirements often won't be restricted to just inside the classroom walls, either. For example, at the Hult International Business School in Boston, you'll be able to pursue other options as part of your degree in addition to the core course requirements. You can network with other career partners and study in places like London, New York, San Francisco, and Dubai.
What can you do with a master's in international business? 
We are living in an increasingly globalized world with one-third of the world's population now living outside their home country. It is no wonder that there has been a rise in international business careers and degree programs to meet this need.
For graduates of Tufts University, for example, the options are endless. There's no typical career path, with students going on to careers at large multinational corporations like Amazon and Procter and Gamble, financial services companies, consulting groups, international organizations like the World Bank, NGOs, and marketing organizations.
Your career options might vary and become more or less specialized depending on the exact degree you decide to pursue. 
If you pursue an executive MBA in international business, for example, you'll be able to gain more specialized leadership and analytical skills that will help you pursue a career such as:
cash manager
marketing manager
production manager
VP of sales
chief operating officer
You'll be able to climb the corporate ladder quickly and easily! 
Is financial aid available for international business degrees?
Just as you can receive financial aid as part of any other master's degree, so, too, is assistance available for international business majors. The type and amount of aid you receive will vary depending on your financial position, where you choose to go to school, and your academic standing. 
The best way to figure out what kind of financial aid you might qualify for? Start by completing the FAFSA (Free Application for Federal Student Aid) as soon as you can. 
Then, reach out to the institutions to which you have submitted an application for admission. Financial aid policies vary widely.
The University of South Carolina, for example, offers both fellowships and graduate assistantships. These aid programs are some of the best for graduate students since they will allow you to gain significant hands-on experience while also receiving a stipend to cover the cost of tuition.
Other schools may offer financial aid in the form of grants, scholarships, student loans, and other assistance. 
What kind of salary will you earn with an international business degree? 
Money certainly isn't everything—but when it comes to earning an international business degree, it's a nice complement to an already beneficial degree! Financial Ties, in 2017, reported that graduates from business programs were paid an average salary of more than $142,000. 
To sweeten the deal even more, graduates of international business master's degree programs tend to earn a pay increase of 50% or more! Without even factoring in additional benefits like paid travel, insurance, and bonuses, the average salary for a professional in this field is quite lucrative.
As a promotions manager, one of the most common careers pursued by individuals who receive master's degrees in international business, you can expect to earn an average salary of $141,490 per year. Become a distributions manager, another top choice, and you'll earn around $96,390. 
Of course, as a top executive, a career you might aspire to after you've climbed to the very top of the corporate ladder, you could bring in around $185,950 on average!
Is a master's in international business better than an MBA?
Some schools, such as the University of Florida, offer both a master's in international business and an MBA. Which one is better? There's no right answer, as both degrees can help you meet your career goals. 
The major difference between the two degrees is that a MIB tends to be more academic in nature, often requiring less work experience than an MBA. OF course, this is not always the case, so it's important to look into both kinds of programs if you aren't sure which is right for you. 
What country is best for a master's in international business?
You can earn a master's in international business just about anywhere, including in the United States. In fact, the United States has long been considered a leading investment destination and regularly ranks among the best for its innovation, competitiveness, and ease of doing business.
However, even if you choose to study in the United States, you may want to consider going abroad for at least a portion of your studies. Consider studying in places like the United Kingdom, France, Singapore, China, Germany, or Spain if you want to add a new level of experience to your degree. 
Is a master's in international business worth it? 
Absolutely. When you decide to earn a master's in international business, you will gain the skills you need to become a leader in any global business setting. You'll also be able to access a professional network that will be instrumental in helping you to find a job and boost your career prospects.
Don't forget about your likelihood of landing a job, either. At the University of Delaware, 94% of international business studies graduates were employed, earning an average starting salary of $51,703, or pursuing further study within just six months of graduation! 
Related: