Ready to find your ideal master's program?
www.mastersprogramsguide.com is an advertising-supported site. Featured or trusted partner programs and all school search, finder, or match results are for schools that compensate us. This compensation does not influence our school rankings, resource guides, or other editorially-independent information published on this site.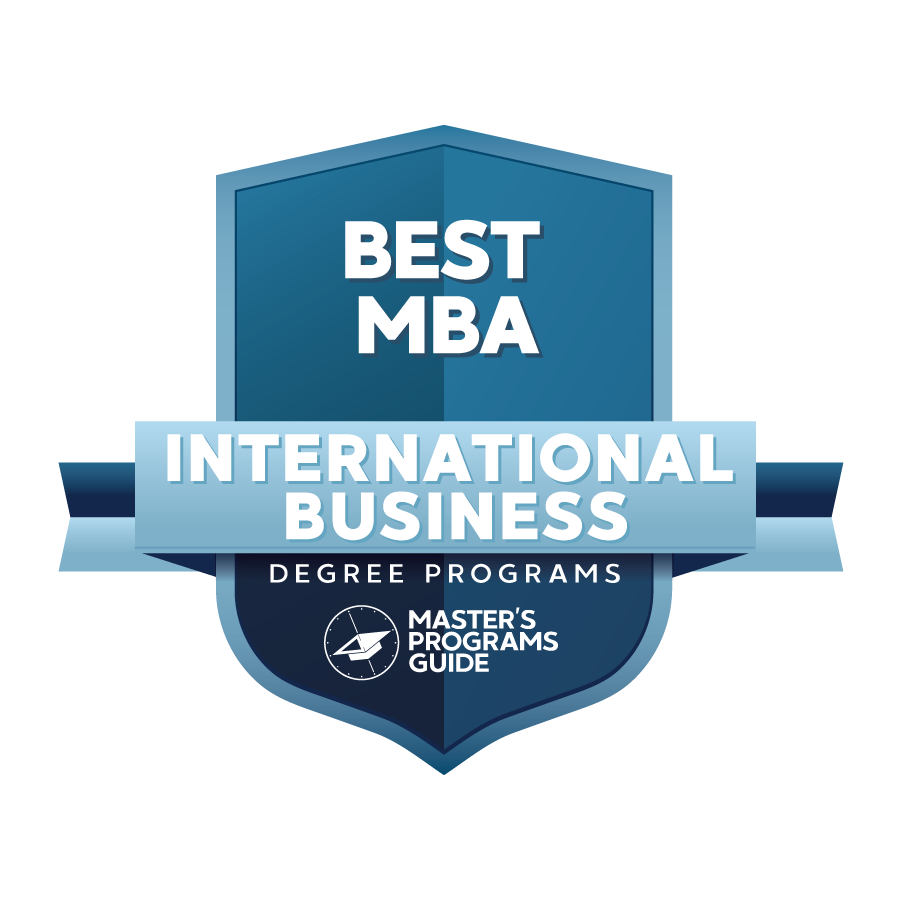 As our world becomes increasingly connected, there is a similar increased demand for professionals who can help businesses connect with customers and clients around the globe. Technology is advancing as the world grows smaller and businesses everywhere are understanding the need to participate in the global marketplace.
Do you have what it takes to help them succeed?

Earn one of the best online MBAs in international business and you'll have the skills you (and they!) need for success.
An MBA in international business will help you develop the leadership skills you need to be successful anywhere but especially in a foreign market. You'll gain the communication skills you need to effectively communicate across cultural and language barriers while also developing the technological aptitudes you need to thrive in the modern setting.
This kind of degree is similar to a stand-alone, regular MBA program but with an extra flair that will help you succeed. An MBA, or master of business administration, degree is one of the best to consider if you're looking for a program with a serious return on investment.
Your salary could easily top six figures—and with an additional specialization in international business, you're sure to have no problem finding a job.
Graduates of these kinds of programs typically go on to work in careers like import and export agent, customs manager, translator, international marketing director, management consultant, foreign policy advisor, and many others. There are countless opportunities awaiting! 
"That all sounds great," you might be thinking, "but I already have a full-time job and other personal obligations, like a family, to attend to. How am I going to find time to earn an MBA?"
It's true that earning an MBA can be challenging and time-consuming. However, there are plenty of workarounds that will help you earn your credentials without losing your mind!
One of the best ways to pursue an MBA in international business is to consider doing so online. In today's day and age, almost every school that offers an MBA in international business also offers one virtually, allowing you to take all or most of your classes from afar. You may never even have to step foot on campus!
The quality of education in an online program is just as good as—if not better than—what you would find on campus. Tuition tends to be lower and even if it's not, you'll often find that earning a degree online tends to be more affordable because you don't have to worry about extraneous expenses like transportation, room, and board. 
So what do you have to lose? 
That's a trick question, of course—you've got nothing to lose and everything to gain when you choose to pursue one of the best online MBA in international business degrees. Keep reading to learn more about this next step forward in your promising career. 
What Are the Best Online MBA in International Business Degrees?
We know that you have educational goals that you're itching to pursue, but you may not know where to start. The editors of Master's Programs Guide utilize a unique ranking methodology based on the following five aspects:
25% Overall Degree Affordability: Average cost of undergraduate and graduate tuition per school
25% Graduation Rate: Number of students who start at the university and actually finish there
20% Earnings Potential: Average mid-career salary of school alumni
20% Selectivity: The number of students who apply versus the number who actually get accepted
10% Online Graduate Offerings: The number of programs offered online in each department
At Master's Programs Guide, we strive to do our best to guide you and your family toward a fruitful academic career. The pursuit of knowledge is a noble one, and we want to help you reach your goals.
Master of Business Administration (MBA) with a concentration in International Business
A public land-grant research university located in Lincoln, NE, the University of Nebraska-Lincoln is the state's oldest university as well as the flagship university of the state system. Although the school initially specialized only in agricultural and research-oriented programs, today it offers dozens of degrees that are known throughout the world as being some of the best in their respective fields. 
The University of Nebraska-Lincoln has one of the most prestigious online MBA programs. This transformative degree combines a solid foundation in core business concepts with international study. Not only will you learn about the business practices of other countries but you'll also learn about how culture and management methods differ around the world. 
Coursework covers everything from international trade law to accounting, enabling you to gain a solid understanding of every aspect of the discipline. You will take international business courses along with core business courses in six different areas. Your degree will also include a global immersion, a language study, and either an internship or a practicum to help you gain more hands-on experience.
Still not sure that this is the right program for you? Don't take our word for it—let the accolades speak for themselves. The degree was ranked as the #1 Best Value Online MBA in the United States by Financial Times and for offering some of the best online MBA career services in the world by the same publication. Not only that, but the Princeton Review has ranked these degrees among the top MBAs among public institutions, too. 
MBA in International Business
California Lutheran University is located in Thousand Oaks, CA. a private liberal arts university, it was founded only in 1959 and is affiliated with the Evangelical Lutheran Church in America. However, it is nonsectarian, offering dozens of degrees at the bachelor's, master's, and doctoral levels. 
The online master's in international business at California Lutheran is ideal for students who are interested in a degree that offers training in the core business skills that will make them adaptable to all settings while also being able to pursue an area of interest. The program is accredited by the Accreditation Council for Business Schools and Programs and features a rigorous curriculum that is easy to customize with a professional track.
You will take core courses such as Enterprise Management, ORganization, and Strategy, Organizational Behavior, Innovative Business Models, and International Business. Of course, you'll be able to choose from a variety of capstone options too. You can embark on an international travel trip, participate in an executive roundtable, come up with a business plan or consulting project, or even complete an internship. 
It's available fully online, on-campus, or as a hybrid of the two formats. You'll take 15 courses or 45 credit hours of study, with classes broken down into five eight-week terms. Although not all classes are offered asynchronously, you can choose to take classes during the evening and weekend hours to make things more convenient. As a result, most students take just one to two years to complete their degrees. 
Master of Business Administration (MBA) with a concentration in International Business
A private university, Southern New Hampshire University was founded in 1932 and is located halfway between Hooksett and Manchester, NH. Originally developed as an accounting and secretarial science school, SNHU is now regarded as one of the fastest-growing institutions in the United States, especially in regards to its in-demand online programs. 
The MBA in international business is extremely affordable, coming in at just $19,000 for the entire program cost. You can complete it in just a year and choose a tailor-made concentration in international business (or one of the many other career-focused concentrations—there are 15 others to choose from!). You'll be able to earn industry-recognized credentials as you study, helping you gain a competitive advantage each and every term. 
In addition to the international business concentration, you can choose to pursue specializations in things like business intelligence, finance, human resources, leadership, information technology management, accounting, and more. The international business concentration includes courses such as International Market Strategy, Multinational Corporate Environment, and Managing International Trade and Finance.
MBA in International Business
Once known as General Motors Institute of Technology, Kettering University is a private university located in Flint, MI that now offers degrees in a variety of STEM-oriented disciplines and of course, business. It has a unique emphasis on hands-on learning that requires students to complete cooperative learning experiences prior to graduation. The school has partnerships with more than 550 different corporations!
Kettering has a top online MBA in international business that pairs hands-on learning with quality training in international business. It is ranked third among the best value colleges in Michigan by Niche as well as for having one of the best returns on investment by PayScale. You can customize your degree with a concentration in international business or with additional certificates such as operations management, healthcare management, global leadership, supply chain levels 1 and 2, or modern business practices. 
All courses are offered exclusively online and with no GRE/GMAT requirement, you can get started immediately. You can earn your degree in as little as two years and choose to earn an additional Master of Science in Operations Management or Engineering Management by taking just four extra courses. Because of this, Kettering makes it easy for you to add value to your resume in an affordable, convenient way.
Master of International Business
Located in sunny University Park, FL, Florida International University is part of the State University System of Florida and was founded only in 1965. Despite its young age, the school has rapidly grown to become the largest school in South Florida—as well as one of the most prominent. The College of Business here is accredited by the Association to Advance Collegiate Schools of Business and its international business programs are ranked as some of the best in the nation by U.S. News & World Report.
The online Master of International Business at Florida International University is offered by Alvah H. Chapman Jr. Graduate School of BUsiness. A 12-month program, it features an innovative, multidisciplinary curriculum with 30 credit hours of coursework broken down into attainable eight-week courses. You'll only be required to take two courses per session.
The curriculum is undergoing constant revision to ensure that it matches the reality of the global economy. You'll be equipped with skills that are most sought-after by employers with your coursework covering things like international entrepreneurship, geopolitics, and cross-cultural skills. You'll be able to complete an experiential consulting project and even embark on an international trip to observe business in a foreign location. 
MBA in International Business
A public research university located in Boca Raton, FL, Florida Atlantic University has additional satellite campuses in places like Fort Lauderdale, Davie, Dania Beach, Fort Pierce, and Jupiter. It's a large school with an enrollment of more than 30,000 students. Despite its size, though, you'll never feel like just another face in the crowd–even when studying online. 
The online MBA at Florida Atlantic will take you just 16 to 23 months to complete, helping you gain the credentials you need to be successful without having to put the rest of your life on hold. It is ranked as one of the best programs in the country by U.S. News & World Report and by Bloomberg BusinessWeek. The degree is also ranked as having one of the best returns on investment and salary-to-debt ratios, too.
You'll take classes completely asynchronously, meaning you can access your courses at any time and from any location, as long as you have a reliable internet connection. All courses are taught by the same credentialed, world-class instructors who teach on campus and there are zero residency requirements. Courses start in May, August, and January and last only eight weeks each. 
The international business concentration isn't your only option, either. You can choose from other concentrations in things like finance, hospitality and tourism management, marketing, accounting, and more. 
MBA in International Business
Liberty University is a private evangelical Christian university with a main campus in Lynchburg, VA. Although its suburban campus sprawls to include more than 7,000 acres, if you're a student here, there's a good chance that you'll never even step foot on campus. That's because the vast majority of its 110,000 students are enrolled online—more than 94,000 students at Liberty choose to take their classes from the comfort of their own homes, in fact.
Liberty's online MBA in international business will allow you to explore new business opportunities both at home and abroad. You'll take classes in a flexible online format so that you can remain in your current position while also improving your resume and skills. It is one of the few degrees that also prepares students to sit for the Certified Global Business Professional certificate examination. 
Accredited by the Accreditation Council for Business Schools and Programs, the degree is well respected among industry leaders. You will complete a highly individualized program of study that can be enhanced through the Policy and STrategy in GLobal competition capstone, which can be completed on-campus or online. 
Other courses you might take include Environment of International Business, Developing Global Markets, Global Financial Markets, Global Economic Environment, and more. Tuition is offered at one of the lowest rates in the country and it has not increased in six years!
Master of Science in International Business
With the main campus in Newark, DE, the University of Delaware is a land-grant research university that's known for its wide selection of graduate programs. It is a leader in international education and was actually the first school to offer a study-abroad program, first doing so in 1923. 
The University of Delaware is also home to one of the best online MBA international business schools. Offered by the Alfred Lerner College of Business and Economics, the international business MBA is a ten-course program that is accredited by AACSB. It will prepare you to be competitive in the global marketplace, granting you the specific knowledge you need to globalize your career. 
You will be able to customize your curriculum to help you deal with the specific challenges in the day-to-day operations and strategies of international businesses. You'll take intensive seven-week courses so you can graduate in as little as 18 months and you can do so 100% online. As you study, you will have access to a personal career coach and many other student services, like scholarships and financial aid.
You will learn from talented, highly qualified faculty, all of whom have PhDs in their respective disciplines. Some classes you may take will include Ethical Issues in Domestic and Global Business Environments, Globalization and Business, Managing the Global Enterprise, Future of Globalization and You, and Leading Across Boundaries.
MBA Program International Business Concentration
Lehigh University is a private research university located in Bethlehem, PA. established by businessman Asa Packer in 1865, this university continues to offer some of the best business programs in the entire country.
The MBA program here is superb on its own, but pair it with an international business concentration, and you'll have all the skills you need to land the job of your dreams. This part-time, flex MBA degree includes core classes such as Global Marketing Strategies and International Finance. You'll also be able to participate in special topics courses and immersion trips to various locations.
You will work closely with a faculty advisor to create your customized schedule. Tuition is low with rates starting at just $1,180 per credit hour. Scholarships and other financial aid opportunities are available, too, making this degree one of the most affordable of its kind.
Master of Business Administration in International Business
A private Catholic university, St. Thomas University is located in Opa-locka North, Miami Gardens, FL. This school is one of the most diverse, home to students from almost every state and more than 70 countries. 
Because of this, you'll learn alongside an accomplished and engaging group of peers as you complete your studies in the MBA in international business degree. The program will prepare you to work in fields like international trade, sales, and business development, supply chain operations, global economic development, real estate, nonprofit management, baking, and more. 
You'll gain technical skills along with the soft skills you need to be successful in any setting. You can take courses on a full- or part-time basis as you work alongside international business companies and people from other parts of the world. You will even have the opportunity to work on research with faculty, getting your work published in top-0ranked business publications and journals. 
With classes offered online as well as during the evening hours, this program is a great option for the student who wants to continue to work full-time. It is flexible and designed specifically with the needs of working professionals in mind. You will receive personalized attention every single step of the way.
Frequently Asked Questions
What can I expect from an online MBA in international business?
When you choose to pursue an online MBA in international business, you'll benefit from a curriculum that offers all the advantages of a traditional MBA paired with the more in-depth training of a master's in international business. You'll gain the skills necessary to respond to the demands of a constantly growing global marketplace and be prepared to fill a leadership role in a global organization.
Most MBA in international business degrees take around two years to complete, though this can vary. It might take you just 12 months to complete a degree or you could bide your time, taking around three or four years to finish your studies if you're working on your degree part-time. 
You will take classes in things like International Management, International Finance, and Banking, Import and Export Applications, and Global Marketing Concepts and Strategies. You'll often have the opportunity to work on industry and academic research, both with faculty as well as independently.
The very best online MBA in international b business degrees also present you with the opportunity to work with international business partners who face global business challenges. Study abroad is another integral component of the top MBA in international business degrees, too. 
Ultimately, when you're looking for the best online MBA in international business, it's important to find one that will allow you to work closely with an advisor to create a schedule that meshes with your needs, professionals goals and interests, and lifestyle. No two programs are exactly alike!
Is there an online international business MBA—no GMAT required?
Most colleges and universities, even those that offer MBA degrees exclusively online, do still require the GMAT (Graduate Management Admission Test), an exam that is required for admission to most graduate business programs.
However, there are some that will allow you to submit the GRE (Graduate Records Examination) instead. Many schools have even tossed all of their testing requirements to the wayside, allowing you to instead demonstrate your readiness for graduate work via other aspects of your application, such as your transcripts or letters of recommendation.
Check with your school to see if the GMAT is required long before you plan to apply. That way, you can give yourself plenty of time to study for and take (and possibly retake) the exam. Otherwise, work on strengthening other components of your application.
In addition to transcripts evicting an undergraduate GPA of 3.0 on a 4.0 scale (which tends to be the minimum for most graduate schools), you will also need to submit a resume showing that you have a few years of work experience. Letters of recommendation, a personal statement, and an interview are other elements that may be required as part of your application to graduate school. 
Is it worth doing an online MBA?
It is absolutely worth it to complete an online MBA. Not only will you likely enjoy your classes and the opportunity to meet new professionals in your classes, but you will also benefit from courses that will prepare you for a vast assortment of rewarding careers.
While the list of potential career options is seemingly endless, individuals who hold MBA degrees in international business may pursue jobs such as cultural advisor, financial controller, global human resource or business development manager, glover operations manager, international accountant, import and export manager, and much more. 
Your job duties will vary depending on your title and where in the world you choose to work but you can expect no two days to ever be quite exactly the same. You can work in career fields like banking, customer relations, data and data analysis, economic advising, health care, banking, and insurance, and just about any other business-oriented field that comes to mind.
Which country is best for MBA in international business?
If you want to earn a degree in international business, you can do so from just about any location in the world—especially if you choose to study exclusively online! However, there are a few countries that rise above the rest when it comes to the quality of MBA programs. The very best programs offer extensive networking opportunities and in-depth coursework. 
The United States tends to rank at the top of the list when it comes to highly ranked business schools. Here, most MBA in international business degrees last two years and provide work experience with specific companies.
Other countries that are excellent picks if you're interested in an MBA in international business include the United Kingdom, Canada, Germany, Spain, France, Australia, China, Japan, Switzerland, and the Netherlands.
What is the most prestigious online MBA?
If you're looking for a highly respected MBA, you can't go wrong with any of the schools we profiled in our ranking (like the University of Delaware or Florida Atlantic University). 
However, many students find themselves looking for schools whose names do all the talking for them. If that's the case, you might turn to an Ivy League. Of the eight Ivy League schools, only Brown University offers an online MBA degree and this occurs in a blended fashion.
Another way you can enhance your career prospects, even if you aren't studying at the most prestigious business school, is to join an international business professional organization. These organizations often host events and conferences, put together trade publications, and sometimes even offer awards and funding opportunities for studying and working abroad. 
Some of the most prestigious organizations to consider joining include the International Academy of Business and Economics, the International Academy of Business Disciplines, and the Academy of International Business. 
Should I get an MBA in international business?
Getting an MBA in international business is a smart choice to make, both personally and professionally. Not only can it open up doors to a variety of career prospects, but it also will help you make a higher average salary, regardless of whether you are new to the workforce or are hoping your degree will provide you with the bump in education and skills you need to earn a promotion.
As an international business major, you might work as a business executive, a human resources manager, or as a policy or management analyst. According to the Bureau of Labor Statistics, top business executives make an average salary of $107,680 per year—and that's with just a bachelor's degree! Candidates with a few years of experience and a master's degree can earn significantly more. 
If you choose to work as a human resources manager, helping your company coordinate, plan, and direct its administrative functions, you could earn $121,220 per year (or up to $58 per hour!). These jobs are in high demand, too, with a job growth of 6% expected by 2029. 
Finally, as a management analyst, you'll work to find easy ways to improve the efficiency of an organization. These jobs are exploding in popularity, with an expected 11% growth in this field by 2029. The pay isn't too shabby, either, with the average worker making $87,660 per year. 
What is the cheapest online MBA in the world for international students?
All of the options profiled in our ranking are affordable programs for domestic and international students alike. However, it's important to note that many universities now offer tuition-free programs, too. 
For example, at the University of the People, you can enroll in a completely online, tuition-free MBA program that costs just $2,400 (to cover administrative and exam fees). New York University is another school that offers a high-quality, highly affordable online MBA degree. 
OTHER NOTABLE PROGRAMS 
#11. Arizona State University
Location: Tempe, AZ
Degree: MBA in International Business
Net Price: $12,134
#12. Texas A & M International University
Location: College Station, TX
Degree: MBA in International Business
Net Price: $5,459
#13. Dallas Baptist University
Location: Dallas, TX
Degree: International Business Concentration
Net Price: $18,262
#14. Mercy College
Location: Dobbs Ferry, NY
Degree: Master of Business Administration Business Administration
Net Price: $16,338
#15. Webster University
Location: St. Louis, MO
Degree: MBA in International Business
Net Price: $13,500