Ready to find your ideal master's program?
www.mastersprogramsguide.com is an advertising-supported site. Featured or trusted partner programs and all school search, finder, or match results are for schools that compensate us. This compensation does not influence our school rankings, resource guides, or other editorially-independent information published on this site.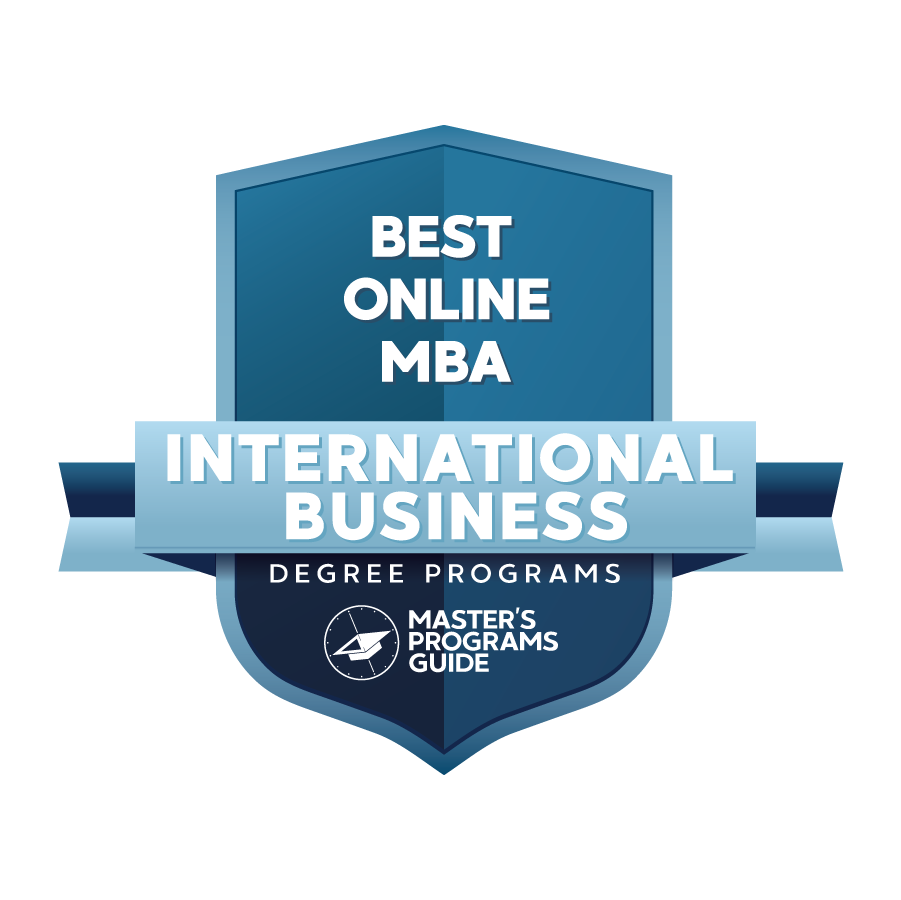 An MBA is an excellent investment in your future – and for MBA candidates who aspire to jet-set around the globe, an online MBA in international business might be a perfect choice.
You can use your degree to help you land a new job, earn that promotion, or start your own business.  But with so many schools and programs out there, how do you know which one is right for you?  
An online MBA in international business is a smart choice for students who want to get the best of both worlds—both the foundational business knowledge of an MBA program with the international relations skills provided by a typical master's degree. It's the ideal option for a student with a bit of work experience who wants to take his or her career to the next level.
When it comes to choosing the right degree, there are several factors to take into consideration.
First, the location. If you don't want to leave home in order to earn your degree, pursuing an online MBA is the best choice. While a few campus visits might be required, online programs tend to be more flexible. You can complete your classes whenever it's most convenient for you. It's important to check to see what the residency requirements are for your program, however, so you aren't met with any surprises once your classes have already started!
Next, think of the program format. Do you want to take classes full-time or part-time? Would you rather learn synchronous or asynchronous? Take your personal life, work schedule, and other goals into consideration when trying to find the right program. 
The cost of the program is also something to keep in mind. While public institutions often have lower tuition (at face value) than private schools, you should always take the time to apply for financial aid regardless. 
Program accreditation and accolades are also important factors to bear in mind. What sorts of career opportunities will your program present? Does it offer networking opportunities or career resources? Will you be able to study abroad or participate in international internships? What are the credentials of the faculty who will be teaching you?
That's a lot to keep in mind—we don't blame you if you're feeling overwhelmed! You have a big decision to make. The good news is that we're here to help you narrow down your search with our guide to the best  MBAs in international business.
See Also: 10 Best Master's in Industrial Engineering
What Are the Best MBA in International Business Degrees?
We know that you have educational goals that you're itching to pursue, but you may not know where to start. The editors of Master's Programs Guide utilize a unique ranking methodology based on the following five aspects:
25% Overall Degree Affordability: Average cost of undergraduate and graduate tuition per school
25% Graduation Rate: Number of students who start at the university and actually finish there
20% Earnings Potential: Average mid-career salary of school alumni
20% Selectivity: The number of students who apply versus the number who actually get accepted
10% Online Graduate Offerings: The number of programs offered online in each department
At Master's Programs Guide, we strive to do our best to guide you and your family toward a fruitful academic career. The pursuit of knowledge is a noble one, and we want to help you reach your goals.
MBA in Global Business
A private research university in New York City, New York University is largely viewed as one of the best universities in the country. Located in the heart of Manhattan in Greenwich Village, it offers the ideal and most immersive location for students to learn about global business—even if you'd prefer your studies to take place online. 
At New York University, you will find the most prestigious online MBA in international business. This top MBA program is offered by the Stern School of Business, a reputable business school that was one of the first to develop strong research and teaching abilities in both the global and international business dimensions. 
By specializing in global business at this school, you'll be prepared for a career in multinational firms, government, international organizations, financial institutions, and more. You'll take classes such as Emerging Financial Markets, Operations in Panama, and Advanced Global Perspective on Enterprise Systems. You can choose to complete most of your studies on campus or at one of the university's partnering international locations, too. 
The Global Business specialization is one of more than two other options offered by Stern, and you don't have to settle for just one. Many students choose to pursue multiple specializations in their MBA degrees, allowing them to tailor their courses specifically to their unique career goals. You will be able to pursue all kinds of experiential learning opportunities, including experiences like Tech and the City, Endless Frontier Labs, and the Board Fellows Programs. 
These experiences will allow you to connect with industry experts and to put your newly developed business skills to the ultimate test. Plus, you can choose from more than 200 electives taught by industry leaders and well-respected researchers and even take up to a quarter of your required courses at other NYU graduate schools or partner institutions. You can't beat the flexibility offered by the online MBA at NYU!
Master of Business Administration in International Business
Florida International University is a public research university with a main campus in University Park, FL. This school is one of the largest universities in the state of Florida and has more than 190 programs of study, many of which are also offered online. The online master's in international business at Florida International University exists within the acclaimed Master of Business Administration program. 
If you want to be able to compete at the global level, the MBA in international business at Florida International is your ticket to success. The degree is ranked third in the country by U.S. News & World Report and takes most students just one year to complete. A full-time, daytime program, this degree will enable you to study abroad or to complete an internship experience at a leading multinational or international company. 
This best international business MBA program's enrollment serves as a shining example of the diversity here. More than 50% of the students and faculty in this program are international! As a student in this program, you'll benefit from all the advantages of studying in a city center (Miami) that is ethnically rich. A business hub, Miami serves as a regional headquarters for numerous multinational corporations. Because of this, you'll find no better university at which to hone your skills in international business (even if you elect to study online). 
You'll be able to pursue internship opportunities at Fortune 500 companies and participate in study abroad programs all over the world. You'll take professional development seminars in things like presentation skills, career services, case analysis, and team building and can even complete a Lean Six Sigma Yellow Belt certification course to add even more marketability to your degree. Other core courses include Organizational Behavior, Management of Information Systems, Global Financial Strategy, and more.
MBA in International Business
The University of South Carolina has a reputation for being one of the top public research universities in the country. With the main campus in Columbia, SC, this school makes it a priority to educate students in the most hands-on ways possible at both the undergraduate and graduate level—regardless of whether those studies take place on-campus or online, the quality cannot be overlooked.
At the University of South Carolina, you'll also find one of the best MBA international business schools. The Darla Moore School of Business is ranked as the best in the nation for 32 consecutive years for international business by U.S. News & World Report, with candidates able to complete an international immersion with courses, projects, and other experiences to elevate their understanding of cultural and business dynamics. 
You'll be able to live international business as you learn it, pursuing one of two different tracks of study. The Global Track allows for in-country immersion where English is widely spoken while the Language Track will include a language study program. A challenging, 22-month program, it begins each summer in July. You'll begin by taking core curriculum courses before plunging into the business, culture, and language of a foreign marketplace during your immersion. 
In addition to this immersion, you'll also be able to take part in internships—typically around 10- to 15-weeks in length—at companies such as Adidas, Dell, Bayer, Daimler AG, United Airlines, Michelin, and more. You'll round out your studies with real-world consulting projects to help you become real-world ready ASAP. 
MBA with International Business Focus
A public university in Sacramento, CA, California State University, Sacramento is a leader when it comes to educating students online. With nearly 32,000 students, many of whom choose to study online, this space grant institution is a hot spot for spring business professionals. It offers a top online MBA with a popular international business focus. 
The MBA at California State University is a fully online program that takes place over the course of one year. You'll take classes with the same cohort throughout the full duration of your program, learning from your peers in this AACSB-accredited program. When you graduate, you will be prepared to work anywhere in the world. With classes offered entirely online on Fridays and Saturdays, you'll love the flexibility this program can provide.
You'll join a stimulating networking environment as you complete group work and learn from faculty who have plenty of industry experience. You will take classes such as Multinational Corporate Management, Global Supply Chain Management, Project Management, Business Law and Legal Environment, and more.
If you are looking for an online MBA in international business that's also affordable, look no further than the MBA in international business at California State University. This program costs just $29,500 for the entire program. That fee includes all required textbooks and course materials and there's financial aid available for students who qualify, too!
Global Master of Business Administration (MBA)
Temple University was founded in 1884 by Baptist minister Russell Conwell. Today, Temple is a research university that is one of the largest providers of professional education, including programs in business administration. In fact, Temple prepares the largest body of professionals in all of Pennsylvania, making it a top choice for aspiring business professionals.
The Global Master of Business Administration at Temple is offered by the prestigious Fox School of Business. Here, you'll find an immersive and innovative global business curriculum combined with high-quality career services at the Center for Student Professional Development. You'll find that this program doesn't just help you to acquire the skills you need for your career but also the skills you need to land a job, too.
The global MBA at Temple will provide you with hands-on experience as you learn in a collaborative environment among a close-knit cohort of colleagues. You'll be able to participate in global immersions all over the world and to work closely with local employers. The campus location in Philadelphia provides learners with exemplary access to leading organizations. 
Most courses are 12 weeks long, though some only take six weeks to complete. You'll take about two years to finish your studies as you build competencies in key business areas like business reasoning, business acumen, cross-cultural effectiveness, ethical management, and more. There are numerous concentrations you can choose from to further customize your studies, too, including those in marketing management, travel and tourism, innovation management, financial management, and many others
International Business, MBA
Located in Siloam Springs, AR, John Brown University is one of the smallest universities on this list with a total enrollment of fewer than 2,700 students. Don't let its small size fool you, though—this is one of the best places to earn an MBA in international business. You can study online or on-campus as you learn from industry professionals who are some of the brightest minds in the world of business. 
John Brown's international business MBA will help you develop the leadership and management skills you need for a solid basis in working across cultures. You'll be able to travel to a foreign country and put your company's core values to work. During your international trip, you'll gain practical experience through hands-on case studies with global businesses.
The program consists of 36 to 45 credit hours of study, depending on whether you've already completed some undergraduate coursework in a business-related field. Most students graduate in as little as two years by taking classes 100% online or via a combination of online and in-person classes at the Rogers Center. It has a uniquely Christian worldview that will allow you to study global business from a biblical perspective. 
Core classes include Global Supply Chain Management, Global Leadership and Ethics, Christian Foundations and Ethics, and Designing and Executing Strategies. As you work, you'll receive one-on-one support and personally tailored feedback from your professors. This program has excellent career outcomes, with 91% of graduate students landing jobs within six months of graduation. 
MBA concentration in International Business
DePaul University is a private Catholic research university located in Chicago, IL. It has two main campuses in the Loop and in Lincoln Park, enrolling more than 22,000 students on-campus and online. The MBA in International Business is offered by the Driehaus College of Business and Kellstadt Graduate School of Business.
This program will provide you with insight into the complex global business environment with all of its included complexities, such as international financial policy, emerging markets, and trade theory. The curriculum is multidisciplinary and will enable you to participate in a short-term study abroad program in places like Germany, Britain, Mexico, Chile, India, and China. 
While most students in this program choose to study online, if you choose to attend classes on campus, you'll benefit from a rich learning environment in Chicago. Here, you'll be able to pursue internships and other hands-on learning opportunities at companies like Aon, Caterpillar, AbbVie, McDonald's, and more. 
You will learn from internationally-respected faculty who have plenty of experience of their own. As a student, you will be connected to a worldwide alumni network that's nearly 200,000 strong. The average salary for graduates of this program is $85,000, which is just one reason why the school has been ranked as number 33 among the top MBA in International business programs in North America by Eduniversal. 
MBA concentration in Global Business
Although Rutgers University originally opened its doors as Queen's College, today, this school's name is formally Rutgers, the State University of New Jersey. Whatever you choose to call it, there's no denying the fact that this public land-grant research university offers some of the best MBA degrees and concentrations in the country. 
Especially when compared with a primary concentration in a functional discipline, like supply chain management or finance, the global business concentration at Rutgers will help you move mountains! You'll be able to develop a broad, strategic view of how to manage your operations in a global economy while also taking a more logistical approach to your work. You'll be able to select from a wide variety of courses addressing contemporary issues in management, such as negotiations, leading across cultures, technology transfer, and more. 
A unique feature of this program is that you can earn a STEM degree with any of the MBA concentrations. In order to qualify for this opportunity, you must complete at least half of the total required credits with courses that fall under the STEM designation, such as Business Law for Managers, IT for Managers, and Business Forecasting.
Regardless of whether you choose to pursue this opportunity, you'll take classes like Leading Across Cultures, Management of Innovation and Technology, Global Procurement and Supply Management, and International Financial Markets. 
MBA in International Business
A public land-grant research university in Berkeley, CA, the University of California-Berkeley is home to 14 colleges and schools with more than 350-degree programs. It is ranked among the world's top universities by major educational publications and offers a top MBA in international business. 
The MBA at UC-Berkeley has a global focus that will help you learn the ins and outs of an increasingly global economy. You will be able to access a variety of hands-on learning opportunities, such as the International Business Development PRoject. In this project, you'll be able to work with other students on consulting projects for both nonprofit and for-profit organizations all over the world. 
You can also participate in student activities and clubs like the Global Social Venture Competition and the Africa Business Forum. From fellowship programs to conferences, research centers to events, there are plenty of ways to put your skills to the test. Naturally, this program also includes an exchange program. You can earn up to 12 credits while studying in places like Spain, England, France, or Hong Kong. At UC-Berkeley, experiential learning is really the name of the game!
MBA in Global Business
With 14 acclaimed colleges and schools, including the GW School of Business, George Washington University is one of the best places in the world to earn an MBA in global business. In fact, The Princeton Review regularly ranks this school within the top 10 in categories such as "Most Popular Study Abroad Programs," "Most Politically Active," and "Best in the Northeast."
The proof is in the pudding when it comes to the MBA in global business. This degree consists of 53 credit hours of study but includes multiple opportunities for students to customize their studies to their unique goals. You'll be able to complete 15 elective credit hours along with a consulting abroad project. A 21-month, full-time program, it's available online as well as on-campus.
This top MBA program will challenge you to view business issues from a broader global perspective. You will take classes such as Strategic Management, Competition in the Global Economy, Organizations and Human Capital, Digital Transformation, and INtroduction to Artificial Intelligence. Courses are offered in various formats, including during the weekends, so that you can complete your coursework when it fits best into your schedule. 
OTHER NOTABLE PROGRAMS 
#11. Seton Hall University
Location: South Orange, NJ
Degree: Master of Business Administration in International Business
Net Price: $23,422
#12. Brandeis University
Location: Waltham, MA
Degree: MBA in International Business
Net Price: $50,272
#13. University of Washington – Seattle
Location: Seattle, WA
Degree: MBA in International Business
Net Price: $16,590
#14. Columbia University 
Location: New York, NY
Degree: MBA in International Business
Net Price: $48,390
#15. University of Michigan – Ann Arbor
Location: Ann Arbor, MI
Degree: MBA in International Business
Net Price: $23,456
Frequently Asked Questions
How can I find affordable online MBA programs?
You don't have to drain your entire life savings in order to earn an MBA. In fact, if saving money is your main motivation, you're already on the right track by considering an online MBA. These programs tend to be far more affordable than those offered on-campus. Not only do you not need to worry about expenses such as transportation, room, and board when studying online, but the tuition for these programs tends to be much cheaper than their on-campus counterparts, oo.
You may even be able to study part-time. Some online programs allow students to earn an MBA for just a few hundred dollars per credit hour. It's worth looking around to find a program that will help you meet your professional goals without breaking the bank.
Don't forget about financial aid, either. There is a misconception that financial aid tends to be reserved for undergraduate students but that's not the case. While you may receive more aid while earning your bachelor's degree, there are plenty of opportunities available for graduate funding, too. In addition to state and federal grants, loans, and scholarships, you might qualify for a fellowship or assistantship. This will allow you to earn an affordable online MBA while also gaining valuable real-world experience. 
What can I expect from an online MBA in international business? 
While each online MBA in international business will differ in terms of course and attendance requirements, most have some shared underlying themes. For example, you'll likely take courses in core MBA concepts such as business communications, marketing, ethical leadership, international marketing, global social entrepreneurship, and global supply chain management.
You may also be able to study or work abroad, allowing you to gain firsthand business experience from right in the trenches! Internships or cooperative learning experiences are core features of many of the best MBA in international business programs, too.  Many of the top universities have partnerships with leading industry players and Fortune 500 companies.
Generally, you will complete all of your foundational MBA courses before narrowing your focus on electives and internationally-minded coursework. That way, you'll have an understanding of core business concepts first before you begin navigating the more complex world of global business. 
In the online learning environment, you may be expected to attend courses either synchronously (at a live, preset time each week) or asynchronously (completing coursework when it fits best in your schedule). You may be able to move through your courses at your own pace or you might join a cohort, moving through courses along with a group of peers. 
What can I do with an online MBA in international business?
Earn an online MBA in international business and your career opportunities will be vast and varied. You might work for a consulting firm, an international nonprofit, or some other global organization. You could even decide to work for yourself! 
Some job titles earned by international business graduates include risk management director, business development manager, financial analyst, supply chain director, and analytics manager. As a risk management director, you'll be responsible for evaluating and analyzing the overall business risk and financial impact of various business decisions within an organization. 
Choose to work as a financial analyst, and you'll forecast business risks and trends, developing reports based on budgets and income. Your skills in global business will be invaluable here, as you can help international organizations conduct their own business studies to determine the best next moves. 
Of course, the long list of career options doesn't end there. Depending on your experience and skills, as well as where in the world you want to be located, you could work toward job titles such as real estate development manager, marketing and sales director, business analytics manager, government affairs director, and more. When selecting the ideal program and courses, be sure to choose classes that will complement and build upon both your strengths and your areas of interest.
How much money can I make with an online MBA in international business?
If you're considering earning an online MBA in international business, you might be wondering, "is it really worth it?" The short answer—absolutely. These programs prepare graduates for a wide variety of career opportunities and offer some of the best return on investment.
Just look at the average salary of an analytics manager. As an entry-level professional in this career, you could earn up to $87,660 per year, a salary that could be even higher should you choose to pursue a master's. Plus, these jobs are in high demand, with an expected growth rate of around 11% by 2029 (more than double the national average!). 
Another example? As a financial analyst, you could earn a salary of more than $83,660 per year. Again, earning a master's degree in international business will only improve your potential salary. 
If you're thinking about earning an online MBA in international business but are concerned about the cost, these figures should help make you realize that you are making the right decision. While you will likely have to spend some money in order to earn your degree, it's a purchase that will pay for itself (and then some!) in the long run.
Are online MBAs respected? 
When it comes to getting hired, there's not much (besides decades' worth of work experience, that is) that will speak to your qualifications more than an online MBA in international business. It will show employers that you have the skills necessary to be competitive in a global marketplace. 
Won't a bachelor's degree in business do the same thing? Yes—but it will only go so far. While graduates of bachelor's degrees make an average salary of around $65,000 per year, according to PayScale, graduates of master's degrees earn around $93,000 or more. That's a big step up for sure!
Which country is best for MBA in international business?
There's no single best country when it comes to earning an online MBA in international business. However, some of the most popular countries for MBA students are the obvious ones—the United States, the United Kingdom, and Canada. Other popular destinations include Australia, France, Germany, Spain, Singapore, China, Sweden, and the Netherlands.
What is the best online international business MBA  – no GMAT required?
To apply for an international business MBA, you'll likely need to submit an online application along with official undergraduate transcripts. Often, a minimum GPA of 3.0 on a 4.0 scale is required, as are supplemental documents like letters of recommendation, a personal essay, and a resume. Colleges like to see that you have some work experience and can furnish professional references to back that experience up. While an undergraduate degree in business isn't always required to complete an international business MBA, it's often preferred by admissions officials who want to know that you have the prerequisite training necessary to tackle graduate-level coursework. 
Some schools' admissions departments also ask for GMAT scores.  Similar to the GRE, this standardized test is a common requirement among business schools but taking and doing well on the test can be quite the challenging feat! If you're looking for one of the best online international business MBAs that doesn't require a GMAT, you'll want to consider schools such as the University of Nebraska-Lincoln, the University of South Dakota, and the University of Wisconsin. 
Be sure to check with the schools you plan on applying to in order to get more accurate information on testing requirements. Do this relatively close to when you plan to apply, as these sorts of requirements change often.