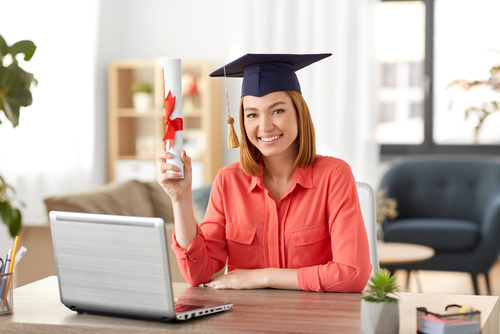 Earning an online MBA degree can be one of the smartest decisions you'll ever make. Research has shown that MBA graduates can expect a 50% or more increase in salary post graduation–and even as high as an 81% increase in salary for graduates of a full-time, two year program. It can be a bit overwhelming to imagine hitting the books again, especially if you've been out of school for awhile, or even more especially if you've just completed your bachelor's degree and can't imagine having to attend one more class.
The good news is that many of the best online MBA degree programs offer a multitude of different options to meet students' needs. From under a year to up to ten–there is definitely a program out there that will fit your schedule and desired time-frame.
The Long . . .
On average, most online MBA degree programs are expected to be completed in about two to three years. Many programs use a cohort approach to coursework, meaning that a group of students enter into the program at the same time and progress through all requirements together. The classes are presented in a lock-step format in which there is a prescribed order of coursework that must be followed. This being the case, a lot of the programs that use the cohort model will still allow students to break out of the sequential program and follow a more relaxed pace of their choosing. Other schools that do not use the cohort approach have a wider range of expected completion dates, but again on average, most students complete in approximately two years. With either approach, there are  programs that allow students five, six, seven–even up to ten years–to complete their online degree. The online MBA programs with the longest completion allowances we discovered during our research are Marist College with seven years, Mississippi State University with eight years, and the University of Nebraska at Lincoln with the longest completion time allowed at ten years.
And the Short of It
There are plenty of online MBA degree programs that offer accelerated programs, and the average time commitment for those programs ranges from 18 to 21 months. These programs cater to the professional that wants to get a degree as quickly as possible; some are presented in the cohort format, and some are not. Often these programs are only available to the professional who has a business degree from an accredited undergraduate school–such as the  University of Florida's Online MBA One Year program or Cleveland State University's Online Accelerated MBA.
And You're Off!
Whether your goal is to get an online MBA degree quickly (in as little as twelve months) or if you want to take your time (up to as long as ten years), there is an online MBA degree program for you. Check out the best MBA programs online for more information.