Ready to find your ideal master's program?
www.mastersprogramsguide.com is an advertising-supported site. Featured or trusted partner programs and all school search, finder, or match results are for schools that compensate us. This compensation does not influence our school rankings, resource guides, or other editorially-independent information published on this site.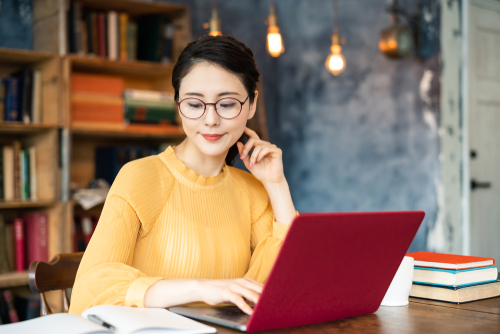 So you want to go to grad school . . .
In this day and age, many realize that a graduate-level degree is the equivalent of a bachelor's degree from just a generation ago. With this in mind, you may have decided to go to graduate school, and you are certainly not alone. According to the National Center for Education Statistics, student enrollment numbers have been steadily creeping up into the nearly 2 million range since the early 2000s. With all that competition out there for the best programs, how do you make sure to set yourself apart? One clear cut way is through the grad school personal statement. The grad school statement or letter of intent serves a twofold purpose: it allows you to showcase your knowledge of correct grammar usage and logical thought progression, as well as offering a fuller picture of the person that you are (something that GRE scores and GPA numbers cannot). Knowing how much weight this personal statement for graduate school carries can make the task seem very daunting, but we are here to assure you that it is very doable. We've prepared a carefully devised list of some tips to help make your essay the best possible personal statement for graduate school.
1. Just Do It
Overthinking the introduction can be the death of creativity. Of course you want to produce a compelling piece of writing that immediately engages the reader from the first sentence, but thinking in those terms can be stressful and writer's block-inducing. If you don't have a muse or the inspiration, a helpful suggestion is simply to get the process started, which means you just need to start writing. Jot down ideas and memories of some of your most notable achievements or academic successes. Think about and write notes about events that have brought you to this point in your current professional goals. From this free writing exercise you will start to become more cognizant of the things that stand out to you as important, and you can thus form the introductory outline of your personal statement. Once you've got something down on paper you can always go back and polish it up.
2. Specificity is Key
Admissions committees don't need to read a generalized, commonplace reason explaining why you want to go into a certain field. Really explain through your grad school personal statement why you desire to become a lawyer, a social worker, an educator. Did you have a life-changing event that helped you clearly focus on a professional career? A personal connection with someone in the field whose work you admire? Or did you have an experience that made you redirect your career goals or opt to further your knowledge? If so, make sure you articulate those sort of things in your writing. The people who make the admissions decisions within graduate programs want to know that you have a passion specifically for what they can academically and professionally provide to you, so make sure they can see that passion in your writing.
Providing a clear picture of who you really are through your graduate school personal statement helps the admissions committee quickly see whether or not you will be a good fit for the program. It additionally gives you a chance to supply what the committee needs to know to form a complete picture of you: your intellectual make-up, your character, your skill set, and your drive. One big mistake applicants often make in their graduate school personal statement is simply stating why they want to go to grad school. Graduate schools need to know why you think you should be accepted into their program very specifically; they do not need to know that you really, really want to go to grad school. Believe me, they already know.
3. You've Got Personality
Graduate program applications may dictate that your personal statement addresses an issue within your chosen field, however just focusing on the issue without any personal connection may read as generic. For example, if the state of the environment propelled you to join an NGO that works on reducing deforestation in the Amazon, say so in your essay–don't just write about the issue of deforestation itself, but rather include how you have personally been involved in the advocacy movement.
The caveat is that you want to focus on relevant events or experiences that occurred after your college life began. You may have had an interest that began in childhood, which in turn led to your desire to follow this graduate school path, but a professional program warrants a professional piece of writing. Writing exclusively about a childhood or high school experience is appropriate for an undergraduate project, but now is not the time to delve into before-college activities. A sentence or two within your closing paragraph that touches on a childhood experience is appropriate, so, if you must, a brief mention in the beginning of your conclusion should suffice to touch on the early stages of your goals.
4. Do Your Research
The provided instructions on what should be included in the graduate personal statement may be vague and open-ended, or they could be very specific directions that cover not just what you should write about but also how many words are required. The key is to carefully read through the details so that you know exactly what is being asked of you and how you are to respond to whatever prompts are provided. No matter what the application requires, only write what is essential, however. Less is more, and wordiness is not your friend. Considering the increasing numbers of graduate school applicants, the trend is moving towards shorter essays. A longer essay, no matter how polished, may lend itself to a skim rather than a full read.
Give yourself plenty of time when writing your graduate school personal statement. Formulate your own clear picture of your academic goals and professional desires, and have discussions with some of your fellow students and your most influential professors to get an outside perspective of yourself. Translate your goals into an engaging statement of purpose, and practice writing several free writing drafts answering these questions: what can you uniquely contribute to the graduate program? To the university community? How do you plan on accomplishing your goals post graduation? Answering these questions for yourself will help you focus once the time to get it all down on paper presents itself.
5. Know Your Audience
There will be countless applicants who are good fits for any given graduate program, but the ones who have done their homework will rise to the top through their graduate school personal statement. Programs are looking not just for students who are a match for the school and are qualified, but also for students who can show their enthusiasm and knowledge of the school. Being informed about the program and making sure that comes across in your personal statement can win you points with admissions–it shows that you haven't just written one essay to be used for multiple applications. Providing knowledge about the program also shows that you take initiative and are adept at research–qualities that are highly desirable in a graduate student. Specifically, mention professors within the program and their work if you find stimulating, as well as how these professors inspire your own academic pursuits. Write about the environment of the program and how you will fit in, be an asset to the others there, and thrive academically and personally.
6. Showcase Yourself
If you think about it, graduate schools are not just choosing you to be their student–they are picking you as a potential future representative for the program. With that in mind, prove to them that you will be instrumental in maintaining the highly regarded reputation of the school, as well as serving as an ambassador in your professional life once you graduate. You need to demonstrate your competence and your capability to succeed, backed up with real examples. Share pertinent publications, research, or work experience. If collaborative team work was part of your experience, share the highlights of what you specifically contributed. This is the time to shine and not be modest. Word things carefully, because you don't want to come across as arrogant, but let them know what a wonderful addition you will be to their program–including concrete examples of why.
7. Finish Strong
Once you have a nearly completed essay, began to scan for wordiness. Now is not the time to literarily wax poetic–most graduate school personal statements should be no longer than two pages. Taking out phrases like "in order to" and "in my personal opinion," and making sure you are not relying too heavily on idioms or colloquial phrases will help to strengthen your point and keep your work from being bogged down with unnecessary verbal padding or too much informal and unprofessional wording. Look over your word choices–are they strong? Could another word or phrase make the essay even better? In short, be concise, clear, and crisp in your writing.
This next point cannot be stressed enough: make sure you have no glaring grammatical errors in your writing. Remember, this is a reflection not just on you as an applicant but also on you as someone to advocate for the program in the future. Schools want to pick individuals who can both write and speak well. Call on a professor or trusted colleague to thoroughly read and critique what you have written–looking both at content and at style. Digest their feedback, perhaps letting it sit for a time, and then come back to it. Read your personal statement out loud. Does it capture what you want to convey? Does it provide clarity and insight into who you are and your academic goals?
As you come to a conclusion, finish with a declaration that the school is your top choice. It doesn't mean that you have only one top choice, but this school should sincerely be one of your top contenders. After all, if it's not, why would you be putting so much energy into applying?
The end is just the beginning . . .
Grad school personal statement, letter of intent for graduate school, grad school statement of purpose, statement of purpose for masters–any of these ways of naming the personal statement for graduate school may be enough to cause you palpitations and cold sweats. You really should have no fear, for if you prepare yourself by allowing plenty of time to write, looking at grad school personal statement examples, and considering the seven tips we've shared, you are sure to write a stellar personal statement for graduate school. An additional bonus in writing these statements is that you will gain an edge when it comes time to write employment cover letters and other supporting documents. Through writing the grad school personal letter of intent, you put yourself through the practice of focusing on your achievements and learning to convey them through your writing–something that you will need to be able to do well when you are putting together your sales pitch for jobs that you desire.
You've got this. You know yourself. You know what you've accomplished and what you hope to accomplish in the future. Articulating your passion and competence through the grad school personal statement will come more naturally if you put into practice our tips and suggestions, and you are sure to hear only good things from the programs of your choice!