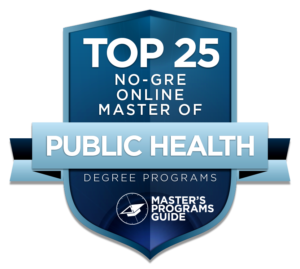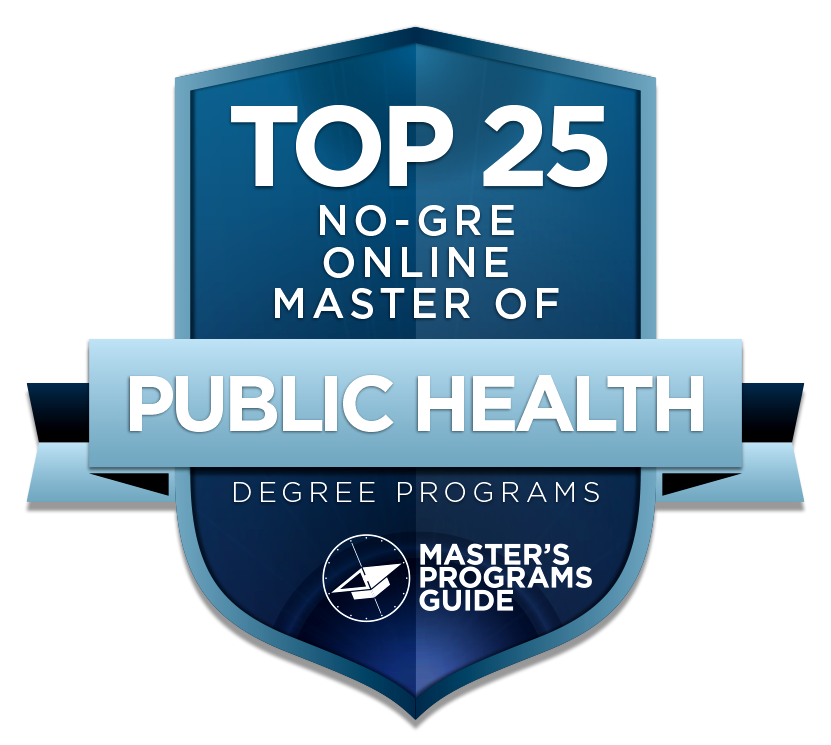 Public Health professionals make the world a healthier and safer place. A profession that requires work that can be both focused on minute details and global in scope, people who work in Public Health examine the causes of diseases, accidents, and the failing health of communities to prevent diminished livelihood and improve the quality of life. In order to enter the field, a Master's degree in Public Health is a requirement. And since the Master of Public Health (MPH) degree is currently one of the most popular online master's degree programs, potential students have a lot of solid programs offered online from which to choose.
Quick Links to Our Top 10
But what if you are ready to fill out the application to the school of your choice and realize you don't have a standard requirement for many Master-level programs—the GRE. No worries! Many schools with online master's programs are going the route of waiving, or perhaps even not requiring in the first place, GRE scores as a condition of admission. Schools are looking at a broader base of qualifications for admission into their online MPH programs, such as undergraduate GPA, previously earned Master's degrees, and professional work experience—just to name a few. Read on to examine our list of some of the best online MPH degree programs that waive or do not require the GRE, but if you already have GRE scores or desire a larger pool of exceptional online MPH programs (some of which require the GRE), check out this list of the 50 Best Online Master of Public Health Degree Programs.
Methodology: With the intention of providing a list of the best online No-GRE MPH degree programs, we sought out programs that clearly state GRE scores are not a requirement for admission or can be waived under certain admissions criteria. In order to do this and to determine other important ranking factors, we examined school websites and other publicly available sources such as U.S.News and World Report and the Council on Education for Public Health (CEPH). Here is the list of criteria that guided our determination:
Recognition (25%): Ranking among nationally recognized sources such as U.S. News and World Report
Program Accreditation (25%): Accredited by CEPH, the leading accrediting body for MPH degree programs
Flexibility/Affordability (25%): Extent that the program can be completed primarily online and average out-of-state tuition per credit hour
Application Simplicity (25%): Ease of GRE waiver and/or lack of requirement
Northern Illinois State Normal School was the original manifestation of Northern Illinois University (NIU). The Normal School was established in Dekalb, Illinois in 1895 with the purpose of training educators for the northern part of the state, and the doors first opened for classes in 1899. The initial class of almost 180 students included both men and women who studied in the castle-like Altgeld Hall, and the impressive building remains on campus today. Academic focus shifted through the years, and several name changes resulted in the final moniker, NIU, being chosen in 1957. Campus covers 755 acres, and more than 19,000 students are currently enrolled in this public research university. More than 120 academic degree programs are available through the seven colleges and online, and a mission to "promote excellence and engagement in teaching and learning, research and scholarship, creativity and artistry, and outreach and service" rings proudly in the programming. The Higher Learning Commission provides full regional accreditation.
Program Details: The online MPH degree program at NIU's School of Health Studies in the College of Health and Human Sciences utilizes a "multidisciplinary, collaborative approach that employs the latest research" in order to provide a comprehensive and relevant degree. Health Promotion or Health Services Management are the two specialization options for this program, and both can potentially lead to specific licensure or certification. The credit hour requirements for graduation range between 43 and 52 depending upon specialization choice and following the thesis or non-thesis track. Eight core courses include classes such as "Problems and Issues in Environmental Health," "Biostatistics in Public Health," and "Community Health Planning." Students of the program praise it as a "an excellent, well-designed learning experience," and faculty mentors and program advisors offer both support and guidance to the online MPH student. The program can be completed in two years, but students have up to six years if needed. The GRE is not required for admission. CEPH accredited
Three independent institutions of higher education spanning over a century of educational history came together to form the University of New England (UNE). The first school to be established was Westbrook Seminary, which was chartered in Portland, Maine in 1831. St. Francis College in Biddeford, Maine, which originally opened in 1939 as College Séraphique, was a liberal arts school that came into being in 1952. In 1978, the New England College of Osteopathic Medicine was founded but quickly merged with St. Francis to become UNE. In 1996, UNE and Westbrook joined, and the history was complete. The main campus in Biddeford is 540 acres, and the Portland campus is just over 40 acres—there is also an international campus in Morocco. This private university serves over 13,500 students with more than 70 academic degree programs across five colleges, and the New England Association of Schools and Colleges Commission on Institutions of Higher Education provides regional accreditation.
Program Details: Offering the only accredited online MPH degree program in the state, UNE Online provides a completely online MPH that is "accessible anywhere there is a computer, and welcomes both adult learners and traditional students." Twenty-five core credits combine with the student's choice of twenty-one credits of electives to construct the 46-credit hour requirement. Required and elective classes cover topics such as "Public Health Law, and Ethics," "Principles of Public Health," and "Social and Behavioral Health." In addition, a required four-credit "Integrated Public Health Practicum" allows students to gain practical, real-world experience through an internship in their own community. MPH students are fully supported at UNE through every step: Enrollment Counselors are on hand to assist with the application, Student Support Specialists are assigned to each student to help with the logistics of online learning, and the UNE's Student Association for Public Health keeps students abreast of the latest Public Health news. No GRE is required to apply. CEPH accredited
When great tragedy occurs on a personal level, some are spurned to create something positive. This was certainly the case for Dr. Andrew Taylor Still, who endured the harsh reality of death as a Civil War doctor and outlived several of his children and his first wife. He determined to study the human body to develop a better way of treating the sick and wounded—his approach was radical, and some discounted his methods. However, others decided to study his approach, and Dr. Still founded the American School of Osteopathy (ASO) in Kirksville, Missouri in 1892. Five women and sixteen men were his first students, and now this private, graduate-level non-profit institution known as A.T. Still University (ATSU) serves over 5,000 students. There are two campuses–the main campus in Kirkville and a campus in Mesa, Arizona. Thirty degrees are offered throughout the six schools, and ATSU has full regional accreditation through the Higher Learning Commission.
Program Details: Ideal for individuals who are "driven to make a difference and lead the future of healthcare," ATSU's College of Graduate Health Studies offers a comprehensive 64-credit hour online MPH degree program. Faculty that are at the top of the field and all hold doctoral degrees provide rigorous classes on topics such as "Leading Healthcare Organizations," "Fundamentals of Research in Public Health," and "Death and Dying, Life and Living." Additionally, a six-credit hour practicum is required in which students perform 240 supervised contact hours in a public health field experience. ATSU offers student services for online students, but also provides assistance both to prospective students and alumni. Prior to applying, interested individuals can participate in an online MPH demo course to assess their readiness for ATSU's exceptional program. And for graduates of the program, ATSU provides extensive alumni services ranging from job assistance to continuing education to an ambassador program. No GRE is required. CEPH accredited
New York Medical College (NYMC) was created in 1860 as the Homeopathic Medical College of the State of New York. The school was established in New York City and had several names and mergers through the years. In 1863, a separate institution, the New York Medical College for Women, was opened. This school for women would close in 1918, but all students were allowed to transfer to the College—thereby allowing NYMC's claim of being one of the earliest medical schools to admit both genders. The original student body in 1860 was made up of 59 students, now nearly 1,500 students study in 28 academic degree programs offered on-campus (which is now in Valhalla, NY) and online through the School of Medicine, the Graduate School of Basic Medical Sciences, and the School of Health Sciences and Practice. In 2011, NYMC joined the Touro College and University System and has regional accreditation through the Middle States Commission on Higher Education.
Program Details: Offering start times in the fall, spring and summer, the MPH degree program through the NYMC School of Health Sciences and Practice provides convenience and prepares students "to preserve, protect, and improve the health of individuals, families and communities through education, investigation, practice and service." Offering three specializations completely online (Behavioral Sciences and Health Promotion, Environmental Health Science, and Health Policy and Management) students have the opportunity to customize the 46-credit hour degree with cutting-edge classes like "Principles and Techniques of Behavior Change," "Health Communication in the Age of Social Media," and "Stress and Health." Core courses cover topics like health care in the U.S., biostatistics, epidemiology, social factors and environmental influences on Public and Human Health, and are followed by electives along with requirements for a Culminating Experience and a Comprehensive Exam to complete the degree. GRE scores are not required for admission. CEPH accredited
Begun as the St. Ignatius Academy in the mid-1800s in California, the University of San Francisco had a strong Jesuit tradition from the start. Anthony Maraschi, a Society of Jesus Catholic Priest from Italy, founded the school in San Francisco in 1854. The following year, three male students began class for the first time in what would be the city's first university. Receiving an official charter from the State of California in 1859, the school grew and moved locations several times. Now a coeducational institution, the current name was bestowed in 1930. The University of San Francisco (USF) is a private Catholic university in the Jesuit tradition and offers five schools and colleges to the 11,000 currently enrolled students. In addition to online programs, over 230 academic degree programs are offered at the main campus, called the "Hilltop Campus," and several other programs are offered at other campuses. The Western Association of Schools and Colleges regionally accredits USF.
Program Details: Located in USF's School of Nursing and Health Professions, the online MPH degree is designed for the student who desires to better the world by advancing "public health, social justice, and well being." The interprofessional, 45-credit hour degree program structures students together in a cohort and can be completed in two years. Core classes offered have included such topics as "Communicating for Healthy Behavior and Social Change," "Social Justice, Health Policy, Ethics, and Public Health Law," and "Epidemiology" and elective choices cover topics ranging from "Agriculture, Food and Nutrition" to "Disaster Preparation and Response" to "Adolescent Health." Online students are required to complete two out of three residencies, which can be attended on campus or virtually through webinars. A 300-hour Fieldwork Placement is also required, and Fieldwork Coordinators help guide students to find the best organizational fit for their academic and professional goals. No GRE is required for admission. CEPH accredited
California State University, Northridge began as an idea in 1952 for a satellite campus of the California State University, Los Angeles (which was called Los Angeles State College at that time). Originally the California legislature wanted to situate the satellite campus in Baldwin Hills, but the persuasive community members and leaders of San Fernando Valley advocated successfully for the school to be in the Northridge neighborhood. The school opened in 1958 and was granted independence from Cal State L.A. just four years later in 1962. Officially becoming California State University, Northridge (CSUN) in 1972, this public university is the largest in terms of enrollment of the 23-campus California State University system with a student body of over 41,000. More than 200 academic degree programs are offered in nine colleges on the 350-plus suburban campus and online. The Western Association of Schools and Colleges grants CSUN with its regional accreditation.
Program Details: Offered jointly between the College of Health and Human Development and the Tseng College, CSUN's online MPH degree is a seven-term program ideal for both experienced and novice public health professionals. Requiring 42-credit hours, the curriculum is guided by "professional preparation" and founded on the essential areas in public health: biostatistics, environmental health, epidemiology, health policy and management, and social and behavioral science. Students begin the fully online program as a cohort and proceed through the coursework in a set course together to finish in two years. Classes are taught by the experienced and dedicated MPH faculty and cover subject areas such as "Environmental Health," "Cultural Issues in Health Care," and "Administration, Supervision and Consultation in Health Education." Both a supervised "Field Training" practicum experience requiring 300 contact hours and a final Comprehensive Exam are required for graduation. The GRE is not required if the undergraduate cumulative GPA was 3.0 or higher. CEPH accredited

The year 1791 was historic for Vermont—it became the 14th state in the union and the University of Vermont (UVM) was chartered. Ira Allen (brother of famed Ethan Allen) had been advocating for an institution of higher education since 1780, and he donated significant funding and land for the foundation of the school in Burlington, Vermont. Originally a private university, UVM had ten students in its first year of operation in 1801. Desiring an equitable and open school from the beginning, women and students of color were admitted long before most schools. After the passage of the Morrill Act of 1862, UVM became Vermont's only land-grant school and became a public university officially renamed "The University of Vermont and State Agricultural College." Approximately 12,000 students now study in the ten schools and colleges on the 450-acre campus and online, and regional accreditation is provided by the New England Association of Schools and Colleges.
Program Details: With a curriculum designed in relationship with the Larner College of Medicine, UVM's online MPH degree program "helps students explore timely public health and policy issues while providing a strong foundation in population health sciences." A Generalist degree, the 42-credit hour program can be completed in an accelerated fourteen months or two years, but students are allowed up to five years as needed. Core coursework covers the most relevant MPH foundations of Behavioral Science/Health Education, Biostatistics, Environmental Health, Epidemiology, and Health Services Administration, and electives can be chosen from a selection of subjects such as "Health Economics," "Public Health and Food Systems," and "Health Care Law & Ethics." A required Culminating Capstone Project Experience can be local to the student, and dedicated MPH Advisors provide academic and professional guidance throughout the program to assure online students are provided the support they need. GRE test scores are not required for admission. Pursuing CEPH accreditation
Emory College was founded in Oxford, Georgia by the Methodist Episcopal Church in 1836 and named for Methodist Bishop John Emory (who had died a year earlier in a tragic carriage accident). The College did not thrive in the town of Oxford, and in 1914 Coca-Cola magnate Asa Candler pledged funding and land if the school would move to Atlanta, so the school successfully relocated and became Emory University in 1915. Only white males were admitted in the first years in Atlanta, but women were admitted in 1953 and nine years after that students of color were allowed full admission. Located on more than 600 acres in the Druid Hills neighborhood of Atlanta, Emory is a private institution with high research classification as designated by the Carnegie Foundation. Eleven schools and colleges offer many academic programs to the more than 15,000 currently enrolled students. Emory's regional accreditation comes from the Southern Association of Colleges and Schools Commission on Colleges.
Program Details: Designed for Public Health professionals who have been working in the field for three or more years, the Executive MPH (EMPH) degree program through Emory's Rollins School of Public Health is a "a truly interactive program." A hybrid program requiring two three-day on-campus residencies a semester (one at the beginning and one at the end), students get to form close professional ties with both their fellow students and the Rollins faculty. The 42-hour curriculum is made up of core classes such as "Social Behavior in Public Health," "Fundamentals of Epidemiology," and "Introduction to the U.S. Health Care System." Three concentration tracks are available: Applied Epidemiology, Applied Public Health Informatics, or Prevention Science, and all students engage in a 200-400 contact hour practicum experience. EMPH students are only admitted in the fall, and the program can be completed in about two years. GRE test scores are only required for the Applied Epidemiology track. CEPH accredited
Knowing the unique educational needs of working adults and in particular military men and women, retired Navy lieutenant commander David Chigos formed National University (NU) in 1971. It opened in 1972 to 27 students and offered night and weekend classes leading to relevant and applicable degrees. Now with nearly 25,000 students, NU is a private not-for-profit institution of higher education with headquarters located in La Jolla, California and multiple campus sites across California, Nevada, and a strong online presence. Becoming the flagship institution in the National University System, NU still offers relevant programming through the School of Business and Management, Sanford College of Education, School of Engineering and Computing, School of Health and Human Services, School of Professional Studies, and the College of Letters and Sciences. National University has had continuous regional accreditation since 1977 (just five years after classes began) granted by the Western Association of Schools and Colleges.
Program Details: National's online MPH degree program is offered through the School of Health and Human Services department of Community Health. Involving "multidisciplinary and collaborative strategies for solving health-related problems and promoting social justice," the program is comprised of 72 quarter units that include core courses such as "Theories of Health Behavior" and "U.S. Healthcare System." Students choose between one of three specializations (Health Promotion, Healthcare Administration, and Mental Health) and also choose between a Global Health Experience or an internship and capstone. The Global option allows students to "experience the healthcare, economic, political, legal, and cultural environment of a host country." The Public Health Internship requires at least 120 supervised contact hours over a two-month period, and the Public Health Capstone entails a two-month "project focused on a relevant problem in public health theory or practice." Applicants with an undergraduate GPA of less than 2.50 may be asked to submit GRE scores. CEPH accredited
Des Moines University began as the Dr. S.S. Still College of Osteopathy in 1898. It was established by Dr. Summerfield Saunders Still and his wife, Dr. Ella Still. Being created by a husband and wife team, women were equitably treated as students at the school. The school grew and moved several times before being renamed Des Moines University (DMU) in 1999. Claiming the desire to "improve lives in our global community by educating diverse groups of highly competent and compassionate health professionals," DMU is a private osteopathic medical school located on a 22-acre campus in Des Moines, Iowa. Nine academic graduate-level or doctoral degree programs are offered to the nearly 2,000 enrolled students. The second oldest osteopathic medical college in the nation with just over 14,000 alumni, DMU is regionally accredited by the Higher Learning Commission.
Program Details: The College of Health Sciences at DMU offers a fully online MPH degree program with a goal to "provide an excellent, competency-based, interdisciplinary education that prepares public health leaders who preserve and promote health in our global community." The 46-credit hour program provides three concentration areas in General Public Health, Health Service Management, and Health Promotion and required core coursework in subjects like "Social and Behavioral Sciences," "Occupational and Environmental Health," and "Public Health Administration and Management." Electives are varied and cover areas like "Nutritional Epidemiology," "Infectious Diseases of Humans and Animals," and "Maternal and Child Health." Students participate in an internship requiring 180 contact hours and finish the degree with a culminating Capstone project. Starting with an admission staff team to assist prospective students to faculty members who offer the benefit of their professional experience, online students are fully supported. Applicants who have already earned an advanced degree are exempt from the GRE requirement. CEPH accredited
Founded as Creighton College by the Society of Jesus with a bequeathed gift from Mary Lucretia Creighton, Creighton University had its beginnings in Omaha, Nebraska in the late 1800s. Named after Mrs. Creighton's husband Edward and fostered by her brother-in-law John, the school was run by the Jesuits and opened to 120 students in 1878. Becoming a university in 1892, Creighton remained a school mostly for men (women could enroll in classes at the professional schools) until women were allowed full admission to the Colleges of Arts in Sciences in 1951. Eight other schools and colleges as well as the ROTC provide academics and training to the more than 8,000 students who are currently enrolled. This private coeducational Jesuit Roman Catholic university is one of the 28 members of the Association of Jesuit Colleges and Universities and regionally accredited by the Higher Learning Commission.
Program Details: Creighton University's fully online MPH degree program is aligned with the school's "Catholic, Jesuit values of social justice and service to others." The 44-credit hour program provides two "service-oriented concentrations" in Health Policy & Ethics or Healthcare Management, and students take core classes in subjects like "Social and Behavioral Aspects of Public Health" and "Public Health Ethics." Students engage in both a Pre-Practicum Preparation course and a Practice Experience to get real-world contact hours and application. A final Capstone project is designed to bring all the student has learned and experienced together into an academic project to be presented to the student's peers and the MPH faculty. In addition, resources, scholarly articles, and research studies are provided to online MPH students to help enrich their academic experience and better prepare them for a career in the field. The GRE is not required for admission. Pursuing CEPH accreditation
Established to take part in the benefits of the Morrill Act of 1862, the University of Nevada, Reno began as the State University of Nevada in Elko, Nevada in 1874. Since the majority of the state's population lived in and around Reno and Carson City, the Nevada legislature moved the school to Reno in 1885. The lone land-grant university of the state, University of Nevada, Reno (called simply "Nevada"), offers more than 145 academic degree programs to the 18,000 students in the ten colleges and schools of Agriculture, Biotechnology and Natural Resources; Business; Community Health Sciences, Education; Engineering; Graduate School; Journalism; Liberal Arts; Medicine; Nursing; Science. This public coeducational university has high research activity (as recognized by the Carnegie Foundation) and has been continuously regionally accredited by the Northwest Commission on Colleges and Universities since 1938.
Program Details: With a goal of teaching "public health practitioners how to look beyond just physical health and consider environmental, economic and sociological factors" in order to assess the full impact on the health and happiness of various populations, the MPH through Nevada's School of Community Health Sciences provides a comprehensive program. The completely online MPH in Public Health Practice has multiple start dates a year and can be completed in two years. The 45-credit hour program provides foundational core courses as well as specialized courses in topics like "Public Health Law, "Epidemiological Surveillance," and "Health Services Finance." An MPH Capstone and a Practicum field study experience are also required for graduation. An emphasis on the values of excellence, inclusiveness, integrity and collaboration inform the program, and a collection of resources and webinars is available to assist online MPH students. GRE scores may be required for applicants who have not worked for three or more years in a health care setting. CEPH accredited
Bernie and Rita Turner, two teachers who wanted to establish a university to cater to working adults seeking a doctoral degree, founded Walden University in 1970. The Turners worked with University of California, Berkeley faculty member Harold "Bud" Hodgkinson to create the school. Classes started in 1971 in Naples, Florida. When the Minnesota Higher Education Coordinating Board granted a license to Walden to award PhDs and EdDs in the state in 1979, Walden prepared to move headquarters to Minnesota. In 1982, the school was located in Minneapolis. With an enrollment of 57,000 online students and representation from over 150 countries, Walden has five colleges offering online bachelor's, master's, and doctoral degrees. A for-profit Public Benefit Corporation, Walden has a mission of providing students "with the opportunity to transform themselves as scholar-practitioners so that they can effect positive social change." Regional accreditation has been awarded by the Higher Learning Commission continuously since 1990.
Program Details: Walden's online MPH degree program seeks to create "healthy communities through positive social change." Requiring 64 quarter credits, students can transfer in up to 32 credits towards the degree. Delivered sequentially, the coursework consists of one foundation course ("Perspectives of Health and the Developing Scholar-Practitioner"), core courses (such as "Biological Foundations of Public Health" and "Socioecological Perspectives on Health"), a Practicum and Capstone, and a required ePortfolio. Guided by a set of core values including "quality, professional integrity, student-centeredness, respectful engagement, cultural sensitivity, effective leadership, collaboration, social justice, and responsibility for positive social change," Walden utilizes its emphasis on the Scholar-Practitioner model that is threaded throughout the entire school. For Walden, the intent is to graduate professionals who can "bridge the gap between academia and the real world, blending scholarly research with practical application to solve complex problems in their profession." The GRE is not listed as a requirement for admission. Pursuing CEPH accreditation
The Medical College of Wisconsin was established from two independent medical schools. Both schools, Wisconsin College of Physicians and Surgeons and the Milwaukee Medical College, began in Milwaukee, Wisconsin in the 1890s. Through various mergers and financial troubles, the schools led to the creation of Medical College of Wisconsin (MCW) in 1970. Though formerly associated with Marquette University, MCW is a standalone, private medical and graduate school of science serving over 1,200 current students—over 800 medical students and about 400 graduate students. Several new campuses have opened in the state the 2010s, helping the school boast an alumni network of more than 16,000. Regional accreditation is granted by the Higher Learning Commission, and MCW is also accredited by the Liaison Committee on Medical Education.
Program Details: Offered entirely online through MCW's Institute for Health and Equity, the MPH degree program has embraced methodologies central "to the learning styles of active, self-motivated adult learners, making formal graduate education a reality for practicing professionals." Requiring 42-credit hours, one concentration is offered in Public Health Practice, which instructs students to excel at assessing the health of different communities and cultures, work towards creating plans that will improve society's quality of life, and perform the pertinent evaluations to gauge the difference they made. Core courses cover topics like "Principles of Epidemiology" and "Introduction to Biostatistics," and further required MPH courses examine subjects such as "Ethical Issues in Public Health" and "Community Health Assessment and Improvement." Students choose from a variety of electives, and all students must participate in both a Field Placement and Capstone Project to complete the degree. Applicants who already possess a terminal degree may submit a waiver request to exempt them from the GRE requirement. CEPH accredited
#15. University of Montana
In 1881, Congress passed an act to provide for a university to be constructed in Montana Territory. Just four years after Montana gained statehood in 1889, the University of Montana was chartered for the city of Missoula (in exchange for Missoula not putting in a bid to be the state capital, the town of Helena supported Missoula as the site for the university). Classes began in 1895, but in temporary quarters since the campus was still under construction. Sitting at the foot of Mount Sentinel, the main campus of the University of Montana (UM) encompasses over 230 total acres along with the South Campus. The second largest university in the Montana University System, UM serves as the flagship campus of the four-school system. Eleven colleges and schools provide academic programs to the approximately 13,000 currently enrolled students. The Northwest Commission on Colleges and Universities provides regional accreditation to this public coeducational research university.
Program Details: Housed within the College of Health Professions and Biomedical Sciences' School of Public and Community Health Sciences, the online MPH at UM is usually completed in two to three and a half years. Requiring 42-credit hours, the mission of the degree program is to provide quality distance education to "prepare public health practitioners who will use global insight to improve the health of the people of Montana and other rural areas." The MPH curriculum is made up of core coursework, electives, and nine culminating credit hours in the form of a Capstone. The Capstone requires a practicum of 160 contact hours, a professional paper, and a comprehensive portfolio. In addition to the online generalist MPH, a Master in Public Health degree with a concentration in Community Health and Prevention Sciences (MPH-CHPS) is also available as a hybrid degree program—some courses are only offered on-campus. GRE scores are waived for applicants with a previous terminal degree. CEPH accredited
Claiming the distinction of being the first independent state university that was devised, designed, and constructed completely in the 1900s, the University of South Florida (USF) originated with the 1955 passage of a Florida House Bill to create a state university in the Hillsborough County area. Campus was built on the former Henderson Air Field airstrip just north of Tampa, and now encompasses nearly 2,000 acres. This metropolitan public research university one of the top five largest universities in the state of Florida, with USF Tampa considered the main campus of the USF system. Also a member of the State University System of Florida, the USF system is made up of two institutions in addition to the USF Tampa campus: USF St. Petersburg and USF Sarasota-Manatee. More than 50,000 students are enrolled across all three campuses, and fourteen colleges offer over 100 academic degree programs. The Southern Association of Colleges and Schools Commission on Colleges provides USF with regional accreditation.
Program Details: The MPH degree program at the USF College of Public Health provides a multitude of online concentration options. Offered fully online, students can choose to customize their MPH degree in: Social Marketing, Nutrition and Dietetics (only available for applicants who have practiced as a registered dietician for two years or who are participating in an ACEND accredited dietetic internship), Health, Safety, & Environment, Epidemiology, Global Disaster Management, Humanitarian Relief & Homeland Security, Infection Control, or Public Health Practice. A minimum of 42-credit hours is required—some concentrations require more—and core courses for all concentrations cover topics like "History & Systems of Public Health" and require an Integrated Learning Experience and a final Comprehensive Exam. For prospective students who don't desire a full graduate degree, thirteen online MPH graduate certificates are offered. Applicants with terminal or advanced professional degrees and who also have obtained individual licensure may request a GRE Waiver. CEPH accredited
A comprehensive public research university, the University at Albany-SUNY offers more than 120 undergraduate majors and minors and 125 masters, doctoral, and graduate certificate programs.  UAlbany is a leader among all New York State colleges and universities in such diverse fields as atmospheric and environmental sciences, business,  criminal justice, emergency preparedness, engineering and applied sciences, informatics, public administration, social welfare, and sociology taught by an extensive roster of faculty experts. It also offers expanded academic and research opportunities for students through an affiliation with Albany Law School. With a curriculum enhanced by 600 study-abroad opportunities, UAlbany launches great careers, and regional accreditation comes from the Middle States Commission on Higher Education.
Program Details: UAlbany's fully online MPH degree is offered as a part-time program. Presented through the School of Public Health, the 51-credit hour online program provides a concentration in Public Health Practice, and as a result online MPH students acquire the "skills and attributes associated with effective public health leadership." Coursework covers core MPH disciplines, plus topics like "Public Health Leadership," "Program Evaluation," and "Program Development in Health Promotion" and is accessed asynchronously through Blackboard. The program can be completed in three years, on average, and all students are supplied with a faculty advisor who can help them navigate the MPH program. Nine credits of practice-based internships are an integral component of the degree for students to gain practical application of course concepts.  Students who enter the program with previous public health work experience may be eligible to waive up to 6 internship credits.  Applicants who previously completed an advanced degree (masters or doctoral level) with a cumulative GPA of 3.0 or higher may request a GRE waiver. Students who complete UAlbany's online Certificate in Public Health Fundamentals and Principles program with a minimum GPA of 3.0 can also waive the GRE requirement.  MCAT, GMAT. PCAT, DAT and LSAT scores are also accepted in lieu of the GRE.  CEPH accredited
Originally named St. Procopius College and established to educate young men who were or were descended from Czech or Slovakian parentage, Benedictine University was chartered by Benedictine monks in 1887. The monks were part of the St. Procopius Abbey of Chicago, Illinois and opened the school in the suburb of Lisle. In 1971 the name was changed to Illinois Benedictine College in honor of St. Benedict, and then changed again in 1996 to Benedictine University (BenU). The school became coeducational in 1968, and has grown to include campuses in Mesa, Arizona and Springfield, Illinois. Four colleges (The College of Science, The College of Liberal Arts, The Daniel L. Goodwin College of Business, and The College of Education and Health Services) offer over 80 academic degree programs to the nearly 10,000 students currently enrolled. A private Roman Catholic university, BenU is regionally accredited by the Higher Learning Commission.
Program Details: The online MPH degree at BenU is a 58-credit hour program that can be completed in two years. Students can participate in additional certificate options to provide further specialization in Health Management and Policy, Emergency Preparedness, Health Education and Promotion, or Epidemiology. Foundational courses comprise 46 credits and cover topics like "Health Policy," "Biological Aspects of Public Health," and "Environmental Health." A required internship/capstone course satisfies six-credit hours and must provide at least 240 supervised contact hours in a public health agency. The MPH faculty are practitioners and experts in the field, and "will pass on their knowledge of public health" in addition to cultivating the student's expertise. Resources are abundant for the online MPH student, and provide guidance in, among other topics, Public Health theory, practice, careers, and online learning. Applicants can request a GRE waiver if they possess an advanced degree, and they may also be able to request a waiver if their undergraduate GPA is satisfactory. CEPH accredited
The Morrill Land-Grant Act of 1862 enabled the Arizona Territory to pursue the establishment of a university for the area. The federal act provided the funding for schools through the selling of federal lands, and the Arizona legislature chartered the University of Arizona (UA or "Arizona") as a result in 1885. Tucson was chosen as the location of the school, and construction began in 1887 on what would be the future state's first institution of higher education. The first classes welcomed 32 students, but now over 42,000 students are currently studying more than 350 academic degree programs in the nineteen colleges and schools of Arizona. As designated by the Carnegie Foundation, UA is a very high-level research university with an academic staff of more than 3,000 faculty and professors. With a campus of 380 urban acres and many online offerings, the University of Arizona is regionally accredited by the Higher Learning Commission.
Program Details: The MPH degree through the Mel and Enid Zuckerman College of Public Health at AU provides students with three fully-online concentrations: Applied Epidemiology, Health Services Administration, and Health Promotion. The concentration coursework comprises 50% of the 42-credit hour curriculum, and the degree can be completed in two years. Studying the core elements of public health in classes like "Basic Principles of Epidemiology" and "Biostatistics in Public Health" allows students to acquire the foundations before pursuing their concentration area requirements. A Master's Report internship is required over the last three semesters but can be completed in the student's home location. In addition, AU provides online MPH students the same benefits as on-campus students by providing support and resources throughout the course of the program. The GRE is waived for all applicants to the Health Services Administration concentration and for applicants to the Health Promotion concentration who possess five-plus years of public health professional experience. CEPH accredited
#20. University of North Dakota
When North Dakota was still a territory, a university with a distinct and unique (for that time) focus on liberal arts was desired. The University of North Dakota (UND) was founded by the Dakota Territorial Assembly in Grand Forks in 1883, six years before joining the union. A normal school to train teachers was part of the institution, and the school was coeducational from the first day of class with eight male and female students enrolled. Tuition and board was only $3.50 a week in those early years, but there was no furnace for heat in the winter and no breeze in the summer due to windows that wouldn't open. Nevertheless, the school thrived and now almost 15,000 students engage in 224 fields of study in the ten academic divisions at this public, high research (as designated by the Carnegie Foundation) institution. The oldest university in the state, UND has regional accreditation from the Higher Learning Commission.
Program Details: The MPH degree program through the UND School of Medicine and Health Sciences uniquely trains students to become "public health professionals who can transform data into information for decision-making." All classes in the 42-credit hour program are presented in the evening on-campus and available to distance learners through a live broadcast. Students take core courses in topics like "Leading and Managing Public Health Systems" and "Social and Behavioral Sciences in Public Health" and have a choice between a specialization in Population Health Analytics or Health Management & Policy. A field placement practicum and a culminating project complete the degree, which can be finished in just eighteen months (though students have up to seven years if needed). GRE scores are not required from applicants with an advanced degree from an accredited university in the United States or Canada or from applicants with five years of professional, relevant public health experience. CEPH accredited
#21. Azusa Pacific University
Azusa Pacific University was established in 1899 as the Training School for Christian Workers, the very first Bible College of the West. Located in Whittier, California, classes began in a local home for twelve students. This school would combine with others and move locations several times before becoming a full degree-granting institution in 1939 and setting a permanent campus location in Azusa, California in 1946. The name was changed to Azusa Pacific University (APU) in 1981, and there are now eight other campus locations around Southern California to serve the more than 10,000 currently enrolled students. Over 100 academic degree programs are offered on-campus as well as online, and as a private, evangelical Christian, coeducational university, APU declares "God first" as its motto and the essence of Christianity as a guiding element of all aspects of the school.  Regional accreditation for APU comes from the Western Association of Schools and Colleges.
Program Details: The 42-credit hour MPH degree program is offered entirely online through APU's University College. Core courses instill a good base of knowledge with such classes as "Health Care Policy, Law, and Society," "Environmental Health," and "Sexuality, Gender, and Public Health." Students have a choice of one of three emphasis areas: Epidemiology, Health Education/Behavioral Science, or Health Services Administration. A final Public Health Practicum allows students to practice and apply the theory and concepts they've learned in their coursework and complete the program. Providing "success coaches" to support students through their academic journey and many resources (for instance, providing a Career and Vocation Center—highlighting the spiritual fulfillment aspect of educational pursuits), APU's University College helps online learners achieve success. The GRE is not listed as a requirement. Aligned with the competencies set forth by the Association of Schools and Programs of Public Health (ASPPH)
Liberty University began as Lynchburg Baptist College in Lynchburg, Virginia in 1971. Pastor and evangelist Jerry Falwell and the members of his congregation at the Thomas Road Baptist Church were instrumental in the formation of this institution that desired to "influence the moral and ethical course of America." The same year that Liberty gained university status in 1985, the school also began developing distance education opportunities that would expand into a multitude of online programs through Liberty Online. The largest Christian institution of higher education both nationally and internationally, Liberty enrolls over 15,000 residential students and 110,000 students online. A non-profit, Christian University, Liberty has seventeen schools and colleges offering more than 600 academic degree programs. Liberty's regional accreditation has been awarded continuously from the Southern Association of Colleges and Schools Commission on Colleges since 1980.
Program Details: Offered as part of Liberty Online through the School of Health Sciences, the fully online MPH degree program equips students to gain "a deeper understanding of the leading health problems" and create strategies to address those issues. Requiring 42-credit hours, students may be eligible to transfer in up to 21 credit hours towards the degree. In addition to core coursework that lays the foundation with classes like "Biostatistics" and "Principles in Epidemiology," specializations in Global Health, Health Promotion, and Nutrition offer curricular focus on topics like "Cultural Aspects of Health Behavior," "Health Agency Management," and "Nutrition and Chronic Disease." A Practicum course is required—students must complete a minimum of 120 contact hours is a public health organization or agency. Students can begin the program at one of eight different start dates each year, and classes are presented asynchronously. The GRE is not listed as a requirement for admission.
Married couple Harry A.B. Shapiro and Gertrude Crockett Shapiro established the predecessor of Southern New Hampshire University in 1932. Located in Manchester, New Hampshire, the New Hampshire School of Accounting and Secretarial Science was a for-profit business school led by the pair. Expanding in size and programmatically over the years, the school would become not-for-profit in 1968 and move to its current campus location—300 acres on the border of the towns of Manchester and Hooksett, New Hampshire. Now known as Southern New Hampshire University (SNHU), the school offers six schools and colleges and has a strong online education presence. On-campus students make up about 5,000 of the total enrollment of 80,000 students currently enrolled—meaning that more than 75,000 students engage in SNHU's distance education programs. SNHU is a private, coeducational nonsectarian university, and its regional accreditation is granted by the New England Association of Schools and Colleges.
Program Details: SNHU's online Master of Science in Public Health degree is a "purpose-built program" that helps students address "the root instead of the branches of some of the keynote health challenges" of today. The program is constructed of eight required core courses and a Public Health Capstone practicum, and three elective classes chosen from catalogue offerings in Healthcare Management, Integrated Health Management, or Public Health. Additionally, a concentration in Global Health is available. Student choosing to pursue the concentration take global-focused courses such as "Population-Based Epidemiology," "Global Health Policy, Practice, and Partnerships," and "Principles of Global Health." With or without the concentration, students can complete the degree in just fifteen months by enrolling in two classes during each ten-week term. Online programming at SNHU is integral to the school, so the level of support for online students is understandably plentiful. GRE scores are not required for admission. Core coursework aligns with competencies defined by ASPPH and the CEPH
The Chicago School of Professional Psychology (TCSPP or "The Chicago School") was started in 1979 by a collection of psychologists and people engage in education who held the idea of offering professional training in a not-for-profit institution. The first classes were held at the YMCA, but several moves occurred before a permanent home was found near the Chicago River. Online programming began being offered in 2006, and within several years campuses opened in Los Angeles and other parts of Southern California, and in 2010 a campus opened in Washington, D.C. Over 4,000 students are currently enrolled in more than 20 degree programs that are offered by The Chicago School online or at one of the five campuses across the U.S. TCSPP has been regionally accredited by the Western Association of Schools and Colleges Senior College and University Commission since 2011.
Program Details: The MPH degree program is offered fully online or at the L.A. campus location of The Chicago School. The 42-credit hour curriculum provides a solid base of 27 core credits with class topics such as "Healthcare Access and U.S. Payment Systems," "Public Health Law, Regulation, and Ethics," and "Principles and Methods of Biostatistics." Students take three elective courses to customize the degree, and two concentrations are offered: Mental & Behavioral Aspects of Public Health and Public Policy Development & Advocacy. Two Fieldwork Seminars are required, in which students work in a public health internship setting to get real-world experience, and a Capstone research paper which culminates the degree. A full-time program that can be completed in 27 months, The Chicago School's "online Global Student Dashboard" provides all the pieces that students need to have a successful online academic experience. The GRE is not a requirement for admission. Pursuing CEPH accreditation
#25. Salus University
Salus University started as the Pennsylvania College of Optometry (PCO) in 1919. One of the oldest institutions of higher education focusing on optometry, the school was conceived of during the annual conference of the Pennsylvania Optical Society in 1918. Located in Elkins Park, Pennsylvania, the name was changed in 2008 to reflect the expansion of the school and the addition of other health and science-focused programs. The name Salus University was chosen to evoke the Roman Goddess of health and prosperity. A private graduate school with over 1,200 post-graduate students currently enrolled, Salus has a mission to advance "integrated health care through innovative education, research and clinical services," and has been offering a Master of Public Health degree and certificates via distance learning to further that goal. The Commission on Higher Education of the Middle States Association of Colleges and Schools provides Salus with regional accreditation.
Program Details: Offered as a collaboration between the Salus University and Pennsylvania College of Health Sciences partnership (called the Mid-Atlantic Consortium of the Master of Public Health), the online MPH degree program is ideal for "for deeply motivated and intellectually curious individuals who seek the strategic skills necessary to advance the health and well-being of the public worldwide." With a 42-credit hour requirement, students complete the program on a part-time basis and are allowed up to five years to finish. The curriculum covers core subjects such as "Cost Effective Analysis in Health Care," "Epidemiology of Infectious Disease," and "Introduction to Bioterrorism." A plethora of electives include classes such as "Health and Human Rights," "Epidemiologic Study Design and Grant Writing," and "Improve Quality and Manage Costs." Two certificate options are also available: Health Policy and Humanitarian Healthcare. An Applied Practice Experience and an Integrative Learning Experience culminate the degree. The GRE is not a requirement for acceptance into the MPH programs.