Ready to find your ideal master's program?
www.mastersprogramsguide.com is an advertising-supported site. Featured or trusted partner programs and all school search, finder, or match results are for schools that compensate us. This compensation does not influence our school rankings, resource guides, or other editorially-independent information published on this site.
It's not all about rocks and volcanoes—geology is a highly immersive field that is important for many other disciplines.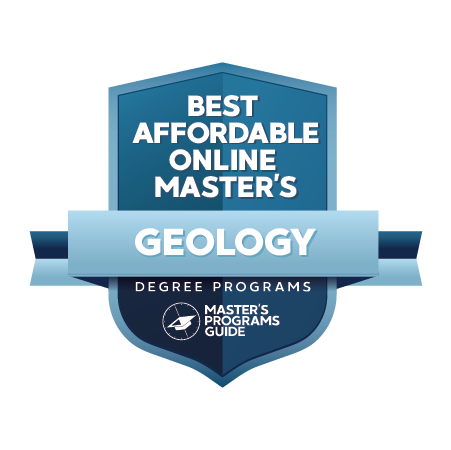 This field of science involves methods and training from mathematics, chemistry, physics, and biology. As a geology major, you'll learn about a variety of topics, including the ways in which landscapes are formed and developed. You'll learn about how humans interact with the planet, how groundwater flows, and even about geological sustainability.
If you like to be outdoors, a geology major is a smart choice for you. This is one of the few scientific disciplines that will enable you to work outside, in the field, a vast majority of the time. Depending on your projects, you might even be able to travel around the world. 
Choose to pursue a master's in geology, and you'll gain skills in all the sciences as well as many that are transferable to other fields. For example, you will become adept at collecting data, solving problems, communicating orally and in the written form, and even at working with a team.
With a geology degree, you could go on to work in pollution control, geological surveying, environmental geology, geoscience, field seismology, and a vast array of other careers. You might work for an environmental agency, a civil engineering or construction company, or even a government organization. 
Your options are far from limited. In fact, your only limitations are the lengths to which you are willing to go to pursue such a degree.
Granted, a master's degree in geology is a serious undertaking—and a significant investment. You'll pour your blood, sweat, and tears into earning one of these degrees, along with a substantial amount of cash.
Fortunately, there are all kinds of affordable online master's in geology out there that can help you save money while pursuing the career of your dreams. It's all about knowing where to look!
Online degrees are smart for a myriad of reasons. Not only do they tend to be more affordable, since you can study from your own home without having to pay for things like parking, transportation, room, and board, but you will also be able to pursue your studies without leaving your current place of employment. 
If you're already working in geology or a related field, earning an online degree makes a lot of sense. You'll be able to apply what you learn in your online classes to your fieldwork on a daily basis. 
Not only that, but the skills that you learn in your geology degree will be useful and transferable to many other careers. You'll gain proficiency in things like project management, communication, quantitative reason, and research. If you choose to pursue a career outside of geology, you'll have plenty of success when looking for a job in a laboratory, in journalism, in research, or in civil engineering. 
If you're ready for better career options and a more in-depth knowledge of the exciting field of geology, it's time for you to consider pursuing one of the best affordable online master's in geology.
Common Application and Admission Questions
To become a geologist or a geoscientist, you'll need a minimum of a bachelor's degree. However, that will likely only qualify you for an entry-level position, meaning you're going to need to pursue advanced education with a master's degree, too. 
When you are applying to a master's program in geology, there are several characteristics that the admissions team will look for in your application. 
First, they are going to want to see that you are ready and willing to learn. You might be asked to submit a personal essay that reflects upon your goals and aspirations, particularly as they relate to your career in geology. Take the time to really show off in your essay. Do your best to demonstrate your passion for being outside, for research, and for learning more about the natural elements that surround us. 
You will also need a relevant undergraduate degree. When you apply, you will be expected to submit copies of your official transcripts from any university you have attended. Often, a degree in geosciences is preferred, but you can usually apply if you have a degree in engineering, environmental science, or another related discipline, too.
What's more important than your undergraduate major is that you have taken the coursework necessary to have a basic understanding of this complex field. When you apply to a master's, you may be asked to submit evidence that you took courses in things like mineralogy, structural geology, and petrology. You will also need to have a strong background in mathematics, computer science, engineering, and the physical sciences. 
Often, while enrolled in your master's degree, you'll take additional courses on how to work with various software packages that will help you in your career. You might participate in some lab and classroom courses along with summer geology field camp courses so you leave campus with all the practical experience you might need.
You will be expected to have a respectable GPA when you apply to a master's program in geology. Usually, this will be around a 3.0 on a 4.0 scale. However, this can vary depending on your institution, so be sure to check in ahead of time to get these specifics. 
Beyond your grades and enthusiasm, you'll need to submit a few other documents when applying for a master's in geology. You may have to submit test scores from the GRE or GMAT exam. These tests are used to measure a candidate's readiness for graduate-level work. 
Often, letters of recommendation, a resume, and a statement from your current employer will be requested, too. These are used to determine your work ethic, level of professionalism, and work experience prior to being admitted. Some schools even require an interview!
Research all of the requirements at your online school of choice before you begin the process of applying. Keep a calendar with all of the relevant deadlines and lists of what you need to submit handy—that way, you don't have to worry about missing a thing.
What About Financial Aid & Scholarships?
The first step in applying to an online master's in geology is to narrow down your list of college choices—and then to submit your application, of course! After that, you will need to start thinking about how you are going to pay for your degree.
There's no question about it—earning a degree doesn't come cheap. Unless you've squirreled away your entire life's savings to pay for the expenses related to your master's degree upfront, there's a good chance you're going to need to look into some financial aid opportunities. 
Earning a degree is a major investment that will likely pay off well for your future and for your career. However, that's not to say that it's one you should dive into willy-nilly. Instead, consider all of the financial aid opportunities that are available to you.
Start by researching the net price of your college of choice. Don't be fooled into assuming that all public schools are cheaper than private schools, either. While public schools often have lower "sticker prices" than private schools, private universities sometimes still have lower "net prices" because they are able to offer additional financial aid that simply isn't possible at larger public institutions.
You will want to factor in all associated costs of attendance, including technology, books, and other learning resources. Fortunately, attending a program online is almost always less expensive than attending one on-campus. Naturally, you won't have to worry about things like room and board, but you'll also be able to cross off a lot of those expenses that people tend to forget about (such as transportation, student activity fees, and parking). 
Once you have a price in mind, it's time to help fill in the gap with any and all available resources. You will want to start by researching federal and state aid. Although there is admittedly less financial aid available from these sources for graduate students than there is for undergraduates, you will still want to fill out the FAFSA—the Free Application for Federal Student Aid.
Available for completion starting January 1 of each year, the FAFSA will determine your eligibility for any financial aid based on your economic need. This form will utilize tax information from the prior year (both from you and your spouse, if you are married, or from your parents, if you are still a dependent). You may want to have documents like your W-2s, federal income tax returns, and bank statements on hand to complete this form. 
Once you've completed the form, you'll hear back from your college with a list of the federal and state aid you qualify for. This could take the form of grants, loans, or work-study opportunities. Many universities will find ways to help you bridge the gap, too, either with need-based financial aid of their own or with scholarships, assistantships, and other resources based on your merit. 
To make yourself more marketable, consider dusting off your resume and spend some time boosting your grades before you apply. You'll want to make sure you are a strong candidate so that you can qualify for as many awards as possible. 
How Much Can I Make With an Affordable Online Master's in Geology? 
If you're interested in pursuing a career in the sciences, you won't find many better options than by earning a master's in geology. Graduates with master's degrees in geology are in high demand. These positions are expected to grow by 6% by 2028, according to the Bureau of Labor Statistics. 
As more industries seek individuals who understand the intricacies of environmental protection, energy systems, and responsible land and resource management, jobs in geology will continue to grow. 
The Bureau of Labor Statistics estimates that there will be respectable growth in professional, technical, and scientific industries. You'll work as a part of a team, using your leadership and communication skills to work closely with other scientists and engineers. You could work anywhere in the world, though your salary will likely be highest when you work in or near a major metropolitan area.
Plus, your degree will be highly versatile. You could work in fields like oil and gas, mining and minerals, academia, oceanography, water management, or even government administration. Geologists and related professionals with master's degrees can earn up to $50,000 per year more than those who only have bachelor's degrees! 
While this of course varies depending on where you live, what kind of job you pursue, and the amount of experience you have, it's needless to say that earning an advanced degree in geology can really pay off. Another benefit of earning a master's in geology is that it will allow you to learn more about a specific area of geology. 
Not only can you explore a specialization that truly excites you (like petroleum exploration, water quality, carbon sequestration, land degradation, or even geophysics), but you can use that additional specialization to help make you more marketable for potential jobs.  Earning a master's degree in geology is a great launchpad if you plan to pursue a doctorate, too. 
If you're considering a degree in geology, it may be beneficial for you to consider which area of geology interests you the most. Not only will this help you hone your area of specialization, as mentioned above, but it will also determine where (and for what kind of salary) you work. 
The average wage for geoscientists, according to the Bureau of Labor Statistics, was about $92,040 in May 2019. While some professionals earn a bit less than this, it's important to note that the highest 10% of earners bring in more than $187,910 per year. While most geologists work full time, some might work additional (or somewhat irregular) hours when doing fieldwork or traveling abroad. 
The best-paid professionals are those that work in mining, oil and gas extraction, and quarrying. However, professionals who go on to work for the federal government or in architectural or engineering services also earn impressive wages. Your job opportunities in this field will be far from limited—as will your pay.
What Are the Best Online Master's in Geology Degrees?
We know that you have educational goals that you're itching to pursue, but you may not know where to start. The editors of Master's Programs Guide utilize a unique ranking methodology based on the following five aspects:
25% Overall Degree Affordability: Average cost of undergraduate and graduate tuition per school
25% Graduation Rate: Number of students who start at the university and actually finish there
20% Earnings Potential: Average mid-career salary of school alumni
20% Selectivity: The number of students who apply versus the number who actually get accepted
10% Online Graduate Offerings: The number of programs offered online in each department
At Master's Programs Guide, we strive to do our best to guide you and your family toward a fruitful academic career. The pursuit of knowledge is a noble one, and we want to help you reach your goals.
M.S. – Geology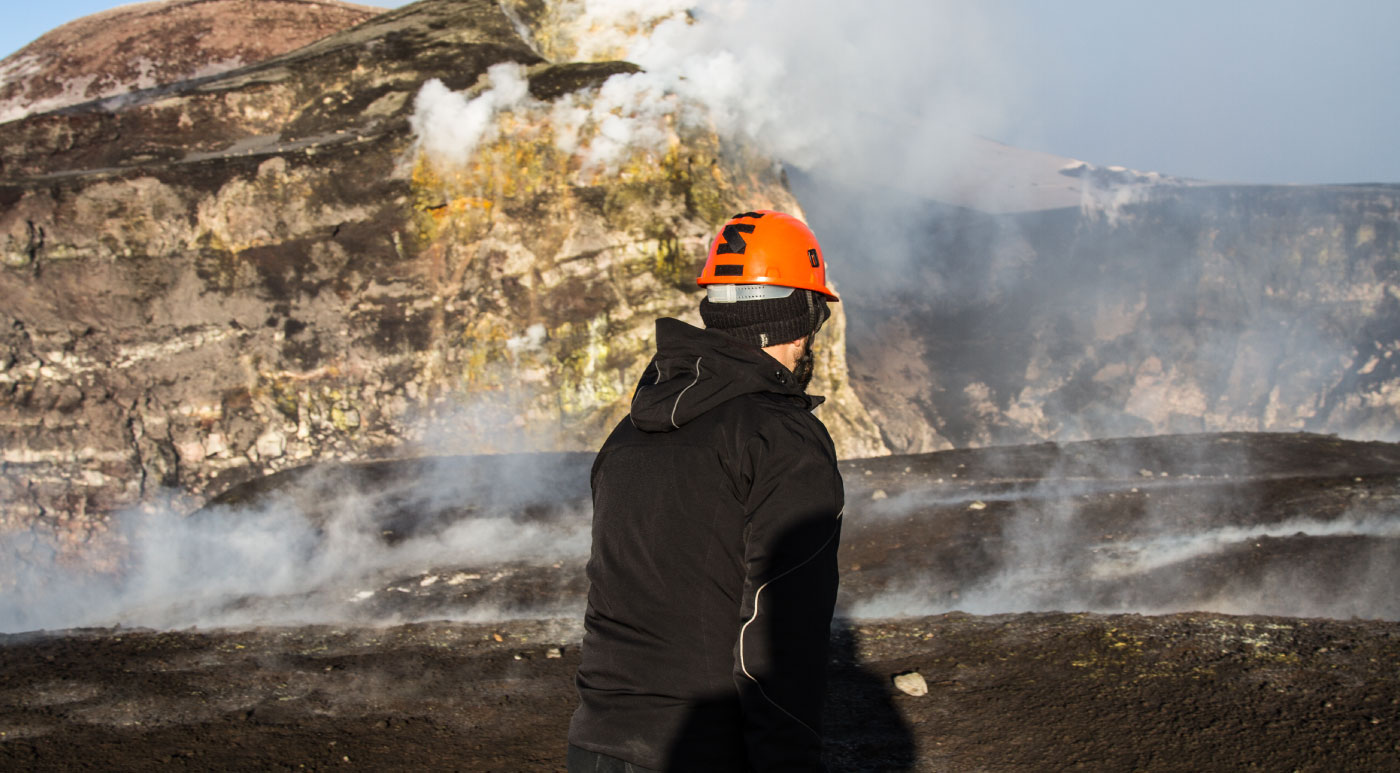 Majoring in geology is a wise choice if you want a lucrative career in the sciences, but in order to truly be successful, you're going to need to spend a lot of time in the research laboratory and out in the field. 
The University of Houston offers you one of the best opportunities to do so. Founded In 1927, this school is the third-largest university in the state of Texas and is home to more than 46,000 students. As a public research university, it is classified as an R1: Doctoral University – Very High Research Activity.
That's quite the designation to hold, especially when you consider that the school offers some of the best interdisciplinary research facilities in the world. The university conducts more than $150 million a year in research and has 40 research centers and institutes on campus alone. As a graduate geology student, you'll have plenty of opportunities to participate in this kind of research yourself.
At the University of Houston, you can choose from several different graduate programs in the Department of Earth and Atmospheric Sciences. These include master's degrees in geology, geophysics, and atmospheric science and doctoral degrees in geophysics, geology, and atmospheric sciences.
For the Master of Science, you'll take most of your classes in conjunction with the department of geosciences as well. You will need to take core classes such as Mineralogy, Paleobiology, Stratigraphy, Structural Geology, and Sedimentary Petrogenesis. You'll also be required to participate in a field camp. 
When you enroll, you can choose between a specialization in petroleum geology and one in petroleum geophysics (the latter is designed for students who major in geophysics). You can also choose to add supplemental certificates and short courses to your degree such as geographical information systems (GIS), hydrogeology, and petroleum.
All in all, 30 credit hours are required for the master's degree, six of which are thesis hours. You can opt not to take the thesis, but keep in mind that you will need to complete 39 credit hours instead. You'll be able to talk with your personal academic advisor prior to beginning your studies. 
You will be supported in your studies by your faculty mentor along with a broad alumni base. In fact, the school has an alumni base that is more than 260,000 students strong. At the University of Houston, you will truly become part of a community—you are not just another face in the crowd. This school is ranked as one of the Best National Universities in the U.S. News & World Report. 
To be eligible to apply, you must have earned a bachelor's degree or its equivalent, ideally with a GPA of 3.0 or higher. The GRE is required as well. If you plan to attend in the fall semester, you have to submit all of your materials no later than January 1. 
Master of Science in Geological Sciences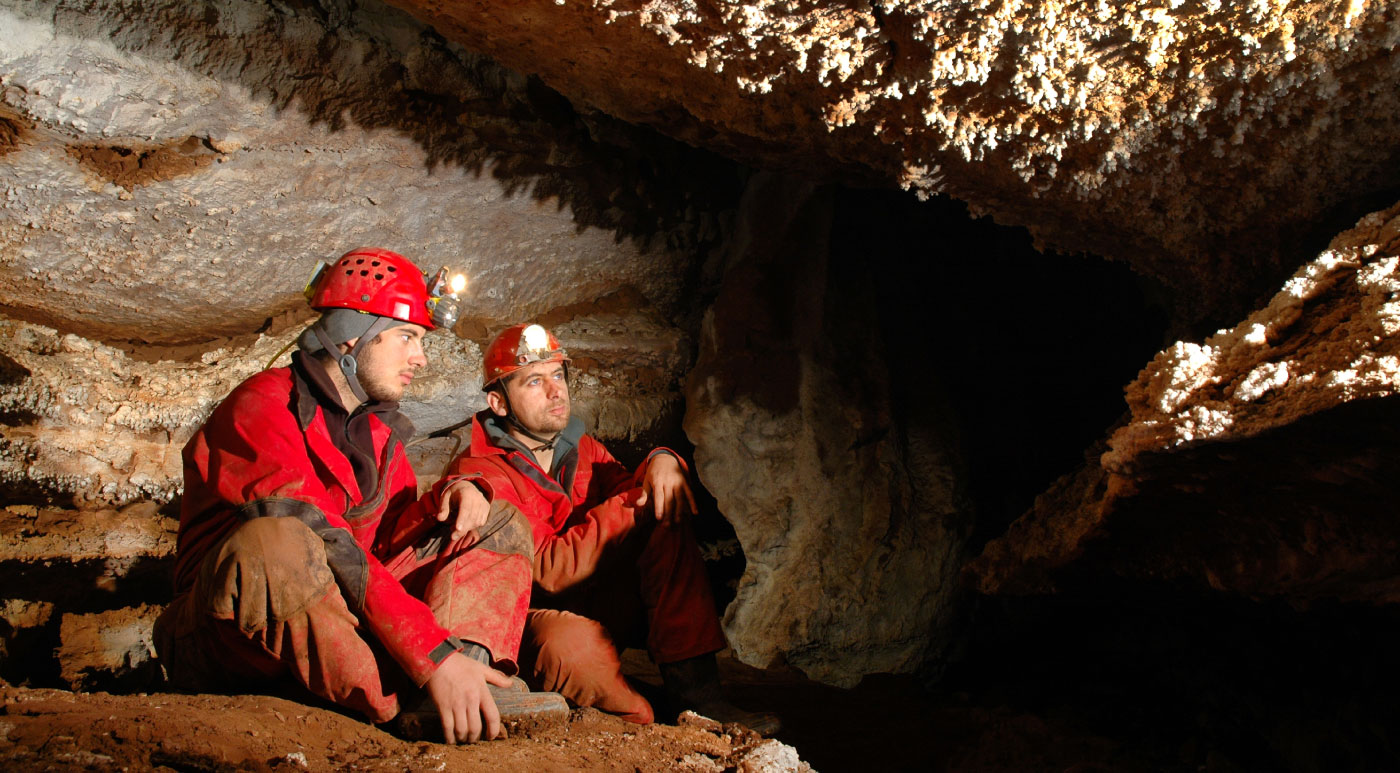 Another university that is well-respected for its high level of research activity is the University of Florida. This public university is a public land-grant, sea-grant, and space-grant research institution in Gainesville, FL. 
Established in 1853, the school is also classified as an R1: Doctoral University – Very High Research Activity. Ranked as the seventh-best public university in the United States, it is accredited by the Southern Association of Colleges and Schools and is home to numerous Nobel and Pulitzer Prize winners. 
The University of Florida is home to a number of research institutions. The National Science Foundation reports that the school spent nearly $900 million on research and development in 2018 alone. It is ranked seventh in the country for all universities (private and public alike) for the number of patents awarded in 2005. It is the only member of the Association of American Universities in the state of Florida. 
Choose to major in geology, and you'll have your hands full with all of the hands-on research opportunities you can explore. In fact, the Department of Geological Sciences is home to numerous world-class analytical facilities for both external and internal research. 
The Department of Geological Sciences at the University of Florida offers a variety of hands-on programs in geology at both the master's and Ph.D. level. You can choose to focus your studies in a variety of in-demand fields such as environmental science and hydrology, marine and coastal geology, geochemistry, seismology and planetary science, paleoceanography and paleolimnology, and more. 
You'll enjoy an up-close-and-personal degree that allows you to interact loosely with major employers and research organizations, such as the Florida Museum of Natural History and the Land Use and Environmental Change Institute. 
Curious about the classes you might take? Some of the core courses required for graduate students include Hydrogeochemistry, Geologic Evolution of North America, and Surface and Groundwater Interactions. 
Your learning will extend well beyond the classroom walls. You can participate in an active student body and various student organizations. Some of the most common include the Florida Geophysical Society, GeoClub, Geoscience Ambassadors, and the Gator AAPG Student Chapter.
Before applying, consider getting in touch with some faculty mentors at the university. You can ask any questions you have and explore funding opportunities that will make your University of Florida education even more affordable. There are also a range of fellowships and teaching assistantships offered, along with funding for students from under-represented groups.
You can submit all application materials online. You will need to supply three letters of recommendation from individuals who can speak to your potential to succeed as a graduate student. You should also supply a two-page personal essay and official transcripts from all universities you have attended in the past. GRE scores are not required for admission. 
MS in Geology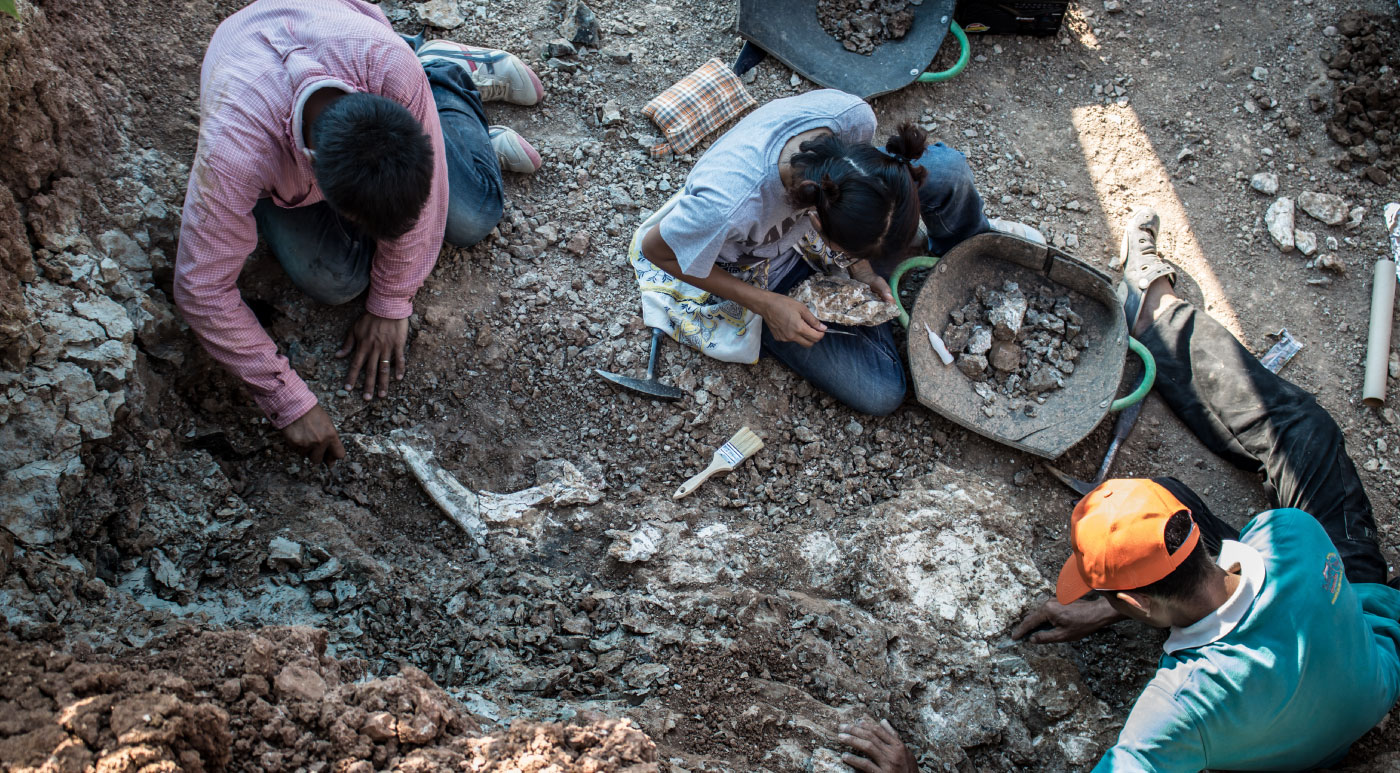 Although Missouri University of Science and Technology is best known for its engineering school, that's not all that this public land and space grant university in Rolla, MO has to offer. As a member of the University of Missouri System, the university is home to more than 8,000 students studying business, mathematics science, and, of course, engineering. 
Founded in 1870 as the Missouri School of Mines and Metallurgy, it makes sense that geology would be at the top of the list of things to study for many students here. It is located close to the Southeast Missouri Lead District, which is known for producing about 70% of the United States' supply of lead and much of its zinc. Although the school no longer specializes in that area, you'll love what the geology program can do for your career.
To earn the Master of Science in geology at the Missouri University of Science and Technology, you will need to complete at least 30 hours of study beyond your bachelor's degree. 15 of these credit hours should be at the 8000 or 9000 level. Both thesis and non-thesis options are available. 
While you are enrolled in your studies, you'll be partnered with a faculty mentor who will monitor your progress and help as you take your courses and prepare your thesis. You will develop a highly personalized plan of study that is customized to your personal and professional goals. 
Sample classes for this program include Plate Tectonics, Solar System Science, Research in Geological Sciences, Hydrological Processes, and Continental Tectonics. All of your courses will prepare you for in-depth research along with high-profile careers in geology, environmental risk assessment, STEM teaching, public policy, and more. 
Your degree will take you to new places both inside and outside the classroom. Not only that, but you'll be able to participate in a variety of hands-on activities. 
As a graduate student, you'll have access to all the resources you could ever need. You can apply for significant financial aid and will benefit from services like tutoring, career placement, and technology support. There is even travel support available for learners who wish to bring their studies overseas. 
To apply, you will need to apply by January 31 if you intend to apply for financial aid. You should have a Bachelor of Science degree either in geology or a similar related scientific field. 
You should plan on supplying official transcripts, GRE scores, and three letters of recommendation. You will also need to submit a personal statement that underscores your interest in graduate study at Missouri  University of Science and Technology.
Plan on applying for financial aid? Smart. At Missouri University of Science and Technology, you will be considered not only for financial aid like grants and loans, but also for geological sciences departmental aid like sponsorships and fellowships. You can pursue graduate teaching or research assistantships as well.
Geology and Geological Engineering MS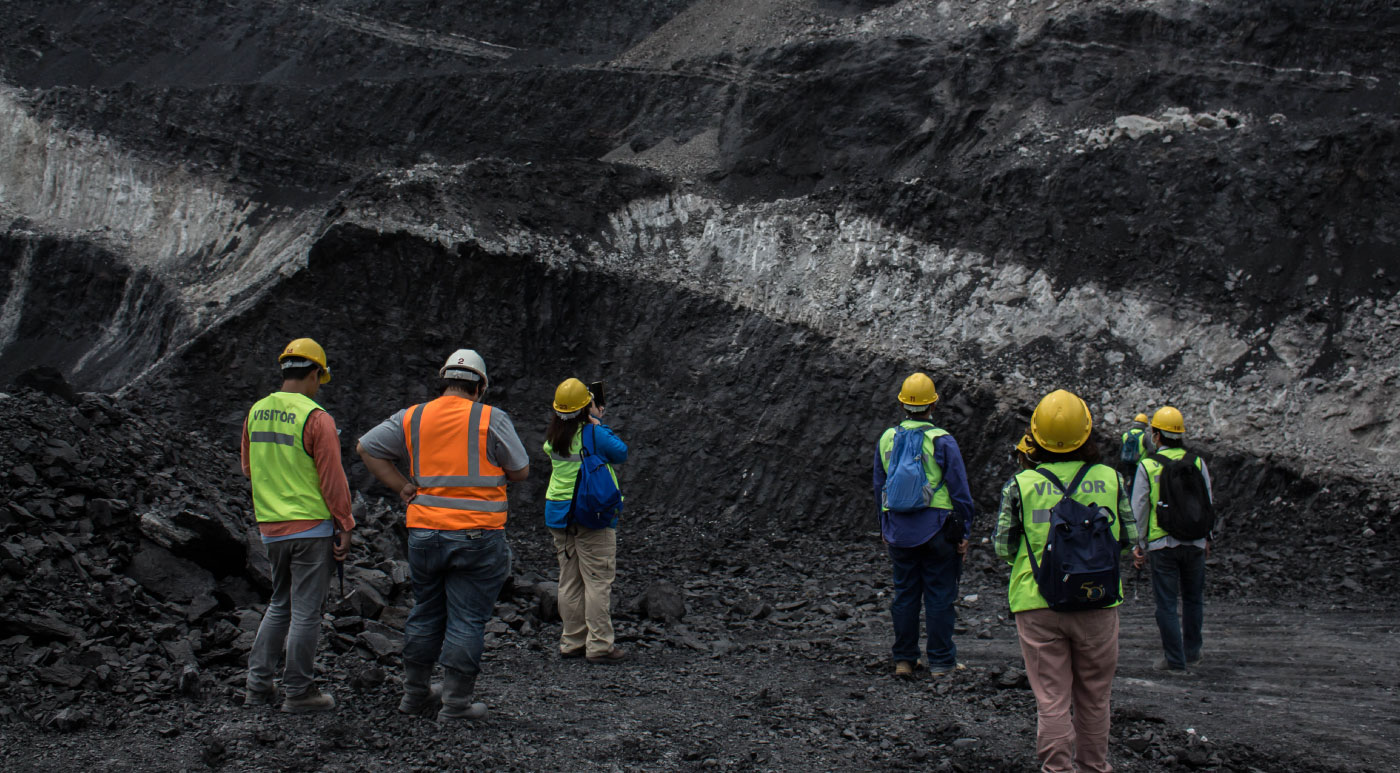 If you're going to study geology, you might as well do it where your studies will matter the most.
At South Dakota School of Mines and Technology, you'll benefit from a campus that's set right in the heart of the Black Hills and adjacent to the magnificent Great Plains. Here, learners have access to a phenomenal and unique outdoor classroom—it's a living laboratory, in fact. 
Scientists from all over the world travel to this area to study its unique geology, so if you choose to study geology on-campus, you can expect to spend a lot of time outdoors or conducting research in affiliated facilities like the Engineering Mining Experiment Station, the James E. Martin Paleontology Laboratory, or the Sanford Underground Research Facility. The campus even has its own on-campus Museum of Geology! 
South Dakota School of Mines and Technology also operates the exemplary Black Hills Natural Sciences Field Station. This is one of the largest summer field camp stations in the United States, offering learning opportunities to study in the Black Hills, Hawaii, Turkey, Nepal, Spain, France, the Bahamas, Andes-Ecuador, Morocco, New Zealand, Death Valley, Arizona, Montana, Utah, California, and more.
Along with these amazing resources, you will benefit from exemplary faculty attention and the complex, diverse geology of the Black Hills region. You can choose from several majors, including a Master of Science in paleontology, a Master of Science in geology and geological engineering, and a Ph.D. in geology, geological engineering, and mining engineering. 
This program is offered by the Department of Geology and Geological Engineering at the South Dakota School of Mines and Technology. Here, you can pursue a specialization in either geology or geological engineering. Both are similar in their quality and structure but have a few different course requirements. 
You'll be able to explore a variety of research areas, including those in energy and mineral resources, paleontology, groundwater and environment, and structure and tectonics. There is even a separate master's degree here for students who are interested in specializing specifically in paleontology. 
Before you graduate from this program, you will have the technical expertise and communication skills necessary to be effective geological practitioners. There is an accelerated Master of Science that you can choose to pursue if you want to streamline your coursework and hasten your progress toward a degree. 
You'll take approximately 30 credit hours of study, six of which are dedicated to thesis research. Furthermore, if you choose the geological engineering specialization, you'll be able to focus on one of three areas: energy and mineral resources, geomechanics, and groundwater/environmental geology. 
To apply to this program, plan on submitting official transcripts that show you have completed a minimum of a bachelor's degree. A degree in geology is not required, but you should have completed some coursework in geological sciences, math, and general science. If you plan on applying for the engineering specialization, you will need to have taken additional coursework in things like statics, mechanics, and differential equations. 
MS in Geology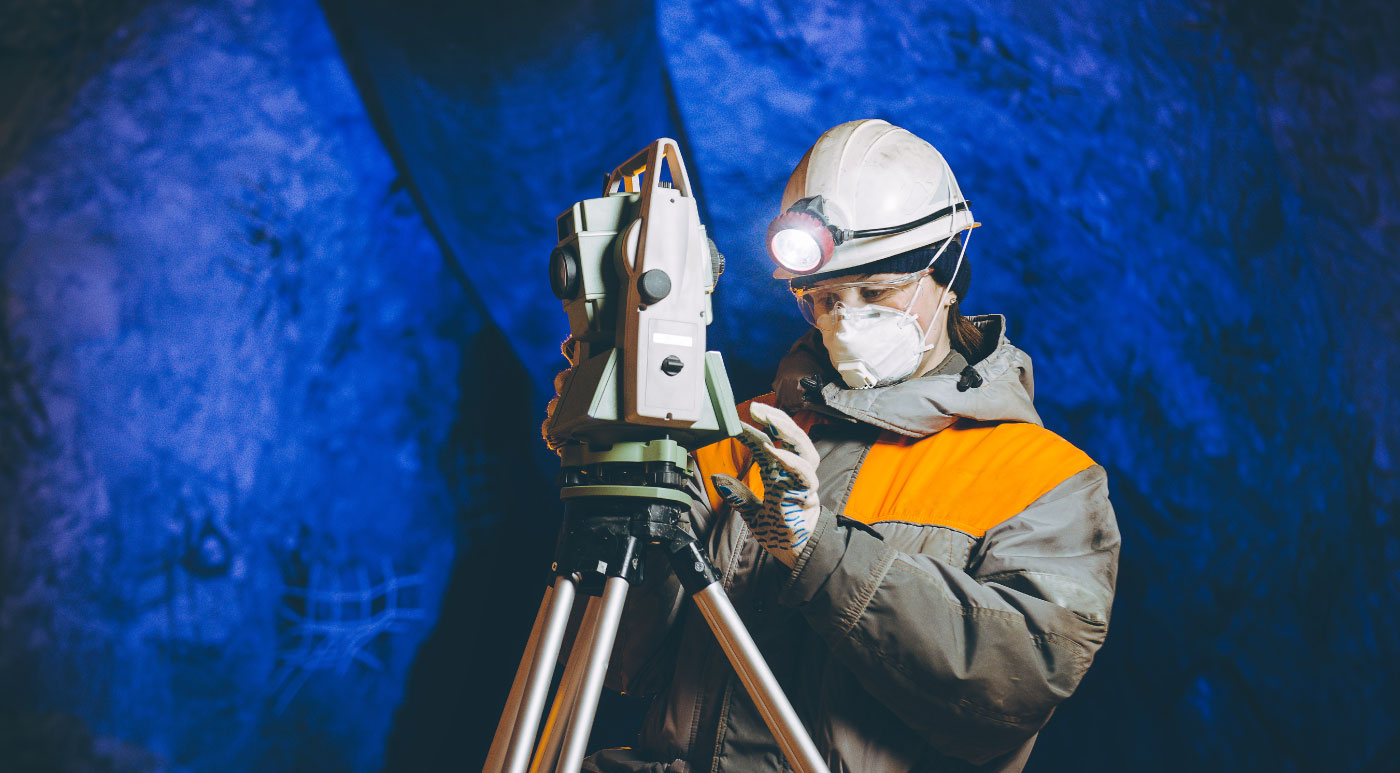 As the fourth-largest public university in the state of Florida, the University of South Florida was founded only in 1956. This school has three campus locations, including one in St. Petersburg, one in Tampa, and one in Sarasota-Manatee. Of course, you can always choose to study online here, too. 
No matter where your studies find you, you will appreciate the high level of research activity that any program in the sciences will allow. Although the school offers more than 180 different undergraduate and graduate-level degree programs, those that involve extensive amounts of research are some of the most impressive. According to figures released by the National Science Foundation, the University of South Florida spent more than $581 million on research and development in 2018 alone. 
The University of South Florida offers students a superior education in geosciences that will prepare them to work in a variety of environmental and natural resources-related fields. Faculty here are some of the best when it comes to leading the academic community as they explore a range of global earth science questions and concerns. 
Students actively participate in the research as they pursue topics like atmospheric sciences, geochemistry, geophysics, hydrogeology, karst studies, and more. The department offers bachelor's, master's, and doctoral programs. 
The Master of Science in geology provides learners with advanced study of the fundamentals of chemistry, biology, physics, mathematics, and geosciences. You will complete 30 credit hours, six of which consist of core requirements, six of which are for a thesis, and the remainder of which are dedicated solely to electives. 
You can choose from a variety of interesting and hands-on courses here, with common options including General Geochemistry, Analytical Techniques in Geology, and Topics in Igneous and Metamorphic Petrology. 
When it comes time to complete a thesis, you can choose between a standard thesis pathway or the completion of a professional science master's. The professional science master's will allow you to take one of two tracks. You can engage in a professional geologist-led internship or a faculty-led internship. All of these experiences are designed to bring together the knowledge you acquired throughout the duration of your internship. 
Choose to study here, and you'll have access to a long list of resources and activities. Not only will you benefit from resources specifically for online learners, but you can also join student organizations like the Geoscience Graduate Student Organization, Gamma Theta Upsilon, and the Student Environmental Association. 
Ready to apply? You can easily do so online. You will want to review the areas of research available at the university and then contact a faculty member who works in your area of research interest to get more information first. 
Then, you can apply by submitting an application form, three letters of recommendation, and a resume or CV. You will also need to supply a writing sample, a personal statement, and current GRE scores. Of course, you will also need to submit official transcripts. 
MS in Geology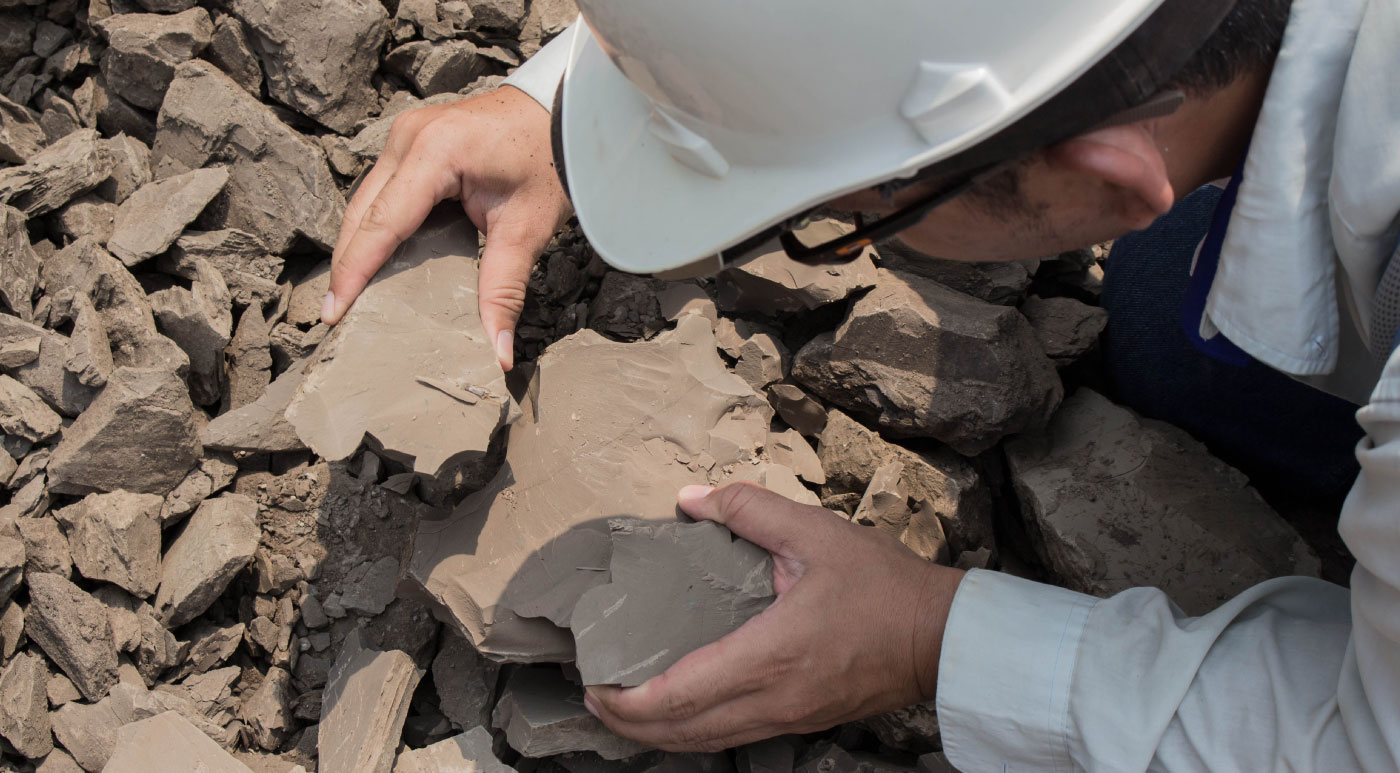 The University of Wyoming prides itself on offering some of the best and most hands-on classes to distance learners. In fact, this school, headquartered in Laramie, WY, has more than 41 different degree, certificate, and endorsement programs that are available for distance learners in Wyoming and beyond. 
Founded in 1887, the University of Wyoming is one of the best places for studies in more than 120 undergraduate, graduate, and certificate programs. These are delivered primarily through online and video conferencing classes, but the outreach school also has nine additional regional centers, many of which are on community college campuses. 
This program is designed to help students improve their capacity to plan and perform research at the cutting edge of geological sciences. As a student in this program, you will hone your skills in scientific communication and also gain key technical skills that are necessary for Ph.D. programs all around the country. 
You can choose between majors in geology or in geophysics. Either way, you will complete around 26 semester hours of credit at the 4000 level or above. You will also complete an oral examination and a final thesis project. You will work closely with an academic advisor to design a program of study that perfectly meets your personal preferences and career goals. 
Sample classes include Groundwater Flow/Transport, Metamorphic Petrology, Petroleum Geology, and Vertebrate Morphology and Evolution. Faculty who teach in this program pride themselves on working closely with students to provide one-on-one interaction and to help them develop the skills necessary to be research scientists. 
Not only will you learn the laboratory and field methodologies for data collection (with research locations available all over the world, including Africa, Antarctica, and Greenland), but you'll also learn how to analyze the data you collect, too. 
In fact, all students are required to participate in a distinguished lecture series, a fundamentals of research course, and a Rocky Mountain field trip (which is a six-day trip taken during the first week of the first semester). The skills you acquire through this program will dramatically enhance your job prospects upon graduation.
Not only that, but you will be able to expand your learning outside of the classroom. As a graduate student at the University of Wyoming, you will be able to work closely with faculty who are working hard to address some of the most significant problems in geology today. 
To apply, you will need to submit your application before January for admission the following fall. Contact a professor in your intended area of interest to discover student research opportunities, many of which are funded to increase the affordability of this degree. 
When you apply, you will need to submit an online application along with three letters of recommendation. You will also be asked to submit a curriculum vitae that details your academic accomplishments, qualifications, and other relevant information, along with a two-page statement of interest in graduate research. 
Master of Geoscience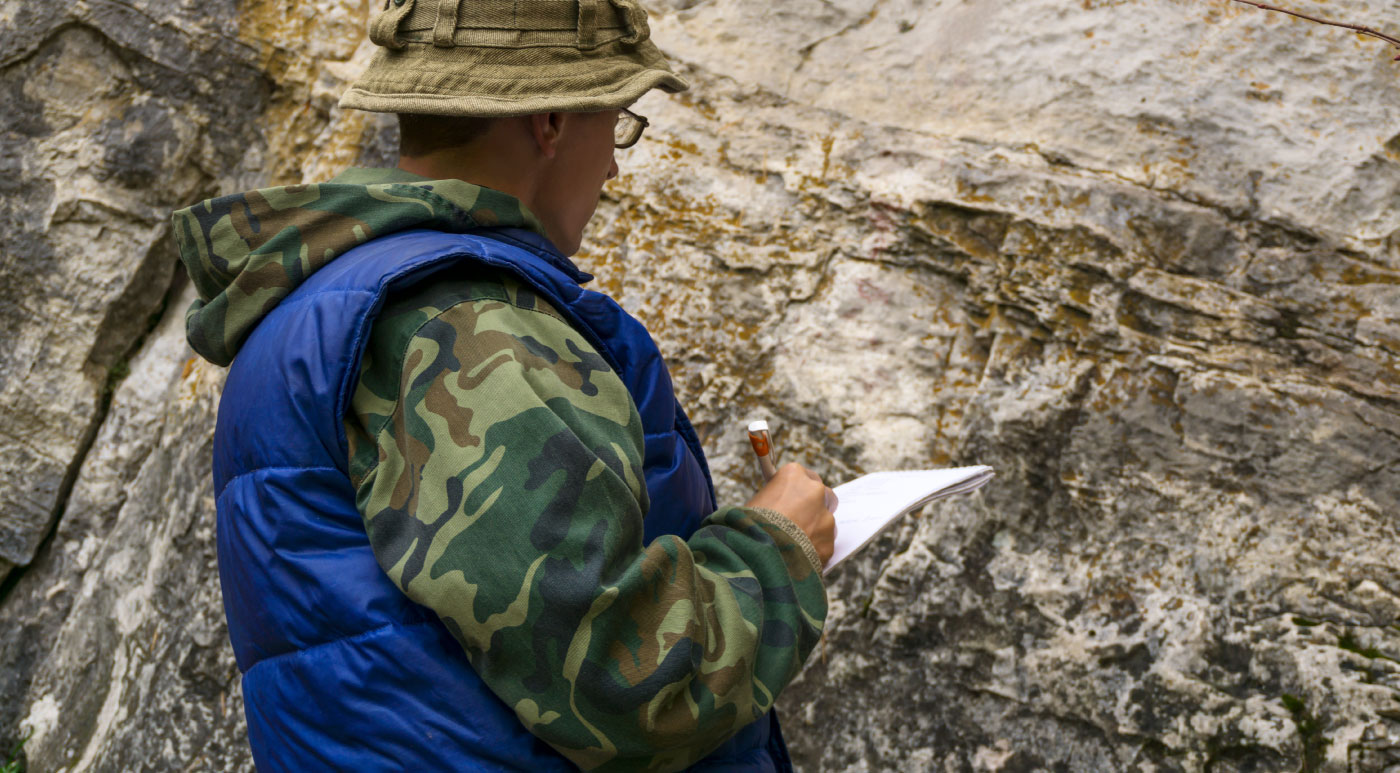 Become an Aggie when you enroll at Texas A&M University! In doing so, you will be joining a community of more than 500,000 current students and proud alumni.
This school, located in College Station, TX, was founded in 1876 as the flagship university of the Texas A&M University System. Today, it has the largest student body in the United States and is the only university in the state of Texas to hold all three designations of land, sea, and space grant intuition. 
You'll have plenty of opportunities to get involved in research here. The school has a number of ongoing research projects funded by top organizations like the National Institutes of Health, the National Aeronautics and Space Administration, the Office of Naval Research, and the National Science Foundation.
Pursue the Master of Geoscience at Texas A&M University, and you'll be making a smart choice. You can explore a variety of new, evolving areas in geoscience such as petroleum data management, ocean data science, and geographic information science and technology. The program's curriculum is structured to teach value-added skills particularly to petroleum professionals but could be useful for anybody at any stage of his or her career. 
A non-thesis program, it requires 36 credit hours of study and covers all aspects of geosciences. It's offered entirely online in a unique carousel model that will enable you to complete your studies in as little as 18 months. 
You can choose from multiple emphases, including Geographic Information Science and Technology, for example. You'll take in-depth classes such as Remote Sensing for Geographical Analysis, GIS in Land Management, Data Management for Geosciences, and Petroleum Geology. 
You'll start your courses at one of five times throughout the year and you can also be admitted at three different times—in the fall, spring, or summer. Regardless of the date you choose, you'll enjoy constant access to well-regarded faculty, classmates, and mentors throughout the duration of your studies. 
Set your own pace with this program for maximum flexibility. You will complete a total of ten courses, each of which lasts eight weeks in a fast-paced format. The only exception to this is the capstone course, which is offered as a 16-week class during the fall and spring semesters only. 
To apply, you will need to demonstrate that you have the motivation and dedication necessary to complete a degree in a fully online format. You should also be able to balance this challenging degree with your personal commitments and career responsibilities—and have the ambition to advance your career. 
When you submit your application, be prepared to provide evidence of two years of professional work experience, ideally in energy or geosciences. You should also submit an official transcript showing that you have completed an undergraduate degree. 
A highly affordable program, this degree features tuition starting at just $800 per credit hour for Texas residents. Financial aid is available for most students as well.
Master of Science in Geology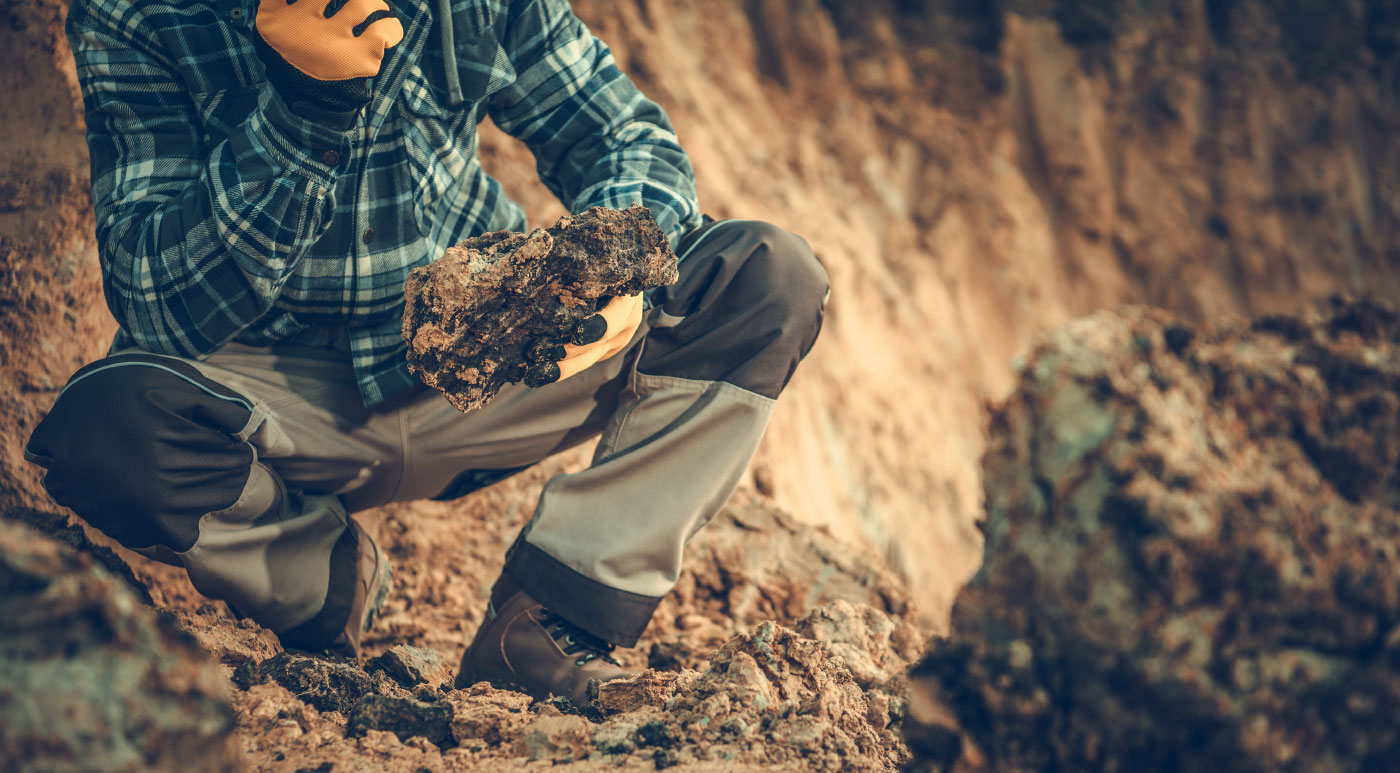 Do you have what it takes to succeed in the Master of Science in geology at New Mexico Institute of Mining and Technology? More than likely! Although this program is incredibly competitive and academically challenging, it also features dedicated instruction from attentive instructors who want nothing more than to see their students succeed. 
New Mexico Institute of Mining and Technology, also known as New Mexico Tech and formerly known as the New Mexico School of Mines, is a public university located in Socorro, NM. This school has more than 30 different bachelor's degrees plus graduate degrees (both master's and doctoral levels). All of these programs fall into fields like this sciences, management, engineering, technology, and technical communication. 
Ranked as one of the best public institutions by a National Science Foundation study of Baccalaureate Origins of S&E Doctorate Recipients, this school is small and close-knit. It is home to just 1,412 students and focuses primarily on research and teaching, particularly in the areas of hydrology, atmospheric physics, information technology, earth science, petroleum recovery, and geophysics. 
Offered by the Department of Earth and Environmental Science at New Mexico Institute, the Master of Science in geology program is offered with two options—with and without a thesis. Either way, you will complete 30 credit hours of study and enjoy a small student-to-faculty ratio of just 12:1.
Beyond that, you can also choose to specialize in a variety of concentrations. There are geochemistry, geophysics, and hydrology tracks available. In addition to your major, you may also want to pursue a minor in a field like geobiology, hydrology, petroleum geology, mineral resources, geophysics, or earth science.
Home to 14 faculty members and more than 40 affiliated adjunct and research faculty, the Department of Earth and Environmental Science at New Mexico Institute of Mining and Technology is incredibly prestigious. Many of the faculty here are also staff scientists at the New Mexico Bureau of Geology and Mineral Resources. The department also has close connections with the EarthScope USArray Operations Facility and the IRIS PASSCAL Instrument Center, both of which are major NSF-funded seismological facilities. 
Needless to say, by enrolling in the geology major at New Mexico Institute of Mining and Technology, you'll benefit from strong interdisciplinary research opportunities. You will have access to all kinds of research computing laboratories and facilities to help you hone your expertise.
To apply, you will need to submit a standardized online application. Plan on submitting unofficial transcripts from any universities attended along with three letters of recommendation, GRE scores, and a statement of purpose. You will also need to submit a resume that provides evidence of your work experience. 
This affordable program is offered entirely online, which helps dramatically reduce your cost of attendance. Not only that, but you can complete a FAFSA (Free Application for Federal Student Aid) after applying to determine whether you qualify for any financial aid, like fellowships, assistantships, work-study, and scholarships, offered by the university.
Geological Sciences M.S. (Earth Sciences MS)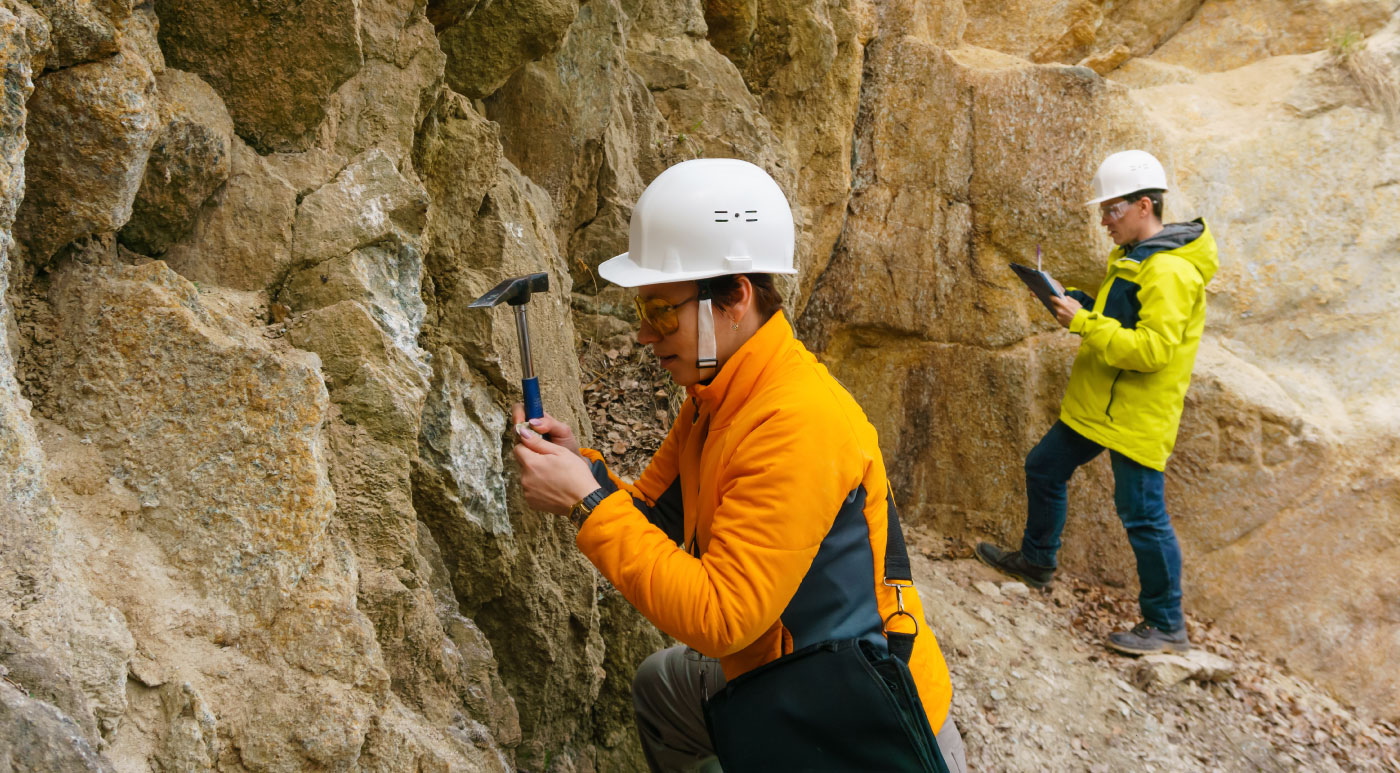 With 16 bachelor's degrees in 87 different majors, the University of Minnesota-Duluth is a good first stopping point on your way to a rewarding career. But you don't have to quit after you finish your bachelor's. This school, located in Duluth, MN, is also a great place to earn a graduate degree. 
Originally founded as a school for teachers, the school quickly became known for its attention to student success. Today, the school is best known for its medical programs and other science-focused degrees. 
This university is home to a number of centers, institutes, and research labs that are dedicated to providing students with some of the best hands-on experiences. As a geology student here, you'll enjoy access to facilities like the Center for Water and Environment and the Center for Community and Regional Research. 
The Earth Sciences Master of Science, formerly known as the Geological Sciences Master of Science, at the University of Minnesota – Duluth is one of the most outstanding of its kind. Here, you will have the opportunity to partner with faculty members in a variety of hands-on research programs. You can pursue studies in things like petrology, sedimentology, tectonics, basin analysis, ecohydrology, and more. 
Duluth has one of the best environments for students who wish to explore the region's geology. The school collaborates regularly with the Natural Resources Research Institute, the Precambrian Research Center, and the Large Lakes Observatory. Upon graduating from this program, you can rest assured that you will be prepared for all manner of work in education, industry, government, or further training. 
The master's degree is designed to be completed in two years or less—even if you hold a graduate assistantship. You will be able to select a research area of focus when you enroll, and you'll also be assigned a personal academic advisor who will work with you to help you meet your personal and professional goals.
You will need to take 31 credit hours to complete your degree. Sample classes include Professional Issues in Earth and Environmental Science, Well Hydraulics, Advances in Paleoclimatology, and Glacial and Quaternary Geology. A final thesis project is also required. 
To apply, you must have a minimum of a bachelor's degree in geology or a related field in science, mathematics, or engineering. You should have earned a minimum GPA of 3.0 or higher. All materials can be completed and submitted electronically, including the application itself along with your transcripts, recommendations, and list of awards and activities.  No GRE scores are required for admission.
After submitting your application, be sure to take the time to explore the many financial aid opportunities offered at this affordable college. You can pursue a range of programs to help you close the financial gap, including assistantships, scholarships, and more. Both teaching and research assistantships are available, as is some support for travel to meetings and thesis research. 
Earth Science M.S. with a track in Geology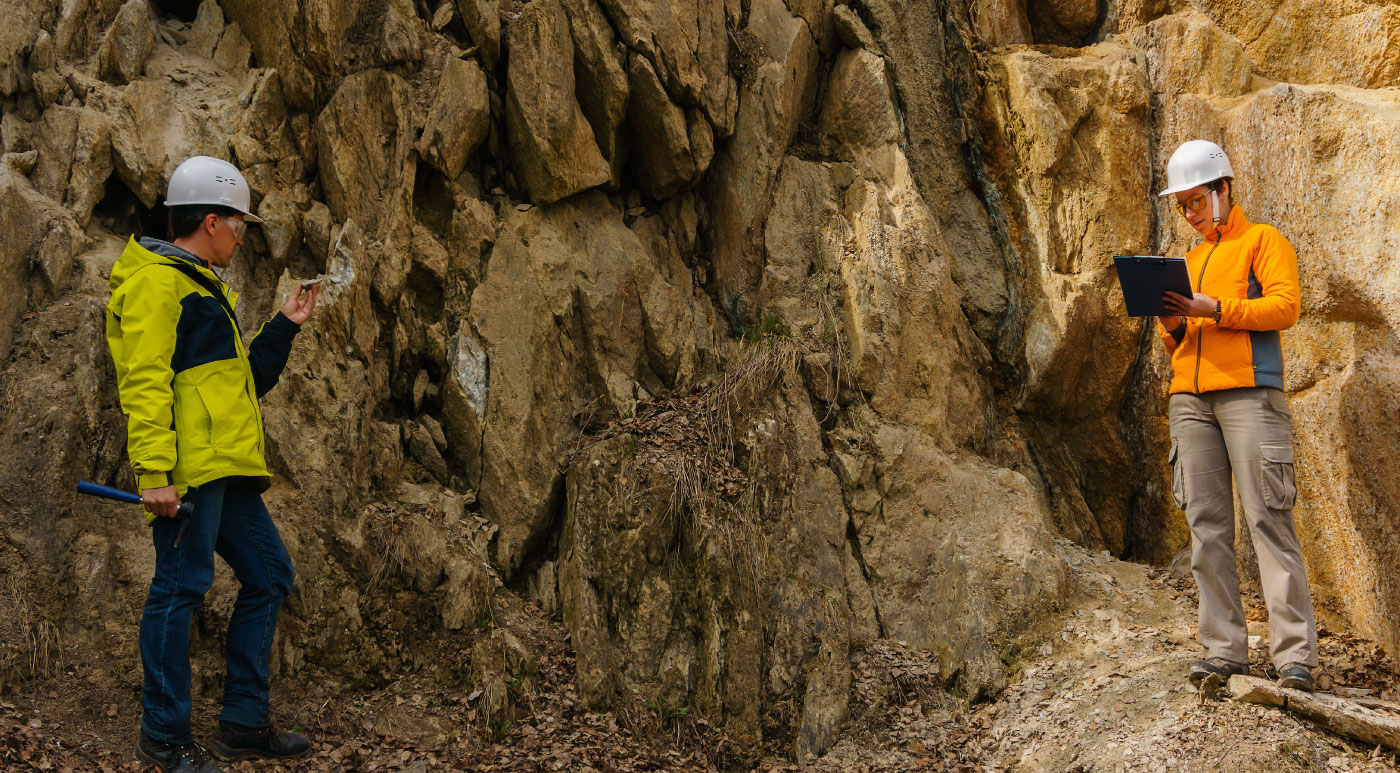 A public research university in the Twin Cities of Saint Paul and Minneapolis, MN, the University of Minnesota – Twin Cities has the sixth largest student body of any college in the United States.
Despite this, you'll enjoy hands-on classes and dedicated attention from your faculty. It is considered a "Public Ivy" university for its attention to individual students' success as well as its high academic quality. In fact, the school is designated as an R1 Doctoral University-Very High Research Activity. The school spends more than $954 million in research and development each year, on average. 
As an aspiring geology major, you'll find everything you're looking for—and then some!—here.
With roots tracing all the way back to 1872, the study of geology at the University of Minnesota – Twin Cities has always been a priority of the university. It has graduated thousands of students and is home to numerous departments and sub-institutes, including the Limnological Research Center, the Minnesota Geological Survey, and the Institute for Rock Magnetism. 
The department is home to more than 350 faculty, 30 research labs, 20 teaching labs, and many other valuable resources for on-campus and online learners alike. You'll enjoy a close-knit, attentive learning environment—here, each faculty advisor is assigned no more than three to five students. 
With this highly versatile degree, you can choose between multiple different master's degrees in earth science. These include geophysics, geology, biogeology, and hydrogeology. All of them are excellent choices for students who wish to expand their training and research in geology. 
Beyond that, you can also choose three different degree completion plans. One requires you to complete a thesis and final oral exam. Another allows you to complete a project and final exam. The third option requires coursework only but is only available for the hydrogeology track. 
Each of these three options requires 30 course credit hours with 14 credit hours in the major and others taken outside, either in a minor or some other supporting field. Each track is a great pathway for candidates interested in pursuing an eventual Ph.D.
These degrees are offered by a diverse department made up of students from throughout the United States as well as many other countries. There is a strong connection between the department and program alumni, any of whom are well-established in their careers and continue to support faculty and current students in their research endeavors. 
Not only is this program easy to apply to, but it's also incredibly affordable. The department offers generous financial aid and can support 10 to 12 new students each year via assistantships and fellowships. In fact, financial aid guarantees 50% support for two years of a master's program. You can apply for assistantships and research stipends as well. 
For students who wish to pursue summer research opportunities, there is even summer support available. You can receive financial assistance to travel to professional meetings or engage in other valuable professional development opportunities. 
OTHER NOTABLE PROGRAMS 
#11. Brigham Young University
Location: Provo, UT
Degree: Geology MS
Net Price: $7,555
#12. University of Oklahoma Norman Campus
Location: Norman, OK
Degree: Master of Science in Geology
Net Price: $21,158
#13. Western Michigan University
Location: Kalamazoo, MI
Degree: Master of Science in Geosciences
Net Price: $15,219