Ready to find your ideal master's program?
www.mastersprogramsguide.com is an advertising-supported site. Featured or trusted partner programs and all school search, finder, or match results are for schools that compensate us. This compensation does not influence our school rankings, resource guides, or other editorially-independent information published on this site.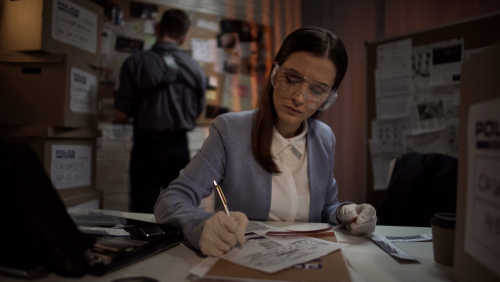 The times they are a-changing. Law enforcement personnel are "officers of the law" or more commonly "police officers"–no longer simply lumped into one gender category and called "policemen." Since the early 1900s, women have been serving in the police force, and they are not going away any time soon–nor should they. According to the U.S. Bureau of Labor, women make up about 14% of patrol officers, 18% of supervisors, and 44% of detectives and investigators. As online master's degree programs in criminal justice, criminology, and criminal justice administration are becoming more plentiful, more and more woman (and men) are advancing into positions of leadership and authority in the criminal justice field–evidenced by the Bureau of Labor's statistics. The easiest way to get those advanced degrees and move up in the job hierarchy is to pick one of the best online master of criminal justice degree programs available and continue working the beat at home while studying at your convenience.
Though the numbers of women across the board in criminal justice and law enforcement jobs are not increasing at a very rapid rate, the numbers are not dropping. A good way for female officers to stand out from their male counterparts is to seek out those positions that require more education and training. Positions of leadership, academia, or specialized focus, for instance, all require advanced degrees that can be obtained online from a myriad of reputable programs. In leadership roles women can be, among other things, special agents or administrators, and these sorts of jobs require the training one would get in an online master's degree program. Skills like analytical processing, critical thinking, new methodology, and learned best practices–these are the skills that set people apart and help them achieve those leadership jobs. Academia is another field in which women can excel. Ideal for individuals who want to help train those in the field but may not want that path for themselves, there are many jobs in community colleges, universities and police academies, just to name a few. And the countless specialized jobs include professions in things like offender services, victim services, mediation and probation. And if they so desire after receiving a master's in criminal justice, the transition into law school to become an attorney is not a large one.
So even though the area of criminal justice has been traditionally seen as a male-dominated field, women are proving they can hold their own and enter the field on all of the same levels as their male counterparts. The key seems to be a good education and reputable training, so make sure the program you choose has what you need to be a leader in this field.
Save
Save
Save
Save
Save
Save
Save
Save
Save
Save
Save
Save
Save
Save