Ready to find your ideal master's program?
www.mastersprogramsguide.com is an advertising-supported site. Featured or trusted partner programs and all school search, finder, or match results are for schools that compensate us. This compensation does not influence our school rankings, resource guides, or other editorially-independent information published on this site.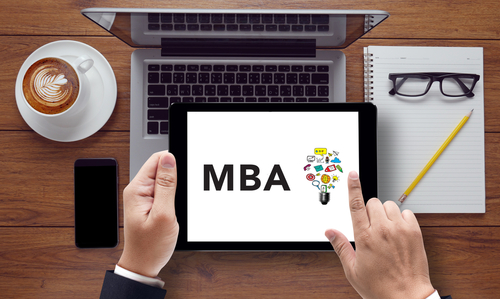 For all of you professionals who are questioning whether or not you really need a Master of Administration in Business degree, consider this: the average return on your investment is only four years. Imagine getting your MBA degree in as little as a year, paying it off within four years, and then making a six-figure salary that continues to increase for the rest of your professional career. Sounds pretty good, doesn't it? There's no doubt that an MBA is a strategic choice in regards to salary opportunities, but having an MBA doesn't just mean you are locked into a desk job crunching numbers all day–with the myriad of concentrations and specializations available at some of the best online MBA degree programs, there are many different job possibilities that await you.
But What Can An MBA Graduate Really Do?
The short answer is: pretty much whatever they want! For those MBA graduates that completed a finance-related concentration, it's very common to come out of school with many job prospects. Some of the highest paying possibilities are Chief Financial Officers and Finance Directors. Other jobs that may be appealing to finance-minded graduates are those in managing corporate finances, accounting or capital markets and investment consulting. And for the outside-of-the-box financial job-seekers, job titles such as FBI Finance Expert or Military Finance Officer may be intriguing.
If you're a people-person, other MBA jobs that put you in teamwork leadership roles really run the gamut. The newcomer to the MBA world, the real estate concentration, offers a specialization that many are not yet taking advantage of–so the few who are can really sink their teeth into such jobs as Capital Acquisition Manager, Institutional Investor or Public Policy Developer. There is also the human resource track, which can mean large salaries as a Senior HR Generalist, Chief of Staff or Chief Talent Officer. And for those who really like a fast-paced and exciting life, Entertainment Accountants help create budgets for the producers of major films or serve as the liaison who develops the contract between a star athlete and sports team.
And a Whole Lot More
To really open up possibilities, graduates who specialized in entrepreneurship can start their own businesses or organizations, literally doing whatever they want. For those who don't want the potential complications of a start-up business, becoming part of a franchise is another option to do what you want with not as much risk. The list of possibilities could be exhaustive, and we've just scratched the surface. Computer information systems, sustainable energy enterprise, and international business–the list could go on and on. Now that you know the sky could be the limit with an MBA, look at some of this year's best online MBA degree programs to find the school that will open up the world's possibilities to you!