Ready to find your ideal master's program?
www.mastersprogramsguide.com is an advertising-supported site. Featured or trusted partner programs and all school search, finder, or match results are for schools that compensate us. This compensation does not influence our school rankings, resource guides, or other editorially-independent information published on this site.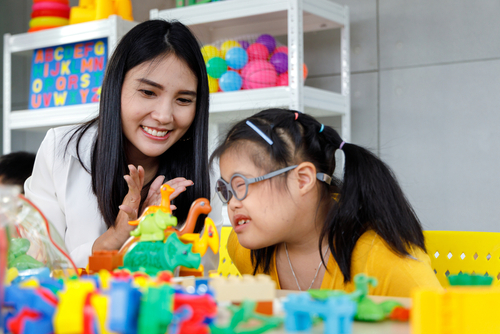 It wasn't until the 1970s that children with special needs were guaranteed by law the right to attend public school in the United States. The passage of the Education for All Handicapped Children Act in 1975 (EHA) was the beginning of viewing intellectually and/or physically differently-abled young people as just as deserving of a good public education as children without disabilities. From simply allowing them to attend class to the practices today, what are the philosophies and methodologies for teaching children with special needs? And how does a teacher learn these best practices for special education instruction? Read on to find out what the most recent trends in special education are, and check out our list of the best online master of special education degree programs to find a school to gain these skills.
Two key words in the special education movement are inclusion and collaboration–working within the system and working with the children, families and administration. Prior to the IDEA–the Individuals with Disabilities Education Act (what the EHA became after a revision in 1990), children were excluded from public schools as a regular practice. In a shocking display of discrimination before this law, there was the case of Beattie vs. Board of Education (1919) in which the Wisconsin Supreme Court ruled that a young boy with cerebral palsy was not allowed to go to public school because he drooled and this disgusted the other children and teachers. Now, children are included in public schools and their teachers work as part of a team with the parents to make sure the child is getting the education and education delivery that he or she needs. Integration in classrooms is also important–gone are the days of sequestering differently-abled children in classrooms away from other children all day. Depending on the child's abilities, spending time each day in both a classroom with their active peers and in a classroom geared towards their specific learning plan makes for a much more comprehensive and normalized experience.
Also important is the use of technology. As is true in general, technology in the classroom is increasing as our world becomes more immersed in technological practices, and this is no different in the field of special education. Assistive technology ranges from the simple, as in using a tablet device rather than a traditional book to help students read, to the more interactive, such as a computer that responds to movement or has special software that can anticipate a child's next tap on the keyboard. These practices and assistive elements all serve to bring to students with special needs what was so lacking for much of the 20th century–the chance for a normal, appropriate, free and supportive public education. We've come a long way in meeting the special needs of these children, and chance are we will continue to find new and even more inclusive and constructive ways of helping them reach their full potential.
Save
Save
Save
Save
Save
Save
Save
Save
Save
Save
Save