Ready to find your ideal master's program?
www.mastersprogramsguide.com is an advertising-supported site. Featured or trusted partner programs and all school search, finder, or match results are for schools that compensate us. This compensation does not influence our school rankings, resource guides, or other editorially-independent information published on this site.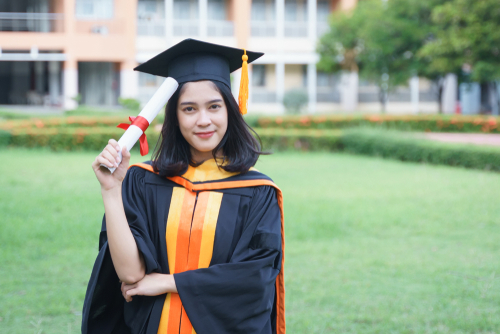 With the job market challenges that today's graduates face, you may be contemplating whether a master's degree is worth it. The additional schooling can create hardships since you may have to delay your work career to acquire the higher level of education (see our list of the fastest online Master's degree programs). Other challenges include the finances required to continue school as well as the additional time commitment.
See Also: 50 Best Master's Degree Programs
Before you begin the application process for a master's degree program, ask yourself:
• Does the degree relate directly to the job you desire?
• Will the degree increase your lifetime earnings?
• Are you truly interested in the field?
• Is the program respected in the industry?
Job Relation
Some employment fields are almost impossible to enter without a master's degree. Examples of this include top-tiered business management positions, physician assistants and school administrators. An advanced degree can also help you get ahead in some fields. Engineering and marketing are just a few careers where you may progress more easily with an extra diploma under your belt.
Lifetime Earnings
Preferably, those who earn a master's degree will enter the work force with the potential to make more during their lifetime than they would without the degree. According to the Bureau of Labor Statistics, the jobless rate for those who have a master's degree was at 3.4 percent during 2013. For people without a degree, the jobless rate was 4 percent. The Bureau also reports that the median annual income for people with a master's degree is just over $69,000 and slightly more than $57,000 for those with a bachelor's degree.
[See our list of the Highest Paying Master's Degree Programs.]
Personal Interest
Before jumping into a master's program, do a little soul searching to make sure that you have a personal interest in the field. Norm Meshriy, owner of the employment counseling company Career Insights, said, "If you don't have the interest in the content of the program, you might benefit initially, but over the long term, you'll fail."
Respect in the Industry
Make sure that the master's degree you earn is accredited. Keep in mind that the program's reputation will likely have an impact on how much it will better your career. Today, universities are making it easier to earn a respected degree since many master's programs are online. If you must continue working while attending school, an online program offers a healthier life balance. Check out our list of the Best Online Graduate Degree Programs.
Taking on More Debt
Be prepared to take on more debt to earn a master's degree. On average, high school graduates borrowed $29,000 to earn a bachelor's degree and just over $57,000 to obtain a graduate degree in 2012. Because of this, be sure to explore the salary potential that an advanced degree is likely to deliver in your chosen field to ensure that you'll recoup the costs of gaining a higher education.
Experience Matters
In some cases, experience may be as valuable as a master's degree. A number of industries value experience over education. For instance, a graphic designer is more likely to be hired according to his or her portfolio. Therefore, time spent learning the industry may net you a higher paycheck than an advanced degree.
The Best Advanced Degrees for Employment
Computer science is a field where a master's degree would likely result in a higher salary and more moves up the career ladder. Employment opportunities for people with an advanced degree in computer science is predicted to grow. Median pay is also rated high for this field. If you're interested in becoming a political scientist, consider earning a master's degree. This will qualify you to work as an administrator or researcher.
[See our list of the most popular Master's degree programs.]
Conclusion
Many master's degrees are worth earning. With the right one, you are likely to see a raise in the amount you earn during your lifetime as well as more frequent promotions. Before entering an advanced education program, be sure to research the benefits it will add to your selected field.