Ready to find your ideal master's program?
www.mastersprogramsguide.com is an advertising-supported site. Featured or trusted partner programs and all school search, finder, or match results are for schools that compensate us. This compensation does not influence our school rankings, resource guides, or other editorially-independent information published on this site.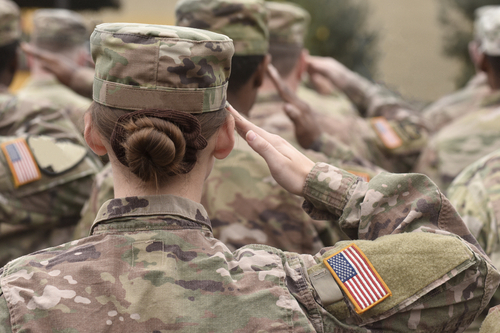 Leadership comes naturally to the brightest and the best in the U.S. Armed Forces. Military order and success depends on strong leadership that inspires followers and shapes a positive trickle-down effect. As explained in the Harvard Business Review, when "followers have trust and confidence in a charismatic leader, they are transformed into willing, rather than merely compliant, agents." Therefore, it makes perfect sense that these military men and women who have become "charismatic" leaders through their training and experience in the field would want to achieve a Master of Organizational Leadership degree to further their careers. And because they only accept excellence in academics and demand the ability to study at their convenience, they pursue a degree at one of the best online Master of Organizational Leadership degree programs.
Many schools provide tangible support in order to honor our service men and women for their commitment to our country's protection. Some universities, such as Brandman University, were created specifically for those coming out of military service and transitioning to civilian life. Brandman provides general support such as Military Services Specialists and academic coaching, as well as transferable credits for military experience. The Master of Arts in Organizational Leadership (MAOL) degree can be obtained in just seven classes–Brandman allows military service persons to transfer up to fifteen credits towards the degree. Other programs, such as the new online Master of Science in Organizational Leadership at Johns Hopkins University, was not created solely for military students but is certainly geared towards them. Offered through Johns Hopkins' Division of Public Safety Leadership, the MSOL degree is "specifically designed for adult learners, with adult responsibilities," so leaders who want to serve and protect can advance their careers on their own time at their own pace. For military professionals who are looking for a program that can help "transition . . . military skills to the boardroom," the Master of Arts in Strategic Leadership (MSL) degree program at St. Bonaventure University Online is a great option. In addition to the benefit of earning a tactical degree, St. Bonaventure gives active military a 30% tuition discount for this MSL degree. St. Bonaventure also states that their "core values of discovery, community, and individual worth align with the core values of the military," so it's a natural fit for the military student. With tuition discounts of 10% for spouses, active and former military members, the online MSOL at Quinnipiac University is also a good choice. Promising a program that helps "active duty military, veterans, reserves, retirees and their spouses achieve their educational goals in a completely supportive environment," Quinnipiac prides itself on being a "Military Friendly® school."
Because of the commitment of members of the military to our country, many schools see the importance of providing resources for them to help further their education. For those in the military who are either currently active or veterans, and for their spouses as well, tuition help and programs geared towards them (such as the online Master of Organizational Leadership) are just a small way many schools can say thank you.