Ready to find your ideal master's program?
www.mastersprogramsguide.com is an advertising-supported site. Featured or trusted partner programs and all school search, finder, or match results are for schools that compensate us. This compensation does not influence our school rankings, resource guides, or other editorially-independent information published on this site.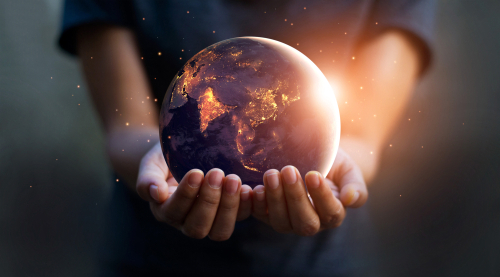 So you want to save the world. Admirable, but how do you even begin to go about accomplishing it? Well, for starters, you could pursue your Master in Emergency Management degree. Graduate-level emergency management (and similar programs such as Disaster Preparedness, Emergency Health Services, Crisis Management, Security Management, and Public Safety) degree programs equip professionals with the skills to prepare for and respond to major catastrophic events. Luckily for the earth and the sentient beings inhabiting it, the online Master of Emergency Management degree is one of the most popular online master's degree programs currently (and as a plus, according to the Bureau of Labor Statistics, it is a fast-growing field with lots of opportunities for career advancement). What are some of the biggest threats we face, and how do Emergency Management professionals work to save us (sometimes from ourselves)? Read on to discover what's going on in the world today, and how you can help.
Natural Disasters
As of the writing of this article, my home state of North Carolina has been recently battered with not one but two major hurricanes. Florence and Michael, seemingly benign names for the amount of destruction they caused, displaced many and took lives. According to FEMA, research has shown that climate change is fostering an atmosphere that facilitates the creation of these mega-storms, which in turn breeds more force and more staying power than we would have seen from a hurricane from decades past. Hurricane Florence was incredibly slow moving–she sat just on the coast of North Carolina for almost a week without decreasing her wind force significantly, causing a great deal more damage than if she had just barreled through the state. Parts of the coast had mandatory evacuations, and if not for the preparation and assistance from Emergency Management professionals, more lives would have been lost. For the people who had no choice but to remain in the paths of the storm, rescue and assistance efforts were headed up in order to save lives (even our four-legged and feathered friends had emergency management help before, during, and after the storm).
Human-made Disasters
For those of us who remember exactly where we were and what we were doing when the first plane hit the Twin Towers, our lives will be forever changed. Emergency Management professionals put plans together in preparation for when attacks like these occur. For disasters that cannot be halted or averted, the goal is to mitigate and save lives through thorough planning and understanding what can happen in these occurrences. Some disasters, though technically "man-made," are caused not by devious and malicious motives but by unintentional or negligent human error. There are large-scale hazards events that have the potential to affect millions, such as major oil spills like Exxon Valdez, radioactive hazards like Chernobyl, and wildfires caused by vehicles such as the Carr Fire of 2018. Smaller disasters may seem less serious in terms of overall harm, but are still traumatic to those involved, like engineering disasters such as bridge and walkway collapses, or civil unrest leading to violence caused by power outages or the outcomes of sporting events or trial outcomes.
What You Can Do
If you want to help mitigate loss, save lives, and work towards preventing disasters from striking, working towards your Master of Emergency Management degree online is a smart first step. We've compiled a list of some exceptional programs to help you get started, so check out the 50 Best Online Master of Emergency Degree Programs, and start saving the world!