Ready to find your ideal master's program?
www.mastersprogramsguide.com is an advertising-supported site. Featured or trusted partner programs and all school search, finder, or match results are for schools that compensate us. This compensation does not influence our school rankings, resource guides, or other editorially-independent information published on this site.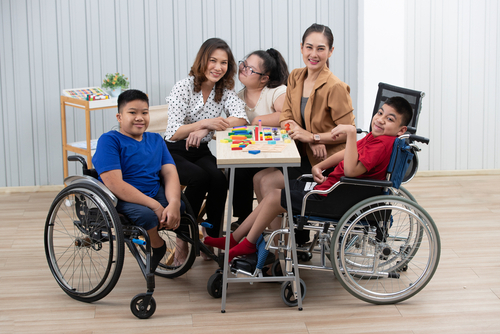 Since the passage of IDEA–the Individuals with Disabilities Education Act (known as the Education for All Handicapped Children Act from 1975 to 1990)–more children with special needs are being educated and receiving the care and instruction they need. And to fill these roles, more special education teachers and advocates are needed. According to the US Department of Labor Bureau of Labor Statistics, careers in special education are expected to grow 6% through 2024. This career growth is increasing right at the national average, which means there are many jobs, but they are pretty competitive. In order to be the most attractive to potential employers, teachers should make sure they have the edge by achieving a master's degree. Our list of the best online master of special education degree programs should help prospective students pick the program that best fits their needs.
Although the trend in special education is an integrated classroom, many teachers who just hold a bachelor's degree in education only took a single course–if that–in special education. In addition, as children are being screened and identified as having intellectual and/or physical disabilities earlier, more and more children are being recognized as needing special education resources. Needing dedicated special education teachers, many schools are trying to fill in the gaps. This means more teachers, but it also means more Early Interventional Specialists, more Educational Diagnosticians, and more Special Education Administrators.
According to data from the Bureau of Labor Statistics, professionals in the field of special education had a median salary of $53,860 in 2016. The range is great however–younger children being diagnosed earlier means the need for preschool special education teachers. The salary in this field is in the $30k range. As students age and move into needing transitional services, upper level school special education teachers make closer to $60,000. And those working on policy change and/or funding sources for advocacy programs–professionals in this line of work make salaries of the mid-$60s to upper $80s.
Going into the field of special education is for dedicated, caring individuals who want to make a difference in the lives of exceptional children. It's a growing field due to the recognition of needs, both through the early detection of these children with special needs and through the research of methodology and best practices in providing education to them. A true calling, and these children don't deserve anything less.
Save
Save
Save
Save