Ready to find your ideal master's program?
www.mastersprogramsguide.com is an advertising-supported site. Featured or trusted partner programs and all school search, finder, or match results are for schools that compensate us. This compensation does not influence our school rankings, resource guides, or other editorially-independent information published on this site.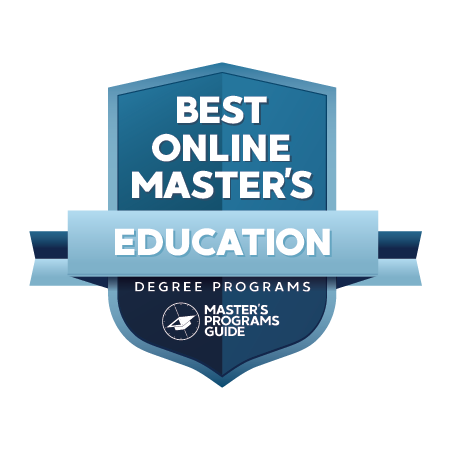 Being a teacher requires a long list of skills and traits. Most of us just don't have these.
[the_ad id="13193″]
To be a good teacher, you need to be compassionate, driven, and intelligent. You need to care deeply about your students. You need to care about the subjects you're teaching.
You also need to have a desire to make a difference in the lives of your students.
If you have these skills and traits, then congratulations! You have everything you need to be successful in your chosen career path.
However, most cities and states don't see it that way. They also want to see that you have the credentials and educational chops to back up your innate skills and tendencies. That's where a degree in education comes in handy.
Are you working as a teacher with just a bachelor's degree? Then a master's degree is the next step in most places. Most states require all public school teachers to hold a master's degree or higher in education (or in the subjects they are teaching).
There are some professionals who don't teach in the classroom. Instead, they work in related fields, such as education policy or curriculum design. In that case, a master's degree provides the extra training for a promotion or pay raise.
There are lots of benefits to earning a master's degree in an education program. It can be tough to find the time to complete your required courses. That's why many teachers will turn to online master's programs.
An online master's degree offers the same benefits as on-campus students. However, that's with maximum flexibility and convenience. You can take classes when it makes the most sense to you when you are enrolled online.
Have a few minutes between classes?
Need to work on assignments during your lunch break or after school?
Earning your degree online makes it easier for you to squeeze your coursework into your busy day. There are lots of options for teacher certification to consider, including a master's in education degree (or a Master of Arts in Education), a teacher certification program, and a K-12 degree in education.
There's a misconception that an online degree doesn't confer the same sort of credibility and quality of education as one earned in the traditional sense on campus.
However, this is false. It's important to look for a school that has regional accreditation. That way, you can make sure you're getting a diploma from a credible university. Look for a degree program accredited by organizations like the Southern Association of Colleges and Schools Commission on Colleges, the Higher Learning Commission, or the National Education Administration. This is particularly important if you plan on pursuing teaching certification or teacher licensure in most states.
But the reality is that online schools are just as reputable as their on-campus counterparts. Students enrolled online can receive an excellent education in this online program. This prepares aspiring teachers for a successful career.
In addition to looking for a school that is accredited as you prepare to be enrolled online, try to find one that offers a specialization in the specific area of education in which you're interested.
For example, if you want to teach at the elementary level, make sure your online program will provide you with the credentials you need to apply for licensure as an elementary educator.
Do your research for an online master's in education program!
We've taken care of the rest of the research so you don't have to. Below, you'll find a comprehensive list of the 20 best online master's in education programs.
See Also: Best Affordable Online Master's Degree Programs
What Are the Best Education Degrees?
We know that you have educational goals that you're itching to pursue. You may not know where to start when considering an online master's in education.
The editors of Master's Programs Guide utilize a unique ranking methodology. It is based on the following five aspects:
25% Overall Degree Affordability: Average cost of undergraduate and graduate tuition per school
25% Graduation Rate: Number of students who start at the university and actually finish there
20% Earnings Potential: Average mid-career salary of school alumni
20% Selectivity: The number of aspiring teachers who apply versus the number who actually get accepted
10% Online Graduate Offerings: The number of programs offered online in each department
At Master's Programs Guide, we strive to do our best to guide you and your family toward a fruitful academic career. The pursuit of knowledge is a noble one. We want to help you reach your goals. Let us help with your school search!
Here are the best masters in education online programs!
See Also: Top 10 Most Affordable Online Master's in Secondary Education
20 Best Online Masters Degree Programs in Education
Master's Degree in Special Education
Texas A&M University is a public land-grant research university located in College Station, TX.
The school opened in 1876. It is the flagship university of the Texas A&M University System. Here, you'll find plenty of education programs to choose from. In fact, this is one of the best places to earn an online masters teaching degree.
There are quite a few different online education masters programs to consider here. It is one of the best is the master's degree in special education. This best online master's in education is listed as the eighth-best in the country by U.S. News & World Report.
It is best for individuals who already have a background in disability, education, behavior, or related fields. You don't have to have a teaching license to apply. Clinical or teaching experience with initials with disabilities is preferred. You will also need a bachelor's degree in a related area.
Online learners complete 36 hours per credit time in this two-year, online master's in education. There are several start dates per year. No GRE is required – again, neither is a teaching license. You will graduate with either a Master of Education or Master of Science. This depends on the specific courses you decide to pursue in your online master's in education.
Courses in these online master degree programs in education will cover a long list of topics to prepare online learners for a variety of career options.
In these master of arts in education programs, online learners may take classes in such areas like:
Consultation in Special Education
Multicultural and Bilingual Special Education
Adolescent Literacy for Students with Diverse Instructional Needs
Instructional Design
Online learners complete a K-12 field experience in the town of their own choosing for the master of education programs online.
An affordable program, this online master's in education has low tuition rates. To cut costs even further, there are fellowships, graduate assistantships, and additional forms of financial assistance.
There are plenty of reasons to put Texas A&M at the top of your list. It's ranked one of the best universities in the world by the U.S. News & World Report and The Times Higher Education Supplement.
It's also top-ranked by Forbes and The Washington Monthly. It is second-best in the country, according to The Wall Street Journal. That's when it comes to helping students land jobs in key careers and professions. Aspiring K-12 teachers will want to consider Texas A&M for sure for a education master degree on line!
Master of Arts in Teaching
Liberty University is a private Evangelical university in Lynchburg, VA. It is best known for its massive online appeal. The school has more than 95,000 students. Most (around 80,000) are enrolled online. In fact, Liberty enrolls more students online than any other university in the United States.
The 36-credit hour Master of Arts in Teaching at Liberty University has 100% online courses. They last eight weeks each. Most education students can complete their studies in just a year and half. They can then focus their studies on the most important methodologies and best practices of theory in teaching for the masters degree on line education.
You'll pair advanced learning theory with an evidence-based, practical approach. All Master of Arts in Teaching degrees here are accredited by the National Council for Accreditation of Teacher Education. They're delivered from a Christian worldview.
You can choose between a 36-, 45-, or 51-hour track. There are programs available in:
Elementary Education
Middle Grades
Secondary Education (high school students)
Special Education
There are dual endorsement and additional concentration areas (such as CTE Transition and Special Needs) available. These elementary and secondary education programs are some of the best at preparing students for diverse career paths.
Students in this online masters program in education learn through classes in this master's degree in education such as:
Special Education and Disability Law
Educational Philosophy and Theories of Learning
Language and Literacy for Diverse Learners
Most licensure track requirements in this online master's in education are online. Even If you have limited teaching experience, you'll be able to start your studies and get the experience you need in order to obtain licensure.
Best yet, these degree programs are affordable. Tuition rates haven't gone up in six consecutive years. This tuition freeze reflects Liberty's commitment to providing quality, low-cost education to students all over the country. Not only that, but online students enjoy a vibrant student life!
You can continue working and get a college degree part time all while enjoying the best that an education master's program has to offer.
Master's in Education Programs
NC State is a public land grant research university in Raleigh, NC. It is one of the best schools to consider for education degree programs if you're looking for an online program that offers a more hands-on approach.
This land-grant research university is known for its contributions to academic and scientific research. It forms one of the corners of the famed Research Triangle with Duke University and the University of North Carolina at Chapel Hill.
The master's in education programs at NC State have several tracks for students to consider. That includes a popular STEM Education concentration.
At these best online colleges for masters in education, you'll be able to choose from additional areas of concentration like:
Science Education
Mathematics Education
Engineering and Technology Education
You can choose to take elective courses during both the spring and fall semester. These are in unique areas to add more versatility to your degree, for example:
biological science
horticulture
forestry
medicine
Choose the STEM master's in education programs, and you'll take required courses in your online master's in education like:
Special Problems in Mathematics Teaching
Foundations of Science Education
Topical Problems
You'll take around 45 hours of study in the online master's degree (with an affordable per credit tuition rate) in total for these accredited online masters programs in education. That's with no field experience or practicum required. There are multiple start dates per year to make online learning even more flexible and convenient.
Most full time students can complete their master's degrees in one to two years of study. 18 months is the average for full time learners.
There are numerous scholarship opportunities for these masters in education programs online as well. The online master's degree is not intended for educators who are not pursuing 6-12 teacher certification. It is a degree completion program, not a licensure pathway.
However, it is an excellent option for licensed teachers to consider to help them round out their degrees.
Master's in Education Programs
Another public research university to consider is the University of North Carolina at Chapel Hill. As the first public institution of higher education in the state, it first opened in 1795.
It has been educating students in droves ever since. The school offers more than 70 online master's program options within 13 separate professional schools. It is also home to a great online Master's Degree in Education.
The degree has a focus on Early Childhood Intervention and Family Support. This allows you to earn your credentials while studying part-time. You'll gain the skills and knowledge from this early childhood education program you need. You'll become a leader of other professionals who are dedicated to helping young children and their families.
This is a two-year online master's degree for early childhood education. It consists of 33 to 36 hours of study. You can complete it by itself. You can also add an optional autism concentration for no additional cost per credit.
It focuses on family-centered inclusive practices for young children who are most at risk due to:
poverty
cultural or linguistic differences
developmental delays
This masters degree online in education is designed for working professionals. It is offered 100% online. That's with the exception of a once-weekly off-campus meeting in Chapel Hill during the fall and spring semesters. The rest of the curriculum is delivered via some of the most up-to-date technology. It is designed according to the soundest evidence-based practices.
You may take classes to prepare you for all kinds of career opportunities in education, including administrative positions. In your courses, you'll gain significant professional experience to make a huge difference in students lives.
Examples of classes you'll take in these academic programs include:
Education leadership
Social science
Strategies for teaching students with autism spectrum disorders
Behavioral management
Working with provisional datasets to make sound instructional decisions
Working with special education teachers and other education proefssionals
Counselor education
Teaching methods and instructional strategies
This program prepares students to work in collaborative teams with professionals from a variety of agencies and disciplines. That's along with parents from diverse backgrounds. You'll be able to meet any kind of specific career goals you might have to make a greater impact (and enjoy a higher earning potential) in a student's life.
Another benefit of these best online masters degrees in education? They are affordable. There are options for both licensed and non-licensed teachers to complete their studies at UNC. That makes this online master's degree one of the most versatile and cost-effective around.
M.A. in Education – Curriculum and Instruction
A public university, California State University, Bakersfield is in Bakersfield, CA. It first opened its doors as Kern State College. It joined the state university system in 1968. The school offers more than 50 different programs of study on its main campus in Bakersfield. It also has a satellite campus in Lancaster, CA, and of course, online.
You'll find another one of the best online master's here at California State University, Bakersfield. The master's degree in curriculum and instruction will allow you to understand how to mold a curriculum to best suit student needs. You'll also build your teacher leadership skills. You will learn more about the core concepts of educational technology integration and educational equity.
You can even earn a CTC-approved Reading and Literacy Added Authorization while you complete your master's! If literacy education is important to you this may be the best online master's degree for you.
All courses are offered in a convenient online format. You'll learn from expert faculty—each of whom holds a doctorate degree. You'll have the full support of the same staff members you'd see on campus.
Financial aid is available for the online masters in education degree. The average student takes just one year to complete the 30 required hours for this program. All classes in these 1 year online master's in education programs are available 100% online. Tuition for this online master's degree is affordable. There are multiple start dates per year.
Master of Education in Elementary Education
Choose to study at the University of Central Florida and you'll have plenty of locations to choose from. The school's main campus is in Orlando, FL. You can also choose to study at one of 10 other regional campuses in the state.
Pursuing 100% online master's programs is another option for you to pursue. UCF offers a variety of online master's programs. One of the most popular is the online Master's Degree in Education in Elementary Education. It is an education program for those seeking teacher certification as elementary-level teachers.
You can choose from several endorsement and specialization options. That includes those in:
Reading
ESOL
Gifted Education
Exceptional Education
You will complete around 30 hours of study for this online master's.
The Master's Degree in Education at the University of Central Florida is one of the most affordable in the nation. An education degree could be in your reach!
Master of Arts (M.A.) in Education
The University of the Cumberlands is a private university in Williamsburg, KY. It opened as Cumberland College. First, it enrolled just a small population of students who were interested in Christian-focused education. Today, the school offers a wide variety of majors both on-campus and online. That includes a handful of online master's programs in education and education administration. It's home to some of the best online schools for masters in education.
The Master of Arts in Education at the University of the Cumberlands has four distinct concentrations:
literacy specialist
school principal/school administrators
teacher leader
school counseling
These masters education online programs do not lead to initial teaching licensure. However, it can provide additional teacher certification and advanced opportunities in other areas.
You will take classes in these online masters in teaching programs such as:
Reading in the Content Areas
Writing Instruction in the Content Areas
Personality and Psychological Assessment
Human Resource Leadership
There are additional options to specialize in special education and teacher leadership too.
Tuition rates at the University of the Cumberlands are among some of the lowest in the nation.
When studying full-time in these online masters programs in education, you'll pay just under $10,000 per year in tuition for this education degree. That's regardless of your residency status. You'll need to submit recommendation letters and test scores in most cases. Graduation requirements vary depending on the specific pathway of higher education chosen.
Master of Science in Education
Johns Hopkins University is a private research institution in Baltimore, MD. It opened in 1876. It was named after its first benefactor, philanthropist and entrepreneur Johns Hopkins.
The school is ranked among some of the world's most prestigious universities. It is considered the first research university ever in the United States. It's also home to some of the best online masters in education programs.
This university offers a variety of education degrees. One of the best is the Master of Science in Education. It has a focus on educational studies. It's perfect for students who are interested in becoming full-time teachers. It's also great for those who are interested in education careers outside of teaching.
You'll take 39 credits of study in these masters programs for teachers. All of your courses will emphasize a cohort-based learning model. New cohorts can begin their studies at one of four points throughout the year. Your courses will focus on the best methods for educating at-risk and underprivileged students. All cohorts in these online masters programs for teachers will graduate in about two years.
This isn't a licensure-track program in all states. However, it does offer significant financial aid for students who qualify. All online students pay the same tuition rate per credit hour. That's regardless of residency.
Master of Arts (M.A.) or Master of Science (M.S.) degree in Education
A public research university, San Diego State University is in San Diego, CA. It has a popular online campus as well. It is here that you will find some of the best online education programs.
The College of Education at San Diego State offers several great online master's degree options in education.There are Master of Arts or a Master of Science degrees in a variety of concentrations.
Some popular majors for education students include:
Rehabilitation Counseling
Postsecondary Educational Leadership with a specialization in Student Affairs (great for working at a community college or other postsecondary education setting)
Child Development
Critical Literacy and Social Justice
Special Education (high school and elementary alike)
These masters in teaching online programs provide students with the same caliber of education that they'd receive from the face-to-face programs at San Diego State. They have added flexibility so you can complete your studies when it is most convenient for you. There is even an option to receive additional program credit. That's if you earned your credential in the last six years.
The curricula of all of these online masters teaching degree options are focused on social justice and equity in education. If you want to be a responsive, innovative K-12 master teacher, this is the degree for you.
You'll be able to graduate in just one year. You'll take right around 24 units of credits. Coursework varied depending on the specific degree that you select, but in general, you'll take courses in:
instructional technology and virtual learning
diversity
curriculum and instruction
early language learning
applied behavior analysis
research methods
student success and resources for students living on site
research-based pedagogy
You'll also conduct a significant amount of research and complete a final capstone project as well. Again, you can specialize in the area that interests you most in your teaching career, such as:
Master's in Education Programs in Special Education
A private Baptist college, Mississippi College is in Clinton, MS. This school is the second-oldest Baptist college in the country. It is the oldest school in the state of Mississippi.
Despite its historic past, this school has a variety of modern and updated remote master's program options for prospective students to choose from.
There are countless online master's programs for learners here to consider. One of them is the master's in Educational Leadership and Curriculum Instruction.
However, the most unique is the online teaching master's degree in Special Education. This degree at Mississippi College is designed for licensure teachers who wish to add the Mild/Moderate Special Education (K-12) to their existing educator licenses.
You'll take a close look at the psychosocial and cognitive needs of children with mild to moderate learning disabilities in P-12 classrooms. All coursework for education students is available online. Students can complete their studies at their own pace.
You'll take 30 credits of study. Core courses include:
Research Methods and Procedures
Current Education and Psychological Testing Procedures
Characteristics of Students with Mild/Moderate Learning Problems
A unique feature of Mississippi College's masters programs for teachers is its pay-by-course tuition cost options. You can choose to pay just one course at a time rather than by semester or year. This can help you save money and chip away at your courses as you have the time and money to do so.
Most students will be able to complete their studies in just 10 months with an affordable per credit tuition rate. It's one of the fastest around. There is rolling admissions and numerous start dates per year. Mississippi College's online teaching master's degree offers students some of the best opportunities for completing their degrees on their own terms.
OTHER NOTABLE EDUCATION PROGRAMS
#11. Saint Leo University
Location: Saint Leo, FL
Degree: Education Master's Degree
Net Price: $8,498
#12. University of Southern California
Location: Los Angeles, CA
Degree: Education Master's Degree in Learning Design and Technology
Net Price: $45,561
#13. The University of Texas in Arlington
Location: Arlington, TX
Degree: Education Master's Degree in Curriculum and Instruction
Net Price: $9,672
#14. Minot State University
Location: Minot, ND
Degree: Online Teaching Master's Degree
Net Price: $8,873
#15. The University of West Florida
Location: Pensacola, FL
Degree: Master of Arts in Exceptional Student Education
Net Price: $9,062
#16. Purdue University
Location: West Lafayette, IN
Degree: Master of Education in Special Education
Net Price: $9,662
#17. University of Illinois at Urbana-Champaign
Location: Champaign, IL
Degree: Master's in Global Studies in Education
Net Price: $18,126
#18. University of St Thomas
Location: St. Paul, MN
Degree: Online Teaching Master's Degree
Net Price: $21,454s
#19. Webster University
Location: Webster Groves, MO
Degree: Master of Arts (MA) in Education and Innovation
Net Price: $13,500
#20. Northeastern University
Location: Boston, MA
Degree: Education Master's Degree in Higher Education Administration
Net Price: $24,309
FAQ
Are online masters programs respected?
Let's face it—as a student and teacher, you live a busy life. You don't necessarily have the time to schlep to campus to take classes five nights a week. Therefore, a remote or hybrid master's might be especially appealing to you. But is it just as respected as a degree you might earn on campus?
Absolutely. Online degrees aren't a one-size-fits-all solution, but as long as your degree is accredited, you'll be able to access the same learning material as you would if you were studying on campus. In addition to the graduate program options listed in this post, other popular school rankings are Western Governors University, Concordia University, University of South Carolina, and others.
The only potential downfall to learning online versus on-campus is the lack of personal interaction and hands-on learning experiences, but online instructors are finding a way around even that.
You can now complete all of your student teaching, practicum, and internship requirements right in your own town. Graduate education programs can help even experienced teachers have a successful career.
Can I get my master's in teaching online?
You can earn a master of education online, studying from the comfort of your own home. The average online teaching degree will require 30 to 42 credit hours of study, meaning that you can graduate in two years or less if you study full-time.
That said, if you'd prefer to take things at a slower pace, you can always take longer to complete your education degrees online, too (most schools allow up to six years). The exact curriculum that you will pursue will vary depending on your chosen field of education as well as what kind of career goals you have.
For example, if you want to pursue an educational leadership degree, you'll probably find yourself taking classes in things like cultural proficiency, organizational theory, school law and ethics, and public relations.
An aspiring special education teacher, on the other hand, might take classes like Behavioral Disorders in Children, the Law and Special Education, and Psychology.
Regardless of your chosen path, you'll be required to complete a variety of hands-on learning experiences, such as internships, practicums, and K-12 student teaching placements. This will give you the skills you need to manage a K-12 classroom and plan lessons effectively.
How do you apply for a master in education programs online?
Application requirements for education programs online vary widely, due in part to nuances between individual schools. However, requirements also vary depending on the state in which you plan on attending school, since each will have different standards as far as teaching licensing goes.
You'll usually need a bachelor's degree from an accredited institution to apply. This can often be in any field as long as it is related to the area you'd like to teach. You will need to furnish official transcripts, typically with a GPA that is no lower than 3.0 on a 4.0 scale.
Plan on taking the GRE, or Graduate Records Imminent, prior to completing your applications as well. These aren't application requirements enforced by all schools, but it's good to have your scores ready to go in case you need them. You'll also need to supply letters of recommendation, scholarly writing samples, an essay, and a resume.
Again, the application requirements do vary between schools. It pays to touch base with your school's education department or admissions office before completing your applications to make sure you have everything you need to be eligible.
What kind of jobs can I get with an online master's in education?
Earn a master's in education and you'll open the door to a wide variety of career prospects.
Working as a teacher is the most obvious career path. A master's degree in teaching will provide you with the skills you need for K-12 classroom management, curriculum development, educational technology and basic pedagogy.
That's not your only option, of course. With these accredited online masters degree programs in education, you could also work in an administrative role, perhaps working as an administrator, curriculum designer, or policymaker.
Is it worth it to get a masters in education?
Earning a master's degree in education will provide you with the skills and credentials you need to earn a reliable salary for the remainder of your career. Although teaching isn't regarded as one of the best paying professions, teachers are always in high demand and you'll gain a deep level of respect from those within the school and the broader community.
A teacher with a master's degree will enjoy a significant pay raise over one with just a bachelor's, too. On average, earning a master's degree can help you earn a pay bump of up to 14%, depending on where you live. Plus, since some states (such as New York) mandate that all teachers be educated at the graduate level, earning a master's in education is worth it if only because it means you'll be able to keep your job! Online graduate education programs are well worth it.
According to the Bureau of Labor Statistics, high school teachers and beyond tend to earn a slightly higher salary than those who teach at the elementary level. Secondary and postsecondary teachers (K-12 high school and college students) tend to earn salaries in excess of $79,640 per year, on average, while those who teach elementary education earn around $68,050. Regardless of the grade level, if you choose to specialize in an in-demand area, like special education or STEM, you could earn a higher salary, too.
Again, however, you won't have to worry about finding or keeping a job. These positions are in consistently high demand, with new positions expected to grow at a rate of around 12% by 2030.