Ready to find your ideal master's program?
www.mastersprogramsguide.com is an advertising-supported site. Featured or trusted partner programs and all school search, finder, or match results are for schools that compensate us. This compensation does not influence our school rankings, resource guides, or other editorially-independent information published on this site.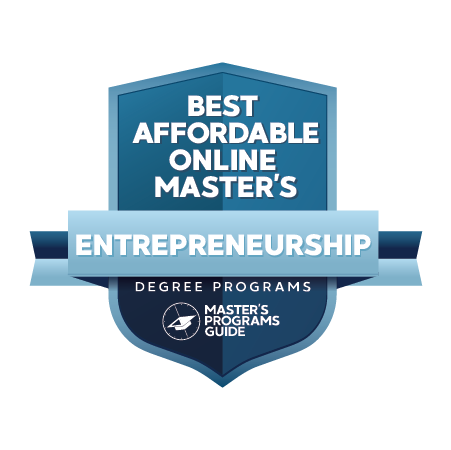 If you are planning on starting a business, sure—you can "wing it."
Lots of entrepreneurs decide to try and "figure it out" as they go—and while this can work, you're going to be taking a serious gamble. Why risk it? Instead, consider earning a degree in entrepreneurship. 
A master's degree in entrepreneurship will give you the skills, tools, and mindset that you need to launch and grow your own business. You'll not only become informed of the best ways to grow a company, but you'll also be equipped with the skills and roadmaps you need to help turn your dreams into a successful business. 
Not all master's degrees in entrepreneurship are built alike, however. You will need to find a degree that will provide you with the exact right skills you need to advance your career, regardless of whether you are building it from the ground up or growing an existing endeavor. 
An online master's in entrepreneurship will prepare you with courses in financial management, marketing management, and startup venture tips. Upon graduation, you'll have the skills necessary to manage a team of creative, impassioned thinkers and to challenge yourself with the ever-changing demands of the marketplace.
Whether you want to start a small business or design products or other new ventures for an existing company, a degree in entrepreneurship is the best way to skillfully launch your new career.  You could also launch a startup or work in consulting, recruiting, research and development, fundraising, and more. There are endless opportunities in a wide array of industries, from education to healthcare. 
Once you earn a degree in entrepreneurship, the choice is yours as to what you choose to do with it.
When choosing a program, it's essential that you consider your career goals, the state of your business, the level of experience you already have, and even your lifestyle. Each master's degree will have its own unique requirements and design, which makes it even more essential that you take the time to find the program for which you are most qualified—and more importantly, that meets your needs. 
For many students, an online master's in entrepreneurship is the perfect choice. You're busy—you've got a business to run! Likely, if you are considering a degree in entrepreneurship, you are probably already working full-time and juggling other life commitments. Fortunately, there are plenty of degrees out there that not only will offer you the training you need and deserve, but that won't require you to relocate, either.
Online programs are integral for busy learners. Not only will you be able to study at the times that are most convenient for you, but you won't have to leave your current commitments and obligations behind, either. Many online programs are designed with the working professional in mind. 
But not all online master's in entrepreneurship are built alike. Each school will have its own unique curriculum and required components. You can rest assured, however, that there is a program out there that's perfect for you.
Ready to get started? Here's what you need to know in order to find the best affordable online master's in entrepreneurship for you. 
Common Application and Admission Questions
It can be tough to find a degree in entrepreneurship that will best meet your goals. Ultimately, all of the degrees on this list will give you a solid foundation in the fundamentals of business, as well as in specialized areas of business such as venture capital, private equity, social branding, digital marketing, and much more. 
Each school varies in terms of what it requires for admission—and for you to graduate. These degrees are offered fully online so that you can advance your education—and advance your career. 
Before you start filling out applications, carefully consider exactly what you want to get out of your program. Most programs will require a minimum of one year of study, so you need to be prepared to commit to a substantial chunk of time when it comes to completing your degree. Luckily, most degrees are set up so that they can be completed on either a full-time or part-time basis, which will give you a bit more flexibility.
Although all of these degrees are offered online and can, therefore, be completed from essentially anywhere, you may want to choose a program located close to home. Why, you might ask?
Very few online master's degrees in entrepreneurship have residency requirements. However, you may find that it's helpful being located closer to campus for purposes of financial aid, enrollment, and networking. While an online program offers many of the same resources as a program that's offered in a more traditional format, you may be able to "double-up" by taking classes online but reaping the benefits of a traditional campus, such as attending in-person career events or going to an in-person graduation ceremony.
Ultimately, though, the choice is yours, and all of the programs on this list can be completed entirely online. You can usually complete all aspects of your application online, too. Try to narrow down your college search to just a handful of schools, even if you want to keep your options open. After all, most colleges charge application fees, and those can really add up over time! 
When you're ready to apply, research each individual school's admission requirements so that you can ensure you are checking off all the right boxes. In general, you will be expected to submit an online application as well as copies of transcripts from any university you have attended in the past.
Many schools request that you meet certain benchmarks when it comes to your GPA and test scores. You will need an average GPA of 3.0 or higher, in most cases, and some schools require you to submit GMAT or GRE test scores, too. If English is not your first language, you might have to submit results from the TOEFL examination, too. 
Some other admissions requirements you might be expected to fulfill? Don't be surprised if you are asked to send in letters of recommendation, a personal essay, or even a resume/CV. Some schools like to see that you have work experience, ideally in a business-related setting. You likely won't need to have an undergraduate degree in business or a related field, although again, this can vary depending on the institution you choose. 
What About Financial Aid & Scholarships?
When you enroll in a master's degree in entrepreneurship, you will likely take one to two years of courses. During the first year, you'll likely study core business principles, like marketing, finance, accounting, and management. After that, you'll be able to explore more specialized coursework in areas like venture capital and social branding. 
In some cases, you may be able to participate in optional hands-on experiences like business competitions, networking events, research programs, and study abroad excursions. 
These opportunities and courses all offer you a wonderful way to boost your understanding of entrepreneurship and to get a leg up on the competition after you graduate. However, they also require one valuable commodity that you might not have enough of as it is: time. 
For many students, quitting a full-time job to attend college simply is not practical. That's why online master's degrees are so flexible. Not only will you not have to worry about quitting your current job, but you can work your classes around your already jam-packed schedule. What could be more convenient?
Being able to work while you are taking classes is ideal, but are there other ways to pay for your education? Absolutely. When you start researching the best affordable online master's degrees, you should also start looking into the affordability and total cost of a school. 
Don't be afraid of private schools. Although many students gravitate automatically toward public schools, thinking they will be cheaper just because the "sticker price" on tuition is lower, that's not always the case. In fact, many private schools offer tuition that, when combined with scholarships and other steep discounts, is less than or equal to that of public schools.
It is essential that you fill out the FAFSA, the Free Application for Federal Student Aid, as soon as possible in your college admissions journey. This form determines your eligibility for state and financial aid based on your income and assets from the prior year. You'll have to submit evidence of this, such as tax returns, W2s, and other documents.
The list of options doesn't end there. You should also take the time to complete any required forms that your school of choice requests of you. You might be eligible for institutional financial aid opportunities like scholarships, grants, work-study, and loans. 
Don't forget about the dent that work study and graduate assistantships can put in your overall tuition bill! If you aren't already working, this can be a viable way to both pay for your degree and gain valuable experience that will look great on your resume.
And if you are already working, don't despair. Some schools even offer partnerships with various employers. You can often get much of your degree paid for through things like employer tuition reimbursement plans. Don't be afraid to ask for help when it comes to paying for college. A master's degree is a serious investment, but you don't have to go it alone.
How Much Can I Make With an Entrepreneurship Degree? 
Once you earn a degree in entrepreneurship, you will not only be perfectly situated to launch your own startup or another type of business, but you'll also be prepared for various careers at the managerial level. You could work in a variety of settings, so it can be tricky to provide an estimate for how much you would make with one of these degrees.
That said, the salaries for this field are, as a whole, quite lucrative. If you are a marketing director, for instance, you could make more than $110,000 per year, according to Payscale. As a CEO or CFO of a company, you could make more than $142,000 each year—potentially more, if you are in charge of a large or highly lucrative organization. 
Some other average salaries that might interest you? As a product manager, you could earn over $101,961 per year, but as a business development director, that salary is increased to $111,000 per year. As the president of a company, you could earn well over $122,829 per year. 
As you can see from the salaries lister drive, numbers of which are all garnered from the major reporting authority, Payscale, salaries for graduates of entrepreneurship programs tend to be quite a bit higher than the national average. 
Of course, these salaries can vary depending on other factors, such as your chosen career path, as well as where you live. The best paying states for graduates include New York, Illinois, Colorado, Massachusetts, and California, with top cities including New York City, Chicago, Denver, Boston, and San Francisco. 
Without a doubt, the best way to increase your earnings as a budding entrepreneur is to continue building your knowledge, skillset, and professional network. Only a master's degree in entrepreneurship will enable you to do all three. Once you build your resume, your wages will increase dramatically. Across the board, workers with bachelor's degrees earned about $17,000 per year less than those with graduate degrees—the investment really will pay off. 
Since a degree in entrepreneurship is so varied and customizable, you'll also have plenty of job opportunities available to you. It's up to you to decide where and how much you want to work, and in what niche or industry. Rest assured, there are plenty of ways you can increase your potential career earnings, too.
Earning a generalized master's degree is a great place to start, but take it one step further. What courses and specializations can you pursue to further hone your expertise? Does your degree offer any customization options? Are there campus branches of professional organizations you can join, like the National Association of Women Business Owners, the United States Association for Small Business and Entrepreneurship, or the Young Entrepreneur Council?
Look for opportunities wherever they might be found. Reach out to local employers for work and volunteer opportunities, and don't be afraid to network. The more you know—and the more people you know!—the higher your earnings with a masters in entrepreneurship can ultimately be. 
What Are the Best Entrepreneurship Degrees?
We know that you have educational goals that you're itching to pursue, but you may not know where to start. The editors of Master's Programs Guide utilize a unique ranking methodology based on the following five aspects:
25% Overall Degree Affordability: Average cost of undergraduate and graduate tuition per school
25% Graduation Rate: Number of students who start at the university and actually finish there
20% Earnings Potential: Average mid-career salary of school alumni
20% Selectivity: The number of students who apply versus the number who actually get accepted
10% Online Graduate Offerings: The number of programs offered online in each department
At Master's Programs Guide, we strive to do our best to guide you and your family toward a fruitful academic career. The pursuit of knowledge is a noble one, and we want to help you reach your goals.
Global MBA 

The University of Houston, located in Victoria, TX, is the third-largest university in Texas. With more than 46,000 students, this school has a simple motto that, when translated from Latin, means "in time."
There's a lot of truth to that statement. When you earn a degree from the University of Houston, good things are sure to come to you— in time.
Luckily, when you choose to pursue one of the school's online degree programs, you won't have to wait very long to see some extremely rewarding results (and a return on your investment, to boot). 
This school has one of the largest MBA programs in the city of Houston, housed in the Victoria School of Business. The degree can be completed both online and face-to-face, with both options accredited by the Association to Advance Collegiate Schools of Business. 
In this program, you will learn from faculty who work full-time and are highly trained in business management. The degree is one of the most affordable in the country and allows learners to collaborate and learn from fellow students. Because the degree doesn't have a certain prerequisite when it comes to undergraduate learning, you'll find a diverse body of students from industries like healthcare, engineering, IT, banking, accounting, and more. 
This diversity lends itself well to online learning, where classes are discussion-based and require students to draw from past and present experiences on the job. There are two separate programs, depending on your goals and preferences.
The Strategic MBA is perfect for students who want to be able to interact closely with their fellow students and professors. A traditional program, it is offered with a blend of online courses and face-to-face instruction. Classes meet only once a week for maximum convenience. The global MBA, on the other hand, is perfect for learners who want a 100% online program. Classes are offered online in eight-week chunks. All classes are accelerated to help you move quickly through the program.
There is even a bridge program for learners who have already completed three years of a baccalaureate degree. This "fourth year" strategic MBA is perfect for students who want to get out into the workforce as quickly as possible. 
Want to add on to your growing list of credentials even more? The school offers a range of graduate certificates for learners who want to improve their business skills in certain niches. These can be pursued as stand-alone degrees or in conjunction with the MBA. Options include marketing management and corporate finance and investments. 
This program even comes with the option for a study abroad program. The university provides all students, both online and on-campus alike, opportunities to learn and discover business opportunities all over the world, including in places like London, China, Spain, Taiwan, and Mexico. 
MBA – Strategic Leadership

Messiah College is a private Christian school located in rural Pennsylvania. This school has a quaint setting and a charming origin story. Built on farmland, the school, originally known as the Messiah Bible School and Missionary Training Home, was founded in 1909. It was home to a school offering several Bible programs and an extensive high school curriculum. 
In less than two decades, the school became a junior college and started offering four-year degrees by 1951, which was when it changed its name to Messiah College. The school expanded rapidly, adding multiple liberal arts programs as well as more than 150 majors, minors, and concentrations in a variety of professional areas.
The school is divided into four separate schools—the School for the Arts; the School of Science, Engineering and Health; the School of the Humanities; and the School of Business, Education, and Social Sciences. It is this latter school in which the online MBA is housed.
This program is designed to educate leaders with the skills they need for a lifetime of service, influence, and success. The MBA comes with numerous concentrations, including those in digital marketing, management, strategic leadership, dietetics, and healthcare management. There are also certificates available in most of these areas, a great feature for students who want to specialize in several content areas at once. 
The curriculum of the MBA is designed and administered with adherence to the top professional and academic standards for the Accreditation Council for Business Schools and Programs. Not only will you gain the skills you need to create and improve new products and services, but you'll be mentored by faculty who have real-world experience and relevant credentials along every step of the way, too.
You can take just one eight-week course at a time, or choose to take courses that last only six weeks in the summer. All the courses are asynchronous, meaning you will be able to work according to your own schedule. 
Courses offer a blend of work, including videos, readings, lectures, assignments, discussion boards, presentations, and more. In most cases, you'll be able to complete the degree in as few as 18 to 24 months—and most certificates can be finished in just a year. Sample classes include Managerial Account and Finance, Decision-Making with Data, and Leading Leaders. 
Before you even graduate, you will become part of a diverse community of leadership-minded professionals in a variety of industries. Class sizes are kept intentionally small so that you can develop lasting, meaningful relationships with your professors and peers. This school has an extensive alumni network that is conducive to many collaboration, personal networking, and career opportunities, too. 
Believe it or not, you can access all of these benefits without having to pay an arm and a leg, too. Tuition is incredibly affordable, with rates starting at just $710 per credit hour. You will pay less than $26,000 for the entire program, and all graduate students can apply for financial aid. Best yet, the cost per credit is what you pay—there are zero hidden fees. 
MBA in Entrepreneurship

Ranked highly in a variety of fields and industries, the University of South Florida has a solid reputation for both its academic programs and its high research activity. The school is located in Tampa and is one of the largest research universities in the country. 
You won't be pressed for options, either. The school has more than 200 academic programs to choose from, spread out among its many schools and colleges. Many of these are offered online, including the MBA in entrepreneurship. 
Offered by the Muma College of Business, the MBA in entrepreneurship is one of the best for students who want to learn ways they can bring their fresh entrepreneurial ideas to life. In addition to a common required course, New Venture Formation/Technology Venture Strategies, all entrepreneurship students are required to take two elective courses from a long list of options. Sample courses include New Product Development, Business Plan Development, Social Entrepreneurship, and more. 
This professional program is nationally ranked and is designed to support students as they hone their analytical and creative skills. It encourages collaboration with diverse classmates, allowing learners to interact with world-class guest speakers, faculty, and industry leaders. With a curriculum focused on data analytics, the program helps students develop skills in creativity, research, and leadership. 
Not only can it be completed fully only, but it's also available on campus in both Tampa and Sarasota-Manatee, too. Entrepreneurship is not the only individualized area of study you can pursue. Other electives and discipline areas are available in topics like sustainable business, digital marketing, healthcare management, accounting, and more. 
The program offers extensive opportunities for students to collaborate in teams to carry out research, deliver presentations, and analyze case studies. All students are required to complete a final capstone course, Integrated Business Applications, which require them to produce an in-depth consulting project for an actual company. 
Students will be able to network with employers and classmates on a daily basis. There are two corporate connections events held on campus each year. These networking events connect students with corporate recruiters from companies like Coca-Cola, Tribridge, and more. 
Before you graduate from this program, you can request placement with an alumni mentor. You'll learn all about how you can balance your work, life, and study obligations and discuss career paths you might take. You'll also be granted a personal MBA coach to help consult you on the best steps for your program and your career. 
The school's programs in business are some of the best in the country, with the school ranked highly by Washington Monthly and other publications. Despite its reputation for excellence, this program at the University of South Florida remains one of the least expensive on this list. For in-state students, the comprehensive cost for the entire program is just $17,000. For out-of-state students, the cost is slightly higher, but still extremely affordable at $32,000. 
There are extensive financial aid and scholarship opportunities available. In addition, many employers have corporate tuition assistance policies. These are all honored by the University of South Florida to help lower the cost of attendance even further.
MBA Concentration in Entrepreneurship

Established on Christmas Day more than 129 years ago, Oklahoma State University is one of the oldest and most prestigious land-grant universities in the country. Founded under the Morrill Act, the school was originally known as the Oklahoma Agricultural and Mechanical College, or Oklahoma A&M. 
Now considered the flagship school of the Oklahoma State University system, this school is one of the largest and most prestigious in the state, with thousands of alumni all over the world. The school has more than 200 degrees spread out among six colleges. Of these, the Master of Business Administration (MBA) in the Spears School of Business is one of the best. 
This program is perfect for aspiring leaders. It is equipped with multiple opportunities for concentration, including those in global marketing, energy business, economics, data science, and of course, entrepreneurship. 
The concentration in entrepreneurship requires 33 credit hours of online study. It is a well-rounded program that combines training in entrepreneurship with professional preparation in core business areas, like business analytics, finance, marketing, accounting, and more. 
Your studies won't take place solely inside the classroom, either. You'll be given the opportunity to test your new skills in a real-world setting, too. Core classes in the concentration include Ideation, Creativity, and Innovation and Launching a Business the First 100 Days. You'll also take a "super core" and "functional core" of courses that include classes like Marketing Management and Organizational Behavior and Leadership.
The degree is loaded with opportunities for students to develop their professional skills. Not only are there built-in courses that are meant to acquaint students with the basics of etiquette, networking, and professional speaking, but there are also plenty of field study, trips, too. One hallmark feature is a trip to the SXSW Interactive Conference in Austin, TX. Here, students have access to new business launch events, a business plan competition, networking, tours, and more. 
Not only that, but the Spears School of Business has a full-time career coordinator who works to help students with their resumes, interviews, job searches, and other aspects of career placement, too. 
The entrepreneurship MBA at Oklahoma State is accredited by the Association to Advance Collegiate Schools of Business, however, you don't have to pay champagne prices for this kind of excellence. The Spears School of Business offers dozens of scholarships exclusively for business students.  Tuition is affordable, too, with lower rates available for in-state students and military personnel. 
Ready to apply? You'll need to submit an online application and submit the GMAT exam for admission. Unfortunately, the GRE cannot be used in its place. You will need to submit transcripts and letters of recommendation when you apply as well. There are several start dates per year and you can choose to study either full- or part-time, depending on your needs and goals.  
MBA in Entrepreneurship

Southern New Hampshire University is one of the best schools you can attend if you want a degree that works for you and with you—instead of against you. The school is considered one of the fastest-growing universities in the country, a growth that has been spurred in part by the fact that SNHU uses an open enrollment policy. 
What does this mean? To apply to an undergraduate program, all you need is a GED or high school diploma. Applying for a graduate degree is just as simple. In most cases, you just need to fill out an online application and submit transcripts for any schools you have attended in the past. 
You don't have to submit an application fee, and most of the time, you won't have to submit any supplemental materials, either (although this varies depending on the program). No GMAT or GRE scores are required, either. 
At  SNHU, you'll be able to choose from dozens of high-quality online programs. One of the best is the MBA in entrepreneurship. This degree will enable you to explore the models and strategies you can use to launch and operate a consultancy business—as well as ways to evaluate existing business you might want to invest in.
It's a great program for aspiring and current business owners, budding entrepreneurs, and top-tier corporate executives alike. With a curriculum that can be completed in just over a year, the program is relevant and well-suited to addressing a range of real-world challenges. 
In this degree, you will learn from business professionals who have specialized experience in their fields. Many of them are adjunct instructors who teach in addition to running their businesses full time. 
These courses are offered with maximum flexibility and convenience. You can attend class when it's convenient for you. You will have 24/7 access to your coursework and can take as many or as few classes as you would like during a ten-week term. 
Some classes you'll take as an MBA student? You'll cover content like consulting, franchising, entrepreneurship, and small business management, just to name a few core pieces. 
The curriculum is designed and accredited with the approval of multiple governing agencies and industry patterns. You'll learn from dedicated faculty members as you complete your degree in as little as 15 months. You will also receive extensive support from dedicated career and academic advisors who are uniquely specialized in your area of study. 
Tuition at SNHU is some of the lowest in the country. Tuition rates seldom increase, a rarity when it comes to universities around the nation. You'll pay just $627 per credit hour, with substantial discounts available for military personnel.
With a reputation for success spanning more than 70 years—and an MBA program that has been setting records for more than 40— this program is clearly one of the best. 
MBA in Enterprise Innovation and Entrepreneurship

California Lutheran University might be a private university affiliated with the Evangelical Lutheran Church in America, but you don't have to practice the Lutheran faith to be admitted. This college is nonsectarian and has a reputation as being one of the top four-year private colleges in Ventura County, CA. 
The school has a gorgeous campus in Thousand Oaks, CA that has served as the backdrop for many films, including Wuthering Heights, Gunsmoke, Lassie, and Spartacus.  However, you don't have to be studying on this university's picture-perfect campus to benefit from its high caliber reputation. 
The academic programs at California Lutheran, or "Cal Lutheran," as it is often called, are some of the best in the nation. 
When you earn an MBA from Cal Lutheran, you'll gain the insight, experience, and inspiration you need to succeed in your career. The program is perfect for students who want both the general instruction of a broad-based MBA program along with a rigorous, in-depth curriculum in an area of interest. 
Enterprise innovation and entrepreneurship is not the only concentration you can choose in this degree. Other professional tracks include human capital management, finance, IT management, marketing, and international business. You can also pursue a general track, if you so choose.
The degree is offered fully online, fully on-campus, or as a hybrid of the two. You can take classes on a full- or part-time basis, with most students taking 12 to 24 months to complete their degrees. 
Choose to study online, and you'll take five terms, each of which consists of eight weeks. You can study on the weekends and evenings if you so choose, completing 15 courses that lead to 45 credit hours of study. 
You'll be given a great deal of flexibility when it comes to designing your curriculum. You will have to take eight core courses that are required of all MBA students, such as Organizational Behavior, Marketing Management, and Business Ethics and Law. However, you can then move on to courses that align with your professional concentration. 
For the enterprise innovation and entrepreneurship track, you will take classes that build your skills and motivation as an entrepreneur, such as Agile Product Development and Entrepreneurial Marketing and Selling. 
With tuition that starts at just $855 per credit hour, you can't beat the value of this school. Financial aid is available, and applying for admission is easy. Cal Lutheran has an assured admission program for the MBA, which guarantees that all Cal Luthern seniors and alumni are offered guaranteed admission into the MBA as long as a 3.0 GPA was maintained. 
You can apply for admission at any time of the year, as applications are considered on a rolling, year-round basis. You can start at the beginning of any term. To apply, you'll send in a completed application and official transcripts. You will meet with an admission counselor to discuss your career plans prior to admission, and you'll also be asked to submit a personal statement and two professional letters of recommendation. 
The GMAT is required, but you can waive this requirement if you show an undergraduate GPA of 3.0 or higher or at least one credits of graduate coursework completed to date. 
Master of Business Administration (MBA) in Entrepreneurship

Believe it or not, Post University first opened its doors in 1890 as the National Shorthand School. Offering training in business writing, bookkeeping, and typing, the school was later renamed Waterbury Business College before it was named Post in 1931. 
Although its programs today are a far cry from those of the past—the university currently offers more than 25 undergraduate and graduate programs in online, day, and evening courses, with satellite centers all over the state of Connecticut—it remains one of the top business schools in the state. 
It's also a top pick for distance or nontraditional learners. In fact, Post first rose to notoriety when it began offering accelerated degree programs in the late 1970s. These Programs were geared specifically at helping Vietnam veterans earn their college diplomas. Today, Post continues to offer a large variety of online programs. 
Offered both online as well as on campus in Waterbury, CT, the Master of Business Administration in entrepreneurship includes a core curriculum of courses that will help students lay the foundation for a specialty and capstone of choice. In addition to entrepreneurship, students can choose from concentrations such as corporate innovation, healthcare systems leadership, finance, marketing, leadership, project management, or multidisciplinary. 
The degree is accredited by the Accreditation Council for Business School and Programs. You'll gain extensive hands-on experience through real-world activities like engaging with franchise case studies, writing business plans, and developing new services and products. You will work closely with attentive faculty and staff as well as esteemed industry partners as you navigate your way through the rewarding curriculum. 
You will take a total of 39 credit hours before you graduate, with a bulk of these courses required regardless of specialty. For example, all students are required to take classes such as Project Management and Business Strategy and Planning. However, when you choose to specialize in entrepreneurship, you'll also gain experience in new venture creation, operational financial management, and acquisitions. 
Whether you are hoping to open your own business or want to add value to your existing enterprise, this concentration could be right for you. 
To apply, you will need to submit an online application as well as an official transcript with a conferred bachelor's degree in a relevant field. You should have a GPA of 3.0 or higher along with two letters of recommendation and a personal statement. 
The program is highly affordable, with online tuition starting at just $730 per credit hour. Significant financial aid is available, including scholarships, grants, and loans. The school also has several programs in place for veteran and active-duty military personnel and their families, too. 
Master's Degree in Entrepreneurship

Everglades University may be located way down in the swamp, but that doesn't mean you have to live in the Panhandle State in order to receive an exceptional business education. 
This university, located in Boca Raton, FL, educates more than 2,000 students per year—many of whom choose to attend online. The school has more than a dozen online degrees at the undergraduate and graduate level. 
To complete the master's in entrepreneurship, you'll need to complete a total of 36 credits, with core courses covering all kinds of topics in the industry like business strategy, venture creation, and organizational behavior. You'll gain deep insight into both the theory and practical applications of business, and you'll also learn how to weigh the risks and rewards that are involved with potential new business ventures.
If you're a transfer student, this degree is one of the best you can choose. The school accepts a large amount of transfer credits (on a case by case basis, of course) and most students are able to graduate in as little as 48 weeks of study. 
The degree, which is offered both online and on campus, will not only allow you to pursue later doctoral coursework but will also prepare you for a rewarding and fulfilling career as an entrepreneur. You'll learn the attributes, skills, and behaviors you need to be successful in an entrepreneurial environment.
Although this program is challenging, it is flexible and convenient enough for online students to complete independently from any location. You'll take 33 core credits of entrepreneurship courses like Leadership Skills for Managers, Business Strategy for Competitive Advantage, and New Venture Creation. 
Before graduating, you will also be required to complete a final capstone course. This course, consisting of three credit hours, will enable you to synthesize everything you have learned in your courses, bringing your training together into a final, relevant, real-world project. 
Ready to apply? You can do so almost entirely online. For starters, you will need to complete an online application for admission and provide an official transcript of your bachelor's degree. A specific major or certain business coursework are not required, with the exception of coursework in accounting and basic statistics. You should possess a minimum of a 2.0 grade point average on a 4.0 scale.
It's Important to note that this program does also require submission of GMAT test scores. You will need to have at least a 500 on this exam, but you can substitute a score of 290 on the GRE. You will also be expected to pay a nonrefundable application fee. 
This program is one of the most affordable, with the financial aid department providing plenty of services to help reduce the cost of attendance.  The average tuition rate is just $800 per credit hour, charged on a semester basis. Each semester lasts just sixteen weeks (or four months) and you can take up to 18 credits per semester as long as you are in good academic standing. 
MBA Entrepreneurship Concentration

If you are planning on pursuing an MBA, you might as well get it from one of the best—the University of North Carolina is a highly ranked university that is ranked as the best value in public education. 
This accolade comes from both Kiplinger's as well as The Princeton Review, two publications that agree that UNT offers a great return on investment. You don't have to sacrifice convenience for quality in this case. Instead, you'll enjoy all the benefits of a public research institution at a so-called "Public Ivy" without having to leave your job or home. 
Although the MBA is extremely popular, the entrepreneurship track is an even better option for learners who plan on starting their own businesses. You'll be able to take classes in everything from entrepreneurial finance to venture capital, social entrepreneurship, business plan analysis, and much more. This concentration has several additional "sub-concentrations" for you to choose from, too.
For example, the founder track is a great option for learners who want to start their own companies or joint start-ups. The funder track, on the other hand, is great for students interested in learning more about professional investing. The final track, the "intrapreneur" track, is for students interested in managing private ventures. 
In the entrepreneurship program at UNC, offered via the Kenan-Flagler Business School, you'll learn everything you need to know to develop a thoughtful and successful business. You will enhance and refine strategies to help you secure funding, produce business plans, and develop your business vision. You will take a variety of courses with other MBA students along with core courses in enterprise such as Managing Innovation, Pricing, and New Ventures Discovery.
All courses are taught by faculty members who have extensive experience in launching new business ventures. Courses are not only practical, but they're collaborative and relevant, too. The curriculum is developed with the assistance of notable alumni who have been playing a role in natural ventures for many years. 
In fact, alumni have worked with (and in some cases, founded!) major companies such as Hulu, Uber, Goldman Sachs, Cisco, Lonerider Brewing Company, and more. Students are continuously supported by these executives and business professionals, who work closely with current students and recent alumni to help pair them with professional opportunities and learning experiences. 
The end result? Career success. No matter where your interests lie, you are sure to find what you are looking for at this flagship school. 
To apply, you will need to have a bachelor's degree from an accredited university along with two years of professional experience. You must submit a transcript, two letters of recommendation, a resume or CV, and two personal essays. Official GMAT or GRE test scores are required, but these can be waived if you have more than five years of professional experience. Interviews and an application fee are also required. 
Tuition for this program isn't the most affordable you'll find, but substantial financial aid is available. You'll be able to apply for various resources like student loans, scholarships, and tuition assistance from employers. The school also partners with several professional organizations to offer scholarships just for MBA students, too. 
MBA with Entrepreneurship Concentration

Located in Tucson, AZ, the University of Arizona is considered a flagship university with a total enrollment of more than 43,000 students.
Despite that booming population, you will never feel as though you are just another face in the crowd one you enroll here. The school has the designation of being a very high research institution, and with that reputation comes an attention to detail and to student success that cannot be overlooked.
Here, you'll be able to take all kinds of classes that will enhance your business expertise—all while you are working alongside faculty members who are some of the best in their field. You can specialize in a variety of areas, including startup capital and venture capital, as you take core courses that will build your general expertise in business. 
The MBA  at the University of Arizona is a top-ranked program that is perfect for learners who have schedules that would make on-campus programs difficult to maneuver. You'll be able to take your classes from anywhere and access course materials 24/7. Plus, there are six start dates per year, so you don't have to worry about arranging your life to start your classes at a certain time. 
In this program, you will learn how to become a true leader. You'll gain the same skills as full-time MBA students studying on campus do, but you won't have to relocate in order to do so. You'll complete 45 credits before you graduate. You may take as long as two and a half years or as few as 14 months to complete your studies.
Entrepreneurship isn't the only concentration you can choose, either. The degree has five other options to choose from, including privacy and security, marketing, management and organizations, health care management, and finance.
Regardless of the option you choose, you'll take core classes like Survey of Finance as Analyst, Managing Ethics in Organizations, and Market-Based Management. The curriculum is rigorous and analytically-oriented. You'll have access to all kinds of experiential learning, business communication, and managerial activities to help build your skills.
The program even comes with numerous built-in opportunities for hands-on learning. For example, you can choose to attend a "global business experience" trip that will open your eyes to the ways of business in other corners of the world. 
This school is one of the top-ranked schools by multiple publications, including U.S. News & World Report, Times Higher Education, Forbes, and more. It's ranked highly across the board, but especially for its value and its programs in business management and entrepreneurship. Tuition is affordable, with the total cost coming in at just $45,000 for the entire program. Scholarship and financial aid are also available (for instance, the school has a 10% tuition scholarship for all military personnel and veterans) to help offset the cost of attendance. 
OTHER NOTABLE PROGRAMS 
#11. Temple University
Location: Philadelphia, PA
Degree: MBA Entrepreneurship degree
Net Price: $23,192
#12. Fayetteville State University
Location: Fayetteville, NC
Degree: MBA with a Concentration in Entrepreneurship
Net Price: $5,685
#13. Southeastern Oklahoma State University
Location: Durant, OK
Degree: Master of Business Administration with an Emphasis in Entrepreneurship
Net Price: $8,490
#14. University of West Florida
Location: Pensacola, FL
Degree: Master of Business Administration with an emphasis in Entrepreneurship
Net Price: $9,091
#15. University of Massachusetts
Location: Amherst, MA
Degree: MBA with a Focus in Entrepreneurship
Net Price: $18,257
#16. Western Carolina University
Location: Cullowhee, NC
Degree: Master of Innovation Leadership and Entrepreneurship
Net Price: $15,021
#17. University of Arkansas
Location: Fayetteville, AR
Degree: MBA in Innovation and Entrepreneurship
Net Price: $13,256
#18. Clarion University of Pennsylvania
Location: Clarion, PA
Degree: MBA Innovation and Entrepreneurship Concentration
Net Price: $19,297
#19. Nova Southeastern University
Location: Fort Lauderdale, FL
Degree: MBA With a Major In Entrepreneurship
Net Price: $25,867
#20. Cedarville University
Location: Cedarville, OH
Degree: MBA Innovation and Entrepreneurship Concentration
Net Price: $23,360
#21. Concordia University
Location: Austin, TX 
Degree: MBA in Entrepreneurship
Net Price: $23,606
#22. National Louis University
Location: Chicago, IL
Degree: MBA in Entrepreneurship
Net Price: $14,285
#23. East Texas Baptist University
Location: Marshall, TX
Degree: Master of Business Administration (MBA) in Entrepreneurial Leadership
Net Price: $21,850
#24. Lindenwood University
Location: St Charles, MO
Degree: MBA in Entrepreneurial Studies
Net Price: $18,654
#25. California University of Pennsylvania
Location: California, PA
Degree: MBA in Entrepreneurship
Net Price: $18,780
#26. University of Illinois
Location: Champaign, IL
Degree: MBA in Entrepreneurship
Net Price: $12,248
#27. Suffolk University
Location: Boston, MA
Degree:  MBA with a concentration in Entrepreneurship
Net Price: $33,197
#28. Northeastern University
Location: Boston, MA
Degree: MBA in Innovation Entrepreneurship
Net Price: $34,245
#29. Endicott College
Location: Beverly, MA
Degree: MBA in Entrepreneurship
Net Price: $35,472
#30. Regent University
Location: Virginia Beach, VA
Degree: MBA – Entrepreneurship
Net Price: $16,779
#31. Azusa Pacific University
Location: Azusa, Ca
Degree: MBA in Entrepreneurship
Net Price: $29,152
#32. Peru State College
Location: Peru, NE
Degree: Master of Science in Organizational Management – Entrepreneurial and Economic Development
Net Price: $14,846
#33. Benedictine University
Location: Lisle, IL
Degree: MBA in Entrepreneurship and Managing Innovation
Net Price: $25,508
#34. Brandman University
Location: Irvine, CA
Degree: Master of Business Administration (MBA) in Entrepreneurship
Net Price: $27,446
#35. Samford University
Location: Birmingham, AL
Degree: MBA in Entrepreneurship
Net Price: $30,594
#36. American Military University
Location: Charles Town, WV
Degree: MBA in Entrepreneurship
Net Price: $33,034
#37. Pennsylvania State University-Main Campus
Location: State College, PA
Degree:  MBA in Corporate Innovation and Entrepreneurship
Net Price: $26,151
#38. Bellevue University
Location: Bellevue, NE
Degree: MBA in Entrepreneurship
Net Price: $9,635
#39. Colorado Technical University
Location: Colorado Springs, CO
Degree: Master of Business Administration – Entrepreneurship
Net Price: $15,478
#40. Independence University
Location: Salt Lake City, UT 
Degree: MBA with an Entrepreneurship degree
Net Price:  $12,201
Website
IF YOU ENJOYED THAT THEN CHECK OUT OUR ARTICLES ON THE 40 BEST NO-GMAT ONLINE MBA PROGRAMS & 50 MOST POPULAR ONLINE MASTER'S DEGREES!