Ready to find your ideal master's program?
www.mastersprogramsguide.com is an advertising-supported site. Featured or trusted partner programs and all school search, finder, or match results are for schools that compensate us. This compensation does not influence our school rankings, resource guides, or other editorially-independent information published on this site.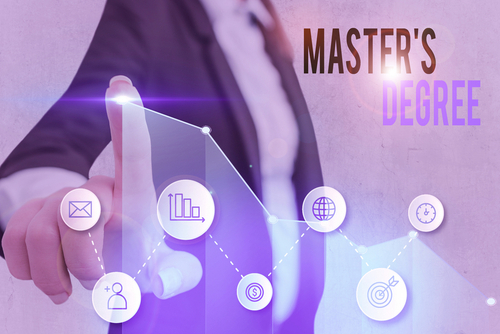 A master's degree is a scholarly qualification that proves an individual completed the initial level of graduate study. To enter a program that teaches this higher level of learning, most people need a bachelor's degree. A master's degree usually requires a student to complete about 30 coursework credits. The time it takes someone to earn a master's is generally from one to three years depending on whether he or she studies part time or full time (see our list of the fastest online master's degrees).
Advanced degrees are available in all fields. Upon earning a master's degree, you'll have successfully completed a field of study that shows you have a high level of skill and knowledge in a particular subject. It will also allow you to develop skills that are versatile and professional.
Reasons to Get a Master's Degree
People choose to earn their master's degree for a variety of reasons. Common ones include:
• Subject curiosity
• Enhanced employability
• Occupation development
• A passion for education
• Specialty change
• Vocation requirement
• Networking opportunities
[See our list of the Most Popular Master's Degree Programs.]
Subject Curiosity
If you've acquired a passion for a career field while obtaining your bachelor's degree, you may have decided to specialize in a specific area of study or expand your understanding of the subject. By earning your master's degree in that field, you'll gain the opportunity to complete in-depth research about the subject.
Enhanced Employability
In some career fields, the additional qualification may allow you to stand out from those who have a first level degree. While studying for your advanced degree, you will acquire a greater comprehension of the subject. You'll also increase your professional skills and obtain more confidence in your chosen employment field. This may even lead to higher pay.
[See our list of the Top Paying Master's Degree Programs.]
Occupation Development
You may need to earn a master's degree to gain more information, skills or abilities to advance in your current vocation. Before selecting a program, check with those who are already in the industry or your employer to make sure that the program is respected.
A Passion for Education
Some students earn a master's degree because they love learning or have not yet decided the particulars of their future career. A master's degree can help you learn more about your chosen field before you begin looking for a job.
Specialty Change
If you've decided to change your specialty from your current undergraduate degree, select your master's degree program based on the adjustment. This will let you use the master's program as a transition course to explore a different area, industry or segment of the field.
Vocation Requirement
You may need a master's degree if the managers of your preferred career attach importance to a higher level of education. The value of an advanced degree differs by field. Before beginning a program, examine the advantages it will bring you in your chosen career.
Networking Opportunities
During your educational pursuits, you may be able to establish vital contacts within your current or future industry. A master's program will allow you to network with those who already work in your chosen field and acquire additional job experience.
Benefits of Getting your Master's Degree
With a master's degree, you may receive greater recognition in your career as well as more credibility. Those who secure an advanced degree generally earn a higher average annual salary than those who don't have one. You'll also likely see more career progression.
Making the Decision
The sense of accomplishment you'll obtain by earning your master's degree is incomparable. When you walk across the graduation platform to accept your diploma, you'll surely experience an enhanced feeling of personal satisfaction. Be sure to check out our ranking of the best online graduate degree programs before making your choice!