Ready to find your ideal master's program?
www.mastersprogramsguide.com is an advertising-supported site. Featured or trusted partner programs and all school search, finder, or match results are for schools that compensate us. This compensation does not influence our school rankings, resource guides, or other editorially-independent information published on this site.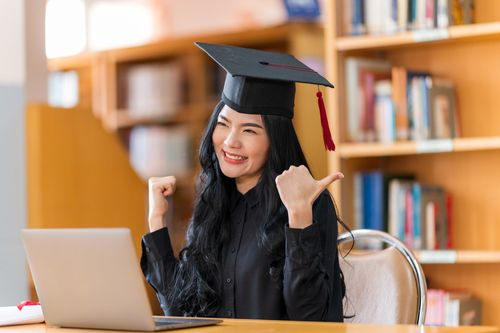 If you would like a career change that guarantees an increase in your salary, look to the world of business. On average, MBA degree recipients can expect a starting salary in the six figures. But what if you are currently working in the food service industry, or as an artist, a telemarketer, or a teacher? How do you make the transition to a completely different field than the one for which you prepared and/or studied while an undergrad? Have no worries–there are many top online MBA programs that cater to students whose undergraduate degrees were not in business.
What do Online MBA Degree Programs Require?
The admissions requirements for each school differs, but there are certain common requirements that cut across the board. Having an undergraduate degree from an accredited college or university is an absolute necessity when applying to any MBA program. In general at least two years of professional employment experience is required, and often seven years of professional full-time work is desired.  Often the required GMAT (Graduate Management Admission Test) or GRE (Graduate Record Exam) can be waived for applicants who have had this seven years of professional experience. Other requirements range from personal interviews to letters of recommendation to essays, but of course the schools' websites should be checked for additional requirements.
Programs For All Backgrounds
Even though a majority of institutions have a preference for applicants with an undergraduate business degree, many schools not only make accommodations but also actively appeal to students without a business degree. Some schools, like the University of Nebraska at Lincoln, Oklahoma State University and Penn State, don't require business degrees, but do require things like prior coursework or knowledge in statistics, accounting, economics and calculus. Other schools offer non-credit classes to catch up for a fee, while others allow students to take the prerequisites at the same time as the business coursework–such as Lehigh University or University of South Florida at St. Petersburg. Some universities, like Clarkson in Potsdam, NY, even offer a tuition-free summer business concepts program to incoming students who need the foundational coursework. Most schools require a certain number of credit hours in addition to their normally-required credit hours. The additional credit hour requirements range from just nine at West Texas A&M University to up to 21 at SUNY at Oswego, with the average additional required credit hours at around sixteen or eighteen. And finally, some schools offer two different programs, such as University of Florida, which offers a one-year accelerated online MBA for business grads and a two-year online MBA for all others.
Which Program is Right For Me?
Now that you are equipped with the knowledge of what you can expect from an online MBA degree program, look into this year's Best Online MBA Degree Programs ranking to help you take the next step in getting that degree!