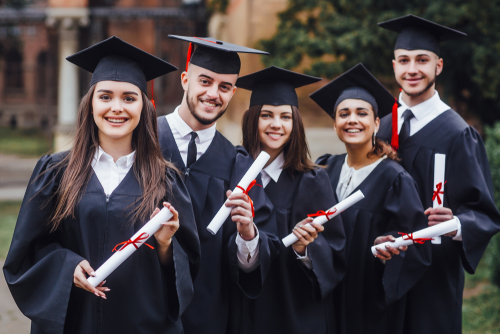 If you are considering pursuing a top master's degree to improve your chances of landing your dream job or to open up greater opportunities with your current employer, you may wonder how much a graduate degree will cost. Costs vary widely from one school to the next, and the total cost of a master's degree may be dependent on whether you opt for an online or on-campus degree. Here are some factors that will contribute to the cost of your graduate education.
Cost Factors for On-Campus Degrees
While the cost of a master's degree varies widely, Peterson's reports that the average cost of tuition and fees for a master's degree ranges between $30,000 and $40,000. Public schools are the more affordable option for master's degree programs when it comes to in-state students.
Graduate students generally live off-campus, and professionals who are pursuing a graduate degree after establishing a career typically remain in their apartment or home while they attend school. As with undergraduate degrees, books can represent a significant expense for graduate students who are pursuing an on-campus degree. Depending on the course of study, students may spend thousands of dollars on books and supplies each year.
Coat Factors for Online Degrees
Online master's degree programs may be more flexible than their on-campus counterparts, and busy professionals often opt for online programs in order to continue working while they pursue a graduate degree (see our list of the Fastest Online Master's Degrees). U.S. News & World Report reminds perspective students to look at the total cost of an online education before committing to a particular program. Tuition and fees are generally outlined on the school's website. Be sure to pay attention to whether fees are charged per credit, as these fees can add up much more quickly than flat costs.
Even if an online degree is pursued through an established university that offers on-campus programs as well, tuition tends to be higher for online degrees. Some schools charge five or more times as much per credit for an online program as compared with on-campus tuition.
It is also important to take employer reimbursement into consideration when working and pursuing a master's degree at the same time. Prospective students should discuss how reimbursement works with a human resources representative before enrolling in classes. Some employers will not reimburse employees until they have completed coursework with a minimum grade.
U.S. News & World Report also cautions that there may be additional costs that are not apparent when prospective students are researching tuition and fees. For example, costs associated with traveling to the campus for required conferences may not be factored into the costs outlined on the school's website.
While students should take care to read the fine print and learn more about their financing options for an online master's degree program, pursuing an online education can be a positive experience. The best way to make the most of an online degree is by learning time management skills and sticking with reputable universities that offer both online and on-campus degree programs.
Return on Investment
Whether you choose an online or on-campus master's degree program, figuring out whether the cost is really worth the investment is a matter of calculating your future return on investment (see our list of the Highest Paying Master's Degrees). Collecting information through a university's website and comparing the data with salary averages found online helps to give prospective students a better idea about how much they can expect to earn upon graduation. The United States Bureau of Labor Statistics also provides data related to salary and job growth.